Revive Tour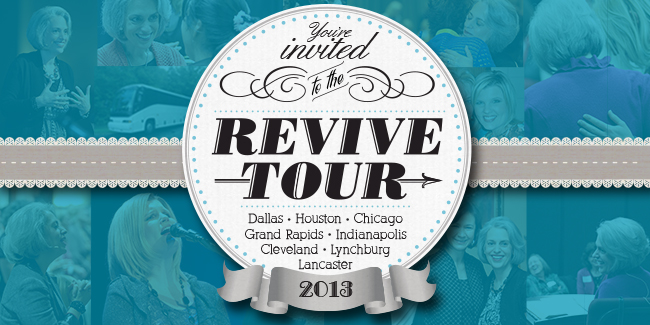 This spring Revive Our Hearts and Nancy Leigh DeMoss are hitting the road and traveling to eight different cities. Why? So you can learn more about the mission and message of Revive Our Hearts, be part of a recording session . . . and more!
In each city there is a two-day schedule featuring several events. A general schedule is below. See each particular city for more detailed information.
| Date | Location |
| --- | --- |
| March 19–20 | Dallas/Fort Worth, Texas |
| March 21–22 | Houston, Texas |
| April 16–17 | Chicago, Illinois |
| April 18–19 | Grand Rapids, Michigan |
| May 14–15 | Indianapolis, Indiana |
| May 16–17 | Cleveland, Ohio |
| June 18–19 | Lynchburg, Virginia |
| June 21–22 | Lancaster, Pennsylvania |
Watch the Video
General Schedule
Day 1
An Evening with Nancy
7:00–9:15 p.m.
At this free evening event, you'll hear stories of how God is working and changing lives through the ministry of Revive Our Hearts. Shannon Wexelberg will lead in worship, and Nancy will share a message from God's Word that's on her heart. "An Evening with Nancy" is open to the public, so feel free to bring your family and friends.
Day 2
Revive Our Hearts Radio Recording
9:00 a.m–12:00 p.m. (doors open at 8:15)
Be a part of a free half-day recording session. Hear Nancy's teaching months before it airs, and see how a radio program gets put together from the ground up. (Open to women.)
Leadership Luncheon
12:30–2:30 p.m.
If you're a women's ministry leader, register for a special luncheon where you'll be encouraged to continue reaching and connecting to other women. (Cost: $15 – open to women serving in leadership capacities)
Registration
Don't miss out on this unique opportunity. Registration required for the radio recording and luncheon, and is requested for the evening with Nancy.
Marketing
Downloadable Revive Tour Poster
Bulletin Ad – Color

Bulletin Ad – Part Color

Bulletin Ad – Black & White 
More Info
For more information contact info@reviveourhearts.com