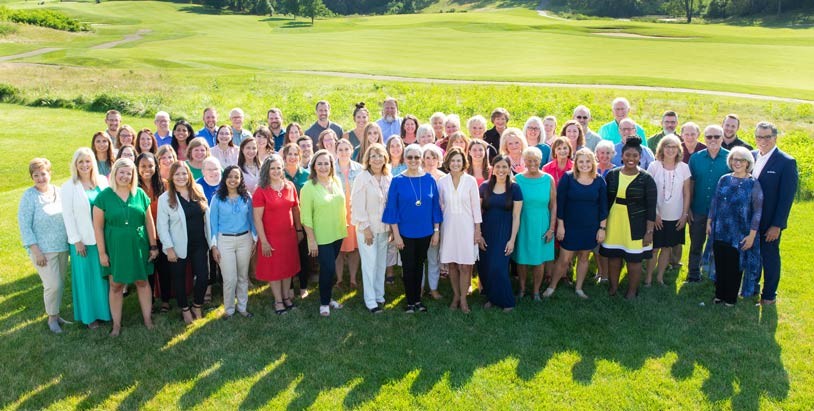 Our Mission
Revive Our Hearts exists to help women thrive in Christ. Founded in 2001 as a successor to Elisabeth Elliot's ministry Gateway To Joy, Revive Our Hearts is making a difference through daily audio content, trusted resources, digital outreach, and impactful conferences.
From the outset, our goal has been to magnify Christ and to shine the liberating truth of His Word into women's hearts. —Nancy DeMoss Wolgemuth, Bible teacher and founder of Revive Our Hearts 
Whether it's from our home office in southwest Michigan or serving remotely as a part of our global efforts, every member of the Revive Our Hearts team is committed to seeing women embrace God's design for their hearts and homes. 
Our Message
By elevating God's Word, Revive Our Hearts calls women to freedom, fullness, and fruitfulness in Christ. 
Revive Our Hearts is the number one resource I recommend to women of every age, as it disciples every woman who will listen. —Vicki, Revive Our Hearts listener
In a world flooded with confusing messages, Revive Our Hearts seeks to be a daily drip of Truth, providing regular infusions of God's Word. We encourage women to:
D = Discover and embrace God's design for womanhood. 
R = Reflect the beauty of Christ to the world around them. 
I  = Intentionally focus on passing the baton of Truth to the next generation. 
P = Pray faithfully for their homes, churches, and communities. 
Our Method
Daily audio teaching:
Hear Nancy teach daily through two podcasts created to encourage women to dwell on God's Word, Revive Our Hearts and Seeking Him.
Videocasts and Podcasts:
Dig in to God's Word with trusted Bible teachers through the Revive Our Hearts podcast family including the Women of the Bible podcast, Revive Our Hearts Weekend, and more. Get a weekly dose of hope and perspective with our weekly videocast and podcast, Grounded. 
Trusted resources:
With resources you can count on, Revive Our Hearts offers solid, biblical hope for every season of life. 
Life-changing events:
Through international events, ministry partner gatherings, and True Woman conferences, we're elevating God's Word and helping women around the globe experience personal revival and embrace His calling in their lives.
I've attended two True Woman events at two very different points in my life, and both times I've left refreshed, challenged, filled, and excited to see how the Lord will work. —True Woman Conference Attendee
About Nancy
Nancy DeMoss Wolgemuth has touched the lives of millions of women through daily audio teaching on Revive Our Hearts and Seeking Him. Her books have sold more than five million copies and are reaching the hearts of women around the world. 
Learn more about Nancy.
Our Commitment to You
Revive Our Hearts is committed to elevating the timeless Truth of God's Word. You can count on these principles always being a part of our ministry DNA.
Precise: Our communication is direct and to the point.
Solid: Our content calls women to build their lives on the unshakable Word of God.
Timeless: Our calling is to present and prize the unchanging Truth of God's Word.
Probing: Our challenge to women is to "take it home" and "make it personal."
Relational: Our connection with women is more than talk; it's life to life and heart to heart.