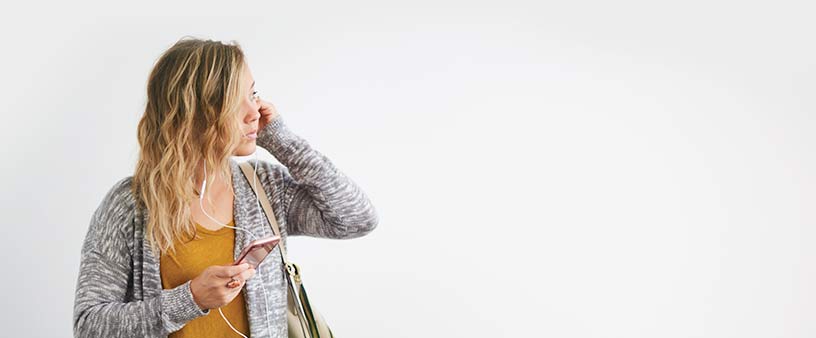 Letter from Nancy
Dear Friend,
Does your heart feel heavy as you listen to news reports or scroll through your social media feeds these days? I know mine does. This is such a difficult time in our world; so many people are discouraged, disillusioned, and deceived.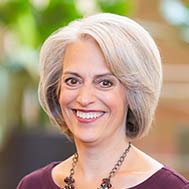 In addition to the global concerns that affect us in varying ways, there are also countless smaller issues that impact us on a more personal level. Day after day, I hear from women who feel lost, alone, and hopeless to do anything to change their circumstances.
Revive Our Hearts is here for hurting women. I'm so thankful for the ways God is using this ministry to offer hope and encouragement and to help women to become grounded in God's Truth. Here are two recent examples that blessed me:
Thank you once again for being such an amazing ministry, being the encouragement that I needed during the toil of the 2020 year. I am currently listening to Nancy's Psalm 136 episodes of God's steadfast love. Every day I look forward to reading the Word of God in the morning! I am a twenty-one-year-old college student in my fourth year of undergrad studies. This year wasn't easy due to so many sudden changes, but hearing Nancy's words and repeated phrase of "Heaven Rules" set me up for the world's challenge and gave me the boldness to proclaim that God is still good, even at this time. ~"Alicia"

This morning, I was listening to Day 6 of "His Love Is Forever." Nancy read a letter that brought tears to my eyes because I felt like she was talking about my life. I have a husband and an adult son, as well as a teenage son, living out of the will of God. Today is exactly what I needed when I needed it. Revive Our Hearts is a place where I get fed almost daily, and every message speaks to me. I share Revive Our Hearts with other women I see struggling, and I encourage them to liisten to your messages and download the app. Thank you for what you all do. Your ministry is such a blessing. ~"Bri"
These stories, plus the additional accounts you'll find throughout this newsletter, are a glimpse into the ways God is using Revive Our Hearts to provide hope and perspective to women as they face the challenges of each season. We want to help women of all ages and backgrounds take their eyes off of their challenges, whether "global" or "small," and turn to God's Word.
In a world flooded with confusing messages, Revive Our Hearts provides women with a daily infusion of biblical hope and perspective. Thank you for the part you play in helping us to continue reaching women everywhere, every day.
Seeking Him with you,
Nancy
---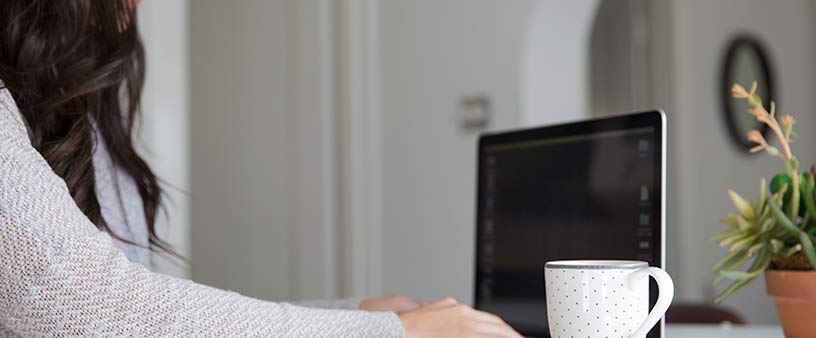 Through Daily Audio Teaching, Resources, and Events, We're Reaching Her
Listening to Revive Our Hearts every day helped the roots of Emily's faith to grow deep, allowing her to weather the hurricane force winds of life with hope. Emily remembers:
I was just a teenager when Gateway To Joy ended and Revive Our Hearts was birthed . . . I have listened to Revive Our Hearts since the very first broadcast!
God used Revive Our Hearts to grow a desire for marriage and motherhood in Emily's heart. Years of listening to Nancy teach on biblical womanhood affirmed Emily's desire. She didn't just want children, she wanted many children, at least seven to be exact. But after marrying her husband, Zach, and trying to conceive for many months, Emily had to face the painful reality of infertility.
I was completely devastated and a whole new journey of surrender began for me. While I had always dreamed of adopting, I had never imagined doing so because of infertility. Adoption was something that I wanted in addition to having biological children. After a couple years of tests and doctors' appointments, my husband and I started seriously praying about adoption.
Zach and Emily adopted a son, Levi, in 2016. While they praised the Lord for the gift of their son, the desire for many children never faded. God used Revive Our Hearts resources and a True Woman event to shape Emily's heart during that season.
When the updated edition of Lies Women Believe was released, I began taking a group of ladies through the book study. This was the second time I had led a group through this great book. Having been through it once, I was very surprised when God started showing me that I really didn't believe He loved me. Oh, I knew He loved me when He died for me, but I was unaware that I was living my daily life as if constantly trying to earn His favor and love. I was unknowingly a very "performance" driven woman. The realization of God's love for me was liberating! The more I began to understand His great love for me, the more I could see how much my misunderstanding of God's love had affected many areas of my life, including my lack of praying for children.
Newly planted in her understanding of God's love, Emily attended True Woman '18. While there, she felt pressed to ask for prayer from the conference prayer team.
Reluctantly and felling somewhat embarrassesd, I took a step of obedience and turned in a prayer card asking specifically that God would bless my husband and I with a private adoption or a biological child.
As God used that conference to convict Emily about patterns of self-sufficiency, a new prayer bubbled up in her heart.
I asked the Lord to put me in a position where I knew I couldn't get through without Him.
God answered that prayer in unexpected ways. Through it all, Revive Our Hearts has been a beacon, pointing Emily to God's Truth. Now a mother of three, Emily is a living testimony of one of Nancy's core messages: you can trust God to write your story.
I see a story that looks so different than how my childhood dreams imagined it, but I see a story that I wouldn't want to change at all! It has been perfectly written to conform me to the image of Christ and bring Him immeasuralbe glory. Going forward, I have no idea what the next chapters of my life hold, but I know I can trust God to write my story! 
To see Emily's full story, visit ReviveOurHearts.com/everywoman
---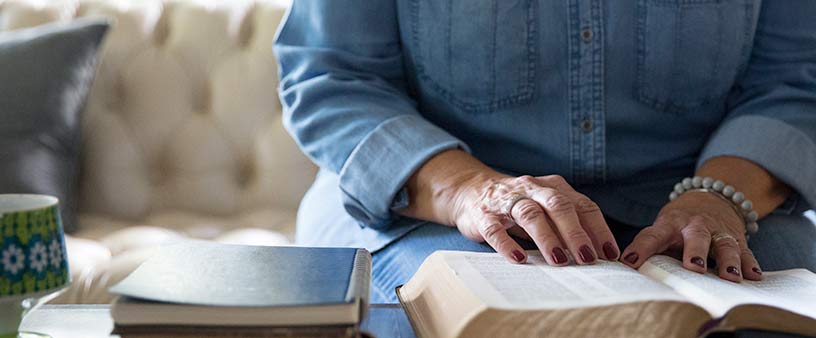 Radio Still Reaches Her
In recent months we've made a big splash about our podcast family, but 2,013 times every day the message of Revive Our Hearts continues to impact women who listen via traditional radio on 1,100 unique outlets. That's a powerful platform! Here's how a recent series helped a listener named "Marilyn":
I really enjoyed the "Anna" series this past month. Since I have been widowed and live alone, I am so lost in this crazy world we live in as to knowing what I could possibly do for the Lord.

I used to have a prayer gathering in my home. Since the cornavirus, I have a fear of bringing anyone in, especially since my ladies were eighty or older. I am in my seventies myself. Hearing your program in the morning helps me keep my focus on the presence of God and feeling His love and peace all around me. They have brought me closwer to Him the more I hear your program.
In these days of isolation, we're encouraged to hear that the message of freedom, fullness, and fruitfulness in Christ continues to minister to "Marilyn" and so many women like her. She continued,
Blessings to you all as we continue to praise our Lord for who we are in Him and all He is doing in our lives. Let us rejoice daily for all we have and sing praises to our King.
"Marilyn," we are nodding in agreement and seeking Him alongside you! While podcasts and social media rise in popularity, the ministry of Christian radio helps us reach her with a daily drip of hope and encouragement. "Marilyn's" story is evidence that radio is very much alive—especially when the message is filled with living water.
---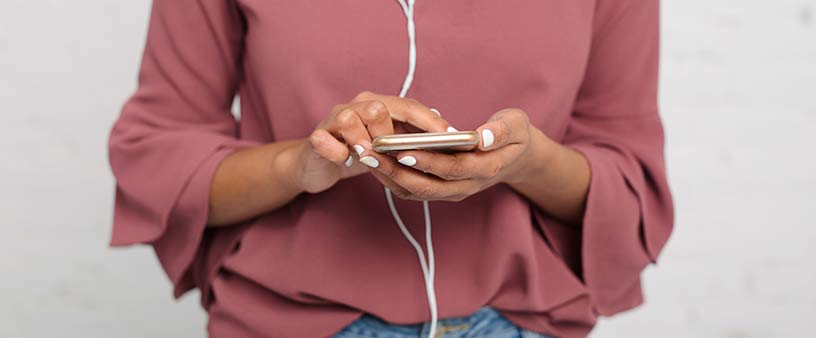 Through Social Media, We're Reaching Her
She pops in her earbuds to listen to the daily revive our hearts podcast on her walk across campus. She turns on the Grounded videocast while folding laundry to start her Monday off with hope and perspective. She shares the latest Revive Our Hearts Instagram post with a friend who needs truth-filled encouragement.
Through platforms like podcasts, YouTube, and a variety of social media outlets, the Lord continues to provide opportunities to reach women in all stages of life. Revive Our Hearts desires to meet women where they are with the hope of the gospel and tools to deepen their faith. Every day, young women like Oghosa Iyamu turn to Revive Our Hearts for resources they can count on.
Meet Oghosa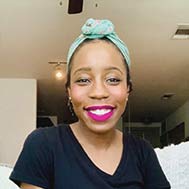 When Oghosa graduated from college with a degree in business administration and an emphasis in marketing, she didn't know the direction her life was about to take. After she was hired to work at PepsiCo, her sister's friend invited her to a small group at church. There she was introduced to the gospel, and it penetrated her heart. She came to know the Lord as her Savior in March 2012. Three months later, a "holy restlessness" grew inside her. The Lord began stirring within Oghosa a desire to know Scripture and a calling to teach women, which led to her decision to attend seminary.
Oghosa listened to Revive Our Hearts nearly every day at seminary. "It was part of my morning routine," she said. "I felt like it was so practical." Around that time, she heard about the True Woman '16: Cry Out! conference from Colleen, a Revive Our Hearts Ambassador in Texas. Colleen reached out to her about the prayer-focused conference, and they made plans to advertise and offer it to women in the area. They hosted the conference virtually in the chapel at Southwestern Baptist Theological Seminary. Oghosa recounted,
It was so timely with all that had been happening in our world and around us. To be able to set aside time to pray with other women virtually was a sweet gift.
Colleen knew Oghosa was a writer, and soon after the conference, she connected Oghosa with Revive Our Hearts. She wrote for LiesYoungWomenBelieve.com for a few years before she was hired for full-time ministry at her church. After first experiencing the love of Christ through a small group, Oghosa's life has come full-circle as she now leads small groups at her church. She is also founder, creative visionary, and writer for UN.Scrambled, a ministry she launched on Instagram in March of 2020. Oghosa chose the name because the word "unscramble" means "to take things that are in a state of confusion or disorder and to arrange them so that they can be understood or seen clearly." God brought forth a passion in her heart to help people know the Truth by studying and understanding the words of Scripture. Oghosa's desire is clear:
To help free men and women from misdirected thoughts and desires that keep usliving scrambled—enslaved to sin . . . I truly believe that every word can point to the Word.
The seeds of Truth that God planted in Oghosa's heart through the ministry of Revive Our Hearts continue to bear fruit. She clings to the words of Ephesians 3:20, saying, "I thank God for the ability to pray, and [that] He can do more than what I can think or imagine to pray."
---
On the Other Side of the Globe God's Truth Is Helping Her
Revive Our Hearts plays an important role in fostering Eva Wenzl's love for God's Word. She longs to share that love with other women in Austria and Germany.
Growing up in Salzburg, Austria, as the only child of a believing single mother, Eva loved the church and thought of it as a substitute family, but she didn't truly understand the gospel.
When she was eighteen, Eva began to see that she could not be good on her own, but she still could not understand God's love. An adoptive "grandma" took Eva under her wing and began to pray and read the Psalms with her.
The Lord clearly showed me that love is not something emotinal, not just a good feeling, but He is the greatest love and showed it on the cross for me, personally.
Eva's life was changed, but she still fought her desires for "the charms of this world" and experienced trials that tested her obedience and trust in God; she lost family, friends, and worldly success. Those were dark days, but God used them to open Eva's heart to something new: "My mother gave me the book Lies Women Believe and that also convicted me and made me love His Word, the Truth," Eva remembers.
She began to believe, "No matter what I feel, oh Lord, your Word says . . ."
In very lonely and dark hours I came across a video by Nancy, "Jesus, What A Wonderful Name!" There she recites 200 verses about our Lord Jesus and I was overwhelmed. The verses, the truth, penned a piece of heaven to me, and I was allowed to realize that the Lord along is worthy and has overcome all. And if He, the Lion of Judah, has overcome, it is only worthwhile to serve Him. He is worth it all!
Now, Eva's heart's desire is to introduce other women to that same Truth. "My concern grew to share with other sisters how good He is, how precious His Word is," Eva says.
The Lord awakened my heart once again in a very concrete way for women's ministry in our community and beyond the Austrian border. We started Bible days for women, evangelistic women's breakfasts, and the Lord in His grace gave us many blessings and let us see fruits—women who now know Him as their Savior and Lord.
Eva leans on Revive Our Hearts programs and resources for personal encouragement and for discipleship. She's also working with the German Belebe Unsere Herzen (Revive Our Hearts) team to establish a structure for their ministry and hopes to see the same come to fruition in Austria. Why?
Revival. Eva believes this is the greatest need of the women in Germany and Austria. Women need "to be steadfast, to persevere," says Eva, "according to Isaiah 37:31, that we take root downward (in His Word, firmly connected to our Lord) and bear fruit upward—for His glory!" Amen, Eva! May it be so!
---
When Leadership Left Her Overwhelmed, Our Resources Equipped Her
Women who lead other women depend on Revive Our Hearts for trustworthy, biblical tools and a community of like-minded leaders. We want to equip women like Emily with the resources they need, when they need them.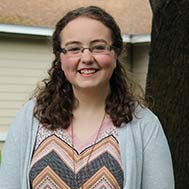 Meet Emily Danforth, a twenty-three yearold Women's Ministry Coordinator at a church in Post Falls, Idaho. Emily grew up reading LiesYoungWomenBelieve.com and made the connection with Revive Our Hearts as a freshman in college. She was introduced to the ministry through an online conference session with her favorite author, Dannah Gresh.
As Revive Our Hearts resources pointed her to God's Word, a desire to serve the women at her church started to grow. But being only nineteen at the time, she felt "awkward and even arrogant asking for this kind of thing." One day, near the end of her first semester in college, her pastor asked if she would consider leading a women's Bible study. This was an answer to prayer for both of them; the church had been in a decade-long gap without a women's ministry leader, praying for the Lord to provide. What began as one Bible study led to a variety of women's ministries and programs throughout the church, and Emily officially stepped into the role of Women's Ministry Coordinator.
When I first began serving as a WML (Women's Ministry Leader), my heart knew that what our women needed most was a ministry that helped us understand and cherish God's Word, because that would lead to intimacy in each woman's relationship with Jesus. What I didn't know was how to actually do that! My other greatest concern was that I was a younger leader, and I wanted to make meaningful connections with all the women in our church—but I didn't know how to do that when I hadn't lived through all their unique experiences and seasons of life! This is where the Holy Spirit and Revive Our Hearts were instrumental!
As Nancy and Dannah and others from Revive Our Hearts have poured into Emily's life, she has learned how to do the same for other women. She credits Nancy's book Adorned with helping her minister to women of all ages by learning to simply live life with them.
Revive Our Hearts aims to provide trusted tools for leaders to utilize and to create places they can connect. Emily found a special community within the Revive Our Hearts Women's Ministry Leader Facebook group.
I have gleaned so much from their stories, questions and responses, and sharing. Sometimes a new topic will come up and it ends up preparing me for a situation that comes down the road. Other times, when I'm feeling a little worn down (and even a bit sorry for myself!) I've been filled up spiritually and emotionally by getting to fellowship with the other gals on there and blessed to pray for their lives and ministries.
Recently, Revive Our Hearts met Emily in a season of discouragement when her friend and co-leader of women's ministry left to serve in another church. In God's grace, the Recommissioned leader webinar and "Faithful to the Finish Line" leader challenge took place during that same time. They brought her a new love for women's ministry, and she found herself "refreshed, encouraged, sharpened, and inspired."
When "hunting for insight in serving the women at her church," Emily knows her way around the tools and resources Revive Our Hearts provides. She mines the radio and conference transcripts for material and utilizes the Leader Connection page, Lies Young Women Believe blog, and the posts from the Facebook group.
Thank you for all that you do for women's ministry leaders. This community has been such a gift in these lonely and challenging times!
Emily's story showcases the desire of this ministry to not only encourage seasoned leaders but to shape the next generation of leaders as well. When you support Revive Our Hearts, you're equipping leaders with biblical materials, practical tools, and godly inspiration to serve women well.
---
Help Us Reach Her
She's young. She's single. She's shapeable. She's serving. Most of all, she's surrendered to God's call upon her life . . . though she doesn't fully know what that will mean. And we want to reach more women like her.
I turned thirty-one this year. I broke off a short courtship with a man I had hoped to marry, because I just couldn't picture him as my husband—as someone who could lead me in marriage. Now, reflecting on my life, I am suddenly wondering if my life as it is now is all there will be.

Listening to your podcast this morning, titled "Surrendered to God's Call," I was teary at the thought that, with no prospects in sight, the Lord may be calling me to serve Him in singleness.

He has given me many opportunities to serve Him already—in our youth ministry and worship ministry, and I love to pour into people's lives and be available to serve people where I can. What made me most teary though is hearing again of missionaries who've lived with a heart on fire to serve Christ at all costs, because He is their all.

I don't want marriage if is means less satisfaction in Christ. It's hard to type those words, but I pray the Lord would make this true in all areas of my life—that it be Christ above all as I fix my eyes on eternity, and that though that He may use me, and that whatever else He blesses me with might be a gift that further glorifies Him.

Thank you for your service to women all over the world through your ministry. ~Bafokeng Mpeta
Bafokeng is just one woman in South Africa, but we want to see her story of surrender replicated all over the world in the hearts of teens and twentysomethings, middle-aged moms, and silver-haired saints. For women everywhere, every day, we're providing a daily drip of encouragement, and when needed, a giant infusion of true hope.
That's what you support when you give toward our year-end need. With your help, we'll be there for her in every season of life.
---