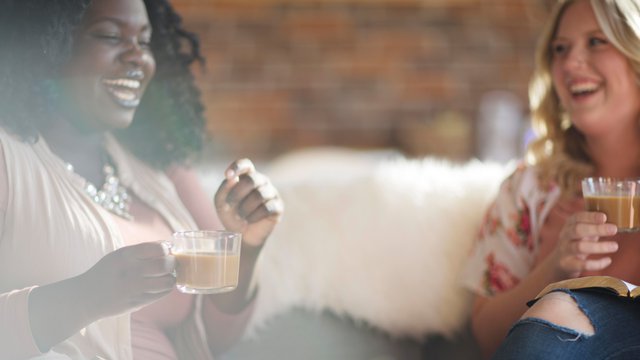 — Audio Player —
Living Out God's Friendship
Song:
Love, love, love . . . 1
Dannah: Have you noticed how we we over-work  the word "love"? We might be misusing it.   We love our parents. We love the hot guy who walks by, even if we don't know his name. And we love a cute little orphaned child we meet on a missions trip. We might even love Fluffernutter sandwiches. We throw the word around, sometimes so casually that it can be easy to forget it true meaning. Nancy DeMoss Wolgemuth wants to refresh your memory.
Nancy DeMoss Wolgemuth: Love is not just an emotional attraction. Rather, it's selfless, humble service to meet the needs of another person, no matter how lowly or menial that service, that task may seem, and no matter how undeserving is the recipient of that love, the person that we're serving.
Dannah: We're gonna learn how to love, God's way, today on Revive Our Hearts Weekend. I'm Dannah Gresh. 
Thanks for joining me today at this little painting studio today. I know this was short notice, but the idea came to me in the middle of the night. I wanted to paint a picture of friendship with you. 
So I went online, found this art studio and reserved us some time. It's been a really long time since I've had my oil paints out, but let's give this a try. You can come, bring your girlfriends, pick a picture, and the studio's master artist has our paint and canvas ready for us. I'll try to share some of the things I've learned about painting through the years. Here's something important: painting is about layering. You start with the background, the sky. You put that on the canvas. Then you add the next layer—they might be trees that are far away in the background. And layer by layer you move to the foreground. It's a tad complex but it truly yields a lovely result.
You know what's a lot like painting? Friendship . . . there are a lot of layers to it. 
Let's start painting. We'll name it "Friends." Got your brushes ready?
In a sense, we already painted the background of friendship a few weeks ago when we talked about this topic. You might remember. We were sipping lemonade on my farm. Let me recap a little for us:
The background of friendship is always our relationship with Christ and His saving grace. That is our background, our foundation, as friends and sisters in Christ. We need Him to be the starting point for painting any friendship in our lives. 
Now, let's start to put some layers on this painting, the layers of friendship. Pick some new colors and let me give you some instructions for how to use that brush next.
Let's fill in some of our canvas with another layer while we learn how to treat each other using "the love chapter" from the Bible. Now, we usually see 1 Corinthians chapter 13 through the lens of marriage, but today, let's listen to this being mindful of our friendships and how to love our friends and sisters in the church.
We're going to look specifically at 1 Corinthians 13:4–7. I know your hands are full of brushes and a paintboard, so let me read that to you.
Love is patient and kind; love does not envy or boast; it is not arrogant or rude. It does not insist on its own way; it is not irritable or resentful; it does not rejoice at wrongdoing, but rejoices with the truth. Love bears all things, believes all things, hopes all things, endures all things.
Bob Lepine, co-host for FamilyLife Today, recently wrote a book titled Love Like You Mean It. My husband (also named Bob) and I love this book! I had a chance to visit with Bob . . . Lepine that is . . . during a recent episode of our weekly videocast, Grounded. I love—oh there I go using that word too much—I enjoy talking with Bob Lepine. He has a way of unpacking God's truth. You gotta hear how he wants us to grasp God's definition of love. 
Bob Lepine: Well, 1 Corinthians 13 is that classic passage that takes us to look at the qualities of love. But I'd even pull back from there for a second and say, "Jesus was the one who told us that "Greater love has no man than this, that he lays down his life for his friends." In Romans 5, it says, "God demonstrates His love for us in that while we were still his enemies, Christ died for us." 
So, there is something about death to self that is foundational to what love is, when you get to that passage in 1 Corinthians 13, where Paul begins by saying, you can be gifted, you can be wealthy, you can be sacrificial. But if you don't have this commitment to laying down your life, and for the good of others, none of that really matters. 
That's where he begins in verse 4 with this definition that we've all heard or read before: love is patient, love is kind, it's not self-seeking, it does not keep a record of wrongs, it's not arrogant or rude. There's this whole exposition. I've done this exercise where I've read that passage, and I've taken the word love out, and I put my own name in. And I've said, let's see how loving a person I am. Bob is patient. Bob is kind. Bob is not self-seeking. And I don't get very far before I go, boy, I got a ways to go before these things are as true about me as they ought to be. So I'm in constant pursuit of the kind of loving qualities that are laid out for us in the pages of Scripture.
Dannah: I'm thinking Dannah Gresh wouldn't come out too well if she put her name in there today. 
Bob: None of us would.
Dannah: Yeah, exactly. Well, let's start at the beginning of this chapter. Love is patient. What do we need to know?
Bob: It is interesting that that's the first descriptive term. Because if I sat down with a room of 100 people and said, fill in the blank love is ______. I don't think that patient would be the first thing that would come to most people's minds. And yet, it's where the apostle Paul starts. The word for patience in, if you've got a King James Bible, you read, "love is long suffering, love suffereth long." 
Dannah: Oh, no.
Bob: What a place to start by saying, here's what real love looks like: you're going to suffer. And it's going to be for a long time. I don't think what the Bible is suggesting to us is that in a marriage, or in any kind of a relationship, the goal should be suffering, or that we should enable someone who is causing us to suffer. That's not what the Bible is talking about here. 
But in the reality of life, as we're with other people, we're going to face things that are going to be a struggle for us. It's going to be hard for us. We're going to get annoyed. We're going to be provoked. We're going to have unpleasantness as a part of the relationship. We're gonna get crossways with one another. And so, here the Bible starts by saying if you love someone, you persevere. Even when those things are true.
In fact, you go to the end of this passage, or the end of these character qualities, and it says, "Love bears all things, endures all things." That's really what patience is. It's bearing and enduring, even when things are unpleasant. Dannah, I've got to stop just long enough to say, I'm not talking about bearing or enduring physical abuse.
Dannah: Right.
Bob: Because the Bible is clear elsewhere. When somebody is abusing you physically, spiritually, emotionally, financially, you should not enable that. If you see a brother continue in, you're supposed to restore that brother, you're supposed to call that out and help that brother or sister grow. But I am saying that in the day-to-day realities of our relationship, we're gonna face things that cause us to have to endure, to have to bear. Real love will do that and will say, "I'll with you in the midst of that."
Dannah: Oh, I love that. Real love, God's love, will endure and bear with and will say, "I'll be here with you." Do you have a friend who is that dear, that close? Do you have someone who will hold your hand through the hardest of times and patiently remind you to look up to the source of all love? If you have that kind of friend, you have a gem. Now, the million dollar question, Are you that kind of friend? Are you patient and kind? Or might you insist on your own way—talk about the things you want to talk about? Let's take inventory using 1 Corinthians 13 to examine our friendships, with our sisters in Christ. Let's look at that passage again:
Love is patient and kind; love does not envy or boast; it is not arrogant or rude. It does not insist on its own way; it is not irritable or resentful; it does not rejoice at wrongdoing, but rejoices with the truth. Love bears all things, believes all things, hopes all things, endures all things.
If you'd like to go listen to my entire conversation with Bob Lepine on Grounded, there is a link on today's transcript. Just go to ReviveOurHearts.com.
Dannah: So let's get our brushes out and paint another layer on this canvas. You know, I think I'm going to put some pops of color on, the beginning of flowers. Oh, I love flowers (there I go again, throwing that word all over the place), I enjoy flowers and have been watching the landscape on my farm come alive with colors this summer. It's been God's good gift to me. 
You're listening to Revive Our Hearts Weekend, and I'm your fellow artist, Dannah Gresh. Today we're painting the beautiful picture of friendship, layer upon layer.
A few years ago on Revive Our Hearts, Nancy DeMoss Wolgemuth spent time unpacking 1 Corinthians chapter 13. I want you to hear what she pulled out of God's Word concerning genuine, godly love—love we need for each other.
Nancy: As we look at the Scripture, and we see the way that God communicates about love, we see that real love, agape love, is a God-quality. That means it's something that we don't have naturally. We have to have God in our lives to have this kind of love. It's a God quality that always acts in self-sacrifice.
So really, to talk about self-love, self-seeking is not love at all because genuine love, God's agape love, always acts in self-giving, self-sacrifice, laying down of my life, not seeking to be pleased myself.
I heard a definition of love, godly love, years ago that has really stuck in my heart and something that I keep coming back to. It becomes a measuring tool for my own love. This person said that genuine love is totally giving of myself to meet the needs of another person without expecting anything in return. Did you get that? Totally giving of myself to meet the needs of another person without expecting anything in return.
Now, it's easy sometimes to give to meet the needs of another person, but I find that often I have this subtle, secret, hidden desire for that love to be reciprocated. I'm doing something to serve so that person will love me in return, but genuine love is giving myself, totally, laying down my life if need be for the benefit and the good of another person without expecting to get anything in return.
God's agape love, that love that starts in the heart of God and that He wants to put into our hearts, is not ultimately a feeling. Now, there can be some loving feelings that God puts in our hearts, but ultimately, true love is not a feeling. Rather, it is a determined act of my will. That kind of love always results in determined acts of self-giving. The supreme measure, the example of agape love is God's love for us.
Romans chapter 5 tells us that, "When we were powerless, Christ died for the ungodly," and it says, "God demonstrates His own love for us in this way: While we were still sinners, Christ died for us. . . . When we were God's enemies, we were reconciled to Him through the death of His Son" (verses 6, 8, 10).
So we have a God who loved us, not because we deserved it; not because He found anything beautiful or attractive or desirable in us, but just because He is love.
When we were powerless to do anything for Him; when we were enemies of God; when we were bent against God; when we were rebels running from God . . . You say, "I was never that way. I came to know Jesus as a four-year-old child." Perhaps that's your experience as it was mine, and you can't remember ever being an enemy of God.
According to God's Word, I was God's enemy. I was bent on rebellion against God even as a two-, three-, and four-year-old child. The Scripture says when I was in that condition, God loved me. He loved you, and He demonstrated that love in the supreme act of self-sacrifice.
What did He do? God so loved the world, He gave His only begotten Son—the most precious gift that He had (see John 3:16). He gave Himself. He gave His life. That is the supreme measure and example of love. When Jesus came to this earth in the form of a man, He came to help us see the love of God.
John chapter 13 tells us that "having loved His own who were in the world, He loved them to the uttermost" (verse 1, paraphrased). He loved them to the full extent of love. What does that passage go on to say? He got down and washed the feet of His creatures. Love is not just an emotional attraction. Rather, it's selfless, humble service to meet the needs of another person, no matter how lowly or menial that service, that task may seem, and no matter how undeserving is the recipient of that love, the person that we're serving.
Scripture tells us that kind of love ought to be the supreme mark of the people of God. Jesus said "that's how people will know that you belong to Me." It's not because you've memorized your Bible. It's not because your church buildings are overflowing. It's not because you have all kinds of programs. "The way that the world will stop and take notice of your relationship with Me," Jesus said, "is that you love each other the same way, in that selfless, sacrificing, serving way that I have loved you" (see John 13:34).
The absence of love in the church of Corinth created multiple other problems. The absence of love in our churches, in our relationships creates multiple problems. It's possible to be doctrinally sound and orthodox but not to have love. It's possible to be active in church work but not to have love.
Just as the absence of love creates a multiple of problems, so the presence of love in a church, in a home, in a work place, in a nation—the presence of love can solve almost every problem that you can think of. The presence of agape love, God's love, that kind of love that is self-giving, self-sacrificing, that kind of love that serves, is committed to the best interests of the other person and doesn't expect anything in return.
As you read the book of 1 Corinthians, you see a people who were promoting their own interests. What they really cared about was, "How will this decision impact my life? What will make me feel good? What will make me happy?"
Now as you read through the book of 1 Corinthians, Paul talks about many of the expressions of love and what a difference love would make in a community of believers because only true Christians can have true love.
Dannah: Only true Christians can have true love. Oh, Nancy, thank you. I appreciate hearing these truths. Thank you for reminding us how this kind of love, the 1 Corinthians 13 kind of love, plays out in our relationships.
I hope you were able to hear how being a Christian and understanding God's deep, deep love should change the way we see each other. 
Think with me about how this kind of love plays out. In Nancy's book Adorned, she shared how we can help women in difficult marriages. But I'd add that these words could be applied to any of us—single, married, difficult situations or not. Here's what Nancy wrote:
Walk with them, pray with them, weep with them, challenge them or advocate for them when needed, stick with them over the long haul, and help them discern, step-by-step, the best course of action.
And that is how we love our friends well! We walk with them, pray with them, weep with them, challenge them, stick with them. I love that, because that is what God does with us!
How's that painting coming along? Are you seeing the beauty of friendship coming through? Get those brushes out, because we've got another layer to paint. Maybe use some white to brighten and soften some darker spots? That's what I think of when I think of a kind person. They just make my day better and brighter.
Mary Kassian and Nancy spent some time encouraging us to be Titus 2 women. And during their conversation, Mary said, God uses kindness in a way you might not consider.
Mary Kassian: Kindness is a drawing agent. It draws people in. It draws people to the source of it.
That's why I think the Lord wants us to be kind and to demonstrate kindness—not so people are drawn to us, for instance, to say, "Oh, Nancy is so kind and I want to know her." Drawn to the kindness of God so that we can draw them to Jesus.
Nancy: And it really does do that. There are lots of opportunities we have to show kindness or lack of kindness, and there's a whole lot more of the other side of that in large supply in this world.
Mary: Yes.
Nancy: But it has to do with the way we talk to others, the way we treat them.
We've been discussing recently about how much unkindness there is on the Internet, on social medial.
Mary: Yes.
Nancy: I don't know what it is that we feel, even Christians, like we get a pass if it's something on Facebook or Twitter
Mary: It's because we're not face to face; we're not having to deal with the person eye to eye.
Nancy: I think that's an important thing to say when we're posting something or we're putting out a tweet. If we would say, "If we were sitting across the table from each other, this nameless, faceless person that I don't know in cyberspace, would I say ugly things? Would I say the same thing?"
And it's a good thing for us to consider in every area of our lives—in our relationships, in our homes . . .
Mary: . . . when we're out shopping, when we're driving.
Nancy: Think about clerks in stores and how much incivility and curtness they probably get.
Mary: Or think of those customer service agents. By the time you get up, you can tell that people have been harsh to them all day.
Nancy: I've got to tell you, and this is being really personal. One time I had an issue with an airline. They had botched my ticket royally. I was so frustrated. And, of course, to get a live person is a big challenge. So I was at high frustration level by the time I got a real person, and the impatience was like, "I've had enough of this." It was coming out in my spirit and my tone. It wasn't actually the words I was saying, but it was just how I was communicating.
So I'm talking to this nameless, faceless person in who knows what part of the world their customer service agent is. All of a sudden she says to me, "Now, what did you say your name is?" I said, "Nancy Leigh DeMoss." And she said, "Oh, I love your radio program! I listen to it here in this city." And all of a sudden . . .
Mary: You turned into a very kind woman?
Nancy: I did. I turned into a very kind woman! In that moment, though, I really wasn't a kind woman, in my heart for sure. I don't know exactly what she picked up. But it just shows, if we will stop and think about how we're representing the Lord, which was my concern at the moment. I don't want this woman to think this message doesn't matter, that there's a crusty, negative, old woman who's behind this. When I stopped to think about what was at stake, then it turned to kindness.
Mary: I see it when I go somewhere with my husband. Brent is so cognizant of acknowledging the people in front of him. If we go through a teller, through a checkout, he'll ask the young girl, "So how's your day going today?" Or the parking lot attendant, "So how's your day going today? How are you doing today?"
It's fascinating to me how often that just that small kindness is a door for ministry, because often the person will say, "Well, I really haven't been having a very good day." And then it opens the opportunity to say, "Well, may I just pray for you for a moment about that?" Or to give them a word of encouragement.
Nancy: And it really takes just, sometimes just a moment, not a lot of time, but just the thoughtfulness. And when we do, we're expressing the kindness that God has shown us in Christ. He filled our hearts to the brim with His goodness and His kindness. That's why Paul says in Ephesians 4, for example, "Be kind to one another, tenderhearted, forgiving one another, even as God for Christ's sake has forgiven you" (v. 32).
So it's really just the outflow and the overflow of an awareness that God has been incredibly kind to me through Christ.
Kindness—how much more effective would our teaching and our exhortation and our ministry to others be if it was, "Just a spoonful of sugar makes the medicine go down," if it were accompanied by kindness? I think it just creates an atmosphere where people want to receive and respond to our words.
Mary: It also creates an atmosphere where you're able to speak truth because if you have a kind spirit, you can speak truth. I've seen this in my marriage where I have been able to address issues that are sometimes very difficult issues or sensitive issues. When I've been able to address them with kindness, that makes all the difference in the way that you are able to address conflict, address issues in the home, address thorny questions, that perhaps there are two different opinions. But if there's kindness, it makes such a difference.
Nancy: We heard your husband say when he was put on the spot on the day of your anniversary, and we said, "What's it like being married to Mary Kassian?" And he said, "I feel like I'm so blessed to be married to this amazing woman after thirty-two years." Now, that's because Christ is amazing.
Mary: Yes, because Christ is amazing.
Nancy: Now, you would be quick to say that. None of us, left to ourselves, we'd all be really unkind.
Mary: I think it's important also to mention that kindness is a journey. I know it has been for me. And in the passage here, it says, "teach the younger women to be kind."
Nancy: So kindness is a learning curve.
Mary: Yes. It's a learning curve. I believe that the Lord has worked in my heart, and I'm kinder now than I was when I was in my twenties and thirties. The Lord has just done that process of redemption in my heart as I've gotten older.
Nancy: Well, I'm watching the same thing happen in my heart, but I'll tell you what, it's a daily journey. It's a daily needing to be filled with the Spirit, confessing and repenting of a lack of kindness. And it's interesting that this theme of kindness is something that runs through the book of Titus.
Here's another convicting verse: Titus chapter 3 says, "Remind them . . . to speak evil of no one, to avoid quarreling, to be gentle or kind, and to show perfect courtesy toward all people" (v. 2).
Mary: Perfect courtesy.
Nancy: Toward all people.
Dannah: Perfect courtesy toward all people. Mary Kassian and Nancy DeMoss Wolgemuth have been unpacking instructions for women from Titus 2. Such good truths in there! If you'd like to hear more from Mary and Nancy on living out Titus chapter 2, we have a link in our transcripts to the entire series of "True Woman 201: Interior Design." They'll show you why living out these practical instructions will reflect true beauty to your world. 
I can't believe that we've come to the end of our time together. Thank you for spending it with me. I enjoyed my time painting with you and understanding some key elements of friendship. Take your painting home, hang it on the wall, and every time you see it, remember God's love for you in giving you the friends you have.
And maybe use it to remind yourself to be more mindful in how you treat your friends. In fact, maybe memorize 1 Cor. 13:4–7 and ask God each day to work on your heart into your friendships.
Can I encourage you? Look for ways to be more intentional with your friendships:
Be kind in your words. 
Take time to listen—really listen!—and not just smack a band-aid on their hurts or wonderings. 
Make space for your friends.
Maybe you need to drop something today to walk with a friend and hear how her week was or how you can be praying for her. Love is patient; love is kind.
Maybe you can encourage your friend by reminding her of the promises of God. I sure need God's Word. I need to spend time just soaking up the richness of all His promises. To that end we have a booklet titled 50 Promises to Live By. This booklet was compiled by Nancy DeMoss Wolgemuth. It's an easy way to read promises from the Bible and make them part of your daily life. We'll send you this booklet as our thanks when you support Revive Our Hearts with a gift of any size. And I hope you consider sharing it with a friend. 
Would you prayerfully consider making a donation to this ministry? You can do that by visiting ReviveOurHearts.com and clicking on the donate button up at the top of the page, or call us at 1–800–569–5959. Be sure to ask for the booklet, 50 Promises to Live By. Thank you. Because of givers like you, women all over the world are learning about Jesus, some for the first time. Women all over are coming to love Jesus—like you, like me.
We'll continue to look at friendship throughout this summer, not every week, but every so often, because I truly believe that as we grow closer to one another, we'll grow closer to our truest friend, Jesus. 
You know, I'm so enjoying our time together. What a joy to hang out with you each weekend! And next time we're going to take a moment to celebrate independence, and to see the beauty and joy of a heart set free. Oh, I can't wait, so join me next week for Revive Our Hearts Weekend. 
Thanks for listening today. 
I also want to thank our production team for helping to make this program possible: Phil Krause—who pushes the fancy buttons and leads the team, Dylan Weibel—who records my voice and keeps my water bottle handy, Rebekah Krause—who makes it all make sense, Justin Converse—who makes all the levels sound just right, Michelle Hill—who comes up with the creative ideas for each program. And I'm Dannah Gresh, and you've been listening to Revive Our Hearts Weekend. 
Revive Our Hearts Weekend is an outreach of Life Action Ministries.
1"All You Need Is Love." The Byrds.
*Offers available only during the broadcast of the podcast season.
Support the Revive Our Hearts Weekend Podcast
Darkness. Fear. Uncertainty. Women around the world wake up hopeless every day. What if you could play a part in bringing them freedom, fullness, and fruitfulness instead? Your gift ensures that we can continue to spread the message that Christ is King and that the way to know Him is through His Word. Spread gospel hope! Donate now.
Donate Now