Erin Davis: Welcome back to the Women of the Bible Podcast, I'm Erin Davis, and we've been walking through a Bible study on Abigail. When you think of the women of the Bible, you might not think about Abigail, but her story is such a treasure. It's helping us know how to deal with the difficult people in our lives with grace, with discernment, and by honoring the Lord. 
Now, I'm walking through the study with some friends of mine. We are enjoying opening our Bibles and digging into God's Word together. I hope you have some friends gathered around your table. We just had a really yummy lunch, and I hope you have yummy snacks with the ladies that you are walking through this study with. 
I know you've already heard from them, this is episode four, but I would love for them to introduce themselves again. And because we just ate a really yummy lunch, and because I'm always thinking about food, tell them your name and your favorite dessert.
Kesha Griffin: Okay, my name is Kesha Griffin. My favorite dessert . . . hmmmm . . . that's hard.
Erin: Cause there's so many good ones.
Kesha: I would say it would have to be some type of cookie. Chocolate chip cookie and ice cream. 
Erin: I like it. That is hard to beat. Okay. How about you?
Joy McClain: Oh, I'm Joy. I agree. Cookies, chocolate, in any way, shape, form. But I also like anything with lemon, especially in the summer. 
Erin: That sounds really good!
Joy: Lemon meringue sounds good right now!
Erin: Yeah it does. I'm Erin Davis, and I'm gonna go with cheesecake. Maybe it's because we just ate cheesecake, but oh, silky smooth! I actually ate the remaining cheesecake of another girl's cheesecake because it was so good . . . and I lack self control. But we're not here to talk about cheesecake—that's a whole other study—we're talking about difficult people today. 
We are walking through Abigail. We've been looking at our story, and if you're just picking up or even if you aren't in a Bible study, if we were in my living room we'd have to do a recap, right? So what's been happening really sounds like the plot of a good movie. We've got a handsome young hero, and he's on the run from a powerful and jealous man. Who is that powerful and jealous man? Who's David running from?
Kesha: Saul.
Erin: Saul. You get gold stars, girls. And he's been unjustly accused by Saul. He stops to help a man named Nabal—who we don't care for because the Bible describes him . . . How does the Bible describe him?
Kesha: He's just mean.
Erin: He's just mean.
Joy: Harsh and evil. 
Erin: He's harsh and evil. He's rude. We don't like him. David is treated as less than, and a fight breaks out. And this is like, "pass the popcorn," this is getting really good. And all of a sudden, a beautiful woman appears, and she is softly going to speak the truth. 
So we've not made it very many verses in 1 Samuel 25, we're about halfway through the chapter. But Kesha and Joy, I wonder, as we've been walking through these verses, is there anything that jumps out at you? Anything about the people in this story? The character of God? Or just truth that's been bubbling up to the surface as you've been going through this study? 
Kesha: I just really have been focusing on Abigail. The level of discernment and wisdom and courage and just being a peacemaker. I see her as being a peacemaker.
Erin: I love that word! I wouldn't have thought of that word for her, but that's absolutely true.
Kesha: Yes, I see her as a …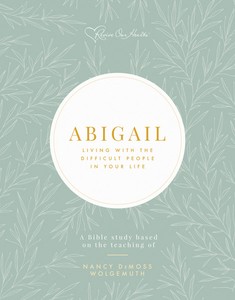 Get Your Copy
Abigail: Living with the Difficult People in Your Life