Click here
to watch Kesha's story of forgiveness—"Free at Last!"
Erin Davis: Welcome back to the Women of the Bible Podcast. I'm Erin Davis, I hope you've been following along with us as we've been walking through the study Abigail: Living with the Difficult People in Your Life. Abigail's story is found in a single chapter of the Bible. She's a hidden gem that maybe you've known before, maybe you haven't. But we love her. We all want to be "Abigails" at the end of this Study. 
I'm gathered with some friends of mine. You've gotten to know them already through this podcast, but I'll let them reintroduce themselves. I want you to tell us: what does it look like for you to open God's Word with women in your own life?
Kesha Griffin: Well, my name is Kesha Griffin. I actually love, love, love, getting together with the ladies of my church. We normally get together once a month for our women's fellowship. What we do is, I usually come with a lesson and then we have very open discussion. I present the information, present the topics, and the ladies just chime in. It's just so good to hear everyone's perspective. We're learning from each other. We're hearing how it applies in our lives from a different perspective. So that's how I love to get together with the ladies at church.
Erin: Getting women to talk—never a challenge. But using the Bible, and using that as our guide, and opening the conversation. I love that. Meg, let's introduce yourself to the . . .
Meg Honnold: Spoiler! I'm Meg. 
Erin: Yeah, I said "Meg," and what does it look like for you to open God's Word with other women?
Meg: Yeah, well typically, I love a good coffee shop conversation. But this year it's actually looked a little different for me. I've really loved those tools, so this is hopefully a good resource. I've been using the Bible Recap. It's actually a podcast that was created this year (2019). It's a chronological Bible reading. Each day there's posted a new episode. It's fifteen minutes long, and it's a recap of what you've read that day in Scripture. I've loved this because at the beginning of the year I was able to gang up with a bunch of women. "Hey, are you going to do the podcast? Let's do the podcast together." 
It's been really helpful for accountability for me to do the consistent daily reading, because I know that those ladies are going to be checking up on me. "Did you hear today's episode?" And I can listen to the recap on my way to work after I've read the Scripture that morning.
So that's been a really helpful tool for me this year.
Erin: I love that. I have a group of friends that are all in the same season of life. I believe the season of life is officially called "crazy." We have small children at home. We have children in school, so we're doing a lot of running. As often as possible we get together in person, but to mitigate just sort of the season of life that we're in, we text each other every morning. "What did you read in Scripture?" 
And there's not a lot of in-depth analysis there, unless, sometimes it's like, "Wow! Look at this thing that I saw!" or "I feel convicted by this," or "Pray about me for this." But there's just that daily drip of accountability in our lives, that you know somebody is going to ask, "Did you read your Bible today?" 
It's a real motivator, because I think all of us have the temptation to (or at least I do) prioritize the to-do list and "I will get to reading my Bible at some point." And "some …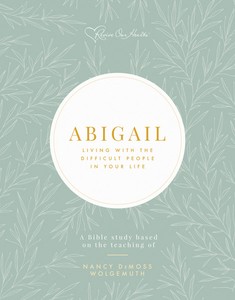 Get Your Copy
Abigail: Living with the Difficult People in Your Life