Erin Davis: Welcome back to the Women of the Bible podcast! I'm Erin Davis, and we've been looking at a passage in 1 Samuel 25, trying to understand the life of a woman named Abigail. She is a gem of a woman, a treasure hidden in Scripture. We've been walking through the study together, Abigail: Living with the Difficult People in Your Life.
I've been gathered with friends. We have something good to drink; we have our Bibles open; we have our copy of the study. I hope that you have something good to drink, and I hope you have your Bible open and your copy of the study. I hope you're gathered with some great friends, just like I am, as we're looking at this woman who models for us how to deal with difficult people in ways that honor the Lord and show grace.
I want to introduce you to some friends of mine. You've already heard their voices on this podcast, but I'll let them tell you a little bit more about themselves. First, we have my friend Joy.
Joy McClain: Thank you; it's good to be here. I'm Joy McClain, and I live just down the road, three hours away, and have been married to my beloved for thirty-four years. I have four kids, six grandkids.
Erin: Four kids, six grandkids! That's amazing! I've said I want to skip parenting and go right to grandparenting.
Joy: Amen!
Erin: That seems like a really good gig.
Joy: It is the bomb.
Erin: Do your grandkids live close to you?
Joy: Yes.
Erin: Oh, you're blessed! And you're a farm girl.
Joy: Yes.
Erin: You live in Indiana.
Joy: Yes.
Erin: Where the soil is dark and lovely.
Joy: And very wet right now!
Erin: And very wet right now! You have lots of critters. What do you have?
Joy: Chickens, goats, cats, donkey, pony.
Erin: Okay.
Joy: I think I covered them all.
Erin: That's great.
Alright, we're also joined by another friend of mine. Meg, tell us about yourself.
Meg Honnold: I am Meg Honold. I live about fifteen minutes down the road from Erin, in Rollo, Missouri, with my dear husband, Philip. I host the podcast, "You Never Asked." I love Missouri.
Erin: And you grew up on a farm.
Meg: I did. I grew up on a farm. We had goats, chickens. We had a sheep.
Erin: What was its name?
Meg: It didn't have a name. It was a very tragic story.
Erin: Oh, yes. Gotcha. Okay.
Meg: It ended up running away and dying, hence we didn't have any more sheep.
Erin: Sure.
Meg: But I grew up on a farm. I love the midwest. I love the woods.
Erin: Yes.
Meg: Yes, I loved growing up on a farm.
Erin: I live in Missouri on a farm, so we didn't plan that, but we're farm girls. We're midwestern farm girls, which, you know, kind of makes us experts on the story that we're reading here. Because what does Nabal do for a living?
Joy: He has those sheep to shear!
Meg: Thousands of them!
Erin: He has sheep; he has goats. He's a farmer. 
If you're just picking up on this podcast, I'll give you a quick review. I used to say it was the CliffsNotes version of things, but nobody knows what CliffsNotes versions are anymore. So it's the Wikipedia, it's the Twitter version of what's happening here in 1 Samuel. We're just focusing on one chapter (that's what contains Abigail's story), and there are three people that really we've been introduced to.
First is David. You probably know him as King David, though he's not yet king. He's been anointed king; he has slain the giant Goliath. But at this point Saul is still king and David's on the …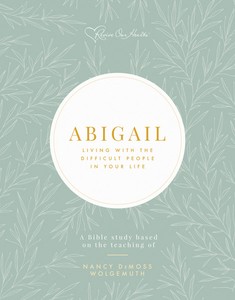 Get Your Copy
Abigail: Living with the Difficult People in Your Life