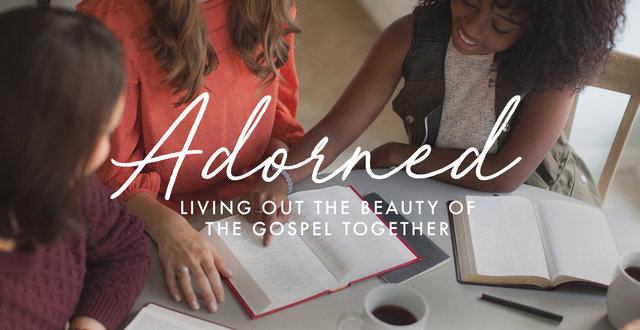 — Audio Player —
A Taste of Heaven
Leslie Basham: Betsy Gómez grew up in church, but never realized she could glorify God by investing in her husband and her children.
Betsy Gómez: I was never trained to love my home. I was never trained to live according to this order.
Leslie: This is Revive Our Hearts with Nancy DeMoss Wolgemuth, author of Adorned, for Monday, January 22, 2018. 
Nancy: For the past couple of weeks, some of my dear friends have been exploring how we can live out the beauty of the gospel. We've been listening to the messages from the Revive '17 conference, all based on Titus chapter 2. That conference took place last fall in Indianapolis.
We'll hear the final messages this week, beginning with Betsy Gómez. She was a marketing executive in the Dominican Republic who barely even knew her young children because she devoted so much time to her work which she really loved. Then the Lord led her to ReviveOurHearts.com where she listened to messages from the very first True Woman conference. And that began a process that radically transformed her life. She'll tell us about it, as she explores a phrase from Titus 2 that exhorts younger women to be "working at home."
Before we get to that, I want to play you part of a drama sketch that introduced this message. It's from the group Acts of Renewal. They reminded us busyness and overcommitment come from many places, not just a job outside the home. 
Drama:
"Madeline, tell us about this committe you wanted to talk to us about."
"Okay, yes, VBS. I know, I know, it's only September, but no one has signed up for this VBS committe for next year yet, and I thought of you all. I mean, I have got a great vision for something that could be fun and different and bring in some more boys, because you know we always have a ton of girls but never a lot of boys."
"So what's your idea?"
"Sorry, could I use your restroom?"
"Oh yeah, it's done the hall and the first room on the left. Oh, you know what? There is probably like a big pile of laundry, so just shove that to the side and you can close the door. Okay . . . so . . . Joshua and the Spies VBS. I thought of it myself. No more out-of-the-can VBS. I mean, there could be clues, a decoder rings for Scriptures. We could build a giant wall of Jericho out of paper-mâché like a piñata."
"Don't the walls fall down? They don't beat them down."
"Right. Right. So . . . the walls fall down and we have a giant water balloon fight finale. Really fun, huh? And biblical 'cuz they went after the city, but our version wouldn't have bloodshed."
"Yeah, and a lot of work if we are going to make it from scratch."
"Oh, but it's fun work. I love this kind of stuff. And, if we had a strong committee, then no one would feel like they had to do much. In fact, I'd make sure of it."
(Children screaming in the background)
"Shaun, stop that. Okay, you can play something on your Playstation until you get sleepy. So . . . what do you think?"
"Well . . . "
"I'm sorry, so . . . what did I miss?"
"Well, she was just telling us her new idea for VBS next summer, and she wants to know if we will help her."
"Oh, has Pastor Rob asked you to lead this?"
"Well, not exactly. But I am one of those moms who've been around, like, forever. So, you know, I thought it was time to step up and be chairmen, like director of it."
"Yeah, but doesn't someone else need to be here? Like Christine from Christian Ed?"
"Of course I will talk to her. But I thought if there was a group ready to move forward it would be easier for everybody."
"Aren't you spread a little too thin?"
"What makes you say that?"
"I mean, with the Soup Kitchen and the Mom Group and you're always at the church helping. I just wonder if maybe you need to spend a little bit more time, you know . . . here."
"Oh, you mean all of this? No, no, no, no, it has just been a crazy busy week. I mean, I can totally fit this in. And, I know for sure that Sarah Daltry does not want to chair for 2018, so I thought this was the perfect time to . . . Shaun! I hear you in the hallway. Get back in bed!"
Nancy: That's the drama group Acts of Renewal, reminding us that we may need to say "no"—even to good things—so we can say "yes" to whatever God is calling us to do. To see that entire sketch, visit ReviveOurHearts.com. Now, let's listen to Betsy Gómez as she shares her story of discovering God's priorities for her life.
Betsy: A working woman . . . that's what I always wanted to be. I wanted to be productive, to feel that I contributed to something bigger than myself. I always wanted to play an important part.
I had a deep desire for significance. That's what I saw in the women around me. I saw a single mom, a lawyer, with multiple jobs. On the other hand, I saw women in church. They were empowered with strong leadership, and they were mostly in charge of everything.
That's how I took my idea of productivity; that's what I hoped to be someday. I wanted to finish my professional career, and I also wanted to be fruitful for the kingdom of God. Being a teenager, I taught in Sunday school, and I got my first job when I was still in school.
I even went to work in my school uniform. I grew up that way—with one foot in the office and the other in the church. I completed my marketing degree, and then I got married, and I continued with the same rhythm of work and service in the church.
A couple of years after I started my master's degree, I got pregnant, and by the time I finished my studies, I was ready to deliver. Then, I stayed at home for several weeks, and I felt that I was drowning in the housework!
I remember that day that I went outside of the home, after weeks of constantly nursing my son at home, and I actually went to a job interview. (Isn't that crazy?) I needed fresh air; I wanted my life back!
Everything inside of the walls of my home felt so mundane, so ordinary. Nothing was glamorous, and everything was done in the shadows. I thought that the time I invested in my home was a waste. If I could have someone who could do the ordinary—like housekeeping and keeping my children—then I could go for the extraordinary!
I went to the office sooner than I was expected, and I was given more growth opportunities. I felt so proud of myself! But, deep down, I felt that something did not fit. It was confusing. I was young, with a lot of opportunities, but the reality was that, I was forcing my heart to be happy about it.
Sometimes I came to think that the Lord was calling me to step into full-time ministry. Why wasn't I enjoying that? What was the problem? I loved God; I loved to work; I had great opportunities to rock the marketplace . . . but I wasn't fulfilled.
I thought I was doing my best as a mom just because I had a nanny that lived with us and took care of my kid in the house. Why was I struggling? I found the answer to my question when the Lord opened my eyes to His Word.
One night, I went online and I Googled True Woman. My husband recommended me to check out that women's ministry. And, honestly, I thought I was going to find a definition of myself! (laughter) I found the opposite. I was heartbroken. I was in shock!
I started listening to a teaching on Titus 2, and for the first time in my whole Christian life, I could see the connection between the saving faith and the way I was called to live. As I dug deeper, I discovered that God's priorities for a woman in my stage of life were related to the very thing I neglected the most . . . my home.
I was in total shock when I realized that the result of neglecting God's priorities for my life was to revile the Holy Word of God. I started reading this passage again and again: "Older women . . . are to teach what is good, and so train [younger] women to love their husbands and children, to be self-controlled, pure . . ." (Titus 2:3–5).
And I said, "Well, yes, I need to work on all that." But when I read, ". . . working at home . . ."—my world stopped! Seriously! Those three words got stuck in my head, and as I continued reading through the book of Titus, I realized that the concept of work—labor—is referenced nine times and is a very important theme throughout the letter. Paul wrote this letter with the purpose of establishing order in the church.
At some point, I was confused. Like, did my Bible have the book of Titus? "I'm not sure!" I was never trained to love my home; I was never trained to live according this order. I needed to understand that sound doctrine had the purpose—not only to inform my mind—but to transform my life . . . and that is what I was missing.
When I contrasted my life with Titus 2, I realized that instead of adorning the gospel, I was adorning my idols! Every single motivation behind my work was to make me look better. Every task, every project completed—at the church or the office—was made to nourish my worldly pleasures.
The sense of accomplishment at the end of the day was just only feeding the god that I'd made of myself, and that was the problem! I knew the ABCs of the Bible, but my life and my worldview was contradicting the faith I claimed to believe.
To some extent, I was like the religious that Paul mentioned in Titus 1:16: "They profess to know God, but they deny him by their works. They are detestable, disobedient, unfit for any good work." I was professing to know God, but I was denying Him by my works.
I was a perfect fit for the church and the office, but I was unfit for God's good works in my home. I didn't see value in my home. I bought the worldly idea that I couldn't be just a mom—I couldn't be just a housewife. I didn't have a heart for creating a home.
That's why I never found time to devote myself to the ugliness of house chores. I thought like a popular Hispanic meme that says, "Women, let's get out of the house! Because the house will only brutalize you, make you older—and, at the end, no one will thank you."
You see, we assign value to the very things that we get recognition for: paychecks, rewards, people's approval, promotions. My work at home was not going to get me any of that. But by His grace, His amazing grace, God convicted me!
The first thought I had was, Lord, I've sinned against You. I was tempted to think that the problem was something outside of me . . . that if I quit my job and I got my act together, I would solve the problem right away.
But no, the problem doesn't rely on anything external; the problem is our own heart that tends to incline itself to idols. Like we read in Jeremiah 17, verse 9: "The heart is deceitful above all things, and desperately sick; who can understand it?" My heart was deceiving me.
But the Word of God, like a mirror, showed me the idols I needed to tear down. So, no matter the season we are in, we will always be tempted to idolatry. We are constantly creating idols—or even replacing them with good things.
Once God revealed my idolatry, I repented. I turned from my idols. I found the joy of living according to His beautiful design. But, while I was treasuring God's priorities, little by little I started inclining myself to my new, more-pious-looking idols.
I started to place my identity in the new version of myself: "Betsy, the housewife, the devoted mom of boys and devoted wife." Very soon, I was tired again! Just like Nancy mentioned the quote of John Calvin: "Man's nature, so to speak, is a perpetual factory of idols."
If we want to live according to the order that Paul intended to present in Titus 2, we need to deal with our hearts first. Our hearts must be under the authority of the Scripture, under the influence of the Spirit, at the foot of the cross. And the only way to do it is embracing God's grace.
We can read in Titus 2: "For the grace of God has appeared, bringing salvation for all people, training us to renounce ungodliness and worldly passions, and to live self-controlled, upright, and godly lives in the present age waiting for our blessed hope, the appearing of the glory of our great God and Savior Jesus Christ, who gave himself for us to redeem us from all lawlessness and to purify for himself a people for his own possession who are zealous for good works" (Titus 2:11–14).
If we want to embrace that grace that will lead us to those good works, the first thing we need to do is, we need to turn back from our idols. Ask the Lord to reveal the name of your idol. Confess. Repent. In my case, my idol was the recognition and significance that my job and service provided. What about yours?
Are you placing your identity in something outside of the home—or even inside of the home? Are you placing your identity in a well-decorated home with well-mannered children and Pinterest-worthy dinners? (laughter) Or are you being dominated by vagrancy?
You might be physically at home, but your heart and your mind live in social media. Is it people's approval that fuels your desire to be a homemaker? The good news, sisters, is that, "If we confess our sins, he is faithful and just to forgive us our sins and to cleanse us from all unrighteousness" (1 John 1:9).
Secondly, we need to depend on God's grace and work it out. We need to "work out [our] own salvation" (Phil. 2:12). You know why? "For [it's] God who works in [us]" (v. 13). So, He will do it! We can rely on that grace.
Thirdly, we need to be trained according to God's amazing grace. We need to stop being conformed to the world, but be transformed through the Word of God . . . but also, we need to be trained by other women.
I remember calling my friend, Noelia, several times, asking her to come and teach me how to clean a bathroom or how to organize a closet . . . because the Christian life is not a road you can ride by yourself.
And, lastly, we need to set our hope in the right place! Not in our performance, not in an "Instagrammy" home, not in our abilities of being the Christian version of Martha Stewart. We need to set our hope in the Person of Jesus, in the "the appearing of the glory of our great God and Savior Jesus Christ who gave himself for us to redeem us . . . to purify for himself a people for his own possession who are zealous for good works" (Titus 2:13–14).
So hope in Jesus! Set your affections on things above. Let eternity be the fountain for your identity.
If you do that, you'll be free to value the right things. You will be free to embrace God's priorities whether you are a stay-at-home mom, or if in this stage of life you need to work outside of the home.
You will not be consumed by chores because your identity's not there. You will not feel guilt because you have to work outside of the home, because your identity is not there. You will only learn to treasure what God treasures. No matter the circumstances of life, you will care for your home as a reflection of your longing for your eternal home.
As one of my pastors, Tony Marita, says, "The order of our loves determines the direction of our lives." The first thing here is to love what is right, to treasure what God treasures. And you might be wanting to do all these things, but you're asking yourself, "How is this even possible!"
We can devote every second of our life to scrubbing floors, creating a great mood, but the bad news is that any—any—of our good, good work will never be enough to deserve the grace that we need.
Praise the Lord for Titus 3:4–5. It says, "But . . . the goodness and loving kindness of God our Savior appeared, he saved us, not because of works done by us in righteousness, but according to his own mercy."
We first need to taste the goodness and lovingkindness of God. That is a requirement if we want to extend it to others. Every single service in our home can be a beautiful reflection of His love. It's because of Jesus' perfect work on the cross that our home can be an extension of God's doing, in His redemptive plan.
Jesus worked to serve us until death, to take us home with Him—and that's all the motivation we need. Do we want to cultivate a heart for home? That's all the motivation we need. And this is not a cookie-cutter concept.
All women will not work at the home in the same way, but we can all live in freedom to embrace God's priorities according to our gifts, stages of life, needs of our family . . . because our home is not an idol in itself.
As Nancy says, our home is intended to be a parable of God's love to His adopted prodigal sons and daughters. So any sacrifice done in the home is just a reflection of Jesus' hospitality to take us home with Him forever.
So, rather than a paycheck, rather than constant recognition, the fruit of our work at the home will take time to ripen, because it doesn't work like Facebook "likes."
This has been a long journey of understanding that my desire to play an important part, to contribute to something bigger than myself, was not wrong. I just needed to fix my affection in the right place.
Our homes are agencies for the advance of the Kingdom, and embassies for the gospel—that will provide to others a taste of Heaven. What a glorious task we have, what an amazing privilege to be workers of the Kingdom of God!
So let's stop reducing this glorious truth to the question, "Is working outside of the house a sin?" Sisters, let's go deeper! Let's cry out to the Lord, that He will reveal any idol in our hearts, that He will give us a heart to surrender to whatever He's calling us to. He will give us the obedience required to be faithful to Him.
Remember, Jesus worked to take us with Him forever, until death, and that's all the motivation we need.
Nancy: What a sweet picture for how God can take a young woman's life and put the beauty of the gospel on display. Betsy Gómez has been showing us what it means to surrender our wills to God's will and make His priorities our priorities.
I want to encourage you to take a moment today to follow up on Betsy's message and ask yourself: Am I living out God's priorities for my life in this season?
For you, surrendering to God's will may involve some small tweaks to your schedule. Or like Betsy, it may mean some pretty major decisions. But you can start that process today by asking Him to direct your steps and show you His will. 
This message from Betsy was based on a phrase from Titus 2 that encourages younger women in particular, but all of us as women, to have a heart for our homes.
And I'd like to help you get to know Titus 2 even better by sharing a book I've written on that passage called Adorned: Living Out the Beauty of the Gospel Together. When you support Revive Our Hearts with a gift of any size, you'll be helping this program continue each weekday, and we'd like to say "thank you" for that support by sending you a copy of the Adorned book. We'll also send you a study guide to help you dig even further into this passage. It's a perfect tool to help you go through this book with a small group.
Ask for Adorned and the study guide when you call us at 1–800–569–5959, or visit ReviveOurHearts.com to make your gift. And be sure to request the book Adorned along with the study guide. When you put together your small group to go through this book, you can also get every teaching from Revive '17 on DVD, including the message we heard today from Betsy. Go to ReviveOurHearts.com to get more information on how to watch these messages as part of your small group study.

And let me also mention, Betsy Gómez will be speaking this fall at True Woman '18. Just think: Betsy's heart and then her life was changed when she listened to True Woman messages online. And now, she's going to be one of the speakers at the True Woman conference. Only God can bring about that kind of transformation.
True Woman '18 is coming to Indianapolis this September 27–29. We expect it to sell out early, so make plans now to join us. You can get all the details at ReviveOurHearts.com.
Tomorrow we'll hear from Bob and Dannah Gresh as they get really honest about the struggles that some marriages can go through. It will be real and raw but also full of hope. Please be back for Revive Our Hearts.
Revive Our Hearts with Nancy DeMoss Wolgemuth wants to help you surrender everything to the Lord. It's an outreach of Life Action Ministries.
All Scripture is taken from the ESV.
*Offers available only during the broadcast of the podcast season.
Support the Revive Our Hearts Podcast
Darkness. Fear. Uncertainty. Women around the world wake up hopeless every day. You can play a part in bringing them freedom, fullness, and fruitfulness instead. Your gift ensures that we can continue to spread gospel hope! Donate now.
Donate Now