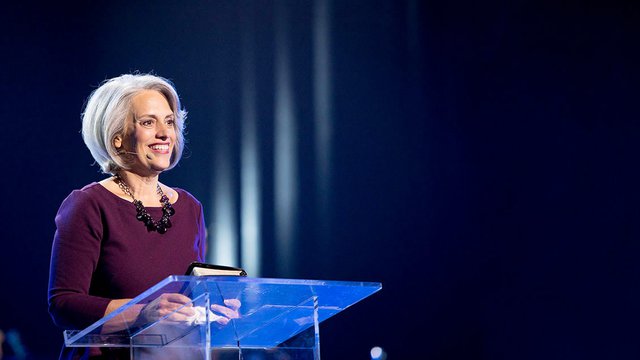 Storms: A Means to Glorify God
Leslie Basham: TV sitcoms usually begin with a problem and thirty minutes later end with a solution. Wouldn't it be nice if life were like that? On second thought, maybe it wouldn't be so nice. It's the problems and the struggles that help us grow, help exercise our faith and often allow us to glorify God.
This is Revive Our Hearts with Nancy DeMoss for Wednesday, October 30. Today, Nancy will pick up back in Psalm 57. Over the last few days we've been looking at this passage finding out what David has to say about the storms of life. We've seen the power of worship in the middle of difficult circumstances. And we've heard the testimonies of some women who have faced storms themselves. Now, let's join Nancy reading Psalm 57...
Nancy DeMoss: David says (verse 1): "Have mercy on me, O God. Have mercy on me. For in You my soul takes refuge. I will take refuge in the shadow of Your wings until the disaster has passed." We saw, a few days ago that David consciously took refuge in God.
And then we see in verse two, where he says, "I cry out to God, Most High." He cried out to the Lord: "To God who fulfills His purpose for me." Verse 3: "He sends from heaven and saves me, rebuking those who hotly pursue me; God sends His love and His faithfulness."
And verse 4: "I am in the midst of lions; I lie among ravenous beasts--men whose teeth are spears and arrows, whose tongues are sharp swords." And sometimes the tongues--the words of other people--can cut through and hurt us even more deeply than physical swords can. David is saying: "I know what that's like."
Then he prays in verse 5. (This is the first time we see this chorus.) "Be exalted, O God, above the heavens; let Your glory be over all the earth." Then in verse 6, he goes back to talking about the storm. "They spread a net for my feet--I was bowed down in distress. They dug a pit in my path--but they have fallen into it themselves."
And then (verse 7) he describes the condition of his heart as he finds refuge in the eye of the storm. He says, "My heart is steadfast, O God, my heart is steadfast; I will sing and make music." Verse 8--"Awake, my soul! Awake, harp and lyre! I will awaken the dawn."
When I think of this passage, I think of Paul and Silas, lying in the middle of the night, in that Philippian jail: persecuted for their faith, physically having been harmed, separated from those that they loved. And what are they doing in the middle of the night? Singing hymns to God! What an incredible picture! Through their pain, singing to the Lord.
David says (verse 8b-10): "I will awaken the dawn. I will praise You, O Lord, among the nations; I will sing of you among the peoples. For great is Your love, reaching to the heavens; Your faithfulness reaches to the skies." Then he repeats that chorus once again, in verse 11: "Be exalted, O God, above the heavens; let Your glory be over all the earth."
I believe that here we have the key to how David survived the storms of life, and the key to how you and I can survive the storms of life. David is saying: "Whatever becomes of me, whether I make it alive through this storm or not, whether I ever make it on to the throne, whether King Saul outlives me or I outlive him, whatever happens to me--there's one supreme driving motive in my life. And that is that God will be exalted."
Because, you see, David recognized that--ultimately--it's not about us. It's not about me. It's not about my circumstances. It's not about whether I survive. Ultimately, it's all about Him. It's about the glory of God and His purposes being fulfilled in this world.
I am so thankful that Jesus, when He came to this earth, lived with that same goal in mind. Remember in John, chapter 12, verse 27, where Jesus was praying. He was praying to the Father in anticipation of having to go to the cross to bear our sins. And Jesus said, "And what shall I say? 'Father, save me from this hour'?" And isn't that the natural thing to pray? O God, don't make me go through this.
Now I don't think it's wrong to tell God, as Jesus made His request (Luke 22:42) in the Garden of Gethsemane: "Father, if You are willing, take this cup from Me." But in John 12:27, Jesus goes on to say: "No, it was for this very reason I came to this hour." He is saying: "This is why I was born. This is why I am here--not just to live a good life, not just to teach good things--but to die for the sins of men."
Jesus says: "God's redemptive purposes matter to me more than my own life, more than my health, more than my safety, more than my pleasure; what matters to me is that God be glorified." And so He goes on to pray: Father, glorify Your name. That's all that matters, that You are pleased. It's that Your purposes are fulfilled.
Now when you pray that prayer, the wonderful thing you can be sure of is that God not only hears but is going to answer that prayer because God's Word tells us that He will be exalted.
And that's why in Psalm 46:10 we read, "Be still, and know that I am God." Let go; cease striving; relax and know that He is God. And then God says, "I will be exalted among the nations. I will be exalted in the earth." You see, the day is coming when every knee will bow and every tongue will confess that Jesus Christ is Lord. He will be exalted.
The question is this: Is your drive in life to see God glorified or to see your circumstances made easier?' Have you come to the place in your life where you're more concerned about God being magnified through your problems than you are about getting relief from your problems? Which really matters more to you?
Now, naturally, what matters most to us is getting relief, getting out of the problem, solving the problem. We live in a quick-fix-everything society. You know, take two aspirin or put a quick fix on it, as in TV, where every problem is solved in 28 or 57 minutes. But life just isn't like that.
Our natural instinct is to want to get out of the problem, to fix it quickly. We have to come to the place where what matters even more to us is that God would be glorified through our problems, through our circumstances.
So let me encourage you, as you think about what storm you may be walking through right now, to ask "How could my current challenges, how could my current circumstances--the ones I'm in right now--how could they become a means of God receiving greater glory?"
Should I say, "Father deliver me from this problem or should I say, Father, glorify Yourself and Your name while I'm in the middle of this problem?"
The three Hebrew young men (in Daniel 3) said to that pagan king: "You can throw us in that fiery furnace. You can do whatever you want to us. But we're not going to bow the knee because what matters is that we worship and exalt and glorify the living God. And our God may save us from this danger. He may save us from your furnace. He may not! We may die in this--but if we do, that's OK. We want God to be glorified."
The apostle Paul tells us (in Romans 8) that the sufferings of this present time are not worthy to be compared with the glory that will be revealed in us. You see, those sufferings are working for us, Paul says, "an exceeding and eternal weight of glory"( 2 Corinthians 4:17).
And so Paul says that we need to be reminded that those afflictions are momentary and they're light. You say, "It doesn't seem very momentary to me. It doesn't seem very light to me." It doesn't seem that way right now. But in the light of eternity, we will see that God was using these afflictions to bring great glory to Himself and to mold us into the image of Christ.
And that's why Paul could say in Acts, chapter 20: "When I go from town to town, city to city, preaching the Gospel, there's only one thing I know for sure. And that is that I know I'm going to face persecution. I don't know if we're going to have any new converts. I don't know if we're going to have any great results. But I do know, because the Holy Spirit has told me, that in every city I will be persecuted."
How would you like that calling in life? But Paul goes on to say: "None of these things move me. My heart is steadfast because I don't count my life dear to myself. All that matters to me is that I may finish my course with joy and the task that I've been assigned by the Lord Jesus--to take the Gospel to these different cities."
All that matters is that the Gospel gets out. All that matters is that God is glorified. And if I die while I'm doing it, that's OK. All that matters is that God be glorified.
And so, would you cry out--as you think about your circumstances, your home, your workplace, your problems, your pressures, the circumstances you're facing when you leave this place and go back into your world today--would you cry out with David on the chorus of this Psalm?
"Be exalted, O God, above the heavens; let your glory be over all the earth." O God, it's not about me. It's not about my comfort. It's not about my happiness. It's not about my convenience. It's all about You. How can You be glorified through this circumstance? And to that end, I surrender myself.
Leslie Basham: What is your life about? Are you focusing on God and His glory or on yourself? Nancy will be right back with a final thought on this subject. Before she comes, let me tell you about a book that will help you maintain a proper focus.
It's called When Heaven is Silent by Ronald Dunn. He writes about the difficult times in life, the confusing and dry times. He went through a period of grief after losing a teenage son to suicide. And he explores what it's like to seek God when circumstances make it seem impossible.
The book comes as part of what we're calling The Survival Pack. It also includes a taped interview with Rick and Judy Taylor. Hear how they learned to keep their eyes on God after the death of their child. You'll also receive Breath of God. It's a CD full of music and Scripture that will point your mind to God's goodness. To get The Survival Pack for a suggested donation of $35, just call us at 1-800-569-5959. Or go on-line, visit ReviveOurHearts.com and click on: Order Today's Resources.
Let me remind you that Revive Our Hearts is supported by the gifts of those who listen. You're hearing the programs because there are people in your area who enjoy hearing what Nancy has to say. These people invest in the program so that the message can continue on this station.
Thank you if you are one of those people. If not, maybe today is the day. Would you consider becoming a monthly supporter? You can send a check to Revive Our Hearts. Tomorrow, we'll hear the story of a woman whose husband had open-heart surgery. She thought that storm was over, until it returned ten years later. Now, here's Nancy.
Nancy DeMoss: John Piper has reminded us that God is most glorified in us when we are most satisfied in Him. Regardless of the circumstance that you may find yourself in right now, are you satisfied in Christ? Have you said to Him with all of your heart, "God, You are enough. If I never get out of this lion's den, I'll still be satisfied with You." When you are satisfied in Him, then God will be glorified in you and God's purposes will be fulfilled.
Leslie Basham:
Revive Our Hearts with Nancy Leigh DeMoss is a ministry partnership of Life Action Ministries.
N.B. All biblical quotations are from the NIV.
*Offers available only during the broadcast of the podcast season.
Support the Revive Our Hearts Podcast
Darkness. Fear. Uncertainty. Women around the world wake up hopeless every day. You can play a part in bringing them freedom, fullness, and fruitfulness instead. Your gift ensures that we can continue to spread gospel hope! Donate now.
Donate Now