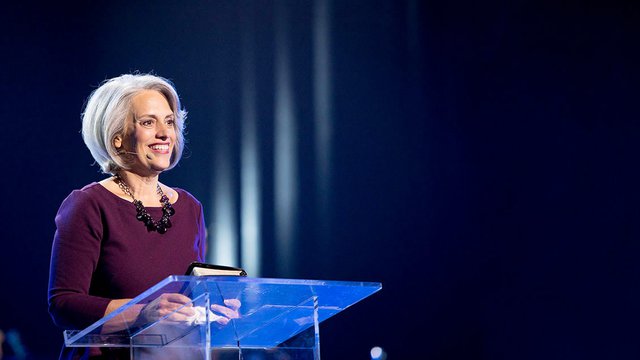 When It Seems the Storm Will Never End
Leslie Basham: When a storm comes in and brings a little rain, we can handle that. And if another storm brings some heavy wind, we're OK. But occasionally, there's a biggee, a storm that throws hail, wind, thunder, lightning and rain at us. And it's a little bit different. We hunker down and don't venture outside.
Life is kind of like that. We can handle the occasional difficulty but sometimes it seems like we're getting hit with one problem after another. Today, we'll hear from a woman who experienced that kind of emotional storm. She learned something we heard about on yesterday's program, The Power of Praise in the Middle of a Storm.
This is Revive Our Hearts with Nancy Leigh DeMoss for Tuesday, October 29. We'll hear from Nancy in just a minute. First, listen as this woman describes the storm she's had to face.
Speaker: "Two and a half months after I got married, six years ago, I was diagnosed with breast cancer. And then my mother died a week after my last chemo. Because of the combination of my counts being low and the emotional stress of my mom dying, I missed her funeral. I was home with a real high fever. And it got even higher and I went into the hospital for a week. And my doctor couldn't find an infection. He just said that my body had shut down and I almost died.
"But I made it through that. And then my aunt died, whom I had gotten really close to after my mom died. She kind of took me under her wing. And in some ways I was even closer to her. After she died I had a miscarriage.
"They told me it was all right to get pregnant because I was doing really well as far as my cancer was going. But I had a miscarriage. And then a few months later the cancer came back in my bones.
"But each time through all of these things, when I think about how real God was to me--it started at the point where I, most of the time, I was in tears--I said, 'God, I praise You in it. And I just thank You that You're the Lord of my life.' And each time, I could just feel His presence so strongly. And now when I look back on all these things, I don't have bitterness or anger or anything like that because God was just so real to me. That's what I remember--feeling His presence so strongly through all the different storms."
Nancy DeMoss: Praise demonstrates faith, faith that God is more real, more present in that circumstance than the circumstance itself. And faith pleases God. Faith is what says, "I trust You. You are great. You are still good. You are still true. Your ways are still right. Though I cannot see Your hand, yet I trust Your heart." And when we praise, when we verbalize to the Lord and to others the goodness of God, even when it seems that God is not good, when we exercise faith, we please Him. And in that place, I believe God comes and sends deliverance to our hearts.
That is how come David could say in Psalm 57, "My heart is steadfast, O God, my heart is steadfast." As you read that passage and the context there, the verse before, it says, "I'm in the midst of lions." The verse afterwards, he says, "They've dug a pit for my path, they put a snare in my way. They're trying to trap me." And in the middle of that, he says, "My heart is steadfast. Be exalted, O God, you are great!"(paraphrase).
You've heard me quote it before if you've been here very many times. And you'll probably hear me quote it many more times. G. Campbell Morgan, a great Bible teacher of the last generation said, "The supreme need in every hour of difficulty and distress is for a fresh vision of God. Seeing Him, all else takes on proper perspective in proportion."
Seeing Him. We're either looking at the wave...that's what Peter was doing...well, first he was looking at Jesus. He had the faith to take Jesus at His word and get out of that boat and step into the waves, so he was looking at Christ. But then he remembered that he was on the waves, and he looked around at the circumstances. And he said, "I'm going to die, I can't survive this."
When we get consumed with the vision of our circumstances, we will get overwhelmed because life is overwhelming. Life is painful. Life is stormy. And there is no getting around it. And most of us spend much of our lives just trying to avoid storms, trying to get out of the waves.
Now, not every moment of life has to be stormy or wavy. Thank God there are moments when the storm does subside. But there are storms in life. And when we get obsessed with, consumed with, focused on what's going on around us, we're going to be overwhelmed. We're going to get swallowed up.
I found myself, in the launching of Revive Our Hearts, many days obsessed with the waves. And there have been more moments than I care to admit when I have felt, I'm going to drown. This is going to absolutely swallow me up. I am not going to survive this.
And humanly speaking, that may be true. But you have to come to the place where you say, "I'm not going to focus on the storm. I'm not going to focus on the waves. I'm going to lift my eyes up and focus on Jesus."
Now in order to say that, you also have to come to the place where you say, "If it takes me under, that's OK because it's not about me. It's about Him. Now I'm standing here sounding like it's very easy to say that. It's not! It's very hard to say that. It takes faith. It takes obedience. It takes surrender. It takes brokenness.
And what God is doing in my life through this process is a whole new level of brokenness. When we get stripped of all of our own resources, stripped of all of our own abilities, when we're so far beyond what we can handle--then if God doesn't come through, we won't make it.
But we've got to keep reminding each other that He is going to come through! He has never failed. He's not going to start now. So turn your eyes upon Jesus. Look full in His wonderful face. And the things of earth, (not that they won't be there), it's that they grow strangely dim in the light of His glory and His grace.
*I'll turn my eyes upon Jesus
Look full in Your wonderful face,
And the things of earth will grow strangely dim
In the light of Your glory and grace.
Leslie Basham: Nancy DeMoss isn't done. She'll continue to help point our eyes to God, no matter what is raging around us. One person who had to learn to keep his eyes on God in faith during a difficult time is Ron Dunn. His teenage son was labeled manic-depressive. After what seemed like a period of successful treatment, the teenager took his own life.

Ron Dunn has chronicled the grief, the questioning and the learning process he's gone through in his book, When Heaven is Silent. In this book, you can explore what the Scripture says about pain, loss, good and evil, all from the point of view of a grieving father searching for answers.

Ron Dunn writes with amazing honesty. And you'll have a hard time putting the book down. We're making it available as part of what we're calling The Survival Packet. It comes with the book, along with a cassette interview with Rick and Judy Taylor, who learned to worship God while facing a tragic loss. It also includes a worship CD to help you turn your eyes upon Jesus when the storms of life blow. You can get The Survival Packet for a suggested donation of $35. Just give us a call at 1-800-569-5959 or go on- line. Our Web address is ReviveOurHearts.com.

I have a question for you. How do you pay bills at your house? You probably collect income in the form of a paycheck and then you have some kind of system of budgeting and paying bills. At Revive Our Hearts, we're very careful to plan well and pay our bills. And as you can imagine, there are substantial costs in providing a daily radio program. But the ministry does not exactly receive a paycheck.

God provides the resources we need by acting on the hearts of those who listen. The next time you work on your budget and pay your bills, would you consider sending a gift to Revive Our Hearts? We need your support during this time. You can send your check to Revive Our Hearts or call us at 1-800-569-5959. Now, here's more from Nancy.

Nancy DeMoss: In the storm, I respond one of two ways. I either kick and scream and fight--resent it and resist it--or I yield to it. A storm is really an expression of God's love. Sometimes it's His chastening, but always it's purifying. He disciplines us for our good so we can be partakers of His holiness. We want that outcome. We're not always sure we want the process that it takes to get there.

So how are you responding? Are you resisting, resenting, complaining and whining? Or are you just saying, "Yes Lord, I surrender to this. I give into this"--not to the storm but to You as the Lord of the storm.

"He commands the wind to stir up those waves," Psalm 107: 25. But then it says, "When we cry out to Him, He delivers us from our distresses, and He commands the waves to be still." We love the part about Him saying, "Peace be still." We don't love the part about Him stirring up the wind and the waves. But He does both.

And He's good when He's doing both. He's not only good when He's causing the waves to subside, when He's saying "Peace be still." But He's also good when He's stirring up those waves, when He's commanding the wind to come into our lives.

I love that passage in the Song of Solomon where the bride says, "Come Oh north wind and blow upon my garden." Her garden is her life. And then she says, "Come south wind, and blow upon my garden"...two different kinds of wind. I live in the north where we have north winds, biting, cold, chilling winds. And she says, "I welcome into my life these cold biting winds." She invites them actually.

Now I'm not saying we should pray for trouble and pray for storms. They're going to come whether you pray for them or not. But she welcomes them. She also welcomes the warm southern winds. Well, anyone can welcome those. But she realizes that it's in the combination of those two kinds of winds that something happens in her life. She says, "Come Oh north wind and come south wind. Let the fragrance of my garden blow out."

There's a fragrance; there's a beauty; there's a sweetness; there's a fruitfulness that will come out of our lives when we allow not only the warm southern winds to come into our lives but also those cold biting northern winds. When we let them both have their way, there's a freedom, a fullness, a fruitfulness, a fragrance that God brings out of our lives.

*Turn your eyes upon Jesus,
Look full in His wonderful face,
And the things of the world will grow strangely dim
In the light of His glory and grace.

 

*Lemmel, Helen H. "Turn Your Eyes upon Jesus."

Leslie Basham: Revive Our Hearts with Nancy Leigh DeMoss is a ministry partnership of Life Action Ministries.

 
*Offers available only during the broadcast of the podcast season.
Support the Revive Our Hearts Podcast
Darkness. Fear. Uncertainty. Women around the world wake up hopeless every day. You can play a part in bringing them freedom, fullness, and fruitfulness instead. Your gift ensures that we can continue to spread gospel hope! Donate now.
Donate Now