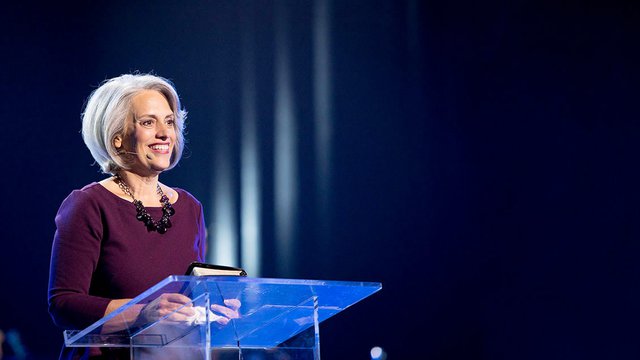 God Is Sovereign in the Storm
Leslie Basham: What does the word sovereignty mean?
This is Revive Our Hearts with Nancy DeMoss for Thursday, October 31.
We're in the middle of a series called "Storm Shelter: Finding Safety and Strength in God's Arms." We'll hear from Nancy a little bit later, but first we'll hear from a woman who's definitely faced some storms. Let's find out what she has learned about God's sovereignty.
Kathy: The year 2000, when we were all so nervous about what was going to happen, you know, when the clock ticked on and my pantry was filled with all the canned foods that I talked my husband into buying. Of course, that came and went and you know nothing happened. Nancy talks about storms in our life that come and go and that could have been a storm for all of us, but it wasn't.
But I didn't realize that that year, 2000, was going to be very stormy for my family. And that's kind of the backdrop for what God was able to teach me this year. Because [it is] as Nancy talks about--the pain, the suffering and affliction draw us to God and prepare us for knowing Him better, trusting Him more.
In that year, 2000, we had a FamilyLife conference up in Minneapolis. And that is where I am from, so we look forward to going every year with our kids, playing in the snow and being with my mom and dad. We'd had a wonderful week with them, spring break; we did the FamilyLife conference.
We drove back and no sooner did we walk into the house then there was a phone call or message saying, "Kathy, your mom and dad have been in an accident. Call this hospital number."
What had happened was my mom had been driving and she missed a red light, did a turn and had a terrible accident. And my dad went home to be with the Lord immediately. My mom was in critical care for about three weeks. So, my bags weren't even unpacked, they weren't even out of the car. I just added a couple of things and just flew back.
The beginning of that year I had done a Bible study on trusting God even when life hurts. And life hadn't hurt a whole lot until that point, but God has a way of preparing you. I remember as I flew that I thought about trusting God even when life hurts and it was hurting.
And yet God's sovereignty in all the Scripture--that He put in line all throughout God's Word about His sovereignty--helped me be so much stronger than I could have been by myself because when I got there I had to plan the funeral and pick out everything and do everything because my mom was unconscious in the hospital.
Yet I knew (in the next three weeks) as I went back and forth to the hospital, I knew more than I had ever known in my life before--the peace of God, the assurance of God. He was closer to me than He'd ever been before. And I just praised Him for that.
So three weeks back and forth with my mother in the hospital and just knowing that God was sovereign, that God chose that very day to take my dear dad home to be with Him in heaven, that there is nothing that could have prevented that accident, that it wasn't an accident, that it was God's sovereignty, that it was my dad's time to go and be with the God that he loved all his life.
So, we got through that and I knew that God was more real than ever before in my life and within the next month my husband started having heart pain. He'd had a quadruple bypass ten years earlier at a very young age because of some hereditary things in his background, but now it was happening again.
We went in to do a check and I thought, Oh please, not open-heart surgery again. It was so awful the first time. I remember the cardiologist saying, "Well you see this and this, we're going to have to do it again. And the second time around, Kathy, to be honest with you, it's more risky. And you just need to know that." I remember just thinking, OK, God is sovereign, if I lose my husband...Ever since that first heart failure, I'd always thought, I'm gonna lose Bob, I'm gonna lose Bob. That's always in the back of my mind, He's going to die one of these days from his heart and now here we're going through it again.
I didn't have that peace, it's interesting, the peace that surrounded me during my dad's funeral and that ordeal. I was nervous, I was fearful, I could not sleep that night. This is my husband, this is my life. And yet it was like He said, Kathy, if I choose to take him you know I'm going to be there. I'll be there as I've never been there before. And I will carry you.
Nancy DeMoss: I thought of two passages as Kathy was sharing, one of them in the Psalms, Psalm 66. It's really a Psalm of praise but it's also a Psalm of the reality of life in this fallen world.
He starts by praising God for His awesome works. He says, "Make a joyful shout to God, all the earth! Sing out the honor of His name; Make His praise glorious. Say to God, 'How awesome are Your works! Through the greatness of Your power Your enemies shall submit themselves to You. All the earth shall worship You and sing praises to You; They shall sing praises to Your name.'" This sounds like a man whose world is in pretty good order but wait.
It says in verse 5, "Come and see the works of God; He is awesome in His doing toward the sons of men. He turned the sea into dry land; They went through the river on foot. There we will rejoice in Him. He rules by His power forever." That's sovereignty.
By the way, before you come to the crisis make sure you've got your theology straight. Make sure you know God because if you don't know God when the crisis comes, when the fire comes, when the flood comes (we are going to read about it in just a moment), you will not have any place to stand.
So make sure that you know God, that you know who God is. Everyday you and I need to be opening this book and saying, "God show me who You are, show me what You are like, teach me Your ways." I pray that prayer almost every morning. "Show me your ways, O Lord, teach me Your paths; guide me in Your truth and teach me, for you are God my Savior, and my hope is in you all day long" (Psalm 25:4-5, NIV).
Verse 7, "He rules by His power forever; His eyes observe the nations;" That's wisdom; He knows it all. "Do not let the rebellious exalt themselves." Verse 8, "Oh, bless our God, you peoples! And make the voice of His praise to be heard, Who keeps our soul among the living, And does not allow our feet to be moved." He's our protector, He's our sustainer, He's our preserver.
Now look at verse 10, "For You, O God, have tested us; You have refined us as silver is refined." How is silver refined? In heat! Impurities have to be burned off! There's pain involved in heat, there's destruction involved in heat; destruction of the flesh, destruction of the impurities, destruction of anything that keeps my life from reflecting the character and heart of Jesus.
It's God who does this, it's God who tests us. He says, "You have refined us as silver is refined." Now this next verse doesn't quite fit with some of our theology, but it needs to be part of our theology. He says in verse 11, You God, "You brought us into the net, You laid affliction on our backs." We don't like that part of God. We're not comfortable with thinking of God in those terms.
So when hardship, adversity and affliction comes--snares, nets--we're quick to blame Satan, we're quick to blame our parents or our neighbors or our pastor or the youth director or someone, but we're not comfortable with the thought that God would be the one behind this. If we come to that conclusion then our next logical thought would be, I'm not sure I like that kind of God.
Now that sounds blasphemous and, in fact, it is. And most of us wouldn't say it out loud, but a lot of us have thought it. If God is so great and so powerful and so loving, so sovereign and so wise, why would that kind of God bring us into a net and put affliction on our backs? Because He is sovereign, and wise and loving. He's preparing, fitting and equipping us for life beyond this moment.
So many illustrations come to mind from the Scripture. You think of the Israelites for four hundred years in Egypt; talk about affliction on their backs under the hand of Pharaoh! Now Pharaoh was the obvious immediate source of that affliction, but ultimately who laid that affliction on the backs of those Jews?
It was God! Because God had a purpose in mind and a plan that was bigger than what those Jews could see at the moment. He was refining, He was purifying, He was sanctifying, He was purging, He was accomplishing the plan of redemption and He was fitting His people to be His people.
He wanted to bring them to a place where they were ready to throw off the old yoke and to want to leave the world, represented by Egypt, and to want to follow God out into the wilderness where they couldn't see where they were going and they couldn't see what was ahead--and where they would have to trust God for their daily bread. And God had plans beyond that!
God was planning to bring a redeemer to this world! And God is right now writing, well He's not writing, He wrote it in eternity past, we're living out right now in this world a history that God's already written.
He's got a plan, He's got a purpose, it has an ending. And the ending is His triumph over all of creation, all things. All people will bow and worship and love Him, that's what it was all created for. And God uses affliction, He uses pain, He uses that burning fire process, even the times we're in a net.
I read some of the morning prayer cards from a conference we had last weekend. My heart just breaks as I read these requests that women have shared with us.
Many of them are in a net. They're surrounded by circumstances that are trapping them, circumstances from which they cannot get extricated. And if only we could see that it's God at times who brings us into the net because He has purposes for our good and His glory. How do we get peace? Through surrender, through acceptance.
"You brought us into the net, you laid affliction on our backs." Verse 12, Psalm 66, "You have caused men to ride over our heads; we went through fire and through water; But..." (praise God for the but), "But You brought us out...You brought us out to rich fulfillment." God has a net, He has a purpose in mind. Keep in mind, that storm, that fire, that water will not last one minute longer, it will not be one degree hotter than what God knows is absolutely necessary to accomplish His purposes in your life in this world.
So, when you are in the midst of the fire, when you are in the midst of the flood, when you think you're drowning--I've been there this year a few times where emotionally I felt, I am not going to survive. This is a flood. I'm going to drown. And I'm not going to be able to come back up--to be able to (in the midst of the flood) say, "Oh God, You are sovereign, You are wise, You are loving," and to trust that in His time and in His way He will bring us out to rich fulfillment.
Leslie Basham: Can you relate to feeling like you're in the middle of a flood? I hope Nancy's words have been an encouragement.
Today's program is part of a series called "Storm Shelter: Finding Safety and Strength in God's Arms." If you've been facing some storms, why don't you get a copy of the series on CD or cassette? It includes some of Nancy's teaching that we weren't able to air because of time restraints. When you're starting to feel overwhelmed, you can put on a CD or Cassette and get godly perspective on handling tough situations.
Call us at 1-800-569-5959 to order the two-tape series for a suggested donation of $8. You can also order on CD for a donation of $10. Today we heard from Kathy and her stormy year, 2000, but her story isn't over. Tomorrow we'll hear from her again and find out how God used her daughter to teach her about trust. We hope you can be here for Revive our Hearts.
 Revive Our Hearts with Nancy Leigh DeMoss is a ministry partnership of Life Action Ministries.
*Offers available only during the broadcast of the podcast season.
Support the Revive Our Hearts Podcast
Darkness. Fear. Uncertainty. Women around the world wake up hopeless every day. You can play a part in bringing them freedom, fullness, and fruitfulness instead. Your gift ensures that we can continue to spread gospel hope! Donate now.
Donate Now