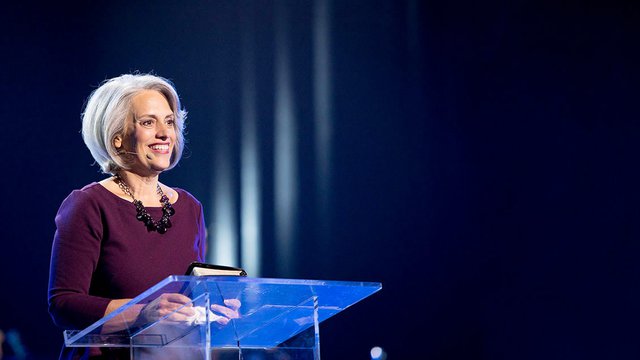 Daily Devotions: Duty or Delight?, Part 1
Leslie Basham: Do you ever feel like you're an ant traveling on the Highway of Life? Does it seem like no matter how fast you run, that you're just inches away from being run over by daily responsibilities and demands?
It's Monday, January 7; and you are listening to Revive our Hearts with Nancy Leigh DeMoss.
Life just seems to get busier and busier, doesn't it? We finish one task just to realize we have three more chores waiting in the wings. We wonder, when will I ever catch my breath? Did you realize that Jesus faced incredible demands on His time while He was on this earth? Let's join Nancy as she explains the way Jesus handled never-ending demands.
Nancy Leigh DeMoss: Life is very hectic. And I remember a number of years ago as I was teaching at a women's conference, on the opening night, I asked the women to fill out a 3X5 card and share with me how we could pray for them through that weekend. I particularly said, "What is it that you'd like to see God do in your life? (And) How would you describe where you are right now."
And as I went through those cards after the conference, I found that there was a real thread that ran through them. Let me read to you what several of them said.
One woman said, "I feel I'm out of control sometimes with so many pressures."
Another one, "Show me how to manage the many different hats of teacher, mother, wife and daughter successfully and still have time for church work and me. I feel like I'm torn in all directions."
This woman said, " I need to stop worrying about everything. I try not to, and I know I shouldn't; but my worries that I conjure up even disturb by sleep and my dreams."
And then perhaps you can relate to this one if you're active in ministry in your local church. This woman said, "I've given myself up to service for about 24 months. And I feel a need to slow myself down and renew myself; but as you said, 'Life gets real hectic.'"
And then I know there are those who can relate to this one, a lady said, "With a new baby, I need to find the Lord's peace and rest, physically and emotionally."
Here's one I really relate to. A lady said, "I often get overly busy and find my day gone without having done the things I most wanted to do."
(Have) You been there? You say, which day?
And this one, that many relate to, a woman said "I am single by divorce, and I really am tired."
One lady spoke of her frazzled, frenzied state; and I thought, What a picture that is of so many woman today--not just women out in the world, but women in our churches living in this frazzled, frenzied state. You know, it's helpful to me to know that the Lord Jesus understood what it was like during His years here on earth to have a very busy life--to have more demands on Him than you would think one person could humanly endure. And I'm so thankful that in the Gospel of Mark, chapter 1, we are given a very detailed picture of a day in the life of the Lord Jesus.
I'm beginning to read in chapter 1, verse 21, (the) Gospel of Mark 1:21. "They came to Capernaum, and when the Sabbath came, Jesus went into the synagogue and began to teach." Now already that says to me, this is a demand, this is a pressure, this is a heavy responsibility that Jesus has. You may be involved in teaching a Sunday school class for children or for adults or being a small group leader in a Bible study of some sort. If you have ever taught the Word of God or been involved in helping lead others in ministry, you know that this takes a lot out of you.
I do a lot of teaching of the Word, and it's not only hard to do the teaching; but there's also the preparation of heart and life and message that precedes the teaching time. Sometimes you've given a lot before you even get up to teach. And then there is the teaching time when you're spending yourself, you're giving out yourself on behalf of others. And then you know what you're going to face ahead when you feel that you've been depleted, and sometimes what you've taught becomes the area of your own greatest vulnerabilities.
So, if you're going to teach the Word of God, there's going to be a challenge, a demand, and unusual pressure placed on your life. Jesus began to teach in the synagogue. And, apparently, His teaching was quite effective because "The people," verse 22, "were amazed at his teaching, because he taught them as one who had authority, not as the teachers of the law. Just then a man in their synagogue who was possessed by an evil spirit cried out, 'What do you want with us, Jesus of Nazareth? Have you come to destroy us? I know who you are--the Holy One of God!' "Be quiet!" said Jesus sternly "Come out of him!" The evil spirit shook the man violently and came out of him with a shriek. The people were all so amazed that they asked each other, 'What is this? A new teaching--and with authority! He even gives orders to evil spirits and they obey him.'"
Now I have never committed an exorcism. I've never cast out a demon so I cannot relate to exactly what Jesus experienced in that situation. But here He is in a church service, if you will, when a demon-possessed man interrupts the service, cries out and challenges Jesus' authority and Jesus in the power of His position as the Christ, as the Son of God. He (Jesus) deals head on with that situation. Now, we may think, Well, we would never have a situation like that. But the Book of Ephesians, chapter 6, tells us that all of us are in a spiritual battle. Our battle is not with people, with things, with circumstances. The enemy is not your mate or your child, who is giving you fits these days.
The enemy is Satan. And we are involved in spiritual warfare against spiritual wickedness in high places, Paul says in Ephesians, chapter 6. So every time you get up in the morning, there is an unseen battle going on in the heavenlies between the forces of God and the forces of hell. And if you're a child of God, sometimes you may feel a little bit that you get caught in the crossfire--that you are conscious that there is a battle going on around you, there is a battle going on in our culture. There is a battle going on for the souls of our children, there's a battle going on in which Satan wants to destroy godly marriages and where it may be (just on the human level, it may appear that there's just unusual tension or unusual difficultly working through a situation)--what we may not be seeing is that there really is an element of the presence, the activity, the involvement of Satan and his demons.
That's challenging and that's part of every day life as a child of God. Verse 28 tells us that news about Jesus spread quickly over the whole region of Galilee. All of a sudden, Jesus was headline news. Everybody wanted Him to come speak at their banquet or to have an interview.
And if you think that you've ever wanted to be famous and popular, look at the demands that came into Jesus' life and realize that (it) is not all fun to have this news spread rapidly. You may have been involved in a situation where you helped out someone who had a need; and you were able to provide some godly and wise council, perhaps, to someone who was struggling with an issue in their marriage. And then the Word got out that you knew how to use the Word of God and apply it to real-life situations.
And all of a sudden, you find your phone is ringing. People want to know--can they see you, can you help them, can you help their friend? And you begin to think, I'm not so sure that I want to be the neighborhood counselor here. I'm not so sure I want to be the one in my place of work that everyone thinks they can come to to find solutions for their problems.
You see, to be a servant of God and a child of God and used of God means that there are going to be demands in our day that are more than other people may have to experience. Jesus understood what it was to experience the demands of people pressing in upon Him, and everyone wanting something from him. You may feel some days that as a Mom, as a wife, as a woman, as an employee, as a church member, as a Bible teacher or a Bible leader in a group in your church--there's just not enough of me to go around. There's not enough of me for everyone who wants a part of me.
And that's when we so often begin to feel frazzled and frenzied.
As we look at the life of the Lord Jesus in the Gospels, we never see a man who was frazzled and frenzied. We see this incredible calm, this incredible sense of direction and purpose and wholeness to His life. And as I look at Jesus' life, I say, "How did He do it?"
Now we've not even finished with this day in the life of the Lord Jesus, we're going to pick up this day in the next session and see that His day was not nearly over. He had taught in the synagogue, He had cast out this demon, the news about Him was spreading quickly--and He couldn't just go home and settle down to a nice evening with His family.
There's more that lies ahead for Him. But I think it's encouraging to us to know that Jesus understands what it is to have lots of people needing us--to have lots of people demanding a part of us, to have interruptions and distractions, to give out on behalf of others.
And yet somehow there was a secret in His life, (we're going to see it in the next session) that enabled Him to walk through those demands without being that frazzled, frenzied person we so easily become in the midst of similar circumstances.
*Offers available only during the broadcast of the podcast season.
Support the Revive Our Hearts Podcast
Darkness. Fear. Uncertainty. Women around the world wake up hopeless every day. You can play a part in bringing them freedom, fullness, and fruitfulness instead. Your gift ensures that we can continue to spread gospel hope! Donate now.
Donate Now