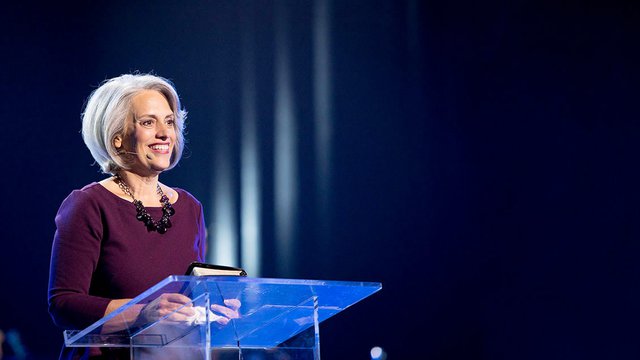 Daily Devotions: Duty or Delight?, Part 2
Leslie Basham: Jesus was able to meet the needs of others and spend time resting in the presence of His Father. How did he do it?
It's Tuesday, January 8; and you're listening to Revive our Hearts with Nancy Leigh DeMoss.
Fill a glass with water, now begin to pour a few drops out a little at a time. Eventually, your glass will be empty; and so will you if you continuously give yourself to others without stopping to refresh yourself. Today, Nancy will tell us what Jesus did to refuel himself spiritually in order to complete the tasks God had called Him to. Let's join Nancy to hear how we can follow in His footsteps.
Nancy Leigh DeMoss: Have you ever had one of those days where you feel like the phone is ringing off the hook, the doorbell is ringing constantly, everyone needs a part of you, everyone needs something from you--and there just aren't enough hours in the day to fit it all in. And by the end of the day, you find yourself just crawling into bed feeling exhausted, beleaguered and just dropping off into sleep thinking, This is a wild treadmill life.
I see a woman smiling here who has 8 children, she knows exactly what I'm talking about except she doesn't usually get to bed by midnight because her day is so full that often it takes her, I know, into the early hours of the morning. And some of you moms, particularly, understand that.
We're looking in the Gospel of Mark, chapter 1, at a day in the life of the Lord Jesus. And believe it or not, He understood what it was like to have a day with more demands than you would think any one person could handle. In our last session, we saw that Jesus was teaching in the synagogue on a Sabbath; and He taught with authority, He gave out, He was ministering the Word of God to others. That takes something out of you. That's not easily done.
In the midst of that service, we saw that there was an interruption by a demon-possessed man. And Jesus cast out that demon. When we pick up in verse 29, in Mark, chapter 1, we see that as soon as they left the synagogue, they went with James and John, two of Jesus' disciples, to the home of Simon and Andrew.
And you think, Wow, it has been a long day. I've given out--I taught a Sunday school class, I've prepared lunch for some visiting missionaries, I've been involved in a crisis-counseling situation with a daughter or a son who had a particular need. And, wow, now I can just go home, put up my feet. It's been a long, hard day.
I imagine that Jesus may have had moments when that is exactly what He wanted to do at the end of a day of teaching in the synagogue and having the kind of events take place that we've just read about.
But, verse 30 tells us that this was not to be. When Jesus got to the house where He was staying, "Simon's mother-in-law was in bed with a fever, and" of course, "they told Jesus about her." So, here's one more person who has a need; and by the way, when you come home from your job or from your involvement at church, don't forget that the most important people you minister to are the ones inside the four walls of your own home. There is no higher, holier calling, if God has given you a family, than to be the servant and minister and woman of God in the lives of those family members.
It's easy when we get home to ignore the ones who are the closest to us. And I know that when I go home, and I want to just kick back--that I'm tempted to ignore the needs of those that I live with, those that are closest to me. Simon's mother-in-law was sick, they told Jesus about her; and as we would expect of the Lord Jesus, verse 31 tells us that "He went to her, took her hand, and helped her up. The fever left her and she began to wait on them."
Now you think, Finally, everybody is out the door, everybody's needs are met. Now, I can think about me. (That was) Not to be with Jesus, verse 32. "That evening" after He'd given out, He'd served, He'd cast out a devil, He'd healed the mother-in-law, "after sunset the people brought to Jesus all the sick and demon-possessed. Verse 33 tells us, "The whole town gathered at the door." I don't know how many people that was, but it sounds like a lot to me.
Do you ever feel like the whole town is gathered at your door? I mean, not literally, they are probably not all gathered at your door. But you may feel like they are. In fact, you may feel like one mother (who) told me that the only place that she could ever get alone, quiet, for a few moments was in the restroom with the door closed--that that was her one little place of being able to retreat. It may be that just inside the four walls of your home, you feel that the whole town lives there. And they're all sick and needy. They all need help. They all need something. They need to be fed. They need to be clothed. They need to be loved. They need to be cared for. How do you respond to them?
Well, it's one thing when you're feeling full and fresh and well rested, then you may really have a heart to serve and to bless and to give to them. But what about when you've had a long day? How do you then get the resources to give out after you've already been giving out so much to so many people? Well, verse 34 tells us "Jesus healed many who had various diseases. He also drove out many demons, but he would not let the demons speak because they knew who he was." There's no sign there of Jesus sighing and thinking, One more person to deal with.
Now, I'll just tell you, that has been my attitude so many times. I do a lot of women's conferences. I teach all day, and then afterwards, one of the great blessings; but also one of the challenges, is the women who want to stand in line to meet and to talk and to share a burden, a concern on their heart. And I love those woman, and I love to hear their hearts; but there are some times when I'm thinking, I don't think I can stand here one more minute. There are times, when I'm thinking, honestly, I'm not sure I want to hear one more problem.
And I'm not proud to tell you that; but I'll just be honest and say, "There are times when inside I just kind of sigh and I think, I don't want to help one more person. And, lest you feel smug and self-righteous, you've had the same thought and the same feeling, I know.
But I don't see any of that in Jesus. I don't see any weariness in well doing. And I look at His life, and I look at His calm. And I look at His loving heart toward needy people one after the other, after the other, after the other. With you it may not be many different people, it may be that one 4-year-old child who is asking 423 questions per hour. And how do you keep from getting exasperated?
I'm so glad God put this chapter in the Scripture because the very next verse tells us the secret to Jesus being able to handle this kind of day. Verse 35 has become one of the most important verses in all of God's Word in my own walk with God. It tells us that "Very early the next morning, while it was still dark, Jesus got up." Now that's not the end of the sentence, but that's an important part of the sentence. He got up. Sometimes that's the hard thing to do. And when you see why He got up, it will give you the motivation to get up after a day like this.
"He left the house where he was staying, and he went off to a solitary place where he prayed." Jesus had an appointment with His Heavenly Father. And He knew that if He was going to be the man of God that God needed Him and wanted Him to be here on this earth, if He was going to meet the demands of the next day--that He had to begin His day in union and communion with His Heavenly Father--that He had to abide in that relationship that was the most important relationship in His life.
He went to pray.
And I believe that His praying was not just one-way communication. He was talking to God and He was listening to God. I believe He was praising His Father. Perhaps, praising God for what had happened the day before--for the victories that God had won by His power in that synagogue, and with that needy mother-in-law and with those townspeople who had come the night before.
He was letting God give Him perspective. He was letting God give Him direction for the day yet ahead. And it's a good thing that He started off the day this way. It was none too soon because verse 36 tells us that as soon as they awakened, apparently, "Simon and his companions went to look for him, and when they found him, they exclaimed: 'Everyone is looking for you.'" Well, after the happenings of the night before, that's no wonder.
So Jesus knew that if He was to get that time alone with His Heavenly Father, He had to carve it out first thing in the day or it wasn't going to happen. Verse 38 tells us, "Jesus replied, 'Let us go somewhere else--to the nearby villages--so I can preach there also. That is why I have come.'" How did he know that this was the day that He was to leave that town and where He was to go that day?
I believe it's because He had just been in a conference with His Heavenly Father. And God had revealed to Him, This is what I want you to do today. "So," verse 39 tells us "he traveled throughout Galilee, preaching in their synagogues and driving out demons."
If you and I want to have the kind of wisdom and grace and sanity in approaching the demands that get placed upon us day after day after day, it's going to happen in the same place where it happened for the Lord Jesus--learning to make that time to get in the presence of our Heavenly Father--to let Him speak to us through His Word, and then to respond to Him in worship, in prayer, in supplication, (and in) intercession. That is the number one, core relationship of my life.
In the next several sessions, we want to talk about the purpose of having a daily, quiet time in the presence of God, and then how we can make that a reality in our lives even as Jesus did in His.
Leslie Basham: That is Nancy Leigh DeMoss reminding us how important it is to spend time alone with the Lord each day. Nancy will be back with some final thoughts in just a moment. You know, Nancy has written on the subject of personal devotions in her book, A Place Of Quiet Rest. This book will inspire you to cultivate a rich, full devotional life. It will help you understand why time with God is so important and give practical steps in developing habits of prayer and Bible study. A Place of Quiet Rest is now available in paperback for a suggested donation of $13, and you can get a copy by visiting our Web site ReviveOurHearts.com.
There (at the Web site) you can also order a tape of today's program. It's part of a series called Daily Devotions, Duty or Delight. It comes on two cassettes, available for a suggested donation of $8. Our number is 1-800-569-5959.
During this series, Nancy is offering a challenge. If you currently don't have a consistent devotional life, why don't you spend time in prayer and Bible study every day for 30 days? Discover what results you see in your life.
Well, do you sometimes feel overwhelmed by the demands on your time? Perhaps, you're facing a specific burden; and you need prayer. We have a team of people who would love to pray for you. You can post requests at ReviveOurHearts.com or send a letter to Revive Our Hearts.
And could we request that you pray for the work of this radio program? We need God's direction and strength as we endeavor to lead women into deeper relationships with Christ. We appreciate your prayers and your financial contributions to help us continue the work. We hope you can join us tomorrow. We'll hear a touching story about the way Nancy learned the value of a consistent devotional life. Now to close our time together, here's Nancy.
Nancy Leigh DeMoss: If you and I want to have the kind of wisdom and grace and sanity (that Jesus had) in approaching the demands that get placed upon us day after day after day, it's going to happen in the same place where it happened for the Lord Jesus--learning to make that time, to set aside that time to get in the presence of our Heavenly Father. 
Revive Our Hearts with Nancy DeMoss is a ministry partnership of Life Action Ministries.
*Offers available only during the broadcast of the podcast season.
Support the Revive Our Hearts Podcast
Darkness. Fear. Uncertainty. Women around the world wake up hopeless every day. You can play a part in bringing them freedom, fullness, and fruitfulness instead. Your gift ensures that we can continue to spread gospel hope! Donate now.
Donate Now