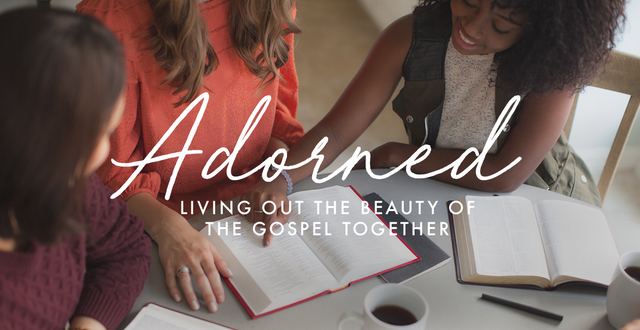 Better Together
Leslie Basham: Over the next three weeks, we're going to learn how to live out the beauty of the gospel together from: Damaris Carbaugh . . .
Damaris Carbaugh: Even if you say all the right things, are you living that out?
Leslie: Mary Kassian . . .
Mary Kassian: We no longer need to go to the temple of God; rather we are the temple of God! Every moment is sacred.
Leslie: Robyn McKelvy . . .
Robyn McKelvy: You can have your rings appraised, you can go and find the Blue Book value of your car, but you'll never know how your children have touched others to impart life in them. That's so important that you realize—as God gives you these kids—they're the ones that are left to give life to a dying world.
Leslie: Dannah Gresh . . .
Dannah Gresh: When you hit the hard times, …
Leslie Basham: Over the next three weeks, we're going to learn how to live out the beauty of the gospel together from: Damaris Carbaugh . . .
Damaris Carbaugh: Even if you say all the right things, are you living that out?
Leslie: Mary Kassian . . .
Mary Kassian: We no longer need to go to the temple of God; rather we are the temple of God! Every moment is sacred.
Leslie: Robyn McKelvy . . .
Robyn McKelvy: You can have your rings appraised, you can go and find the Blue Book value of your car, but you'll never know how your children have touched others to impart life in them. That's so important that you realize—as God gives you these kids—they're the ones that are left to give life to a dying world.
Leslie: Dannah Gresh . . .
Dannah Gresh: When you hit the hard times, that is no time for a woman of faith to back off. That is when a woman of faith finds herself in a place of standing in faith, because faith is believing what we can't see.
Leslie: Betsy Gómez . . .
Betsy Gómez: Hope in Jesus. Set your affections on things above. Let eternity be the fountain for your identity.
Leslie: Susan Hunt . . .
Susan Hunt: My comfort and my confidence is, even if I outlive my love for Jesus, I will never outlive His love for me!
Leslie: And Nancy DeMoss Wolgemuth . . .
Nancy DeMoss Wolgemuth: Right doctrine without kindness is hard-edged.
Leslie: This is Revive Our Hearts with Nancy DeMoss Wolgemuth, author of Adorned, for January 8, 2018.
Over the next few weeks, we're going to walk through Titus chapter 2, verses 1–5. We'll do that by hearing all the messages from the Revive '17 conference. Each speaker took about twenty minutes to unpack a phrase in Titus 2.
Before we start that study, today we'll get to know those speakers a little better, and we'll hear about some of the mentors who influenced these influencers. Here's Nancy to introduce us.
Nancy: Welcome to Revive '17! (applause) We're here—wow! I've brought some of my friends with me. We brought our "living room." Somebody just sent me a text and said, "There are already women praying together out in the hallways." That's what we've come to do—to connect with each other and, together, to connect with the Lord.
Mary and Dannah and Susan, I'm remembering back to 2008 when we had the first True Woman conference. Were some of you there? Some of you were! And now, God's just each year bringing more and more women around the world to embrace this calling that we have—and we're going to talk about from Titus 2 this week. Mary, they come from everywhere!
Mary: It's amazing where they've come from! We have all forty-nine states . . .
Dannah: All forty-nine?
Mary: Oh, sorry! I'm Canadian. We're missing Connecticut . . . but we have Canada, eh? (ladies applaud, cheer in places through the list) And we have the U.K. We have Puerto Rico. (We want to let you know we're praying for you!) We have Switzerland, Paraguay, Colombia, all over the world—so many countries. It's just so exciting!
Nancy: South Korea, I heard about Guatemala, Mexico . . .
Betsy: The Dominican Republic! 
Nancy: Well, some of you have come from halfway around the world. Some of you didn't get much sleep last night. Some of you are not going to get much sleep tonight, but the Lord is going to be our strength! He's going to encourage us and send us from this place to do His work—wherever it is that He has placed us.
And the thing I am most excited about this event is getting to do it with this band of sisters! We are women who are committed to living out the beauty of the gospel together. Most of these women I have known for decades—plus or minus. We've been doing life together. And I'll just say, some of us have seen each other in quite a variety of circumstances and situations.
We've seen the best of each other. Some of you saw me at my wedding when I was all dressed up. And then Mary was in my room last night trying to help me figure out what to wear today—so let's just say, I wasn't dressed for my wedding last night! 
We've seen each other; we've been together; we've cried together; we have walked through some tough family situations together. Mary, your mom is in the hospital. 
Mary: Yes, she's in the hospital. It's so hard to come and leave her there. But she was just so adamant that I come and be with you and that is was important. She had such a sweet spirit and said she's praying for us.
Nancy: And you've seen as you've walked through this with her, just the qualities that we're talking about in an older woman. Can you describe what you've seen?
Mary: Yes, she's eighty-nine years old, and just this sweetness. I went into the hospital room, and she was sharing a room with another woman. Just the contrast between the kindness and sweetness and the fragrance of Christ and blessing those around her versus the other woman in the room who was having a hard time. You could see that she had not cultivated that in her life. She was quite short and a little bit impatient with the staff. The staff just doted on my mother, because she was so kind and sweet. 
Just to see the fruit of a life lived for Christ—all the way through life—my mum has been one of my biggest mentors, and I'm one of her biggest fans!
Nancy: You said the other night . . .
Mary: I want to be like her when I grow up!
Nancy: And that's really what this is about—learning to live out the beauty of the gospel together! Now, I want to introduce you to our newest sister in this group: Robyn McKelvy. 
Robyn is an answer to prayer! Long story—I won't tell you the whole story—but she and her husband Ray, who's here with us this weekend, came to meet with us at our home base. We wanted to get to know each other. 
We had two topics left (for the conference sessions). "Loving Children" was one of them, and I didn't know that she has seventeen children! Seven of those are in Heaven, and then they adopted one or two . . .
Robyn: Adopted one; Annise has been with us since fifteen, and then eight biological children—by C-section!
Nancy: Wow, ouch! The Lord had prepared her. She and her husband love children—not just theirs, but other people's children. Robyn, your spirit has . . . Robert and I came away from that lunch with you and your husband and said, "We like them so much! We would love to spend more time with them!" So that's what we're going to get to do this weekend.
Robyn: Okay, amen! Let's do it! I'm all for it; I'm so excited! And then, I get the privilege of introducing a wonderful girl, and I'm going to tell you in a minute why she's so wonderful. Dannah Gresh over here, has been married to her husband Bob for twenty-eight years and has three children: Robbie (who is married two years, I believe) and then Lexi and Autumn.
And this is the reason why I love Dannah so much: she is an animal lover.
Dannah: It's the truth!
Robyn: I don't really like them that much, but now—when my kids ask—I can say, "Miss Dannah has them all!"
Dannah: Yes, you bet. I'll love them for you! Well, it's my privilege to introduce to you Dámaris, and she will very quickly tell you that her name rhymes with "glamorous." (laughter) You will never have trouble pronouncing her name again.
I met sweet Dámaris in the year 2000 at the same event where I met Nancy. I met you two at the same time, and I didn't get to know either of you very closely then. But I heard you sing for the first time.
Ladies, this woman has a voice of velvet. She began studying voice at the age of eleven at Carnegie Hall. This is, like, serious voice right here! And what you're going to love about her is she is also an author and speaker.
When she speaks, you will soon discover that she has you either laughing or ugly-crying almost the whole time! Right? True fact!
Leslie: We're listening to a conversation between Nancy DeMoss Wolgemuth and the speakers from the Revive '17 conference. We'll be hearing these speakers over the next few weeks here on Revive Our Hearts.
At the opening session, each speaker introduced one of the other speakers. Because of some technical trouble with the microphone, the introduction of Betsy Gomez couldn't be heard, so I'll do it.
Betsy was a marketing executive who realized her greatest contribution would be at home, raising her kids. She'll talk about that choice—to focus on her home—later in this series.
She also has a heart for younger women, and speaks and writes for Aviva Nuestros Corazones, the Spanish version of Revive Our Hearts. Now, Betsy will introduce our next speaker.
Betsy: Well, I have the privilege—amazing privilege—to introduce Mary. I'll borrow some words from Pastor John Piper to describe her. He says that her kind of beauty is impossible to explain to the world.
She's kind; she's tender, compassionate—she's submissive—and yet, she has her brain full of theology. And her loins has like this strong steel . . . so, I admire you; I want to be like you when I grow up! I won't be as tall as you (laughter), but I wish I could be a godly woman like you are!
Mary: And I get to introduce Susan. Susan is our matriarch. She was talking about women mentoring women and spiritual mothering before some of us were even out of diapers!
And so, Susan has been a great challenge to me, a great encouragement to me. Susan, you've been a blessing! You have carried the torch for us and you're passing it on, generation to generation. What a joy it is to see that, and just to witness the fruit of your life!
Susan: And I get to introduce the woman who needs no introduction, because we all feel like she's our best friend. Nancy is so filled with the love of Jesus that, whether she's talking to us one-on-one or from behind a platform or over the radio, we feel enfolded in that love.
Nancy is surely God's chosen woman—His Titus 2 woman—for such a time as this. She does not need an introduction, but on behalf of all of us, Nancy, I want to thank you for your obedience to God's call! (applause) And, I love her so much!
Nancy: Thank you. I love these women, and you're going to love them—if you didn't know them before—after this weekend. Let's open our Bibles to the book of Titus, or scroll on your phone—or something.
I want to do something I've never seen done in a conference before. I want us to read through the entire book of Titus, because we're going to spend this weekend focused on three verses, and I want us to see where those three verses fall.
We're going to read through it together—we'll each take a section. I want you to just follow along. Ask the Lord to make His Word precious to us, to cause us to tremble at His Word, to revere Him, because this is the Word of the Lord!
Beginning in Titus chapter 1, verse 1:
Paul, a servant of God and an apostle of Jesus Christ, for the sake of the faith of God's elect and their knowledge of the truth, which accords with godliness, in hope of eternal life, which God, who never lies, promised before the ages began and at the proper time manifested in his word through the preaching with which I have been entrusted by the command of God our Savior; to Titus, my true child in a common faith: Grace and peace from God the Father and Christ Jesus our Savior (1:1-4).
Mary:
This is why I left you in Crete, so that you might put what remained into order, and appoint elders in every town as I directed you—if anyone is above reproach, the husband of one wife, and his children are believers and not open to the charge of debauchery or insubordination. For an overseer, as God's steward, must be above reproach. He must not be arrogant or quick-tempered or a drunkard or violent or greedy for gain, but hospitable, a lover of good, self-controlled, upright, holy, and disciplined. He must hold firm to the trustworthy word as taught, so that he may be able to give instruction in sound doctrine and also to rebuke those who contradict it (1:5–9).
Dámaris:
For there are many who are insubordinate, empty talkers and deceivers, especially those of the circumcision party. They must be silenced, since they are upsetting whole families by teaching for shameful gain what they ought not to teach. One of the Cretans, a prophet of their own, said, "Cretans are always liars, evil beasts, lazy gluttons." This testimony is true. Therefore rebuke them sharply, that they may be sound in the faith, not devoting themselves to Jewish myths and the commands of people who turn away from the truth. To the pure, all things are pure, but to the defiled and unbelieving, nothing is pure; but both their minds and their consciences are defiled. They profess to know God, but they deny him by their works. They are detestable, disobedient, unfit for any good work (1:10–16).
Susan: 
[But as for you,] teach what [is in] accord with sound doctrine. Older men are to be sober-minded, dignified, self-controlled, sound in faith, in love, and . . . steadfastness. Older women [likewise] are to be reverent in behavior, not slanderers or slaves to much wine. They are to teach what is good, and so train the young women to love their husbands and children, to be self-controlled, pure, working at home, kind, and submissive to their own husbands, that the word of God may not be reviled. Likewise, urge the younger men to be self-controlled. Show yourself in all respects to be a model of good works, and in your teaching show integrity, dignity, and sound speech that cannot be condemned, so that an opponent may be put to shame, having nothing evil to say about us (2:1–8).
Dannah:
[Slaves] are to be submissive to their own masters in everything; they are to be well-pleasing, not argumentative, not pilfering, but showing all good faith, so that in everything they may adorn the doctrine of God our Savior. For the grace of God has appeared, bringing salvation for all people, training us to renounce ungodliness and worldly passions, and to live self-controlled, upright, and godly lives in [this] present age, waiting for our blessed hope, the appearing of the glory of our great God and Savior Jesus Christ, who gave himself for us to redeem us from all lawlessness and to purify [us] for himself a people . . . his own possession who are zealous for good works. Declare these things; exhort and rebuke with all authority. Let no one disregard you (2:9–15).
Robyn:
Remind them to be submissive to rulers and authorities, to be obedient, to be ready for every good work, to speak evil of no one, to avoid quarreling, to be gentle. . .to show perfect courtesy toward all people. For we ourselves were once foolish, disobedient, led astray, slaves to various passions and pleasures, passing our days in malice and envy, hated by others and hating one another. But when the goodness and loving kindness of God our Savior appeared, he saved us, not because of works done by us in righteousness, but according to his own mercy, by the washing of regeneration and renewal of the Holy Spirit, whom he poured out on us richly through Jesus Christ our [Lord], so that being justified by . . . grace we might become heirs according to the hope of eternal life (3:1–7).
Betsy:
The saying is trustworthy, and I want you to insist on these things, so that those who have believed in God may be careful to devote themselves to good works. These things are excellent and profitable for people. But avoid foolish controversies, genealogies, dissensions, and quarrels about the law, for they are unprofitable and worthless. As for [the] person who stirs up division, after warning him once and then twice, have nothing more to do with him, knowing that such a person is warped and sinful; he is self-condemned (3:8–11).
Nancy:
When I send Artemas or Tychicus to you, do your best to come to me at Nicopolis, for I have decided to spend the winter there. Do your best to speed Zenas the lawyer and Apollos on their way; see that they lack nothing. And let our people learn to devote themselves to good works, so as to help cases of urgent need, and not be unfruitful. All who are with me send greetings to you. Greet those who love us in the faith. Grace be with you all (3:12–15).
Some of your translations say "amen" at the end.
As we think about the older women teaching the younger women, I'd just love to hear from two or three of you: Who is an older woman who was—or is—a spiritual mother to you, and what about her has impacted your life?
Mary: Oh, I can think of one. Her name was Pearl Purdy. She was just this wee, little (smaller than you, I think, Nancy) just this weak, little woman. She was about eighty years old, and I was about twenty years old. 
She used to invite me over to play shuffleboard. We'd be in her basement, and she'd give me her knitted slippers (she'd knit some slippers that I could wear on my feet) and we played shuffleboard. Pearl and Harry Purdy and I played shuffleboard. 
It was just life-on-life. She'd make a cup of tea. Just sitting with her and just having her life exposed in front of me just made a huge difference in my life.
Nancy: So at twenty, you're playing shuffleboard. Did you love that?
Mary: She beat me! She was good at shuffleboard. She was so good. You know what? I loved just being with her. I just loved hanging out. Yes.
Nancy: Because sometimes we hear older women say, "I don't think those younger women are interested in connecting with older women." But then you hear the younger women say, "I would love to have that! It's not easy to find." So, you found each other.
Mary: Shuffleboard. 
Nancy: Shuffleboard. Someone else, who was an older woman—or is—in your life?
Dannah: I had a precious, older woman named Elizabeth Sheets. She's with the Lord now. I met her when I was thirteen and became a missionary for Child Evangelism Fellowship. She was about sixty-five at the time.
When I first met her I thought, You are older than the stars! I mean, I just couldn't imagine how we were going to get along. But she was my assigned mentor to teach me how to be a missionary and teach 5-Day Clubs in my county.
The relationship became so rich and so beautiful. I would have sleep-overs at her house: thirteen-year-old Dannah and sixty-five-year-old Elizabeth. She would read the Word of God to me and she'd tuck me into bed. We became just great friends.
When she died and I read her obituary, I read this deep (I didn't know this woman [that the obituary described] because she was so accessible to me and approachable) . . . But she had been trained at Moody Bible Institute, had been on the mission field for years. Then when she retired, she came to do Child Evangelism Fellowship. Then when she went into a home for the elderly, she continued her mission field; it was just a new mission field for her.
When somebody that I've mentored reads my obituary, I them to say, "I didn't know these things I just hung out with her!"
Nancy: Very sweet.
Betsy: I have an aunt, her name is Mildred. When I was two my mom was a single mom. She was struggling financially in life in general, and Mildred was my mom's boss. She's a Christian. She's older than my mom, and she just took us in.
She sort of adopted us and shared the gospel with us. She was serving us so much. She didn't get married. She poured out her life for us, and prayed with me and for me every single night and took me to church. She loved God so much!
I just said, "I want to be like her! I want to love the Lord as much as she does!" She's been a deep influence in my life.
Nancy: Wow, lots more stories that could be told. My prayer is that, as a result of our time this weekend, there will be lots and lots more stories that could be told a generation from now—when someone says, "Who was a spiritual mother in your life?"
My prayer is that every one of us would have people who would name us and say, "She hung out with me. She loved me. She shared Christ with me. She reflected the beauty of the gospel to me."
Leslie: We've been getting to know the speakers who shared at the Revive '17 conference last fall. Over the next three weeks, those speakers are going to unpack Titus 2, verses 1 through 5 for us, each teaching through a phrase in that passage.
A few minutes ago Nancy mentioned a small group kit that came out of this conference. You can get all the details on putting together a small group and using the kit to study Titus 2 together.
Today, when you donate any amount to Revive Our Hearts, we'd like to send you the book Nancy wrote on Titus 2. It's called Adorned: Living Out the Beauty of the Gospel Together.
We'll also include a study guide with questions you can use to better understand and apply Titus 2 and Nancy's book. To get Adorned and the study guide, call with a gift of any size. Our number is 1–800–569–5959, or you can visit ReviveOurHearts.com.
Nancy wants to know, do you ever get tired of hearing this kind of condemnation?
Nancy: "You need to try harder! You need to check off the things on this list!"
Leslie: Tomorrow she'll show you how the gospel of Jesus will rescue you from that condemnation, on the next Revive Our Hearts.
Revive Our Hearts with Nancy DeMoss Wolgemuth wants to help you live out the beauty of the gospel. 
All Scripture is taken from the ESV.
*Offers available only during the broadcast of the podcast season.