Erin Davis: It is the last session of Bible study. We have come to session 6 in the book of Ruth. I always ask the same question when I do Bible studies in my living room, and it's this: "What are you going to study next?"
And then I say, "Don't you dare close your Bible and wait for me to tell you when to open them again. You open your Bible the next day and the next day and the next day."
So, Kristen, I'd love to know: What are you doing in Scripture next?
Kristen Clark: I have loved being in the Old Testament. I'm not sure what it is, but I think it's going to be in the Old Testament, just digging in and just getting that context and seeing the gospel in the Old Testament and learning more about how it connects to the New Testament, seeing Christ in it. So, I don't know—something in the Old. We'll see.
Erin: There's lots of good stuff in there.
Kristen: There's so much.
Erin: I have a secret agenda, which is not that secret, which is to get women to fall in love with the Old Testament because it's rich.
Gayle, where are you heading to next in Scripture?
Gayle Villalba: I knew you were going to ask.
I've been spending a lot of time in the Old Testament, so I am planning on getting into the New Testament and study more of the gospels. I just need to read them again. I need to read the stories.
Erin: Well, I'm making my way, maybe not as quickly as I'd like to be, but through a chronological Bible. I made a commitment to my sons that I would write out every promise in Scripture.
Gayle: Oh! Wow!
Erin: Did you know there's over 5,000 promises in Scripture?
Kristen: And you're writing out each one of these?
Erin: I'm writing out each one. And the only way I could figure out to do it was to go through the Bible systematically. When I came to a promise, I wrote it down. So, I don't know where I'll be, but I'll be having hand cramps, because the Lord has given us so many promises.
Kristen: How many promises have you written down at this point?
Erin: Oh, several hundred. I started with one notebook and have about got that one filled. I don't think the first one is going to be too tough, but I have four boys. So I'm going to have to write all those promises four times, but I've made a commitment, and I hope it's one of the greatest treasures of their life.
So I've enjoyed this little detour into Ruth where I wasn't furiously taking notes all the time. And if you're listening with us, watching with us, I hope you have a game plan. Don't you dare come to the end of this study and wait for me to tell you when to open your Bible again. I'm telling you right now: It's tomorrow and the day after that and then after that.
So, I have a second question to get us going today. I want to hear your idea of the perfect happy ending. Gayle?
Gayle: Oooo….(sounds of laughter). The perfect happy ending . . . oh my.
Kristen: It's a lot to ask. Right? The perfect ending.
Gayle: Oh, yes. I'm not sure, but I know it involves Jesus—and seeing Jesus.
Kristen: That's perfect.
Erin: I don't think you have to say any more about it.
The perfect happy ending in your mind, Kristen?
Kristen: Seeing Jesus maybe in the new earth. He promised us a new earth. And maybe with beautiful mountains and scenery because I'm really into national parks right now. Gorgeous scenery, with the Lord, I just can't imagine …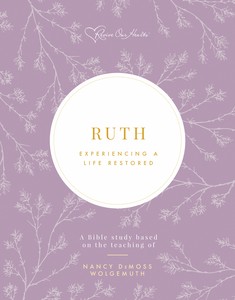 Get Your Copy
Rahab: Tracing the Thread of Redemption