Erin Davis: Okay, I need some parenting advice. How do you help your kiddos—or your grand-kiddos—get out the wiggles!? Portia, how old is your baby girl?
Portia Collins: She's two.
Erin: She's two. I know she has a lot of wiggles! 
Portia: Yes! 
Erin: And how do you help her get out the wiggles?
Portia: I don't! She just wiggles, and I've learned to live with it.
Erin: Gayle, how many grandchildren do you have?
Gayle Villalba: Four grands . . . and going on four great-grands!
Erin: Whoa! So you've got some experience with the wiggles. So a kiddo has the wiggles; help me, because I have four boys. We've got lots of wiggles! 
Gayle: I can't help you. I think you run them hard and fast, when you can.
Erin: Yes, that's my whole parenting strategy. Exhaust them! Sometimes when they're in the car as we're driving down the highway, I'll say, "Nose on knees, boys!" Those boys have to put their noses on their knees for a minute, because their hands are . . .
Gayle: . . . whacking at each other, right?
Erin: Well, we're not talking about the wiggles, really. We are continuing to walk through the book of Ruth. But in this session I want us to consider sitting still, spiritually speaking. When we have those kinds of "spiritual wiggles"—when we just want to wiggle our way out of a situation or take control of a situation—what do we do?
So, let's recap Ruth a little bit. What have we seen so far? We have read chapters 1 and 2 in Ruth, which means we're halfway through this gem of a book. I love this! It's short, compact. You get from beginning to end really quickly. Catch us up to speed, Portia. What has happened so far?
Portia: Naomi has lost her husband; Ruth has lost her husband. They have come back to Bethlehem. And now Ruth has met Boaz. She is gleaning in his field (I love the word "gleaning," by the way!).
Erin: I do, too! But I don't actually want to do it; it's not easy work! But that's what happened so far; it's about to get even more interesting.
Portia: Yes, plot twist!
Erin: Let's pick it up in Ruth chapter 3. I'm going to read us verses 1–9. I hope that when you listen to the Women of the Bible podcast, you have your Bible handy. So grab it and turn with us to Ruth chapter 3. 
Then Naomi her mother-in-law [that's Ruth's mother-in-law] said to her, "My daughter, should I not seek rest for you, that it may be well with you? Is not Boaz our relative, with whose young women you were? See, he is winnowing barley tonight at the threshing floor. Wash therefore and anoint yourself, and put on your cloak and go down to the threshing floor, but do not make yourself known to the man until he has finished eating and drinking. But when he lies down, observe the place where he lies. Then go and uncover his feet and lie down, and he will tell you what to do." 
Now, I love my mother-in-law, she's wonderful, but she has given me instructions in this much detail many a time, and that's what Naomi's telling Ruth: "Do this and do this and do this and do this . . ." And I'm not sure that I usually respond like Ruth did.
And she replied, "All that you say I will do." So she went down to the threshing floor and did just as her mother-in-law had commanded her. And when Boaz had eaten and drunk, and his heart was merry, he went to lie down at the end of the heap of grain.

Then she came softly and uncovered his feet and lay …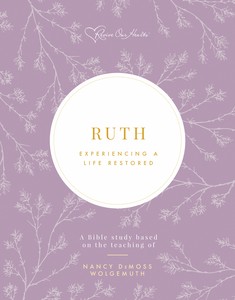 Get Your Copy
Rahab: Tracing the Thread of Redemption