Erin Davis: We're walking through the book of Ruth, and we've made it all the way to Ruth, chapter 1. (cheering) We're going nice and slow through the book of Ruth, taking our time because every word in the Word of God matters.
I love that you're with us, but they might not know you like I know you, so I like to start with an opening question. I do this at Bible studies in my living room, too.
I want to know who has been the biggest influence on your view of God. Man, I'll just go for the jugular on that question.
Kristen, what's your answer?
Kristen Clark: I'm Kristen Clark. Okay, that's a big question!
Erin: It is a big question.
Kristen: Thinking back on my whole life, I would have to say, honestly, my parents. They were teaching me the Word of God from the time I was so young—memorizing the little kids' songs and teaching me who God is. My mom has been such a mentor in my life—and my dad. So, I would say, yes, my parents over the years, even to this day, have continued to influence me.
Erin: I hope twenty years from now the Davis boys are sitting in a room like this, and somebody asks them that question, and they give them that answer. I don't know if that's going to happen.
Kristen: I think they will.
Erin: I love that.
Tell them your name, and if you could think of the biggest influence on your view of God, who would it be?
Gayle Villalba: I'm Gayle Villalba, and probably the biggest influence on my life and my view of God was a pastor my husband and I had when we were so young. He was an associate pastor, and I was a young mom. He's in heaven now, but he profoundly influenced us, and we still think of him as our pastor.
Erin: Oh, wow. Write a thank-you note to your pastor and send it to him.
Well, I would say a combination of those two answers. I am Erin Davis, and my mama had and still has a tremendous influence on my view of God. She is one of those women who just knows who He is and talks about Him all the time. And I've had a pastor in my life who's pastored my church for thirty-six years. He's been my pastor since I gave my life to the Lord, Pastor Jim Cook. He's had a tremendous influence on my view of who God is.
And that's what we're going to be talking about in this session: Our view of God.
We need those parents and those pastors in our lives because it's possible for all of us to have a view of God that isn't true to who He is. Let's just rattle out some examples from our lives or some other women's lives of views of God that aren't true.
Like, for me, I've spent a lot of years thinking God was always mad at me. That's just not an accurate view of God. Any other examples of views of God that just aren't true that you've encountered or you felt? Gayle, what do you think?
Gayle: An unrighteous judge. He is a righteous judge, but the unrighteous part . . .
Erin: He's not fair.
Gayle: Right. We know better.
Erin: Kristen, what do you think?
Kristen: For me, I think when I've gone through really hard times, doubting whether God is really good or not and allowing my circumstances determine God's character versus trusting that He is who He says He is.
Erin: Yes. I just want us to start with those realities and saying those thoughts, that they exist in our heads and hearts. Because I hope nobody's listening to the Women …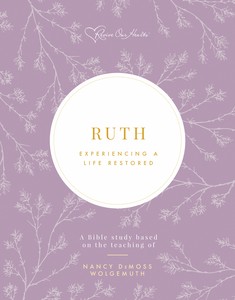 Get Your Copy
Rahab: Tracing the Thread of Redemption