Watch the drama that accompanies this message: Motherhood
Ray McKelvy: I have to tell you this story. Robyn mentioned that we were married May 28, 1988. It was not too long after we were married—maybe just a few days or so—my wife caught a really bad cold.
And you have to know that Robyn had never been the kind of person that I had ever seen sick before. So I decided to go and get her the best cold medicine I could find. I read the ingredients and brought it home to her.
She said to me, "You know what? I better not take this cold medicine. I could be pregnant." And I'm thinking, Well, we've only been married a few days. I'm sure that's not the case! And nine months later, Rachel was born! (laughter)
When Rachel was about five months old, Robyn caught another cold, and his name is Ray. And when Ray was about five months old, Robyn caught another cold, and his name is Ross.
And when Ross was about five months old, Robyn caught another cold, and his name is Ryan. And since then, she's caught several other colds: Renee, Regan, Raven, Resa, Ryland . . . and she has a cold now. No, I'm just kidding! I'm joking!
Sarah and Abraham! No, that's up to Nancy and Robert! (laughter) Okay, I'm done. I just wanted to say, "Meet the lady with all the colds." Would you welcome her? (applause)
Robyn McKelvey: [to her husband] You're staying home next time. That's so unfair! He gets all the laughter, I just had to bear all those children! (laughter) I'm not going to do all the introduction, because I didn't know that was going to happen. Thank you, Ray, for introducing me and all the kids.
But I do want to tell you this: There was a time when Ray and I got married, I went right back to work. I was a career woman. I loved the career that I had—supervising computer operations and programming. I mean, I loved it, and there was a great paycheck attached every two weeks. It was phenomenal!
But when I started having all those "colds" . . . and I'm going to tell you about even the "colds" that aren't here on earth, but God had a heavenly purpose for . . . but when I started having all those "colds," I began to realize that this was a greater responsibility.
My career choice had to change, and so I made coming home to be a mom my career. It was a greater responsibility, but there was no paycheck—and there was this big void. It wasn't easy to do that, but I wanted to be a woman of the Word.
So I went back to God's Word to find out what He said about children. Our life verse just happens to be Psalm 127, the entire chapter. But I'm going to start with verse 3. Why don't you read this with me; let's do it from verse 3. [Verses aren't up on the screen right away, but they do come up; women join her in reading the passage.]
"Behold, children are a heritage from the Lord, the fruit of the womb a reward. Like arrows in the hand of a warrior are the children of one's youth. Blessed is the man [whose quiver is full of] them! He shall not be put to shame when he speaks with his enemies in the gate" (Ps. 127:3–6).
One of the things that I had to realize was that our culture no longer values motherhood because our culture no longer values children. Can I get an "amen" on that? Our culture thinks that our assets are our paycheck and all the stuff we can accumulate, but God has a different idea of what's …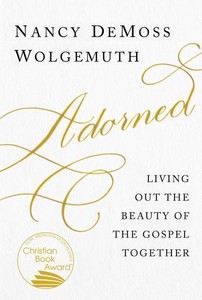 Get Your Copy
Woman to woman.
Older and younger.
Side by side.
Life on life.
This is God's good and beautiful plan.