Nancy DeMoss Wolgemuth: Oh Father, take these words and these moments and wing Your truth and Your words home to our hearts and transform us in the process. I pray in Jesus' name, amen.
In this final session of this Titus 2 Adorned series, I want to touch on one final piece of the curriculum—that older women are to model and then teach to younger women. Then I want to close by reminding us why this all matters and what's at stake.
The words are familiar to you by now, I hope: Titus chapter 2, "Older women . . . are to be reverent in behavior, not slanderers or slaves to much wine. They are to teach what is good, and so train the young women to love their husbands and children, to be self-controlled, pure, working at hom, kind, and submissive to their own husbands, that the word of God may not be reviled" (vv. 3–5).
We've seen the importance of laying a solid foundation of sound doctrine. But I want to remind us that it's not enough to have sound doctrine and firm convictions about truth. We also need to be clothed in kindness as we live out that truth and share it with others.
Right doctrine, without kindness, is hard-edged. It's off-putting. Many times I think people are repelled from Christ. They're not interested in our message—not because the truth isn't penetrating their heart—but because they can't get to it through our crusty lack of kindness.
Now, we may think of kindness as a weak, wimpy quality. I mean, kind people get run over, right? I've been reading a fascinating book called Love Kindness, by Barry Corey. He says,
Kindness is radical. It is brave and daring, fearless and courageous, and at times kindness is dangerous! It has more power to change people than we can imagine. It can break down seemingly impenetrable walls. It can reconcile relationships long thought irreparable. Kindness has the muscle to move mountains. No weak quality, this.
Now, we often think of kindness as an attitude, a spirit, a manner—and it is all of that. But in the scriptural use of the word, it also involves actions and behavior. The word "kindness" here in Titus 2 is, most often translated in Scripture (depending on your translation): "good."
The word means: "benevolent, profitable, useful." It means to be "good in character and beneficial in effect." Kindness, as we read about it in Titus 2, is not just feeling kind or thinking kind thoughts. It's not just being soft and quiet and tender. It may involve all of those things, but true kindness is active goodness. It's actively influencing others.
The woman we read about in Proverbs 31—that great composite picture that we all find a bit daunting—but one of the things I love about this woman is her kindness. She shows active kindness first at home: "She does him [her husband] good, and not harm, all the days of her life" (Prov. 31:12).
But she also shows active kindness outside her home: "She opens her hand to the poor and reaches out her hands to the needy" (Prov. 31:20).
First Timothy chapter 5, kind of a New Testament parallel passage, talks about how widows, if they want to be qualified to be cared for by the church, have to have a reputation for kindness.
It says they must be well-known for good works. That is, ". . . if she has brought up children, has shown hospitality, has washed the [saint's feet], has [helped] the afflicted, and . . . devoted herself to every good work" (1 Tim. 5:10).
This is a woman—a widow in this case—who is kind . . . active goodness, not just passive kindness. I …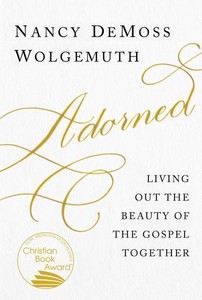 Get Your Copy
Woman to woman.
Older and younger.
Side by side.
Life on life.
This is God's good and beautiful plan.