Robyn McKelvy: I get the privilege, thank you, Nancy, or maybe not, of speaking on submission. And not only do I get the privilege of speaking on submission, but telling you about this beautiful thing of strength that God has given to us as women.
And so, you already know, when Nancy introduced me that I have ten kids, but I'm not the only one that had ten kids, so did my mom. I'm number six on a line of ten. There were four boys and six girls, and I was the fifth of six girls, so you had to be independent. I felt like I could do everything I wanted to do in life. Independence was not a problem for me.
My dad was career military. He was pretty stubborn and pretty strong and strict—very strict. And my mom was a 5'1" spitfire. So I was woven from both of those cloths. So independence or having an opinion was not a problem for me.
At the age of twenty-one, I gave my life to Christ, and I wanted to know all that God's Word said. So I told my dad, "Don't tell me. If I see it in God's Word, I'm going to do it," because I wanted to know truth. And somewhere in there, I think I wanted to be independent because that was not a problem for me.
As a single woman, I worked a job as a supervisor over computer operations and programming. I lived in my own house, and I paid my own bills. I was always on my own because independence was not a problem for me.
But then this guy started following me around. (laughter) Then I was married to him, and there was some problems—big time. (laughter) But I desired to be a godly wife and a godly woman and to do what God asked of me to do. I wanted to find out from His Word what this new role as a woman and a wife meant, so I went to God's Word to find it out.
I found some Scriptures in there, and one of the first Scriptures that I found said, "He who finds a wife finds a good thing and obtains favor from the Lord." So I thought, Boy, God's given that man a gift, and I'm his gift! (laughter) So I'm, like, "Lord, You know he needed me." (laughter) So I put that in my gift package because I know the Lord needs me.
And then I said, "Let me look at the Word." When I looked at the Word, I saw in Genesis that God said in Genesis 2, verse 18, "I'm going to make a helper [what?] suitable for him."
"Lord, you know that brother needs help! Here I am, Lord, send me." (laughter)
And then Titus 2 said I needed to love my husband. That wasn't a problem because I fell in love with that man, so that wasn't a problem. I could easily put that in there. [As Robyn finds Scriptures for her husband, she put them inside a wrapped gift box.]
I could easily put in Ephesians 5:33 where it said I needed to respect him. That was an easy thing to do because he was a respectable man. And we hadn't really gone through anything else, so I could easily do that.
And then Ephesians 4:32 said I'm going to be kind to him and tenderhearted. I'm going to forgive him just as Christ forgave me. And I tell you, Christ forgave me of a lot of stuff, so that was an easy thing for me to do.
And then Proverbs 12:4 said, "A wife of noble character is the crown of her husband, but she who shames him is like …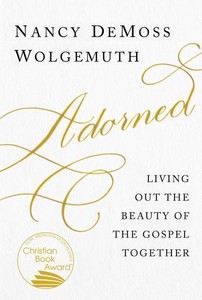 Get Your Copy
Woman to woman.
Older and younger.
Side by side.
Life on life.
This is God's good and beautiful plan.