Erin Davis: Welcome back to the Women of the Bible podcast. I'm Erin Davis, and you're listening to the season that's all about Abigail. I'm a little sad for this episode, because it is the conclusion of our walk through the study, Abigail: Living with the Difficult People in Your Life.
I feel just like I do on the last night of Bible study, just like, "Oh, I've loved this!"
Meg Honnold: "My girls!" 
Erin: "Can't we just always have Bible study every day of our lives?" So, I want to reintroduce you to some friends of mine. You've been hearing them on the podcast. They're wise; they're winsome; they're wonderful . . . and all the other "w" descriptive words I can think of! 
I've so loved getting to know you better and opening God's Word with you! Joy and Meg are joining me on this episode. Joy, I'm curious: what has the Lord done in your own heart through this study?
Joy McClain: I love the study of Abigail! I lived Abigail in some respects. I didn't have a David, but I did know the contentious husband! But I love how it's calling me, reminding me of grace upon grace upon grace and to trust God and know I'm loved by Him.
He's got this! I can trust His working and His justification, all that works out. I can just give those people that need grace, just give 'em grace! I can trust that He'll deal with it.
Erin: Well, Joy, you are an Abigail. You're discerning and beautiful 
Joy: Oh, yes. I wish this had been the end earlier!
Erin: I so enjoy being with you! And, Meg, what has the Lord done in your own heart through this study?
Meg: I am not God, and justice is not mine to control. I think I identified most with David. My response to difficult people is to strap on my sword and to take revenge for myself. I've been so convicted by Abigail's example of seeing her so highly, highly revere God's authority and His sovereignty over the situation, even risking her own life to stand up for God's authority in the situation.
Erin: Yes, I love that. I think there's a defensiveness in me that I've fought most of my life—the right word for it is pride. When people criticize me (whether big or small) or question my decisions, or it could be something more severe, like an assault on my character . . . My flesh is always the first to the scene of everything, unfortunately.
There's a defensiveness in me that, after this study, I hate even more than I did going into it. I don't like that about me, and Abigail shows me an alternative. She's not defensive; she's gracious. The name of the Lord is on her lips. She respects people. She speaks to others very highly, whether they're in a high position or a low position.
So I'm walking away from this study wanting the Lord to do an even more dramatic work in my life of just removing defensiveness from me. And defensiveness is ultimately a faith issue, right? If I think I have to defend myself, I'm not trusting Him to defend me. So He's also used this to expose pockets where my faith is weak, and that is never fun . . . but I'm grateful for it.
So it's been a great study. I hope wherever you're gathered with women walking through this study of Abigail, that you'll take some time after this episode and have that conversation: What has the Lord done in your heart? Because that's what the Word of God does. We don't open it as a historical book, although this really happened in history. 
It's not a fable with just a good lesson at …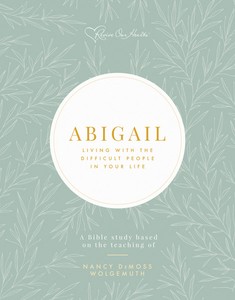 Get Your Copy
Abigail: Living with the Difficult People in Your Life