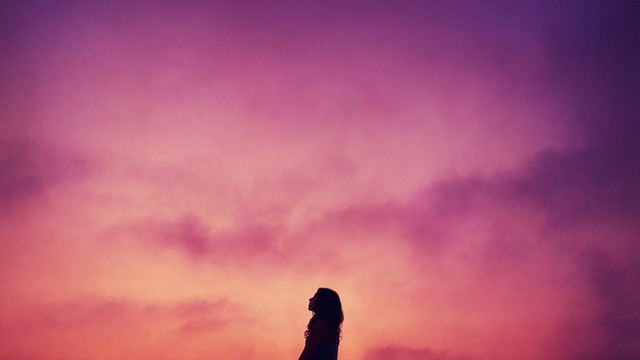 Episode 4: Making Room for Mystery
Katie Laitkep: If you feel discouraged by circumstances that you see right now, keep in mind that what you see is just one little snapshot. Here's Erin Davis.
Erin Davis: God sees the big picture, and where you are is likely not where He wants to take you.
Katie: Welcome to The Deep Well with Erin Davis. I'm Katie Laitkep.
We've been in a series called "Dysfunction." Now, Erin's going to continue that series. Here's Erin.
Erin: I'm afraid that one of the things we've lost in the digital age is family photo albums. I know that we can scroll through the photos in our phones, and I know that we can look back on our social media history, but it's not the same as holding an actual photo album in our laps and turning the pages while our mom or our grandma tells us what was going on …
Katie Laitkep: If you feel discouraged by circumstances that you see right now, keep in mind that what you see is just one little snapshot. Here's Erin Davis.
Erin Davis: God sees the big picture, and where you are is likely not where He wants to take you.
Katie: Welcome to The Deep Well with Erin Davis. I'm Katie Laitkep.
We've been in a series called "Dysfunction." Now, Erin's going to continue that series. Here's Erin.
Erin: I'm afraid that one of the things we've lost in the digital age is family photo albums. I know that we can scroll through the photos in our phones, and I know that we can look back on our social media history, but it's not the same as holding an actual photo album in our laps and turning the pages while our mom or our grandma tells us what was going on in each of the pictures. "Oh, that was when you were in preschool." "Ah, that was your first day in kindergarten!" "That was the time we went to the Grand Canyon." I love those little snapshots of our lives all assembled in one place!
In this season of The Deep Well, we're looking at the life of Joseph from the Old Testament, and we've already found plenty of dysfunction. Let's do a quick recap.
Joseph was born to Jacob and Jacob's beloved wife, Rachel. Joseph's birth is recorded in Genesis 30. We also know from Scripture that Joseph was his dad's favorite son, and that made him a target among his brothers.
I want to pick up the story in Genesis 37:5–11.
Now Joseph had a dream, and when he told it to his brothers they hated him even more.
Let's pause and make some observations. What did Joseph do? He had a dream, which feels like a pretty involuntary thing to do. Now, he did tell the dream to his brothers, but was that a sin? Was that an act of aggression? It doesn't seem like it to me.
Still, the outcome of Joseph sharing his dream was that the hatred that his brothers already felt for him was inflamed even more. Let's look at verse 6.
He said to them, "Hear this dream that I have dreamed: Behold, we were binding sheaves in the field, and behold, my sheaf arose and stood upright. And behold, your sheaves gathered around it and bowed down to my sheaf." 
Okay, now I can see why the brothers got upset. There's a rebel inside each of us that hates the idea of anyone having power over us. Maybe that's especially true when it's someone we don't respect, like a little brother.
Verse 8:
His brothers said to him, "Are you indeed to reign over us? Or are you indeed to rule over us?" So they hated him even more for his dreams and for his words.
Then he dreamed another dream and told it to his brothers and said, "Behold, I have dreamed another dream. Behold, the sun, the moon, and eleven stars were bowing down to me." 
This is starting to feel a little outrageous. Now Joseph was dreaming that the celestial bodies were bowing down before him. So I think we can have a little empathy for the brothers for their frustration.
Verse 10:
But when he told it to his father and to his brothers, his father rebuked him and said to him, "What is this dream that you have dreamed? Shall I and your mother and your brothers indeed come to bow ourselves to the ground before you?" And his brothers were jealous of him, but his father kept the saying in mind.
There's a suitcase. Let's unpack it.
Joseph had two dreams. Whether he was asleep or he had his eyes wide open in some sort of vision, the Bible doesn't tell us. What the Bible does record is that God often works through dreams. God appeared to King Saul in dreams. I read that in 1 Samuel 28:15. Daniel 1 tells us that Daniel could understand dreams of all kinds. An angel of the Lord appeared to Joseph—not the Joseph we're looking at in this series, but the New Testament Joseph, Jesus' adopted father. The Lord appeared to him in dreams more than once.
Dreams are an important theme for our Joseph's story. Actually, dreams were an important part of this story even before Joseph was born.
Let's flip back to Genesis 28. In case you're a little disoriented, we're going to look at some verses that are sandwiched between Genesis 27—that's where Jacob fled from the anger of his twin brother, Esau—and Genesis 29, where Jacob married Leah and Rachel.
Remember, Jacob is Joseph's dad. We're going to look at a passage with another interesting dream. We find it in Genesis 28:10–16.
Jacob left Beersheba and went toward Haran. And he came to a certain place and stayed there that night, because the sun had set. Taking one of the stones of the place, he put it under his head and lay down in that place to sleep.

And he dreamed, and behold, there was a ladder set up on the earth, and the top of it reached to heaven. And behold, the angels of God were ascending and descending on it! And behold, the Lord stood above it and said, "I am the Lord, the God of Abraham your father and the God of Isaac.

The land on which you lie I will give to you and to your offspring. Your offspring shall be like the dust of the earth, and you shall spread abroad to the west and to the east and to the north and to the south, and in you and your offspring shall all the families of the earth be blessed.
Verse 15—this is still the Lord speaking, still to Jacob in a dream.
Behold, I am with you and will keep you wherever you go, and will bring you back to this land. For I will not leave you until I have done what I have promised you. 
You've probably heard of Jacob's Ladder. That comes from this dream that Jacob had. The other thing that God did in this dream, other than give him that vision, is he affirmed the promises that he meant for Jacob's family.
Can you imagine hearing God speak to you this clearly in a dream? Of course Jacob wanted to share it. As we think about Joseph's dream, of course he wanted to share it. If God spoke to me in a dream, I would want to share it, too.
There's something we have to remember when we read passages like this. We have two advantages that the original writers and hearers couldn't have had. 
First, we have Jesus. He is the key that unlocks the mysteries of so much Scripture. But we also have the whole canon [of Scripture]. We know that God kept His promises to Abraham, Isaac, and Jacob. We probably don't need a dream to be reminded of that; it's right there in our Bibles.
In Joseph's case, we know that the things he dreamed about—the brothers bowing down before him—we know that those things came true. But his brothers didn't, and his dad didn't. Without the whole picture, Joseph's dreams would have seemed mysterious and maybe just a little bit crazy.
Which brings me back to that photo album I mentioned before. When it comes to our families, we have a very finite, human perspective.
Let me take our imaginations through a mental photo album of my own family to show you what I mean.
I was a little girl. My dad had left my family, and I wanted nothing to do with God. Take a picture. If that was all you had to tell the story of me, you would assume that I was not a follower of Jesus.
Jason and I broke up once. It's true. I think we were already engaged, and then we had a big fight, and then we decided maybe we needed to separate for a while. I can't even remember why. But if you were looking at a snapshot of just that part of our lives, you'd see two kids who had no idea how to make a relationship work, and you'd think, I don't think they're going to make it.
We chose not to have kids for the first seven years of our marriage. We had some really bad theology of how much God values families. If you were just looking at the snapshot of that period in our lives, you would think that we were two people more interested in having a career than having a family. You'd be right, but that's not the whole story.
When I was twelve weeks pregnant with our first child, the doctor told us that baby probably wouldn't make it. She advised us to abort him. If you just took a snapshot of that moment, you'd see two very scared parents who had every reason to believe we would never hold that baby in our arms.
If you snap some pictures of us now, you'd see something that looks nearly the opposite of all those other photos. We're happily married. We have been for twenty-one years. And we made up for lost time; we had four babies in ten years. That baby that the doctor told us wouldn't live—well, he's almost fifteen now. His name is Elisha; it means "my God saves."
Let's give some credit to Joseph's brothers. When he told them about those two dreams, all they had was a snapshot. They didn't know how this story was going to unfold. All they could see was that moment, and what they could see was that their brother, who they already had some negative feelings towards, seemed to be telling them that at night when he closed his eyes he dreamed about them bowing before him. They had no way of understanding what Joseph's dreams meant. They didn't know how Joseph's story was going to play out. We know that; we have the beauty of hindsight. But they didn't know that.
The dreams were mysterious. We all try to fit what doesn't make sense through the paradigm of what we understand. 
Anyone who has ever worked with me will tell you that I love clarity. I often say, "Clarity is kindness." And in my annual review this year my boss said, "Erin, one area you could grow is by learning to cope with some mystery," to which I think I probably said, "Can you tell me what you mean by that?"
I confess, I have a hard time living out what I'm about to say. To trust God with your family is to make peace with not being able to see the bigger picture.
I love the beauty of Job 26:14. "Behold, these are but the outskirts of His ways, and how small a whisper do we hear of Him! But the thunder of His power who can understand?"
Some translations of that verse say we're just touching the fringes of God. Everything we know about God's Word is just a whisper. The idea is there is so much more to discover about God. Though God makes it clear that He wants to be known . . . I see that all over the Bible. One of the reasons we open our Bibles day after day, year after year, decade after decade, is, in fact, to know the character of God. But God is not a lock to be picked, He is not a code to be cracked, and He's not a riddle to be solved. He's far too big for that.
What that means practically, in real time in our families, is that we cannot always understand the ways that He's at work.
We've been reading these passages with a bent toward Joseph. We've been trained to think that way by a hundred Sunday school lessons. But what if we took this snapshot again and we tried to empathize with the brothers? Based on their limited view, it would be very hard for them to understand what God was saying through their little brother. 
Your family right now—well, you're just a snapshot. You don't know what the album's going to look like yet. When you can't see the plans of God, you can trust the heart of God.
Think of your family right now, whatever comes to mind. Your relationship with your parents in this moment—just a snapshot. Your marital status right now—just a snapshot. Or maybe you are married and your marriage has hit a rough patch; all of us do I think—just a snapshot. Your fertility right now—just a snapshot. Your relationship with your kids right now—just a snapshot. 
God sees the big picture, and where you are is likely not where He wants to take you. When you can't see how it will turn out, when a family situation feels as clear as the nearest mud puddle, hold Joseph's story in your mind for a moment. Add to it the other stories of families you know from the Bible.
I think of Genesis 22:2. That's where Scripture records that God said to Abraham, "Take your son, your only son Isaac, whom you love, and go to the land of Moriah, and offer him there as a burnt offering on one of the mountains of which I shall tell you."
I think of Exodus 2, where Miriam had to put her baby boy, whose name was Moses, in a basket and float him down the Nile.
I think of 1 Samuel 2:19, which says, "And his mother used to make for him a little robe and take it to him each year when she went up with her husband to offer the yearly sacrifices." Some translations of that verse say "tiny coat." It's about Hannah and the little clothes she made for her boy Samuel, whom she dedicated to live in the temple.
I think of Mary who spent three decades treasuring up the memories she made with her son, only to watch Him die a criminal's death.
But those were just snapshots. If you read the rest of the Bible, you can see that even in these hard moments, even in these strange moments, in these mysterious moments, God was moving these families to something else, something better.
Whatever else it means to build our families God's way, it means to surrender our families to Him; not just once, but over and over and over and over.
I think especially about Miriam putting Moses in that basket. There have been so many times already in my mothering journey where I have to say, "Lord, okay. I'm putting the boy in the basket. All I see is this snapshot, but I trust you have the whole album in mind."
There's a question that your family will give you many chances to answer. It's this: 
Will you trust Him? 
Will you trust Him when all you can see is a limited view? 
Do you trust that He has the whole grand story of redemption in mind with what He's doing right now?
Or like Joseph's brothers and like me so often: 
Will you resist what you don't understand? 
Will you try to fix things that feel like gaps to you? 
Will you default to anxiety over all that is unclear? 
I hope not. Let's pray and ask the Lord to help us trust Him in the snapshot.
Jesus, thank You that You see all of time. Thank You that You stand outside of it, and thank You that You know how all of our stories are going to unfold. Help us to trust You with this snapshot of our families. Amen.
Katie: That was Erin Davis. She's been teaching through the series called "Dysfunction."
If you know someone going through one of those tough moments, one of the snapshots Erin's been talking about, would you stop right now and share this season of The Deep Well with her? You may already know exactly who needs to hear this episode, and maybe all of the episodes. Don't wait to send these episodes to that friend or family member. They could be a lifeline to her in the season that she's in right now. You can hear all of those episodes on your favorite podcast app, or visit ReviveOurHearts.com.
Erin: Thanks, Katie. I love that thought of women sharing this podcast with other women, especially those women who are hurting and need hope. That's why we do The Deep Well.
Erin Unscripted
Erin: This is the part of the program we tend to call Erin Unscripted, but I want to flip it. I'm going to call this one Katie Unscripted!
Katie, as we've been imagining these snapshots from our lives, what snapshots come to mind for you?
Katie: You know, I've been sick with a chronic illness for about twenty years now. When I think about that whole timeline, I can't remember a lot of the details, just because the pain got so bad at different points. I don't know if trauma is mixed in there, where the timeline becomes blurry. But I do think of it in terms of different snapshots, like you said.
One of them I can so vividly remember is from my senior year of high school. I'd already been really sick for several years, and even when pain was at its worst I still believed that there was a way that my future was going to work out the way that I dreamed, the way that my family had dreamed. We'd all planned out the college I was going to go to, the major that I was going to pursue, and we just kept thinking, Some way it's going to work out for all of these dreams to come true.
I remember the snapshot where I sat on my mom's bed—just the two of us were sitting there—and we realized that I was not even going to be able to fill out the college application. That day, when we realized I wasn't even going to apply to the college we always thought I would go to, that was the moment that it felt like the future and all of our dreams that we planned were gone.
My mom and I just sat there and sobbed together. I mean, we just wept, because it represented so much of what was lost by illness.
Erin, you're a mom. I'm not a mom in this season of my life. But sometimes I think it's harder on the moms and on our family members when we're going through a season of suffering. I think it's harder for my mom than it has been for me.
Erin: You're so right. This is true of photography and of life—you can look at the same scene from two different angles and see it very differently.
Just today I dropped my oldest son off for basketball tryouts. He had tryouts at 5:30 this morning, and today was the day when they were going to make cuts or not. My boy loves basketball, and on the way there I was all, "I'm so proud of you no matter what! God's going to give you a gift." As soon as that boy exited my van tears rolled down my cheeks, because I thought, What if? What if he doesn't make the cut? What if he has to face that rejection?
It was just a snapshot. (By the way, he did make the team.) It was just a snapshot, just a moment where those fears came to the surface. But it wasn't the whole story. And you know what? Even if he hadn't made the basketball team—I know that's trivial, but it's important to my boy, so it's important to me—even if it had gone a different way, the snapshot might look different if I look back at it five years from now or if I looked at it from his angle or if I looked at it from his friends' angle. So that's the idea: God is doing so much.
I love you letting us into that tender moment between you and your mama.
I have to ask, what are the snapshots of your chronic illness's role in your family life, beyond just that time when you and your mom had to face that hard reality?
Katie: I think it's been hard for my parents, for my brothers, for my grandparents, for everybody who's watched along the way and who has prayed faithfully. They've carried this burden as if it's their own. But as hard as it's been for all of us, I think it's also shown us so much of God's sovereignty. Even when all seems lost, when there doesn't seem to be a future or a hope to cling to, we've been able together to learn the hard lessons that this world is hard, that God is good, and He can be trusted in the midst of it.
One way we've been able to keep going through this when we haven't been able to see the ending is by turning back to Scripture. It's one reason why The Deep Well is one of my favorite podcasts. We go back to Scripture, and we're getting to see that even when the real people in Scripture were going through hard seasons, we see how the story ends, and we see God's redemptive purposes in the midst of it. Thank you for taking us back to the Bible over and over again.
Erin: I mean this sincerely: it is one of the great honors of my life.
Katie: Amen. I can't wait until the next episode, where we get to hear more about God's sovereignty and His redemptive plans through the life of Joseph. What can we expect on the next episode of The Deep Well?
Erin: I feel like the next episode should come with a warning label, because we're going to be talking about family secrets, and the fact that we need to drag those things that are in the dark in our families, that we try to hide in closets and drawers, they need to be dragged into the light.
Katie: You can find that next episode of The Deep Well in your podcast app or on ReviveOurHearts.com right now.
The Deep Well with Erin Davis is part of the Revive Our Hearts podcast family, calling women to freedom, fullness, and fruitfulness in Christ.
*Offers available only during the broadcast of the podcast season.