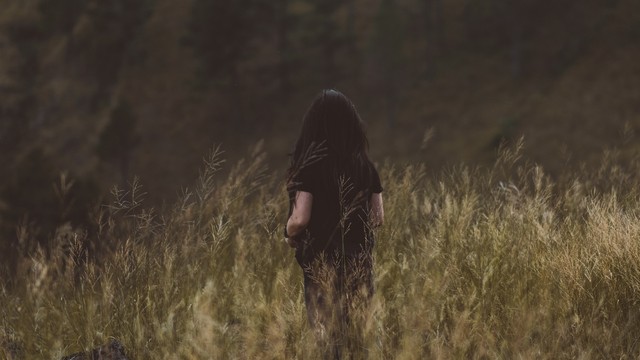 Episode 5: The Lies Our Families Tell
Katie Laitkep: When you're tempted to make one wrong choice, it may not seem like a big deal. But Erin Davis warns us the effects of sin can keep growing.
Erin Davis: Sin will take you further than you ever thought you would go, quicker than you ever thought you would get there, and it will do more damage to the people in your family than you would ever predict.
Katie: Welcome to The Deep Well with Erin Davis! I'm Katie Laitkep.
Is there some secret that's haunting you? Erin wants to help you find freedom. She'll explain how you can bring secrets into the light, as she continues in the series "Dysfunction."
Here's Erin.
Erin: The thing about family secrets is they almost never stay a secret. As unsettling as that can be, what we're going to find out in this episode of The Deep Well is that …
Katie Laitkep: When you're tempted to make one wrong choice, it may not seem like a big deal. But Erin Davis warns us the effects of sin can keep growing.
Erin Davis: Sin will take you further than you ever thought you would go, quicker than you ever thought you would get there, and it will do more damage to the people in your family than you would ever predict.
Katie: Welcome to The Deep Well with Erin Davis! I'm Katie Laitkep.
Is there some secret that's haunting you? Erin wants to help you find freedom. She'll explain how you can bring secrets into the light, as she continues in the series "Dysfunction."
Here's Erin.
Erin: The thing about family secrets is they almost never stay a secret. As unsettling as that can be, what we're going to find out in this episode of The Deep Well is that that is actually a tremendous mercy.
We've been systematically studying the life of Joseph. If you thought you'd seen this family's dysfunction before, let me just tell you, you ain't seen nothing yet. We have a lot of ground to cover in this episode. We're going to jump back into the story in Genesis 37. I'm going to pick it up at verse 12 and read through verse 17.
Now his brothers [that's Joseph's brothers] went to pasture their father's flock near Shechem. And Israel [remember, that's the name God gave to Jacob] said to Joseph, "Are not your brothers pasturing the flock at Shechem? Come, I will send you to them." And he said to him, "Here I am." So he said to him, "Go now, see if it is well with your brothers and with the flock, and bring me word." 
So he sent him from the Valley of Hebron, and he came to Shechem. And a man found him wandering in the fields. And the man asked him, "What are you seeking?" "I am seeking my brothers," he said. "Tell me, please, where they are pasturing the flock." And the man said, "They have gone away, for I heard them say, 'Let us go to Dothan.'" So Joseph went after his brothers and found them at Dothan.
What I see here is Joseph as a man eager to please. His dad said, "Go," and he went. The man told him where his brothers were, and he headed right that way.
I want you to remember from Genesis 37:2 that Joseph was seventeen years old at this time. We also know that he was capable of tending the sheep with his brothers, because that's what he was doing at the beginning of this chapter. But here in verse 12, the brothers were pasturing the sheep, and Joseph apparently got to stay home.
Now, we already know that he was one of the babies of the family, Joseph and his brother Benjamin. I am not the baby of my family. I am the firstborn. Actually, I'm a twin, which messes with birth order, but I got all the characteristics of a firstborn and my sister got all the characteristics of middle child. What that means for me is I didn't get away with anything. My baby brother, on the other hand, it was like he had a whole different set of parents. The only thing I can assume is that I wore them down in my teenage years.
Now I'm the one doing the parenting, and my firstborn, Eli, has certainly noticed that by the time boy four came along I was a lot calmer. I've told him that by that time my choices were to chill out or pass out, and I chilled out. But I also tell Eli all the time, "Buddy, you're my petri dish kid. It's all an experiment. I'm learning how to parent on you."
Well, Jacob's beloved son, that young man that no one else could stand to speak to—we saw that in Genesis 37:4—was sent to check on the other brothers. That might have turned out okay, but I want you to look again at Genesis 37:14. "Go now, see if it is well with your brothers and with the flock, and bring me word."
Jacob wasn't sending Joseph to join the work force. Jacob was sending his son to peek at those older brothers and then run back and tell their daddy what he saw. Now, Joseph had a history of bringing his dad word about the brothers. We see that in Genesis 37:2, which says, "Joseph brought a bad report of them to their father." Joseph was a tattletale, and nobody likes a tattletale.
Let's pick it up in verse 18. 
They saw him from afar, and before he came near to them they conspired against him to kill him.
Well, that escalated quickly! In verse 4 they could not speak peaceably to him, in verse 8 that resentment turned to hate, in verse 11 that hate soured into bitter jealousy, and here in verse 18 these brothers were ready to murder Joseph.
We might read stories like this and think, That will never happen to me! I resent my mom, but I would never want to hurt her. I'm irritated by my children, but that's a long way from murder. I might be jealous of my brother or my sister or my husband, but I would never physically attack them. Well, I'm afraid you don't understand how sin works, and how corrosive it really is to our families.
Let's flip back just a couple chapters to Genesis 4. I'm going to read us a familiar story, probably, from Genesis 4:1–8. 
Now Adam knew Eve his wife, and she conceived and bore Cain, saying, "I have gotten a man with the help of the Lord." And again, she bore his brother Abel. Now Abel was a keeper of sheep, and Cain a worker of the ground. 

In the course of time Cain brought to the Lord an offering of the fruit of the ground, and Abel also brought of the firstborn of his flock and of their fat portions. And the Lord had regard for Abel and his offering, but for Cain and his offering he had no regard. So Cain was very angry, and his face fell. 

The Lord said to Cain, "Why are you angry, and why has your face fallen? If you do well, will you not be accepted? And if you do not do well, sin is crouching at the door. Its desire is contrary to you, but you must rule over it."
We all know what happened next, in verse 8:
Cain spoke to Abel his brother. And when they were in the field, Cain rose up against his brother Abel and killed him.
How did Cain know what murder was? Had he watched too much violent television? Had he been playing too many video games? Those things might be wise for us to avoid, but, as we talked about earlier in this series, sin started in the Garden, and that sin got stamped onto our DNA. In a single generation that sin moved from eating a forbidden fruit in a desire to be like God to brother killing brother.
If you follow the rest of this story, Cain buried the body of his brother, which I think is very interesting, because he had no reason to know what burial was or that he should do it. Nobody had physically died. But he knew he needed to hide what he'd done.
Now, Cain and Abel is a real story. It really happened. But it's also a cautionary tale. What it warns us is that sin will take you further than you ever thought you would go, quicker than you ever thought you would get there, and it will do more damage to the people in your family than you would ever predict. I bet you wouldn't have to think too hard about how that's been true in your family. I don't have to think too hard about how it's been true in mine.
So Joseph's brothers looked out over the horizon and they saw Joseph in that beautiful coat of his that was a reminder that their dad loved him more than he loved them. And somebody—it doesn't tell us—one of the brothers said, "Let's kill him."
I want you to remember that two of the brothers, Simeon and Levi, had already killed all the men in a city where their sister's rapist lived, which was not just an act of justice or even of vengeance. Scripture tells us that they plundered that city. They took what they wanted after they committed all those murders, including flocks and herds and human slaves.
Here at The Deep Well I'm trying to get you to know and love your whole Bible, which means we don't gloss over things like that. It's all part of the story that God's preserved for us. 
One family secret tends to lead to more family secrets. How can we know that what Simeon and Levi did was a secret? I think Scripture seems to indicate it in Genesis 35:4, which reveals that Jacob, their dad, hid some of the treasures that his boys stole under the terebinth tree that was near Shechem.
Some secrets are just too big to be covered up. There are things that we can't bury, just like those treasures that Jacob buried to cover up his sons' sin. What we see as this story unfolds is they were still murderers, they were still plunderers. That secret didn't stay a secret, and now these brothers were about to repeat this tendency towards killing those who got in their way and taking what they wanted.
Let's pick up Joseph's story at Genesis 37:19. This is the brothers; they're talking to each other. Joseph's still within eyesight, but presumably not within earshot.
They said to one another, "Here comes this dreamer. Come now, let us kill him and throw him into one of the pits. Then we will say that a fierce animal has devoured him, and we will see what will become of his dreams." But when Reuben heard it, he rescued him out of their hands, saying, "Let us not take his life." (vv. 19–21)
I really want to drill down there into what Reuben said, but I'm going to save it. I think we'd strike some oil. I'm going to save it for a future episode. We're going to look at the story again from Reuben's perspective. But let's keep going for now in verse 22.
And Reuben said to them, "Shed no blood; throw him into this pit here in the wilderness, but do not lay a hand on him."
Scripture goes on to tell us that Reuben's goal there was "that he might rescue him out of their hand to restore him to his father" (v. 22).
So when Joseph came to his brothers, they stripped him of his robe, the robe of many colors that he wore. (v. 23)
What's that about? Why'd they strip that robe off of him? I think it's about humiliation. Humiliation is always about forgetting what we talked about from Genesis 1:27, that all people are made in the image of God. When we look at each other as image-bearers, which is what we are, we won't try to humiliate each other. But the brothers did.
And they took him and threw him into a pit. The pit was empty; there was no water in it. (v. 24)
Then, verse 25 reveals how hard-hearted these brothers had become toward their brother. After they threw him in the pit, verse 25 says, "Then they sat down to eat."
Can't you just imagine? Joseph's in the pit, and he's like, "Guys! Let me out of here! Guys, this isn't funny! Guys, I promise I won't tell Dad." And they just carried on eating their lunch. Joseph didn't know their intent was to leave him there to die, but they knew, and they just went on, business as usual.
The rest of that verse reveals some very bad news for Joseph. They saw a caravan of Ishmaelites. Ding-ding-ding-ding-ding! This is why it's so fun to know your whole Bible, because then you see how all the pieces interlock. Ishmael is a piece that interlocks with many other pieces of Scripture. 
Remember Joseph's family tree. Abraham had at least two sons, Isaac and Ishmael, from two different women. So that makes Ishmael Joseph's grandpa's brother, which really isn't that far removed. Scripture is quite clear what kind of men the descendants of Ishmael were going to be. These were men who were always at war with each other.
I think our Bible gives us plenty of reasons to believe that the brothers knew they were about to put Joseph in a terrible situation. Let me read verse 25 again.
And looking up they saw a caravan of Ishmaelites coming from Gilead, with their camels bearing gum, balm, and myrrh, on their way to carry it down to Egypt. Then Judah said to his brothers, "What profit is it if we kill our brother and conceal his blood? Come, let us sell him to the Ishmaelites, and let not our hand be upon him, for he is our brother, our own flesh." (vv. 25–27)
Is Judah having a change of heart here? No! He's seen a caravan of rich men, with their riches displayed on their camels, and he decides he's going to profit from it instead. And his brothers listened to him.
Let me pick it up at verse 28.
Then Midianite traders passed by. And they drew Joseph up and lifted him out of the pit, and sold him to the Ishmaelites for twenty shekels of silver. They took Joseph to Egypt.
This started with favoritism, which grew into resentment, which turned into hatred, which looked like bitter jealousy, which led to violent thoughts, and it ultimately resulted in Joseph's brothers—his brothers! his own flesh and blood, the men he had grown up around, the boys he had probably played a million games with, the people he had eaten family meals with and celebrated festivals with—those people who had watched Joseph grow up decided to sell him to slave traders from the wrong side of the family.
But God was at work in Joseph's family, despite their dysfunction. And—I'll keep saying this—God is at work in your family, despite your dysfunction. Verse 29:
When Reuben returned to the pit and saw that Joseph was not in the pit, he tore his clothes and returned to his brothers and said, "The boy is gone, and I, where shall I go?" (vv. 29–30)
Now they have a secret, and secrets need to be kept at any cost. Verse 31:
Then they took Joseph's robe and slaughtered a goat and dipped the robe in the blood. And they sent the robe of many colors and brought it to their father and said, "This we have found; please identify whether it is your son's robe or not." (vv. 31–32) 
Notice the way they hedged their bets here. This was deceit by omission.
Now, my family growing up had a way of talking sideways, in an attempt to not ever, ever hurt any feelings. So we don't exactly lie, but we don't exactly tell the truth, either. It's a habit that I'm asking the Lord to break in my life.
Which brings me to a good question. Are there habits, are there patterns in your family, as it relates to telling the truth or not, that you would like the Lord to break?
And he [Israel/Jacob/Joseph's father] identified it and said, "It is my son's robe. A fierce animal has devoured him. Joseph is without doubt torn to pieces." (v. 33)
That coat of many colors that was an outward sign of his dad's favor, that made his brothers' blood boil every time they saw it. That likely was intended to be an heirloom that would be passed from generation to generation, showcasing Israel's love for his boy. Instead, it became a symbol of intense mourning.
Remember, Jacob had already lost his wife Rachel, and now he thought he'd lost the son of his old age. He was left with this mental image of his son being torn apart by wild animals. Can you imagine, as a parent? Scripture tells us that a deep grief filled the camp. Verse 34:
Then Jacob tore his garments and put sackcloth on his loins and mourned for his son many days. All his sons and all his daughters rose up to comfort him, but he refused to be comforted and said, "No, I shall go down to Sheol to my son, mourning." Thus his father wept for him. (vv. 34–35)
Israel was saying, "I will never get over this." There are some things that happen in our families that, though the Lord can bring healing and freedom and restoration, that we think we'll never get over, and some things that we will take with us all the way to glory. 
But try to picture Jacob. We know he's advanced in years, we know he loved this son, we know he'd already buried his own dad and wife. We can see from the text that his mourning was intense; he refused to be comforted. He said, "I'll never get over this." At any moment, somebody could have spoken up. Somebody could have said, "Dad, we made that story up. We think your son is alive. We sold him to slave traders. I'll go find him." But once a secret is started, we have to invest a tremendous amount of energy to keep it up.
The boys, it seems, kept their mouths shut. And Joseph was sold like property. Verse 36:
Meanwhile the Midianites had sold him in Egypt to Potiphar, an officer of Pharaoh, the captain of the guard.
Does your family have secrets? I've talked to enough of you to know and I've lived enough life to know the answer is probably yes. It can look like so many different things. Sometimes we cover up each other's weaknesses and sin patterns. Sometimes something happens and we just kind of make a family vow that we're not going to talk about that anymore.
It's often more devastating than that. Often it's things like sexual abuse, addiction, violence, depression, anxiety. To which I'd say this: secrets don't belong in the families of the people of God. We are truth-telling people.
I'm not talking about where the Christmas presents are hidden or what someone's getting for his birthday. I'm talking about the kinds of family secrets that keep us from living lives as people who are freed by God's grace. You know you're in bondage when there's something that you think, I could never tell anybody about that. Nobody can ever know. Your worst fear is something being exposed. God's Word gives me every indication to believe that He wants you to be free from that.
I'm talking about secrets that try to take our sin and bury it under the tree, like Jacob did with his sons' treasures.
If we're looking at Joseph's story to give us principles for our own families, Proverbs 28:13 comes to mind: 
"Whoever conceals his transgressions will not prosper . . ." 
Let me say it again—this is the Word of the Lord—"Whoever conceals his transgressions will not prosper, but . . ."
This is a literary method often used in Scripture. First we get something we want to avoid, then there's a "but," and the Bible gives us a more excellent way. The second part of that proverb is: 
". . . but he who confesses and forsakes them will obtain mercy."
Nancy has often talked about this in terms of keeping short accounts. We don't let things stay on the ledger very long. We have a habit of confessing, because we know that if we keep those transgressions hidden (or rather, if we try to; nothing's hidden from the eyes of the Lord), there's a stunting that happens in our lives. But when we confess them, Scripture says, and bring them to light, we will obtain mercy.
There's no statute of limitations on that. It could be something that's been hidden for decades, and when we drag it into the light we find such freedom.
As I'm thinking about this, I'm remembering a time that I was teaching at an event for teenagers with my friend Dannah. This white-headed woman came forward and prayed at the end. She was at the altar, and our team kind of moved over to her and said, "What's going on?"
She had come to the event as a prayer partner. Her intent was to pray for the girls who were there to experience God's freedom. But she had a sexual secret she hadn't told anyone for fifty years. As we called those girls to live transparent lives before the Lord in the area of their sexuality, the Holy Spirit began stirring something in her, and she told us that secret that she had spent fifty years thinking, Nobody can ever find out about this. And you could almost see her body visibly change.
That's what Proverbs is telling us here. When we confess and forsake our sin, we obtain mercy, we obtain freedom!
When it comes to sin, God asks us for full disclosure. Like I said, you can't hide anything from Him anyway. Scripture tells us that He sees what is done in secret, and we can operate with the bedrock confidence that our honest confession to the Lord will always be met with His eager forgiveness.
Can I tell you a specific way that I pray? I learned it from Mary Kassian. She has three sons; I have four sons. She told me once that from the time her boys were little (they're now adult men with families of their own), she would pray that if there was sin in their lives, that God would expose it.
I started praying that way. I've prayed that if there's sin in my husband's life, that God would expose it. That keeps me from having to always be checking his phone, right? I've prayed that if there is sin in any of my sons' lives, that the Lord would expose it and that He would do it quickly. It keeps me from having to police my family all the time, which isn't my job and, frankly, is exhausting. It keeps me from constantly trying to discover if my children are hiding something from me. And you know what? Their sin doesn't first and foremost need to be exposed to me; their sin first and foremost needs to be exposed to God.
I've seen God do this over and over again. By the way, He does it in my life, too. He has me on a very short chain, which I'm grateful for. I don't get away with much—still that firstborn phenomenon in my life. But I've seen God do this in my family over and over and over again.
A story comes to mind about one of my sons. (I won't tell you which one.) He was in preschool, and he came home for lunch. He was extra hyper, which is not exactly unusual for little boys. But the Holy Spirit helped me discern that something else was going on in that little boy's heart. So I sat down beside him and I looked him in the eye and I said, "Buddy, you got something you need to tell Mama?"
I was totally bluffing. I had no idea if something was there or not, and if there was, I had no idea what it was. I wasn't totally bluffing, because I know the Spirit's voice. Something inside of my heart told me to push.
Well, that little boy's eyes filled with tears. He reached into his pocket, and he pulled out two little white seashells that he'd stolen from school. He wanted to give them as a gift to his Gigi.
Well, we hopped in the car, and we had to drive right back to preschool. We had to face his teacher, and I said, "This boy has something he needs to tell you." With his head drooped and his eyes full of tears and his little hand shaking, he pulled those little shells out of his pocket. He confessed that he stole them, and he was bringing them back.
So we got to have a long talk then, and we've had that same talk many times since: God loves you enough to expose your sin so that you don't have to carry the weight of your secrets.
That's a cute example. I don't mind telling you the cute example because I think my son doesn't mind either. But there have been many other not-so-cute examples where the Lord has exposed something in my family that we all probably would have preferred to keep hidden. It's always uncomfortable when the Lord exposes our sin, and it's always such a mercy!
James is such a practical book. I call it the most practical book in all of Scripture. It's the same book that warned us against partiality. James 5:16 gives us this gold nugget of truth. Put this in your pocket:
Therefore, confess your sins to one another and pray for one another, that you may be healed.
"Isn't this verse about the woman in my Bible study?" Yes. "Isn't this verse about the people in my church?" Yes. "Isn't this verse about my accountability partner?" Yes. And it's also about our families. "Therefore, confess your sins to one another and pray for one another, that you may be healed."
This is such a vital rhythm for our families! I admit; it's a really hard one to live out. I much prefer to confess my sin to a prayer volunteer at church on Sunday morning, or to text it to a friend, than to be honest about it with my family. Yet, 
Who better to pray with me than the people I live with? 
Who better to hold me accountable?
 Who better to help me see the real-time consequences of my sin than those who are most likely walking around with the shrapnel of my bad choices in their hearts?
I don't know what my sons will grow up to be. Maybe some of them will be Bible teachers, and they'll be the ones telling the stories on me instead of me telling the stories on them. I hope they'll tell you I repented a lot. They will definitely tell you I sinned a lot, but I hope they'll tell you that I was quick to say, "I was out of line. I'm so sorry. This is why I need Jesus so much."
Our Christian families should not be incubators for sin and secrets. This is one of the ways we live differently! We run from secrets, and we elevate the truth.
Jason and I tell our boys often, "We don't have secrets in this family." That's a protection when you're raising young children. You have to equip them that adults are not to tell them they have to keep secrets. So we're all the time saying, "Buddy, what happens if somebody tells you that if you tell your mommy and daddy something you'll get in trouble?" They know. They'll say, "They're the ones that are going to get in trouble!" I'm like, "That's right!"
Part of that is equipping them to not be a target for those who would abuse them is equipping them to live out the Christian life. "We don't have secrets in our family." And when we catch our sons in a lie—and we do—when we catch ourselves in a lie—and we do—we don't look the other way.
I have teenagers now, so I can look the other way for the sock situation on the floor upstairs. I can look the other way for a whole lot of things. But I cannot, as their mama, look the other way when they lie and when they cover up secrets, because that's not the way that God has called His children to live.
John 8:44 calls Satan "the father of lies." That's who he is. But we have a different Father, and because we have a different Father, Father God, we can build different kinds of families. Scripture tells us to "live as children of the light." Part of what that means is to refuse to hide our sin, our shame, our stories from each other and to drag them all out where they can be seen by the rest of the world.
I don't know you well yet, but I doubt you've ever sold your brother into slavery and then conspired with your siblings to do a cover-up. But here's what I want you to do. I want you to take a moment right now and ask the Lord to show you if there are any areas of your life where your family has covered something up. It could be so many things. I don't want to give you a list, because that's between you and the Holy Spirit. But as we continue walking through Joseph's story, what we'll see is what I've already told us: that secrets don't stay hidden.
While you think about what your family may have buried, I want to leave you with this final charge. It might be a good passage to hang on your refrigerator or turn it into a sign for your wall. It's a great family motto. It comes from Ephesians 5:8–13. ". . . for at one time you were darkness, but now you are light in the Lord." Not, "You were in darkness," but, "You were darkness." Not, "You are in light," but, "You are light." It's who we are: God's people. It gives us this charge:
Walk as children of light (for the fruit of light is found in all that is good and right and true), and try to discern what is pleasing to the Lord. Take no part in the unfruitful works of darkness, but instead expose them. For it is shameful even to speak of the things that they do in secret. But when anything is exposed by the light, it becomes visible, for anything that becomes visible is light.
Let's pray.
Jesus, thank You that You have called us out of darkness into Your glorious light. Help us to be families that refuse to keep secrets. Help us to be sinners that are ever dragging our sin into the light so that You can deal with us. And Lord, if there's any hidden sin in our families—in us or in the people that we love—I pray that You would expose it. Do it quickly, Lord. It's in Your name I pray, amen.
Katie: Erin, I know some listeners have been carrying secrets, maybe for years. I hope that after this episode, maybe they experience peace.
Erin: Me too. The only thing worse than carrying a secret for ten years is carrying a secret for ten years and one day. So today is the day to absolutely bring those things into the light.
You know, Katie, one tool that has really helped me walk that out in my life is the Bible study Seeking Him. It's written by Nancy DeMoss Wolgemuth and Tim Grissom. They walk you through the process of personal revival, which includes clearing your conscience, which means you ask the Lord, "Is there anything in my heart, anything in my life, anything in my past that You would want to deal with?" Then in obedience you ask for forgiveness, or you forgive the one that you're bitter towards, or you pay back something that you might have stolen.
I can say from personal experience that it can be a painful process, just because we have to face the reality of our depravity. But wow, is it liberating to just deal with those things that you may have been trying to hide! So let me encourage you, if you're listening, to get your copy of Seeking Him. You can find it at ReviveOurHearts.com.
Katie: Thanks, Erin. You know, this episode in particular made a really big impression on members of our audience, and they have some great questions for you. Are you ready for Erin Unscripted?
Erin: Ready!
Erin Unscripted
Rebecca: Hi, I'm Rebecca. I am wondering how to help my ten-year-old son who struggles with being willing to confess and apologize to his siblings.
Erin: I'm afraid you came to the wrong girl for parenting advice. I always say I'm a cracked pot parenting cracked pots. What I have learned is that I can only parent so far, and then the Holy Spirit has to do the rest. I'm sure you're already praying, but that's a heart issue in your son. As much as you would like to be, you aren't the heart changer in his life. So you can model it, and you can let him know that you're praying for him, that he would have a softer heart toward repentance.
I grew up in a house where we were forced to apologize to each other all the time. I did it because I didn't want to get into any more trouble, but my heart was not repentant at all.
Maybe my mom was giving me some muscles that then developed and I used. But as I parent, I hope it comes from their hearts. So keep encouraging that, keep modeling it, and pray like crazy that God would give that boy a heart that wants to repent.
My pastor tells us this about all kinds of things. He says, "If you don't think you can do X—forgive, turn away from addiction, read your Bible more—pray to want to." I love that. Pray that your son wants to. Right now he doesn't want to, which is flesh, right? None of us want to say that we're sorry. We will say it sometimes under duress, with our teeth gritted and our fists balled up. It's only God that can give us a desire to be soft towards those that we need to apologize to.
Rebecca: So, what is the difference between exposing sin and being a tattletale?
Erin: Great question! A tattletale is about the person, not about the sin. "They did x, y, z," and usually we're running to somebody to gain credit for ourselves. When I think of my kids tattling, that's one upmanship. Their heart is for me to pat them on the back and say, "Atta, boy! You're a better boy than your brother!"
Exposing sin, the heart is, "This is a violation against God. Not a violation against me, not a violation against somebody else," though that might be a byproduct, "and I want you to be free." I don't know how great we are at exposing other people's sin, but that's why I've said to pray that the Lord would expose sin in your family. I can go around saying, "That's sin! I saw that you did that sin. That's sin! I saw that you did that sin." That's more in the spirit of tattletaling or judgment. We would never do that. But it really always comes down to a heart issue. 
So, who are you tattling to? If you're going to tattle on somebody's sin, do it to the Lord. "Lord, I see this in their life; it's yucky. I see that it puts their feet on a path of destruction." That becomes tattletaling when you go and tell somebody else.
Katie: One woman who was in the audience when Erin was teaching this series raised her hand, and she told Erin about her adult son who had been abused when he was just ten years old. He kept that secret for years. This mom asked Erin, "How can I offer him hope when he's been hurting for so long?" Here's Erin to answer that question.
Erin: I know praying feels like you're throwing cotton balls at a bonfire, but Mama, that is the very best thing you can do. If that gets exposed in the wrong timing, in the wrong moment, when your son isn't ready, it's going to blow up like a nuclear bomb. So I know it feels like, "All I can do is intercede!" but that changes things. What we do here when we pray changes things in the heavenlies; it changes things in people's hearts. So I think for now you wait on the Lord, and you keep praying for the Lord to expose it.
Diana: Hi Erin, I'm Diana. It struck me that Levi is a killer and Judah sold his brother, yet God redeemed those two tribes to be great priests. And the Lord Jesus came from the tribe of Judah. That's redemption; can you speak to that a little bit?
Erin: Atta, girl! That's a girl who knows her Bible. I'm so glad you brought that up. I was actually drawn to that as I was studying. This is why it's so exciting to know and love your whole Bible. If you know and love your whole Bible, those two names—Levi and Judah—you'll recognize that they have significance. 
Israel's twelve sons went on to become the twelve tribes of Israel, and it was from Levi's line that we get the Levites, who were the priests. They were very set apart in terms of their service to the Lord in the Old Testament. And it was from Judah's line that we get Jesus! From the line of Judah. And yet, we see that these two men were murderers, slave-traders, plunderers.
All I know to take from that is that it is a miracle that God uses any of us, and He doesn't need any of us to walk things out perfectly for Him to do something spectacular with our lives.
Rebecca: Alright, Erin. How do we help our children desire to expose their sin to not just the parents but to their siblings as well, so that we create a culture within our family of confession and mercy and grace and forgiveness?
Erin: Get your kids in a church that teaches the whole Bible, if you haven't already, including churches that teach about repentance, hell, consequences. There are plenty of churches that are going to give your kids all of the good news, and they need to hear that. But I hope your kids are in a church where they're hearing all of Scripture, to some level or another, and my kids are in that church.
I mentioned that my family has this kind of sideways way of communicating, which is something that was normal to me for a very long time. I didn't even recognize it as what it was. Then, it was in studying Genesis and realizing that part of the original sin was actually Eve's exaggeration, when she took what God said and she added to it. The Lord used that to really convict me of my own exaggeration and my own sideways communication. I will catch myself communicating that way, because that's my default. Then I will say, "Sorry, guys! Mama didn't actually tell the whole truth there. I exaggerated that there. I should have said this." They're watching me try to walk it out.
Also, my boys are always going to get in less trouble when they tell the truth, and they're always going to get in more trouble when they don't. That's standard. So if you're caught in a lie in our house, you're in big trouble. And if you make a mistake or even sin and you come to us and you tell the truth, there's going to be some grace for that. There's still going to be a consequence, but that's that learning. "Grace is available to me every time I confess."
I hope they see their daddy and I confessing often and repenting often to each other. Some people say, "Don't ever let your kids see you fight." I say, let them see you fight and then let them see you repent. Otherwise, they're going to get this warped view that fighting doesn't happen in their parents' marriage, which it does. My parents fought behind closed doors, and then they got divorced. That was incredibly confusing to me, because I didn't see the turmoil. So we fight lots of chiefs in our teepee, I would say. We are two strong personalities, but we also repent.
I repent to my kids a lot. That takes a level of humility, because I'm the grownup, they're the kid. For me to say, "I messed up, and I'm so, so sorry," can be challenging.
My mama taught me this. I drop down on my knees and say it to them at their level, so it's not me from three feet taller from them. I actually drop down to my knees, with my eyes on their eyes, and say, "I'm so sorry, and this is why we need Jesus so much."
I do think my family has a culture of repentance. I see my boys repenting to each other. They do it differently. One boy will repent to his brothers. It's going to take him a solid forty-eight hours, but he will do it. One boy is very quick to repent, but that's just their different makeup. But I do think we have a house where we've talked about how important it is that we're just really honest about our sin.
Woman 1: My question is, my children were not raised in church because I was in addiction. I am now sober, and obviously these secrets are coming out now. How would you recommend I approach my older children, if there are any secrets? I'm seeing the dysfunction happen all over again. I raised them in dysfunction, so it's happening all over again. I'm watching that generational curse happen right in front of my eyes. I believe God's laying it out right in front of my eyes for me to see, because I'm ready to see it. How would I approach them, if there are secrets, to where we can bring those to light so they don't suffer?
Erin: Well, I'm so grateful for God's work in your family, and we're going to do a whole episode on things that get passed through the generations. I would say that's true—the Bible tells us that's true—that our sins do get passed. The Bible also tells us that He interrupts those generational curses very, very often. So, "He is able," are the three words I would commend to you. And He loves your children more than you do. He wants to see them walk in freedom more than you do, but He's also told us we reap what we sow. So there's no bypassing the consequences. But that doesn't mean we have to bypass redemption.
So, as you're talking to your adult children about that, I would just talk to them a lot about Jesus. "Jesus has done this in my life. This is what it's like to follow Jesus. This is what it's like to turn from my addictions and find freedom in Him." Just keep walking it and living it.
I think Scripture and our lives give us reason to believe that there is tremendous power in a woman who simply walks out her faith day by day and prays for her family. That can feel like really weak weapons, but it's not. It's very, very powerful. And give Jesus all the glory. It's not because you became a better person, it's not because you worked some program (although that can be helpful), but it's Jesus in you, and they can have Jesus in them. So, talk about Jesus every chance you get.
Katie: Hey Erin, we still have more to come for this series of The Deep Well. What's coming up next?
Erin: Well, I am going to confess one of my deepest regrets. I'm going to share what God's Word teaches us to do with those things that we can't take back.
The Deep Well with Erin Davis is part of the Revive Our Hearts podcast family, calling women to freedom, fullness, and fruitfulness in Christ.
*Offers available only during the broadcast of the podcast season.