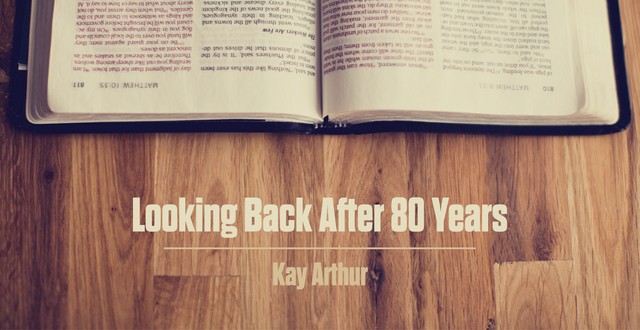 Your Toil Is Not in Vain
Leslie Basham: Before we hear today's Revive Our Hearts with guest Kay Arthur, Nancy Leigh DeMoss tells you how you can connect with others in the True Woman Movement.
Nancy Leigh DeMoss: When you're at a True Woman conference, you have no idea who you might meet. I can still remember at True Woman '10 in Indianapolis when we met a group of women who were wearing tee-shirts with some unusual messages.
Woman 1: My shirt is ex-coward.
Bob Lepine (True Woman '10 moderator): And you are?
Woman 2: Ex-diva.
Bob: And your tee-shirt?
Woman 3: Ex-hypocrite.
Bob: And Chanelle, you are an . . . ?
Chanelle: Ex-idolater.
Bob: And you are?
Woman 4: I'm an ex-narcissist.
Bob: And you are?
Woman 5: An ex-abortionist.
Nancy: Another wore a shirt that said "Ex-slave."
Woman 6: The Lord just really delivered me from so much. I was such a slave …
Leslie Basham: Before we hear today's Revive Our Hearts with guest Kay Arthur, Nancy Leigh DeMoss tells you how you can connect with others in the True Woman Movement.
Nancy Leigh DeMoss: When you're at a True Woman conference, you have no idea who you might meet. I can still remember at True Woman '10 in Indianapolis when we met a group of women who were wearing tee-shirts with some unusual messages.
Woman 1: My shirt is ex-coward.
Bob Lepine (True Woman '10 moderator): And you are?
Woman 2: Ex-diva.
Bob: And your tee-shirt?
Woman 3: Ex-hypocrite.
Bob: And Chanelle, you are an . . . ?
Chanelle: Ex-idolater.
Bob: And you are?
Woman 4: I'm an ex-narcissist.
Bob: And you are?
Woman 5: An ex-abortionist.
Nancy: Another wore a shirt that said "Ex-slave."
Woman 6: The Lord just really delivered me from so much. I was such a slave to just so many sins, and I never thought that I could be free. Nancy DeMoss has really helped me to know that God has the power to deliver you no matter what sin you have been in bondage to. I really know that Satan was planning to destroy me, but through God's grace and a ministry like this, I know that I have an opportunity to really be the woman that God called me to be.
Nancy: Well, I don't think that anyone who was at that event can forget how moving it was to meet these women and hear their amazing testimonies of God's grace.
We're asking Him to meet with us once again and to display His amazing power and grace next October at True Woman '14 in Indianapolis. I anticipate we'll have women from virtually every state in the Union as well as multiple foreign countries. I hope that you'll be there, too.
You can enjoy the lowest discount available, $50 off the regular registration fee when you sign up by November 25. Visit ReviveOurHearts.com for more information or to register.
Leslie: This is Revive Our Hearts with Nancy Leigh DeMoss for Thursday, November 14.
All this week we've heard from Kay Arthur. She turns eighty this week. Kay has been encouraging us to be faithful and make every day count even through the end of our days. Let's pick the conversation back up between Kay Arthur and Nancy Leigh DeMoss.
Nancy: You've talked a little bit about death and dying and your perspective on that. You've written a book, a study, recently on heaven and hell and life after death. Do you ever think about your funeral?
Kay Arthur: Yes. I have. In fact, I have to sit down and write it, but I told my son the other day, David is the C.E.O. now, and you know what? There is nothing more joyous to me than to tell my husband, "Honey, just think. Your son who bears your name is going to carry on this ministry not because he's your son but because God has raised him up, because God has gifted him with an extraordinary gift of teaching, with a passion, the same passion that we have for the Word, he has for the Word."
I have in one of my Bibles where David called his dad, and it was Father's Day. He said, "Dad, I'm going to give you a gift for Father's Day that I've never given you before. I'm going to take the baton, and I'm going to run with you."
So I'm sitting here, and I'm thinking: The ministry is going to go on because, number one, it doesn't have my name on it.
Nancy: Wisely.
Kay: And number two: It is foundational, it is essential for these days. We've got to know the Word. If the Word of God is taken away from us, or if we don't have it in our hands, we have to be able to speak a word—His Word not our word. Our testimonies are wonderful and people like them, but we're saved by faith. Faith comes by hearing and hearing by the Word of Christ. It's what Jesus is and who Jesus is that saves us. It's believing He is the Christ; He is the Son of God, and that He is the only way to God. It's taking up our cross and following Him. That's what Christianity is all about.
So you just keep on living until He takes you home. So what's my funeral? I don't want a funeral. I want a party. I really don't want a coffin in the front of the church. I want a party.
This is why. You asked me what are we doing for my birthday. I thought, What if I have a birthday party here for people in Chattanooga, and I forget somebody? I would be mortified. And I don't want to forget anybody. So don't give me a party.
But when I die, I won't be here. I just want everybody to celebrate. I want them to share what knowing God has meant to their lives. I want them to bring their lost friends. And I want them to bring their kids and their grandkids.
Every summer we have two boot camps for teenagers. They're in the Bible six to seven hours a day—studying it, praying, worshiping—but they're in the Bible that long. This year we did something unusual. We did a marriage without regrets. And to watch those kids . . . You would love this, Nancy, especially.
Nancy: I know I would.
Kay: We're talking about submission. They come to this passage. We don't tell them what to believe. We bring them to the Word. We just say, "This is what God says." And so they're having a hard time. The girls are having a hard time with this and well as some of the guys—that a wife is supposed to submit to their husband.
Then they get to 1 Corinthians 11 and they see that Jesus submitted to the Father, that the Father was the head of Jesus, and the husband is the head of the wife. They were just coming to me, and they were so excited about what they had learned and what they saw in God's order.
They are so culturized . . . even Christian kids are so culturized. They've got to know the Word. So these kids are studying the Word seven hours a day.
Well, I'm teaching the children of the children that I taught! I've lived that long!
Nancy: Yes.
Kay: I was teaching them before they were twenty, and now I'm teaching their kids, and their parents are thirty. So I'm teaching their teenagers.
Nancy: Let me ask you this. Let me go back to heaven. You've just written a study on that. What do you anticipate about heaven?
Kay: When I think about heaven, I think about being with the Lord. I think about being with Jesus, about being with Moses and Abraham and Isaac and Jacob and all these people and all these saints—Wycliffe and Tyndale—heroes of mine.
I think about worshiping the Lord. God doesn't talk a lot about heaven, and I don't ever want to add to the Scriptures my feelings about heaven. But I love the fact that when there is a new heaven and a new earth and tears are wiped from our eyes, and there is no more sorrow and no more tears and no more death because the former things are passed away.
But also, what it says is this, and I think it's very sobering. He says, "He who overcomes will inherit all these things." I'm the Alpha and the Omega, the beginning and the end. And He says, "He who overcomes will inherit all these things, and I will be His God and he will be my son. But for the cowardly, unbelieving, abominable, murderers and immoral persons and sorcerers and idolaters, and all liars, their part will be in the lake that burns with fire and brimstone, which is the second death." (see Rev. 21:7–9)
I look at that, and the first word that grabs my attention is "cowardly." Cowards when it comes to standing for Jesus Christ. Cowards when it comes to denying yourself and taking up your cross. Cowards when it comes to the world vs. Jesus. The political correctness vs. biblical truth.
Something people don't realize is that Isaiah ends with us believers, the believing Jews and us also, going and looking into the Lake of Fire and seeing people in the Lake of Fire, where the worm dies not and the fire is not quenched. They are able to handle that because you know and understand the love, the righteousness, the justice, etc. of God and the sovereignty of God. It kind of blows your mind. That's not something that you'd think about when you think about heaven, but it's right there in the middle of it.
Nancy: As we're this side of heaven, this side of eternity, I know you've talked a lot about the fact that we are living in the end times. These are difficult days and increasingly difficult as the Scripture said they would be. What Scripture or Word from the Lord can you give to believers who are living here in this world to encourage us and to help us stay the course as we live in these difficult times?
Kay: In 1 Corinthians 15, which is the resurrection chapter, it begins with an account of the gospel and explaining what the gospel is and explaining in that chapter as it begins: "The gospel . . . by which you were saved, if you hold fast the word which I preach to you unless you believed in vain" (vv. 1–2).
So this is ever before me, especially as I am eighty. I know that He who began a good work in me will complete it. I know that He is my Enabler. But from the human side, I know that if I'm truly a believer, I will hold fast the Word of the Lord, that I will not walk away, that I will not turn away from Him.
As that chapter comes to a close, 1 Corinthians 15, verse 58, it says, "Therefore, my beloved brethren, be steadfast, immovable, always abounding in the work of the Lord [always abounding] knowing your toil is not in vain in the Lord."
And then you come to 2 Peter. In 2 Peter, he's writing that short epistle as a reminder. That word is used over and over again in synonyms: "remember" and "call these things to mind." But he says, "The Lord is not slow about His promise as some count slowness, but he's patient toward you, not wishing for any to perish, but for all to come repentance" (2 Pet. 3:9).
Going back to your favorite, your dad's chapter in Acts 20, where Paul says to the Ephesian elders that have come and met him at Miletus, "I have not shunned to declare to you the whole counsel of God, and I am not guilty of the blood of any man" (see vv. 26–27). You know, I've been faithful.
And then going back to 2 Peter 3, verse 10, "But the day of the Lord will come like a thief, in which the heavens will pass away with a roar and the elements will be destroyed with intense heat, and the earth and its works will be burned up. Since all these things are to be destroyed in this way, what sort of people ought you to be in holy conduct and godliness, looking for and hastening the coming of the day of God" (vv. 10–12).
And then it goes on and says, "But according to His promise we are looking for new heavens and a new earth, in which righteousness dwells. Therefore, beloved, since you look for these things, be diligent to be found by him in peace, spotless and blameless" (vv. 13–14).
I love it. I love it. That's' what I want us to be, that we're hastening the day of His coming, and we've got to be out there. We've got to be holding truth forth so that people can repent, have a change of mind, and see that God is God, that He's righteous and He's holy, that they need to be saved. So they see that apart from Him, there is no other name under heaven given among men whereby we must be saved. They've got to know and understand that Jesus is the only way.
Nancy: I've heard you over the years, numerous times, make an urgent appeal. I've heard you pray, pleading with God for revival in the church. Is that something that still presses on your heart? 
Kay: I want to see revival. I long to see it. I want to prepare for it. I want to keep clean accounts. Revival comes many times when people start confessing their sins. God used you mightily. I remember one year at Campus Crusade when you spoke on revival. You and I have the same heart on that.
But revival comes and goes, and it wanes, I believe, because people get away from the Word. I believe they get caught up in what's happened. We see the salvation of souls and that. Honestly, Nancy, I pray for revival; I would love to see revival. But my strongest prayer is that we are ready to suffer.
Nancy: Which may be what God uses to bring about revival.
Kay: That's what I think He's going to use. I really believe that God's hand of judgment is on this nation. I really believe that people have been cowards. I believe that we are in a warfare that is very intense. I believe that part of our problem is greed, which is idolatry. That's what Colossians defines it as. I believe we're an idolatrous nation. I believe that we need to remember that everything's going to be destroyed with an intense heat. It's going to be burned up.
One of the things I'm doing is I'm cleaning closets. I'm cleaning cupboards. I'm getting rid of stuff. I get upset with myself, and I think, Why did you buy that? Because it was a good deal? Why did you buy that? Now, because the more possessions you have, the more you have to take care of. Why should we store stuff when people have need?
Anyway, that's a whole other issue, but I believe that with the push for political correctness and the intolerance . . . and it's the intolerance of Christianity. It's not intolerance of any other religion. But I believe we have departed so far from our founding fathers and why this country was founded and what God wanted to do. Harvard and Princeton in their early days . . .  I believe that we have departed so greatly from it that maybe it's going to take (as I've been saying for years) pulling the economic rug out from under America, putting it flat on our faces.
Nancy: Yes.
Kay: Maybe it's going to take a great persecution of the church so that you separate the truth from the false, the sheep from the goats so to speak, and you see what true Christianity is. The blood of the martyrs, we've heard it said before, is the seedbed of the gospel.
Nancy: In that kind of era, there really, as you have brought us back to again and again in this conversation, there's nothing more important that we as believers can do than to know God's Word and live in this culture, in this dark time. I think there's a tendency on the part of some to just cower in fear or run and hide or stick their heads in the sand or just stay in our little Christian conclaves and cocoon ourselves in what's going on in the culture, or to become combative. And really, none of that is what God calls us to. He calls us to be bold and courageous and women and men of faith and humility and to make the gospel believable by the way we live out His Word.
Kay: Exactly, exactly. The other thing I would add for women is trying to make the Word of God more about us than about God. So, "How is it going to help me this way?" Instead of, "How is this going to make me holy?"
There's a warning in 2 Timothy 3 to silly women ever learning and never able to come to the knowledge of the truth.
I was having to go back and forth to my son's house during this time, and I was in the car a lot going to the nursing home and rehab and that, and I was listening to you. You were teaching the beatitudes. I was so thankful for your integrity with the Word of God. I am so thankful for your integrity to call us as women to obedience to the Word of God, to not let the world squeeze us into its mold. "Be not conformed to the world, but be transformed by the renewing of our mind." The only way we're transformed is through the Word of God. I just appreciate that so much, and I'm so thankful for you. I'm so thankful that you are almost thirty years younger than I am because it goes on.
You know what? There are some Scriptures that make me think I could be alive when Jesus comes if I get another ten years.
Nancy: And whether we live to see Him come or He takes us first, we have, as I've heard a friend say recently in his updates after wife has just been diagnosed with advanced cancer, "The best is yet to come." The best is yet to come.
Kay, I'm so thankful for this conversation this week, and I know our listeners have been so blessed by it.
I want to say again happy birthday week to you, and congratulations to the credit and honor of the Lord. Thank you for fifty years of walking with Lord, of being in His Word, of teaching His Word to others.
For any of our listeners who'd like to leave a birthday greeting to Kay Arthur, you'd like to tell her how Precept Ministries has been used to give you a love for God's Word and how God's Word has impacted your life, you can go to the transcript of today's program at ReviveOurHearts.com. You can leave a note there for Kay in the comment blog at the end of the transcript, and we'll be passing those on to Kay once we collect them.
There's a verse that's been on my heart, Kay, as I've thought about you and our listeners who I know are really grateful for this conversation. It's from Hebrews chapter 13, verse 7. It says, "Remember your leaders, those who spoke to you the Word of God."
And you certainly would be in that category for many of our lives, thousands and thousands of women's lives. "Remember your leaders." You've been one of those who has spoken the Word of God to us.
And then it says, "Consider the outcome of their way of life, and imitate their faith."
This is not about hero worship or celebrating people. It's about celebrating God's grace, His goodness, His power, what He has done in others' lives. As we look at your life, you're now eighty years, an "octogenarian" I think they call that. We are blessed to consider the outcome of your way of life and the call to us is to imitate your faith, to not just observe and spectate, and love Kay Arthur, but to become ourselves women of faith who follow Christ; that we ourselves will become, as we pass the Word on to others of the next generation, that we will become those whose faith is worthy of being imitated.
So I say thank you. We honor you. We honor the Lord that we see in you. I have received more of His grace in my own life as a result of your faithfulness to carry out the calling He's given to you. And I want to say thank you so much.
Then I want to ask you one question and invite you to pray for us as we close. But before we do, I know a lot of people listening would want to know how can we pray for you as you enter your eighties. You've said a lot of things over these last days, and I know they've picked up on some of those, but just in a succinct way, is there any particular way you'd like us to be praying for you?
Kay: Yes. Pray that I would finish well, that God would continue to refine me so I'm not ashamed when I see Him face to face. That's my passion. Pray that my mind stays intact until He takes me hone. Pray that I'm everything I need to be to my husband and to the ministry God's called me to and to my children. If they're going to imitate my faith, they're going to study God's Word inductively. Nothing would give me greater joy. I look at so many and I say, "You're my legacy. Here you are this young woman, studying God's Word, living it out, raising your children, and being all that God wants you to be. You're my legacy, and I live if you stand firm in the Lord." That's the way I live.
Nancy: Well, you have lived well, and you're still living well, and we give thanks to Christ and His grace for that.
I wonder, as we close what's been a sweet conversation this week, if you would intercede, pray on behalf of our listeners. You started out this conversation by talking about the times in which we're living and what is needed for God's people for such a time as this. So would you pray for us? Would you pray for God to bless and put His hand on this next generation of women coming up just as the Lord prompts you in this moment?
Kay: Father, I thank you for the birthday gift of letting me do these programs with Nancy and with her precious, precious audience. I thank You for raising Nancy up and raising these women up to be women of God in the midst of a crooked and perverse generation. Oh Father, I pray for them. I pray for each one of them, that they would so know You and so organize their lives so that they have time to know Your Word and a heart to obey Your Word so that, Father, they are prepared for the days ahead, prepared to intercede, prepared to teach the children, prepared to support their husbands, prepared to be single and godly and pure.
Whatever You have called them to do, Father, that they would be women of faith, steadfast, immovable, always abounding in Your work, knowing their labor isn't in vain.
Father, I pray for all of us. I pray, Father, that we would say with Paul, "I am crucified with Christ, nevertheless I live, and not I, but Christ in me, and the life I now live, I live by faith, faith in the Son of God."
Oh Father, we thank You for Your Son. Lord Jesus, we thank You that You ever live to make intercession for us. Blessed Holy Spirit, we thank You that You indwell us and You will never leave us or forsake us. We thank You that we can walk in the fruit of the Spirit and not yield to the flesh.
And I pray, Father, that You would equip us in these last days. That we would be women who understand the times, who have a knowledge of what to do, and that we would see that we need to mobilize an army of valiant, mighty children and teens and adults for the coming of the King.
We thank You now, Father, for what You're going to do. We thank You for what You are doing through Revive Our Hearts. Wholesale revival may not come, but it can come to us. So revive our hearts so that we might present to You a heart of wisdom. In Your name we pray, amen.
Nancy: Amen.
Leslie: That's Kay Arthur. She wants to serve the Lord all her days. She's turning eighty this week, still eager to be involved in teaching and encouraging others. Her conversation with Nancy Leigh DeMoss included counsel about aging well. It also included a discussion about studying God's Word.
We'd like to help you follow up by sending you a copy of Kay's book, Discover the Bible for Yourself. Kay describes her process of digging into a passage of Scripture, asking the right questions, and really understanding it. She also gives an overview of every book of the Bible, and she provides maps and charts to help you as you study.
We'll send you Discover the Bible for Yourself when you support Revive Our Hearts with a donation of any size. Today's the final day we'll make this offer on the program. So call and ask for the book. The number is 1–800–569–5959, or visit ReviveOurHearts.com.
Tomorrow we'll hear from a special guest. Nancy says this woman encourages her to be joyful and thankful probably more than any other person. Find out who it is tomorrow on Revive Our Hearts.
Revive Our Hearts with Nancy Leigh DeMoss is an outreach of Life Action Ministries.
*Offers available only during the broadcast of the podcast season.
Available Now for Your Donation