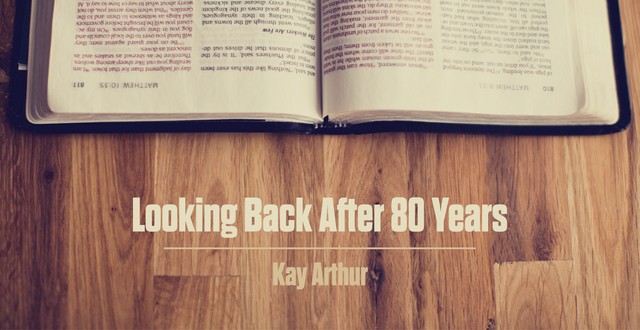 Embracing God's Calling in Later Years
Leslie Basham: Before we start today's Revive Our Hearts with guest Kay Arthur, Nancy Leigh DeMoss remembers a dramatic evening.
Nancy Leigh DeMoss: At True Woman '12 in the Indiana Convention Center, an unexpected moment came when Priscilla Shirer got up to speak.
Priscilla Shirer: I hope this weekend you did not just bring your cup. I hope you brought your cup and your saucer, because He's filling us up to overflowing today, isn't He? And let me tell you something, if there is any overflow—I don't know about you—but I want to catch all of it. Is anybody with me?
Nancy: Here's what Joni Eareckson Tada remembers about that night.
Joni Eareckson Tada: A "Niagara Falls" of rain crashed down upon the roof of the Indianapolis Convention Center. It was thunderous! At the same moment, this woman did not skip a beat.
Priscilla: No matter how big the crowd …
Leslie Basham: Before we start today's Revive Our Hearts with guest Kay Arthur, Nancy Leigh DeMoss remembers a dramatic evening.
Nancy Leigh DeMoss: At True Woman '12 in the Indiana Convention Center, an unexpected moment came when Priscilla Shirer got up to speak.
Priscilla Shirer: I hope this weekend you did not just bring your cup. I hope you brought your cup and your saucer, because He's filling us up to overflowing today, isn't He? And let me tell you something, if there is any overflow—I don't know about you—but I want to catch all of it. Is anybody with me?
Nancy: Here's what Joni Eareckson Tada remembers about that night.
Joni Eareckson Tada: A "Niagara Falls" of rain crashed down upon the roof of the Indianapolis Convention Center. It was thunderous! At the same moment, this woman did not skip a beat.
Priscilla: No matter how big the crowd gets, no matter how loud the rain falls [laughter], no matter how much chaos is going on all around you, you need to know that He sees you! That He cares about you! That the details of your life are not lost on Him.
Joni: And I prayed, even as she spoke above the roar, "Oh God, bring us all showers of blessing!"
Priscilla: Let it fall in here, Lord, let it fall in here!
Nancy: Now, here's what we do expect at True Woman '14. We'll hear from Joni Eareckson Tada and Janet Parshall and Keith and Kristyn Getty, who have all been with us before. Then this year we'll be joined by some new guests, including spoken Word artist Blair Linne; speaker, author, and blogger Angie Smith; and Lauren Chandler—you've perhaps heard her husband Matt Chandler preach from Dallas—and others who will be joining us for that weekend.
But most importantly, we're asking the Lord to come and do a great work in all of our hearts. So I want to encourage you to start making your plans now to attend True Woman '14, which is coming to Indianapolis next October. If you register between now and November 25, you can get $50 off your registration (regular registration price). That's even lower than the Early Discount.
You can get more details or register for True Woman '14 at ReviveOurHearts.com.
Leslie: This is Revive Our Hearts with Nancy Leigh DeMoss for Wednesday, November 13.
For the last couple of days, Kay Arthur has been sharing with us her passion for God's Word. Today, she'll give us an example of how to approach the later seasons of life. It's part three of a series called "Looking Back After Eighty Years."
Nancy: It's been such a joy to have a conversation with my dear friend—longtime friend—Kay Arthur, as she approached her eightieth birthday, which she just celebrated earlier this week. She is no stranger to many of our listeners. Many of you have done the Precept Bible studies, the inductive studies. You've been taught to love God's Word.
In fact, we invited people to post on Facebook this past week what they would like to say to Kay or what they would like to ask her. One of our listeners wrote in and said, "I love Kay Arthur. I credit the Lord first and foremost, and then Precept Ministries, for helping me learn to study the Bible."
Kay, I know, thousands and thousands of people world-wide could say that same thing to you—and would want to say it to you this week—as you're celebrating your eightieth birthday. So, thank you for giving to this ministry, and thank you for not retiring at sixty-five, or at some point a long time ago. Thank you for staying in there and staying fresh.
Kay Arthur: Well, you know the verse that says, in essence, that there's no retirement in the time of war. And I really believe it's the time of war. I believe we are going to face a warfare in our nation like we have never seen before, if we walk with the Lord, if we hold forth His Word in the midst of this crooked and perverse generation.
So there's no retirement. I'll retire when God takes me home or makes me incapable of doing anything—which I'm praying that won't happen to me. I'm on the front lines until then.
Nancy: You have been such an inspiration and an example to many of us younger women and servants of the Lord who watch people like you and say, "If God can give them grace to do this in their older years, He can give me grace to stay in the race, stay in the battle, stay faithful. You have been an inspiration to me in that way. I want us to talk today about something that some people are not comfortable talking about, but I know that you are . . . that's the whole thing about getting older.
I'm looking here in Psalm 92, at this wonderful passage beginning in verse 12. Let me read it. It says,
The righteous flourish like the palm tree and grow like a cedar in Lebanon. They are planted in the house of the Lord; they flourish in the courts of our God. They still bear fruit in old age; they are ever full of sap and green, to declare that the Lord is upright; he is my rock, and there is no unrighteousness in him.
I love that picture!
Kay: I love it, too! Are you trying to tell me I'm sappy? (laughter)
Nancy: I'm trying to tell you that I'm really happy you are still flourishing and growing, and serving and fruitful. That gives me encouragement, because I see some people who just have this kind of expiration date, or something. They reach a certain age and they pull out of commission and are no longer intentional about seeking the Lord and serving the Lord.
But you have modeled for us what I think is a much more biblical approach—and that is: faithful to the fight, faithful to the faith, and faithful to the finish. So I want to just talk about this thing of getting older. You said a couple days ago in our conversation, it's hard for you to imagine that you're turning eighty.
As you think back years ago, did you ever have any fears or apprehensions about the thought of getting older, or is that something you have just anticipated with great joy?
Kay: No, I haven't had any fears or apprehensions about getting older. My concern is that I will finish well, that I will be able to say as Paul said in 2 Timothy 4 that he's fought the good fight, he's kept the faith, he's finished his course. That's been my concern. Old age doesn't bother me.
I want you girls to know that I used to be so tired; in fact, you would hear me on the old teaching tapes say I felt like I was magnetized to mattresses. There was a period—I didn't know it—I was going through menopause, I guess. I kept thinking I had the flu. Jan Silbius would say to me, "I am so tired of hearing you say that you have the flu."
Well, I said, "Then we'll spell it backwards. I have the ulf."
I look back and I think, I was so tired then. I'm not as tired now as I was during that period of time. I want to tell the women, "Hangest thou in there, oh baby."
Nancy: That reminds me of what Isaiah 40 says, that those "who wait on the Lord will renew their strength." And that's exactly what you've been experiencing, even in a physical way.
Kay: Right! Exactly! Yet, I'm doing other things. I've lost weight. I've been getting on my treadmill. For me to get on my treadmill for thirty minutes, when I'm so busy studying and writing and doing ministry, is very hard. I can rationalize ten minutes three times a day. So I'm taking care of myself. I take Juice Plus, which is fruits and vegetables and berries, every single day—I've been doing that for eleven years.
Very rarely do I have what I'm dealing with as I talk to you now—this upper respiratory junk. I try to eat wisely. I'm cooking more vegetables and eating more fruit, and things like that. So I'm taking care of myself. I think, Old women start piling up so much jewelry, or they start doing this with their make-up and they don't get it right. So I'm trying to present a whole person that is taking care of her temple, to be an example among the believers, and walk in the way that God wants me to walk.
What thrills me to death is when these young teenage girls and these college-age girls are standing there—in their twenties and thirties—and saying, "I want to be like you when I get to be eighty—or when I get to be whatever." 
Nancy: What would say to those younger women who would like to be fresh and full of life and fruitful at the age of eighty? What counsel would you give them now as they are in their twenties or thirties or forties, that can help them head that way?
Kay: I would tell them first of all, "the Word," and you know that that's always, always key. It's health to our bones. So I would tell them "the Word," then I would tell them to live according to the Word, because stress really does you in, and sin really does you in! It does you in, and will take its toll, so you want to live righteously. You want to laugh. You want to have a sense of humor so that you can laugh at yourself.
Nancy: Let me ask you about that, because you're very productive, you're very busy, sometimes somebody could listen to parts of this conversation and think, This woman never relaxes, she never slows down. Is there is a place for fun, for rest, for leisure, for hobbies in the Christian life? What is your view on some of that?
Kay: I think there is, as long as it doesn't take away from what God has called you to. I love people. I'll go out to lunch with the girls. My husband has Alzheimer's, my son has had a major stroke—and so I've been taking care of both of them, meeting whatever needs they have. Then I've been on three writing deadlines.
I've written a new forty-minute study on finding hope after divorce and another study on heaven, hell, and life after death; and then working on Acts. I've been a busy girl. One of the things that I just did was, I said I'm going to take off. For five days two of my girlfriends and I got together and we met each other at Lake Burton, where one lives. Then we went up to the Highlands and stayed in the home of friends (they were gone).
We just knocked around. One's home had burned to the ground, one was building another house. They were having to outfit it because they downsized. So we went around and we looked at antique shops, and we went to resale shops for clothes and stuff like this. We just hung around.
We talked about the Lord; we laughed; we had a good time.
Nancy: Did you find that that was recharging for you?
Kay: Yes, that was very recharging to me.
Nancy: Is there anything else you do just to stay spiritually and emotionally replenished? What keeps you recharged and encouraged?
Kay: One of the things I would tell the girls is this: get enough sleep. If you're married, sleep is vital for that physical union you have with your husband, because you get so tired. It is so important that you get adequate sleep. To think that you can run on six hours . . .
What the Lord showed me—I wish I'd learned it sooner—He showed me that if He made our body, and He made it to need seven to nine hours of sleep, somewhere in there (it depends on the person—seven being minimum), for me to think that because I'm serving the Lord, I can abuse that, is presumptuous sin. The Lord showed me that, that I wasn't to be presumptuous.
Now, there are extenuating circumstances—somebody's in a crisis . . .
Nancy: . . . or someone has a lot of little ones. 
Kay: Yes, you have a lot of little ones and they've kept you up, but it is important to get enough sleep. The other thing is, I believe women need good, healthy female relationships. I believe that they need good friends that they can trust, that they can pour out their hearts to, who are rooted and grounded in the Word of God. They're not going to condone you in any sin. All of this going back to the primary relationship, and that's with the Lord.
The other thing is, don't beat yourself up or think that God cannot use you because you didn't have your quiet time that morning. There are times I don't have my quiet time in the morning, and yet, in Him I live and move and have my being. I have a storehouse of Scripture in my heart from studying it and marking it and discussing it with others and studying it the way I do. The Lord can bring that back to remembrance.
Our relationship with the Lord I don't think should ever be legalistic. It should be because you want to be with Him, because you need to be with Him.
Nancy: Yes. One of the things that I've seen in women, Kay, as they get older is some get really sweet and more gracious and others get more cranky and irritable and negative. I've looked at both kinds and I've thought, Okay, I know my bent, personally, would probably be to lean more toward the negative—especially as you see things changing. But I want to become more gracious, more sweet, more tender-hearted.
How do you keep from becoming a negative, grumpy, critical old lady who's resistant to change? How do you become the other kind of woman?
Kay: I've felt the same way. I want to become sweeter, I want to become more like Christ. I think that you determine, as you said you've determined, I've determined that's the way I want to be. Second Corinthians 5:9: "I have as my ambition, whether in my body or out of my body [so, until I die and get my new body—and then there is my ambition] to be pleasing to Him."
I think women get set in their ways; I think they isolate themselves from society. When my son was in a nursing home after the stroke, I would go up there and my heart would break. I wish there were more of me so I could do more. I thought, These people are just sitting here in the hall around the nurses' station—not talking to anybody—heads drooped over, shoulders down, and nobody's talking to them or invigorating them or anything.
If you become incapacitated, you can always pray. But I think it's important as you get older to determine that you're not going to get old. Determine that you're not going to think of yourself as old. Think of yourself as "seasoned," think of yourself as "redeeming the time, because the days are evil."
Do you know what my passion is?
Nancy: Tell me!
Kay: My passion is found in 1 Chronicles chapter 12. Saul is dead and David takes the throne and he takes Jerusalem, then God stops in Chronicles and talks about this army of mighty men who helped David in war (which is written after the captivity so that they can learn lessons).
The Scripture says that, "they came to David at Hebron to turn the kingdom of Saul over to him [and this is what I love] according to the word of the Lord" (v. 23).
We are living between the first coming of Christ and His second coming. At the first coming, He came as the Lamb, and at the second coming as a Lion. He came at the first coming as a sacrifice and at the second coming as a reigning King. It's getting closer and closer to His coming. In 1 Chronicles 12:32 is where you find the sons of Issachar. They're telling the different men from the different tribes . . . they were men who understood the times, with the knowledge of what Israel should do.
In Luke 12 Jesus starts preparing His disciples for suffering, and telling them, "Now, don't fear. I'm going to give you what you need." Then He brings it all to a close as He turns to this huge multitude and says, "You hypocrites. You can discern the weather, but you aren't discerning the times."
We need to discern the times. We need to be about God's business. If anything's going to keep you young, keep you on the cutting edge, it's to see what's happening in the culture and determining that you are going to take your cross and follow Him. No matter what it costs you—even if people walk away from you . . . I've had people walk out when I teach, because I'm holding forth the Word of Life, because I'm saying, "This is what God says."
Nancy: Kay, when I was a younger adult woman I think I had this image in my head that as I got old—whatever that was—that I would struggle less with temptation, with besetting sins. As I've gotten older I've realized that sometimes the battle is more intense, not less. I think that was a little surprising to me. I wonder what you've found. Do you struggle more or less with temptation, with besetting sins, as an older woman—how has that changed for you?
Kay: I think the temptations as an older woman have more to do with who you are, with maybe pride, or "it's my way or the highway." I think sexual temptation decreases, but I think temptation increases with anything that would come in the area of pride or self-reliance or "I can do it," or "I'm not going to take this," or "I have a right . . ."
Nancy: What about in the area of pressures? You mentioned earlier in this conversation that you're going through some great pressures at this point in your life. I think sometimes as younger women we think that life is going to get easier, and yet you've been through some really difficult chapters in your life through your seventies. Did that come as a surprise for you? Were you prepared for that?
Kay: No, it did not come as a surprise. One of the things that I am so cognizant of, because of the way I study and because of what I study, is that suffering and trials and temptations are always there because we live in a body of flesh. They're always there because that's God's way of refining us.
So when I'm sitting in the doctor's office and the doctor tells my husband that he has Alzheimer's, it breaks your heart. It breaks your heart especially if you understand the disease. When those pressures come, they're trials that God is using to refine me. If I can understand that this is so when I see Him face to face I won't be ashamed. . .
I'm going to stand at the judgment seat of Christ to give an answer for the deeds done in my body. That is a godly fear. "The fear of the Lord is the beginning of wisdom." So to fear Him, to respect Him, to trust Him, to reverence Him . . . when is that going to show? It's going to show in the midst of a trial!
One of the favorite books that I've written, one of my favorite study books is Lord, Give Me a Heart for You. It's a favorite book, not because I wrote it, but because it's 2 Corinthians. It's a devotional study that you can take and use through your quiet time, and you will really be studying 2 Corinthians.
Reading where Paul bares his soul like he does in no other book, and he calls them "momentary light afflictions. . ."
Nancy: They don't always feel that way, though, right?
Kay: I know they don't feel like that. The thing is, keeping our perspective. It's the Word that helps me keep my perspective, and staying in the Word. So when I read that, and then I'm reading in Acts that they stone Paul and they think he's dead, and then he gets up and goes back into the city—sometimes this is what I do. 
I sit in my bedroom, in this beautiful peaceful setting, and I have my Bible. I'm not going to go to prison (yet), I'm not going to be persecuted (yet). I'll be talked about, that goes with the territory, but my freedom's not threatened right yet. I believe it's coming; I believe it's coming for the United States. So I'm sitting there, and I have people in Uzbekistan, twenty-one of them facing trials, going out into the woods in order to worship God, paying fines. Wwo of our men from Syria are missing. 
We're coming out with an Arabic inductive study Bible, so that when they get a Bible, they will know how to study it, not what to believe—because if they study it the right way, they'll know what to believe. And I think, God! Here I am praying for these people. Look at where I'm sitting! Look at the wardrobe I have. Look at the food I have; look at the car I have; look at the house I have." [she weeps]
I have shelter and food. I have clothing. And here are my brothers and sisters in Christ . . .
Nancy: As you're sharing, Kay, I'm thinking of that passage from Acts chapter 20 where the apostle Paul was talking to those elders from the church of Ephesus. He said, "I'm going to Jerusalem, not knowing what will to happen to me there, except that the Holy Spirit testifies to me in every city that imprisonment and afflictions await me." (see vv. 22–23)
You think, How do you endure that? How do you consider that a "light and momentary affliction?" How do you stay the course? How do you not give up? How do you not throw in the towel? And I think that next verse, which was my dad's life verse, Acts 20:24, gives the reason. He says, "But I don't account my life of any value, nor as precious to myself, if only I may finish my course and the ministry that I received from the Lord Jesus, to testify to the gospel of the grace of God" (paraphrased).
He's saying, "That's all that matters."
Kay: That's all that matters, that is all that matters. If we can keep it as that's all that matters, then old age is not bad, because He's saying, "I want to finish my course. I want to finish the ministry,"—and this is what we need to see—"which I received from the Lord Jesus."
Some of the time I get concerned because everybody's looking for a ministry. To them a "ministry" is writing a book and being on a platform or well recognized—and that's not it! I think you are so right. In 2 Corinthians chapter 4, where it says, "While I look, not at the things that are seen. . ." I look at the mirror and see a wrinkle (I'm supposed to have wrinkles!). Part of this comes with old age, and that's okay! It's part of life.
But the whole thing that we want to do—and I love it in Philippians, when Paul's in prison, and he's not really sure, in that first chapter, whether he's going to be allowed to stay or whether God's going to take him home. So, Paul says in Philippians chapter 1—talking about that he wants them to pray for him, because people are trying to cause him distress in his imprisonment. He says, "What then? Only that in every way, whether in pretense or in truth, Christ is proclaimed; in this I rejoice, and yes I will rejoice" He says, "I know this will turn out for my deliverance, through your prayers, and [I love this] the provision of the Spirit of Jesus Christ" (vv. 18–19).
If we only realized all that we have through the Spirit! And then he says this—and I love this, "According to my earnest expectation and hope, that I will not be put to shame in anything, but that with all boldness Christ will even now, as always, be exalted in my body, whether by life or by death. For to me live is [old age and wrinkles—no, he says, for me to live is] Christ, and to die is gain" (vv. 20–21).
And then he says, "If I live on in the flesh, this will mean fruitful labor for me. I don't know which to choose" (v. 22). So, death is not an enemy. Death is, "Welcome home." Psalm 116:15, "Precious in the sight of the Lord is the death of the saints." The scare has been taken out of death, so when I step into death—like your dad's verse—I want to finish my course. I want to hear His, "Well done, my good and faithful servant."
I don't want to be ashamed, I don't want to shrink back in shame at His coming. I think about Luke 19 (having just taught it), and how one guy takes the mina that the Lord has given him and wraps it in a handkerchief, and gives Him the same thing when He gets back. And Jesus takes him to task about that.
So many people are sitting in church and are doing nothing. We have time for all sorts of things, but we don't "have time" to study the Word of God, to dig deep into it and let it go deep into us, and this distresses me. I feel that the most foundational thing that any Christian can do—I believe it's primary—is to sit at the feet of God, in the Word of God, with God as your teacher—teaching you "precept upon precept" what He wants you to do and believe and live.
Leslie: Kay Arthur has been talking with Nancy Leigh DeMoss. They recorded that conversation as Kay was nearing her eightieth birthday, which she celebrates this week.
We'd like you to know God's Word, precept upon precept, as Kay was talking about, so we'd like to send you her book Discover the Bible for Yourself. She'll give you several tools for digging into God's Word, she'll give you an introduction to each book of the Bible, and she'll explain an approach for how to better understand the Bible passage you're reading.
When you support Revive Our Hearts with a gift of any amount, we'll send the book by Kay Arthur Discover the Bible for Yourself. Ask for it when you call 1–800–569–5959, or visit ReviveOurHearts.com.
Tomorrow Kay Arthur will be back, explaining why she wants to make her later years count. It will encourage you to make every day count, too. Please be back for Revive Our Hearts.
Revive Our Hearts, with Nancy Leigh DeMoss, is an outreach of Life Action Ministries.
All Scripture is taken from the NASB unless otherwise noted.
*Offers available only during the broadcast of the podcast season.
Support the Revive Our Hearts Podcast
Darkness. Fear. Uncertainty. Women around the world wake up hopeless every day. You can play a part in bringing them freedom, fullness, and fruitfulness instead. Your gift ensures that we can continue to spread gospel hope! Donate now.
Donate Now