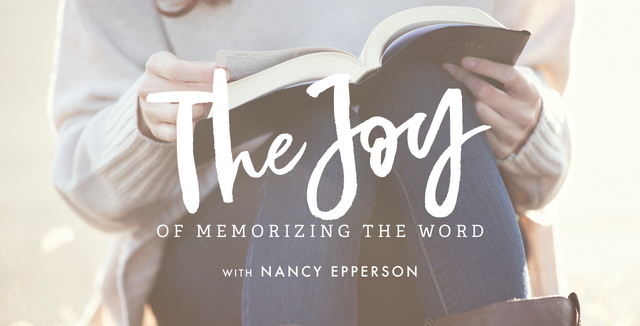 — Audio Player —
You Have the Ability to Memorize!
Nancy Epperson: I wish there were a magic formula on memorizing Scripture. It would be wonderful.
Dannah Gresh: Nancy Epperson has had a lot of experience of memorizing God's Word.
Nancy Epperson: It's nothing radical. It's just basically repetition. 
Dannah: This is Revive Our Hearts with Nancy DeMoss Wolgemuth, author of Choosing Gratitude, for Monday, January 6, 2020. I'm Dannah Gresh.
Do you have any habits you want to create this year? January is often a time we think about goals for the upcoming year or new habits we want to implement. One habit in particular will influence not only the rest of your year, but your whole life. Nancy DeMoss Wolgemuth and her guest are about to talk about one of the most important habits you can begin right now.
Nancy DeMoss Wolgemuth: My friend, Nancy Epperson, and I were just talking about how it seems Scripture memorization is something of a lost art. You don't hear a lot about it anymore, and yet I'm excited to discover that there are people who are encouraging Scripture memory now.
I asked Nancy if she would step with us into this make-shift studio. We're actually at a convention together. She agreed to leave her family for a little bit and come and talk with us about her testimony of Scripture memorization.
Nancy, thank you so much for joining us on Revive Our Hearts.
Nancy Epperson: Oh, you're welcome. It's a joy to be here.
Nancy: But one of the things, Nancy, that has intrigued me about you over the years is your love for Scripture memorization. We've never really had a chance to sit down and talk about why you do it, how you got started. I just wanted an example, a testimony for our listeners, to hear something of your story.
Do you remember when you first started memorizing Scripture?
Nancy Epperson: I do. I will have to tell you, I was born in Hawaii and grew up in California. I did not come from a Christian home. When I was fourteen, I heard the gospel for the first time, and it just blew me away. I was absolutely blown away by this wonderful message. So I accepted Christ, and my whole life was turned around. It just radically changed everything.
Nancy: The gospel has a way of doing that, doesn't it?
Nancy Epperson: Oh, it does. "It is the power of God unto salvation to everyone that believes" (Rom. 1:16).
Nancy: How did you hear the gospel?
Nancy Epperson: Well, a neighbor invited me to go to church with her, so I went. The pastor was Jack MacArthur, the father of John MacArthur.
Nancy Leigh DeMoss: Wow.
Nancy Epperson: He was a dynamic preacher. I'll just never forget how that impacted my life.
As soon as I became a Christian, my life was so transformed. I just had this insatiable hunger and thirst to learn more about the Lord and His Word.
Nancy: As a fourteen-year-old?
Nancy Epperson: I did. Yes. It was just a driving force. When he would quote a verse, I would write down the reference. I would go home and put it on a 3 x 5 card and just go over it and over it until I memorized it. 
So I started as a young Christian memorizing Scripture.
Nancy: Did anyone suggest that you do that?
Nancy Epperson: I don't recall anyone suggesting it. I do remember in Sunday school maybe my junior year that they offered a Bible commentary to anyone who would memorize a long list of verses. I remember winning it. I still have it. So I memorized those verses.
I just realized, I think, early on that my opinion is no better than anyone else's. But when I quote "thus saith the Lord," that has power, that has authority, that has truth. I can quote God's Word with such a confidence, knowing that's I'm pointing people to the Lord, and that is such a joy because constantly in life we come up with people who have problems, needy people. Every problem has a solution in Scripture. Every heartache, every sorrow can be addressed with Scripture. People can be comforted, exhorted, encouraged.
We're told in Colossians 3:16, "Let the word of Christ dwell in you richly." That's what I so desired. I wanted His Word to dwell in me richly, and I wanted it to just spill over. I knew the only way that could happen was through memorizing.
Then another thing happened. I stumbled on a very interesting verse. In Joshua 1:8, it says,
This book of the law shall not depart out of [your] mouth, but [you] shall meditate therein day and night, that [you may] observe to do according to all that is written therein: for then [you] will make [your] way prosperous, and then [you'll] have good success.
I thought, "Oh, that's so interesting. This promises if I'll mediate on God's Word, God promises I'll be a success." I wanted to be a success. I wanted at that time to be a successful student, witness, church member. I just wanted to bring glory to God. I didn't want to be mediocre. I wanted to be the best I could be for the Lord.
When I stumbled on that, I got so excited, and then I read Psalm 1:
Blessed [happy] is the man that walketh not in the counsel of the ungodly, nor standeth in the way of sinners, nor sitteth in the seat of the scornful. But his delight is in the law of the LORD; and in his law doth he meditate day and night. And he shall be like a tree planted by the rivers of water, that bringeth forth his fruit in his season; his leaf also shall not wither; and whatsoever he doeth shall prosper (vv. 1–3).
I got excited. God Almighty promised that He would honor His Word. He would honor me if I would meditate on Scripture and what I would do would be a success. Now, I don't think that means that I was going to be rich or have a lot of material things, but I do believe that means God's hand of blessing will rest on your life if you will hide His Word in your heart and meditate on it.
Then I began to look into it even more, and I found in Psalm 63:5–6, it says:
My soul shall be satisfied as with marrow and fatness; and my mouth shall praise thee with joyful lips: When I remember thee upon my bed, and meditate on thee in the night watches.
There is such a joy that comes with meditating on God's Word. I am often awakened in the night. In fact, every night of my life I wake up at some point, and I think on God's Word. Obviously, I don't want to turn on the light and wake up my husband, disturb him, but I just lie there and meditate. It's such a blessing.
Then I stumbled on Psalm 119:97–98 which says:
Oh how I love thy law. It is my meditation all the day, thou through thy commandments has made me wiser than my enemies which are ever before me.
So God promises to give more wisdom than our enemies.
Then in Psalm 119:99–100, it says:
I have more understanding than all my teachers: for thy testimonies are my meditation. I understand more than the ancients, because I keep thy precepts.
So there is a wisdom that comes from meditating on Scripture.
Then in 1 Timothy 4:15 it says:
Meditate upon these things; give thyself wholly to them [completely to them]; that thy profiting may appear to all.
So there again, as we meditate on Scripture, it will be apparent to those around us that something's going on in our lives. I think part of the reason is, to meditate on God's Word, well, you have to memorize it. As you're memorizing Scripture, you're forced to think on it because one of the important principles in memorizing is actually to understand exactly what it is you're memorizing, and the whole act is an act of worship.
As you're memorizing and meditating, everything about it forces you to think on God's Word. The more you spend time in the Word of God, the more you get to know the Author of that Book. The more you get to know Him, the more you love Him, because to know Him is to love Him. The more you love Him, it just kind of spills out. It just spills out all over.
The more you get to know Him, the more you love Him.
Nancy: Now, our listeners can't see what I'm seeing, and that is that you're quoting all these Scriptures without a Bible in front of you. You're not looking at any notes, and you didn't flip the pages, which is okay to do on this program. But this is in your head; it's in your heart; it's in your memory.
Nancy Epperson: It is.
Nancy: Are these verses you memorized a long time ago? Have you reviewed them recently? They're just right on the tip of your tongue. How is that?
Nancy Epperson: They are, and it's probably because I meditate on them. When you meditate, what happens is you just internalize the Scripture. By internalizing it, by thinking on it, you just kind of lock it into your soul. 
So to think on it and meditate on it. One of the reasons we know the Bible is the Word of God is because of its inexhaustability. You can go over the same passage every day of your life and every day the Spirit of God can reveal some new wonderful truth or apply it in some new wonderful way. It's so important to review. Another word for reviewing is meditating.
Nancy: Do you do that systematically? Do you have a list of Scriptures that you want to keep fresh?
Nancy Epperson: Yes. Obviously I can't meditate every day on all the Scriptures, so I have to do certain Scriptures each day of the week. Once you've started memorizing books of the Bible, which I have, obviously I can't meditate on all of them. I'd be meditating all day long. So I have to break it up.
I redeem the time. When I'm driving, I'm quoting Scripture and thinking on God's Word. When I'm in the doctor's office—I always have my Bible. So if I'm not reading my Bible, I'm meditating on Scripture.
I had to have an MRI. I'm going to tell you, if I had not had God's Word in my heart and in my life, I would never have gone through that. But I'll tell you exactly what I did. I just closed my eyes, and I just thought on the Word of God. I can tell you it was forty-five minutes, and it was just the sweetest time of fellowship. I actually left that procedure with a heart full and just with a joy. It was a blessed time with the Lord.
Nancy: Some people would leave that procedure thinking they were going crazy.
Nancy Epperson: Yes, because it's so loud and noisy. But I just blocked it out and thought on God's Word. It was just a precious time.
Nancy: Do you write the Scriptures out on cards or type them out?
Nancy Epperson: Yes. I wish there were a magic formula on memorizing Scripture. It would be wonderful.
Nancy: We're all waiting for that, but you're telling us there isn't one?
Nancy Epperson: There is one, but it's nothing radical. It's just basically repetition.
Nancy: No shortcuts.
Nancy Epperson: There are no shortcuts. What I do is, first of all, if possible, find a partner. Most people have a friend, somebody who wants to memorize. In fact, I don't know any Christian who doesn't want to memorize Scripture. They usually feel so frustrated because they don't, but they want to.
Nancy: Sometimes they feel like they can't.
Nancy Epperson: Many times they feel like they cannot, and I could give you many stories about people who discovered they can.
Then pick a passage or a verse. If they have a problem with fear, you can pick verses like "Great peace have they [that] love thy law: nothing shall [disturb] them" (Ps. 119:165). Or, "Thou wilt keep him in perfect peace, whose mind is stayed on thee: because he trusteth in thee" (Isa. 26:3). Just pick verses that would deal with whatever you're dealing with.
I tell people, and this is crucial for Christians, the first thing every Christian needs to learn is the plan of salvation. All Christians, shame on you if you do not know verses to lead someone to Christ. You should know:
Romans 3:23: "For all have sinned, and come short of the glory of God."
Romans 5:8: "But God commendeth his love toward us, in that, while we were yet sinners, Christ died for us."
Romans 3:10: "There is none righteous, no, not one."
Romans 10:9: "That if thou shalt confess with thy mouth the Lord Jesus, and shalt believe in thine heart that God hath raised Him from the dead, thou shalt be saved."
These are just crucial verses that people should know, and I just encourage every Christian to memorize basic salvation verses.
You can always find a salvation tract with these verse in them. Come up with basic salvation verses. Isaiah 1:18: "Come let us reason together saith the Lord. Though your sins be as scarlet, they shall be as white as snow. Though they be red as crimson, they shall be as wool." 1 John 1:7: "The blood of Jesus Christ his son cleanses us from all sin."
It's just so important that we Christians can point people to Christ.
Nancy: And that we can remind ourselves of what it is God's done for us.
Nancy Epperson: Yes. Exactly. There are many times I don't have my Bible. I have had the joy of leading people to the Lord in the swimming pool at the Y.M.C.A. I don't have a Bible, and I'll get to talking to someone.
I'll never forget this one couple. The woman had been a Christian for years, and the husband was not a believer. I would say they were around fifty. I was at the Y swimming away, and I got to talking with them. She'd prayed for her husband for years. I got to talking with them, and I began to present the plan of salvation.
I went through Scripture and pointed him to the way he could know the Lord. It was funny because the swim team was practicing—they were blowing whistles, and there was all kinds of racket. But there in that pool, that man bowed his head and prayed to receive Jesus Christ.
Nancy: Isn't that great. Praise the Lord.
Nancy Epperson: His wife was just rejoicing. I remember, I told him, "I'm going to bring you a Bible." So the next day I came back to the Y, and I had a Bible for him (in a zip-lock baggie so it wouldn't get wet). I said, "Here's your Bible. I want you to read it because we're told in 2 Peter 3:18: "Grow in grace, and in the knowledge of our Lord and Saviour Jesus Christ." I explained to him the importance of growing spiritually. That was such a joy.
In the dentist's chair I was able to witness to my dentist. He came to Christ and his wife. I remember his wife said, "My husband came home and said, 'I met the strangest lady today in my office.'"
Nancy: It's kind of hard to talk when the dentist has got his hand in your mouth.
Nancy Epperson: It is, but before he was able to do much, I was able to get a few words out, and then eventually he did come to Christ.
Nancy: And, of course, the power is in the Word.
Nancy Epperson: 
The word of God [which we're told] is quick, and powerful, and sharper than a twoedged sword, piercing even to the dividing asunder of soul and spirit, and of the joints and marrow, and is a discerner of the thoughts and intents of the heart. (Heb. 4:12)
The power is in the Word. He promises His Word will not return unto Him void.
That is why I love to quote Scripture, because I know God will honor His Word. That is why I think it is so crucially important for Christians to learn Scripture.
Now, I started to tell you the steps involved.
Nancy: Get a partner.
Nancy Epperson: Get a partner. Pick a passage or verses that are relevant. Then once you pick your verses, determine how many you want to learn. Don't be too ambitious. Do you know that if you just learn one verse a week, that's 52 in a year? Think about that. That's a lot. So don't be too ambitious to start, but pick the number you want to memorize—one or two or however many.
You want to agree on the translation—pick the one that you both want to use. Actually, right now my partner is one of my former ninth grade Sunday school girls. She has graduated from college. She's in full-time Christian work, and we still meet. She actually memorizes from a different translation than I do, but it's fine, because we both bring our Bibles. We both check with each other and make sure we've got it straight. It's better if you both have the same translation, but don't let that stop you.
So, pick your partner. Pick your passage. Pick the number of verses. Pick the translation you want to use. Then decide on a time when you can meet and quote to each other. So give yourselves a week and then at the end of the week—wherever you see each other, at church on Sunday, you quote to each other. That accountability really does help.
Nancy: Yes. I do this with a walking partner, and it's been so helpful.
Nancy Epperson: Great. Well, I haven't always had a partner, but a lot of my Christian life I have had a partner. It's an encouragement to both parties.
Nancy: Yes.
Nancy Epperson: Now, it's absolutely essential that you understand every word in the verse. So you want to look up all the words and be sure that you're comprehending what it is you're memorizing.
Nancy: So you're not just doing it by rote.
Nancy Epperson: Exactly.
And when you go over it, don't just read through it, but think about it.
For example, if you were going to memorize Romans 12:1, and you're at home, and you're going over your card, because you put it on a 3 x 5 card, I don't want you to go over it this way: (talking very fast) "I beseech you therefore, brethren, by the mercies of God, that ye present your bodies a living sacrifice, holy, acceptable unto God, which is your reasonable service."
Don't do that.
Nancy: Because you're not really thinking about what you're saying.
Nancy Epperson: You're not thinking. So when you're working on that verse, think about it. (talking very slowly)
I beseech you therefore, brethren, by the mercies of God, that ye present your bodies a living sacrifice, holy, acceptable unto God, which is your reasonable service.
Think about it because remember, the entire process is a blessing. During the memorizing the ultimate goal to mediate, the whole process is an act of worship. So don't look on it as a means to an end, but look on the whole process as an act of worship.
Nancy: So you do write out the verses?
Nancy Epperson: I do, yes.
Nancy: Do you do it by hand, or do you type them?
Nancy Epperson: I've done it both ways.
Nancy: I like to have mine typed out on sheets of paper that I keep with me. They're all folded up and dog-eared, but my handwriting wouldn't be real helpful.
Nancy Epperson: Right. I've done both, but I find when I do a whole book, for example, the book of James took me four months. It was on sixteen typewritten 3 x 5 cards. It was something like six or eight verses a week, and most of the cards, the verses were on one side, but some of them spilled over to the other side, but it was sixteen cards. I did a card a week, and it took me, as I said, four months.
At the end of four months, I could stumble through the book of James. It took me yet another four months to really think on it more and to internalize it. That's what you want to do, to make it a part of you, so that it would flow like rivers of living water.
That's the point I want to arrive at. When I am memorizing Scripture and meditating on it, I want it to flow from within the depths of my soul. In order for that to happen, you have to really meditate on it and think on it and internalize it.
Dannah: If memorizing Scripture seems like a daunting task, or you're not sure where to begin, don't be discouraged. Nancy Epperson will be back again tomorrow with some practical tips for memorization on Revive Our Hearts.
We want to help you go deeper in your understanding and study of God's Word. This month, when you give a gift of any amount to Revive Our Hearts, we'll send you our newly updated study, Abigail: Living with the Difficult People in Your Life. Visit ReviveOurHearts.com to donate, or call us at 1–800–569–5959, and be sure to ask for the study.
Be sure to check out our Women of the Bible podcast. Today we are releasing the first day of Abigail, which nicely complements the Bible study that we'll be sending you.
This month on Revive Our Hearts we are really encouraging you to get into the Word—and maybe even memorize it. I hope you'll be back with us tomorrow for Revive Our Hearts when we hear more on this subject from Nancy Epperson.
Many of our listeners gave in the month of December toward our matching challenge. If that includes you, thank you so much! We're excited to let you know that, thanks to the goodness of God and your generosity, we were able to take full advantage of that matching gift—the largest in the history of Revive Our Hearts! So we are greatly encouraged and thankful. Your prayers and donations will help us move ahead with more ministry around the world in 2020. Please be back for Revive Our Hearts tomorrow as we hear more from Nancy Epperson!
Revive Our Hearts with Nancy Epperson encourages you to memorize God's Word. The program is an outreach of Life Action Ministries.
All Scripture is taken from the KJV.
*Offers available only during the broadcast of the podcast season.
Support the Revive Our Hearts Podcast
Darkness. Fear. Uncertainty. Women around the world wake up hopeless every day. You can play a part in bringing them freedom, fullness, and fruitfulness instead. Your gift ensures that we can continue to spread gospel hope! Donate now.
Donate Now