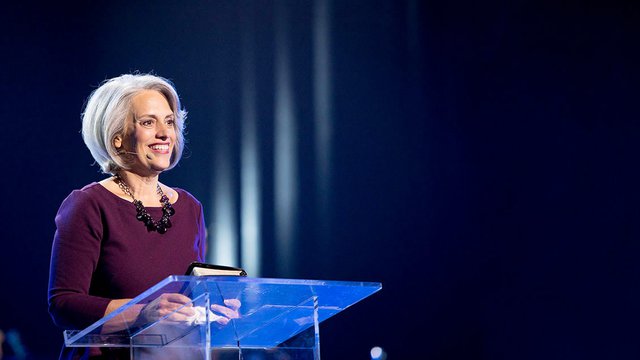 Will You Love God, Even If
Leslie Basham: Listen to the challenge this woman received while her husband battled depression:
Woman (Teri): God spoke to me (and He didn't verbally speak) but He just spoke clearly to my heart. And He said, "Teri, if I choose not to heal Roger, will you continue to love him; and will you continue to love Me and to serve Me?"
Leslie Basham: This is Revive Our Hearts with Nancy DeMoss for Wednesday, October 23.
We're in the middle of a series on the storms of life, and Nancy has been teaching out of the Psalms. We'll hear more from Nancy on the subject today; but first, we're going to hear from a woman who knows first-hand what it's like to be in the middle of a storm. Here's our guest, Teri.
Teri: Well, as Nancy talked about storms, my family has been through a lot of storms these past few years. And the last five, I feel like we have been in constant storms. Sometimes I describe it as hurricane force; sometimes there are little tornadoes going around. And sometimes it's the perfect storm where everything comes together but there's always a gale. And it has never subsided. For my family those issues have mainly revolved around health.
I began having a lot of problems with my back and I've been on and off physical therapy for four years. Although it's not a life-threatening thing, it's a very life-altering thing for me. Our oldest daughter has had a lot of health problems with asthma and infections and allergies, and just last Wednesday she had major surgery to have her lower jaw lengthened.
The main storm that has kept all the other storms constant is that my husband, Roger, went into a severe depression five years ago. And he has not come out of it. My husband has suffered with depression on and off his whole life. We didn't know what it was until about three years ago.
As he got older the periods became longer until he finally just went into one and just never came out. He also had suffered with not being able to sleep well. We found out that he was suffering from sleep apnea--not getting enough oxygen--but he basically had eight years where he had not slept. He was waking up, literally, 15 times per hour and not getting any rest.
Three years ago we were working in California and my husband was literally falling apart on me. He was suffering from severe exhaustion and his mind was literally shutting down. I, for two years, was thinking, What is wrong with my husband?
While we were out there, a young gal who we had worked with had committed suicide over the weekend. We had found out, out there, and we knew her! She had watched our children when we had worked different events. All of a sudden my husband is telling me that he can relate to why she did this. I realized that my husband was suicidal and that we were probably dealing with depression.
When we came home, we went to the doctor and then, of course, it was diagnosed that he was dealing with depression. Since that time we've been dealing with various medications and all the different routes to go to try and alleviate these problems. In fact, he had surgery a year ago to alleviate the sleep apnea. And he is sleeping better but it's been really difficult. Depression is an ugly disease.
It's really difficult when you're married to somebody who's depressed because it's like a part of you is missing. It's so hard; they're in so much pain! And they're in such a deep hole and there is nothing you can say or do that can change that except for praying for them.
There have been times I felt like I could just sit down and fall apart, but you know what? I realized that I didn't have to handle this and I couldn't handle this. But God could. He could handle this through me. And you know, God has taught me so much! He's taught me to run to Him. He has become my sanctuary. He has become that strong tower that I can run into--and that refuge--and He is the lifter of my head.
A year ago, God spoke to me (and He didn't verbally speak) but He just spoke clearly to my heart. And He said, "Teri, if I choose not to heal Roger, will you continue to love him; and will you continue to love Me and to serve Me?" That just hit me and I just cried because I realized that what God was asking me was total surrender. He was asking me to put all my dreams, my hopes, my desires, my ministry on the altar.
I finally went to the Lord and I just said, "Okay, Lord, you've brought me to this point." I said, "I do surrender; I surrender all of this, but I can't do this!"
And He said, "No, you can't, but I can."
This verse came--2 Corinthians 12: 9-10. It says, " 'My grace is sufficient for you, for power is perfected in weakness.' Most gladly, therefore, I will rather boast about my weaknesses, that the power of Christ may dwell in me. Therefore I am well content with weaknesses, with insults, with distresses, with persecutions, with difficulties, for Christ's sake; for when I am weak, then I am strong" (NASB).
He basically said, "Teri, don't you get it? I chose your life first for you, and this is it. And I've been weaving it through your life all these years."
It's been a year. And God has given me a new love for my husband--not a love that loves him for who he was in the past or what I hope for him to be in the future, but who he is now--depressed. He's reminded me--and kind of stripped off the depression so that I could see all the things that I love and appreciate about my husband.
The biggest lesson that I've learned is that He [God] has taught me to live life in the midst of the storm, not survive it but to live it--to live it fully--to live it abundantly--to live it with joy--and with His hope because I realized that if I don't start living life, life is going to pass me by and this might not ever change! And I would totally miss out on life.
We do not go through storms in vain. God does not wound--He does not allow us to suffer without some purpose in mind. I want you to be encouraged that God never asks you to do anything or to go through anything that He does not enable you to go through. He's a big God. And I've learned so much about Him! I can stand here today and I can say "Thank you, God," because I can see what He's been doing in my life--in my family's life--and He's not finished.
Nancy DeMoss: Thank you, Teri, for being so transparent and allowing us to have a glimpse into your heart and into your walk. You know, the Scripture says that God comforts us in our affliction, not only so that we can be comforted but so that we can comfort others with the same comfort that we've received from Him when they're facing affliction.
Teri doesn't know most of us in this room but there are other Teri's in this room. The details are different. Your story may not sound quite like hers; but you're living with a situation that, from all appearances, may never change. But the question is, Will you still love me--will you still trust me--even if I never change this situation?
I think that's really the situation Job had to face. When Satan went to God and said, "Sure, Job loves you! Look at all you've done for him! He's a paid lover. Who wouldn't love You if he had all this wealth and these great children and these great circumstances in life? But take away the prosperity in his life--take down that hedge from around him and afflict him a little bit. He won't love You so much then" (Job 1: 1-11, paraphrased).
So God said, "Okay. Let down the hedge" (Job 1:12, paraphrased). First, Satan was given permission to touch Job's possessions and to take away some of his goods. Then he was given permission to take away his health--to take away his children--the things that were precious to him.
Then the Scripture tells us that in the midst of all this that Job did not sin with his mouth. He didn't contend with God. He said, "I came into this life with nothing; God owes me nothing. Blessed be the name of the Lord" (vv. 20-21, paraphrased). "Even if He slays me I'm going to trust Him" (Job 13:15, paraphrase).
I can imagine, as Job said those words, that all heaven just broke out into applause. Job said, "My love for God is not dependent upon the gifts and the blessings that God puts into my life." I trust Him. I trust His purposes. I trust His heart when I can't see His hand. I surrender myself to Him, come what may. I trust Him. I love Him. I will worship Him " (See Book of Job).
Teri and her family have been learning to be worshippers. Anyone can worship a god who makes everything turn out the way they hope it will. Anyone can worship God when the sun is shining and they've got money in the bank; their husband is wild about them and their kids obey--and everything's going just fine. Who wouldn't love and worship God then?
But the test of our worship--the test of our faith, the test of our surrender, the test of our heart--is when God takes some of that away. And then we find out...are we just paid lovers of God or do we love God just for who He is?
Teri is learning that out of weakness, God's strength is revealed--that God's strength is sufficient, not after the trial is over; but when we're right smack in the middle of the trial. And the same grace that Teri is finding to be sufficient for her life, one day at a time--and not just to survive--I love the way she said that. We're not going to just survive this storm; that's really what Job said, "When God has tried me, I shall come forth; but not just I will survive--I shall come forth as gold" (Job, paraphrased).
Teri is gold in the making, being purified. And that's what Peter says--that the trials, the fires of life, the heat--purifies the gold, purifies our faith (See 1 Peter 1: 21-23). God is making something beautiful out of our lives, our circumstances--even the wrath and the failures of men, God will cause to praise Him. Out of our weakness we look to Him and we say, "I don't want to just survive this storm. By Your grace, I want to be victorious in the midst of this storm."
Leslie Basham: We want to help you be victorious in whatever storm you're facing. Make sure to keep listening all this week as Nancy DeMoss continues to teach us how to be faithful. If you've heard today's program while in the middle of an emotional storm, we'd like to encourage you by making available what we are calling our Survival Packet. It includes the book, When God is Silent by Ron Dunn and also a taped interview with a family that lost a child in an accident and the worship CD, Breath of God.
The packet will help you keep your eyes on God no matter what's going on around you. It will help you realize that you can make it through your storm.
The Survival Packet including the book, cassette series and CD is available for a $35 suggested donation when you visit ReviveOurHearts.com.Just click on the link labeled, Order Today's Resources. It would make a great gift for someone you know who is going through a hard time.
If you'd like to order by phone call us at 1-800-569-5959 or write to Revive Our Hearts. Tomorrow, Nancy will continue helping us understand how to respond when we face storms. We'll look at a storm Jesus faced when He was on this earth and see how He responded. Now, with a final word, here's Nancy.
Nancy DeMoss: There will be an end to your storm. Your storm may last a lifetime but that's not forever. Beyond the tears, there's the joy. Beyond the cross, there's the resurrection. Beyond the pain and the loss, there's the gain and the wholeness. So don't just hang on for dear life when you find yourself in that storm; run to Him. "The name of the Lord is a strong tower. The righteous run into it and are safe" (Proverbs 18:10 NIV).
Revive Our Hearts with Nancy Leigh DeMoss is a ministry partnership of Life Action Ministries.
*Offers available only during the broadcast of the podcast season.
Support the Revive Our Hearts Podcast
Darkness. Fear. Uncertainty. Women around the world wake up hopeless every day. You can play a part in bringing them freedom, fullness, and fruitfulness instead. Your gift ensures that we can continue to spread gospel hope! Donate now.
Donate Now