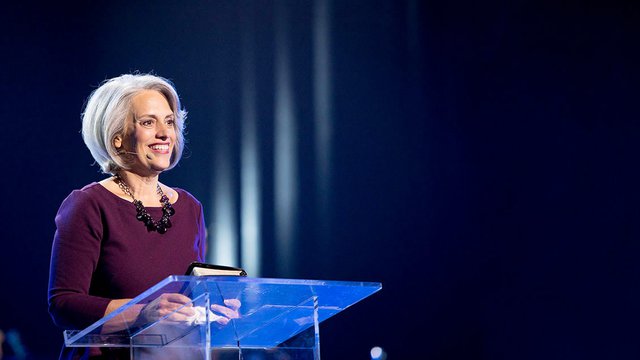 God Provides a Refuge
Leslie Basham: Noah and his family experienced the worst storm in history. They survived only because God provided them with a perfect refuge. It's Tuesday, October 22. This is Revive Our Hearts with Nancy Leigh DeMoss.
When Noah and his family entered the ark, it ensured their safety during a devastating storm. God provided just what they needed. Do you realize that, in the same way, God has provided a refuge for us when the storms of life blow? Here's Nancy, continuing a series called Storm Shelter: Finding Safety and Strength in God's Arms.
Nancy DeMoss: When Oklahoma City and nearby areas were devastated by tornadoes that swept through in 1999, one family, the Conley family, took refuge in a hallway closet in their home. When the storm passed and they came out of that closet, they realized that that closet was the only thing left standing in their house. The one place they had run to hide was the one place that survived the storm.
Where do you run when the storms of life come through? And once the storms have passed, does that place provide a refuge that has lasted? Is that place still standing after the storm goes by?
We're looking this week at Psalm 57 and seeing the Psalmist, David, in a situation of his life where he went through some storms. We've looked at this passage and we've seen that David was honest about acknowledging that there really were storms. He didn't pretend like they didn't exist. Today and in the next couple of days, I want us to look at some other things that David did in the midst of the storm that have helped me in the midst of walking through storms in my own life.
Verse one of Psalm 57, David says, "Have mercy on me, O God, have mercy on me." Let me just make a parenthetical note here: it's interesting that David didn't say, "O God, destroy my enemies."
Now, there are other passages where David prays that way. But in this case, he's praying, "Lord, it's me who's in the need of Your mercy. Have mercy on me in the midst of this storm." He's not crying out at this point for vengeance, for retribution or for victory over his enemies. He's just praying that God would have mercy on him in the midst of the storm.
Then he says, "O God, have mercy on me, for in you my soul takes refuge. I will take refuge in the shadow of your wings until the disaster has passed" (v. 1). He says, "I'm in the midst of a disaster," (v.1, paraphrased) but he also recognizes that there will come a time when the disaster will pass. (By the way, that should be encouraging.)
You don't know how long your storm will last, but I can guarantee you that it will not last one moment longer than God intends that it should last. It will not be one degree more intense than God declares that it should be. God determines the intensity of the storm, the duration of the storm and the nature of the storm.
He [David] says, "The day is coming when this disaster will pass but until then, I'm going to run to God for refuge; 'in you my soul takes refuge'" (v. 1, paraphrased).
We've already seen that he was hiding in a cave from Saul. That was in the introduction to this Psalm. But he realizes that with Saul pursuing him, that cave isn't what he can count on to provide safety and refuge for him. He sees that the wings of God are a more sure refuge than any physical refuge he can find. So David takes refuge in God, not after the storm but in the midst of the storm.
It's easy to say after the storm has passed, "Okay, God, I'll take refuge in You." The challenge is to take refuge in God when the storm is right around you--when you're in the throes of the storm and the wind and the waves and the people and the circumstances are threatening to swallow you up. David says, "In the midst of the storm, before I can see the outcome, (by faith) I'm going to take refuge in God" (v.1, paraphrased).
I believe this taking refuge in God for David was not a passive thing. It wasn't, I'm just going to lie around here and hope that God does something; and I'll just let Him take care of it all. I think David's taking refuge in God was an active choice. It's something we can do in the midst of the storm--to run into the wings of God. Proverbs 18 tells us "The name of the Lord is a strong tower; the righteous run into it and are safe" (Proverbs 18:10).
None of us will ever be able to forget the images of those Twin Towers at the World Trade Center being devastated by terrorist planes. We can still see in our mind's eye the towers as they're crumbling to the ground, and we picture the people who were running to make their escape out of those buildings.
You remember the pictures of people just fleeing, running in droves down the street--running away from that tower that everyone thought was a strong tower--the strongest among the strongest in the world. But there is no tower in the world that is strong enough to be our refuge when the attacks come if we haven't run to God.
He is the only tower that will be left standing after all men and nations and kings and wars have done their devastation. There is one place that will be left standing--one refuge--that's the refuge of God. The name of the Lord is a strong tower.
While we're running from other problems and other things that are crumbling around us, we need to be running to the strong tower that is the name of the Lord. And what is the name of the Lord? It's His character. It's His heart. It's His ways. When we don't know where else to turn, what else to do; when there are no more caves left to hide in...some of you are living in storms right in the midst of your home; it may be in relation to your marriage. Where do you run? David says, "I will take refuge in the wings of God" (Psalm 57:1, paraphrased).
There's a wonderful verse in Isaiah chapter 32 that says, "A man will be as a hiding place from the wind and a cover" (or a shelter) "from the tempest" (Isaiah 32:2, NKJV).
Here's what Charles Spurgeon had to say about that passage. (I found these words so rich just as I was walking through a storm in recent days.) Spurgeon says
*"Who this Man is we all know. Who could He be but...the Lord from heaven, the Man of sorrows, the Son of Man? What a hiding place He has been to His people! He bears the full force of the wind Himself, and so He shelters those who hide themselves in Him. Why do we stand in the wind, Spurgeon says, "when we may so readily and so surely get out of it by hiding behind our Lord? Let us, this day run to Him and be at peace.
"Our Lord Jesus, the glorious man, is a covert which is never blown down."
David says, "My soul takes refuge in you, O God" (Psalm 57:1, paraphrased). As I was meditating on this passage in the last several days, another passage came to mind about another family that went through a storm. It was Noah's family.
Now they went through a very literal storm, a flood. And when God destroyed the world through a flood--when God exercised His righteous judgment on the world and destroyed everything on this earth and all the people who lived on this earth--one man and his family "found grace in the eyes of the Lord" (Genesis 6:8, KJV).
And God said to Noah, "I'm providing a way of escape from a storm. I'm providing a refuge where you may go and be safe in the midst of this storm" (See Genesis 6:13-18). So God said to Noah, "Build an ark" (v.14, paraphrased).
Noah could have ignored God's direction. Once the ark was built, he could have ignored God's direction to go into the ark. But he did go into the ark. He let God close the door and then the rains began, the storms came. The floodwaters lifted up over the earth.
What does the Scripture tell us? Genesis chapter 7: "For forty days the flood kept coming on the earth, and as the waters increased they lifted the ark high above the earth" (v. 17, NIV). The very waters that threaten to destroy you and others can become what actually lifts you up, high above the waters, if you have taken refuge in the ark of the name of the Lord.
Let me say that not only do we have storms here and now; but the day is coming, the Scripture tells us, when what happened with the flood will happen again, only in greater proportions--the judgment and wrath of God will destroy every living creature. The earth will be destroyed by the fire and the power and the presence of God's holy Word. His judgment is coming upon this earth once again. And the Scripture tells us we must flee from the wrath to come.
How do we do that? God has made a provision. God has given us an Ark that we may run into and be safe! What is that Ark? What is that Provision? It's Jesus. He is our Refuge. Not only do we need to run to Him here and now in the everyday storms of life, but we need to make sure that as far as our eternal soul and destiny are concerned that we have obeyed His Word to take refuge in Christ. Only if we are in Him will we be safe eternally when God sends His judgment to destroy this world.
You may have just recently or even in these past few moments come to place your faith in Christ as your Ark of Refuge. Could I encourage you--if you're new in your faith--if you're just now coming to put your trust in Him--would you seek out a pastor who knows the Word of God and knows the ways of God or another believer who has walked with God for some period of time and say, "I'm new at this. Could you help me to know how to grow in my faith?" Someone who would open the Word of God with you, show you how to grow spiritually and how to continue to find refuge in Christ.
Leslie Basham: If you've just entered into a relationship with Christ, besides taking the steps that Nancy DeMoss has just outlined, would you write and tell us about your decision to live for Him? If you're a new believer and would like to learn more about your faith, let us know and we'll send you a free booklet by John Blanchard called, Right With God. It'll help answer some questions that you may have and will help you grow closer to your Savior.
You can write to Revive our Hearts or you can also call 1-800-569-5959. And if you're a regular listener, would you consider helping us in the ministry of Revive Our Hearts? We love to provide the kind of biblical teaching you've heard today, and we love to provide resources to those who need to learn and grow in faith.
We can't do it alone. We need listeners like you to help make it happen. Would you consider supporting the ministry of Revive Our Hearts on a monthly basis? You can send your donation to Revive Our Hearts.
Tomorrow, we'll hear from a woman who has faced an intense storm as her husband has battled depression for years. We hope you can be here. Now, again, here's Nancy.
Nancy DeMoss: O, Father, how we thank You for providing a refuge in Christ, the only eternal refuge for our souls. So I pray for everyone listening to these words today that we might know that we have not just been religious, but that we have taken eternal refuge, through faith and repentance, in the name of Christ. Now that we're in Christ, as we face the daily storms of life, may we choose, in the midst of those storms, to run into the name of the Lord--that strong tower--knowing that after the storm has passed, Your name, Your character, that ark will still be standing. And we will be safe. I pray in Jesus' name. Amen.
*Spurgeon, Charles, Faith's Check Book, 259--The Safest Shelter.
Revive Our Hearts with Nancy Leigh DeMoss is a ministry partnership of Life Action Ministries.
*Offers available only during the broadcast of the podcast season.
Support the Revive Our Hearts Podcast
Darkness. Fear. Uncertainty. Women around the world wake up hopeless every day. You can play a part in bringing them freedom, fullness, and fruitfulness instead. Your gift ensures that we can continue to spread gospel hope! Donate now.
Donate Now