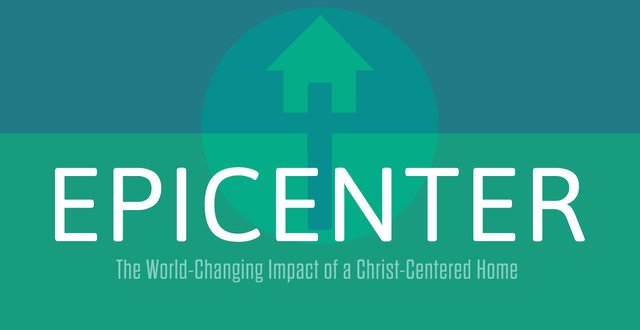 — Audio Player —
A White-Hot Core
Leslie Basham: Bill Elliff says when you come to faith in Christ, He gives you something important.
Bill Elliff: He gives us this special spiritual gift for service, a unique ability to serve mankind. Now, our kids don't know this, unless we train them.
Leslie: Today we'll hear how to encourage our children to develop their gifts.
This is Revive Our Hearts with Nancy Leigh DeMoss for Wednesday, January 15.
Nancy Leigh DeMoss: Have you ever thought about what spiritual gifts your children have?  My friends Bill and Holly Elliff will help you think through that question. We'll hear a message from them called, "Epicenter: The World-Changing Impact of a Christ-Centered Home." 
Bill and Holy Elliff delivered this message at True Woman '12 in Indianapolis. We'll get to that message in just a minute.
But first, have you considered joining us at a True Woman Conference? I have to tell you, it's more than just a conference, more than just speakers and music. You never know what else the Lord might have in store for you.
That's what a woman named Susan discovered. When she came to True Woman '12, she expected to hear some speakers and be encouraged. But while on a break at the mall sitting at food court, she overheard a woman making plans to have an abortion.
Susan: She was pretty animated and loud. She was saying, "You got me into this mess, you're going to have to help me get out. You have to pick me up on Thursday to bring me to my abortion." They were fighting.
Nancy: The Lord prompted Susan to get involved and to share with this woman something she had hardly told to anyone else.
Susan: I said, "I know that you are going through something really tough right now. I just want to encourage you to know that there are other things out there besides abortion. There are lots of girls who go into abortion clinics that never walk out." She was in shock. I said, "You'll regret this every day of your life. I know because I had an abortion seven years ago."    
Nancy: Later that night at the True Woman Conference, Susan heard a message that seemed tailored to her situation.
Priscilla Shirer (speaking at the conference): People need to hear not only the testimony that comes out of our mouths, they need to see the transformation of our lives. They need to see folks that can say, "Look at me. I once was lost, but now I'm found. I once was blind, but now I can see. I once was deaf, but now I can hear. Look at my life and how Jesus stepped in to the portion of my journey that I never thought He'd be able to do anything useful with."
Susan: I got to see God use my absolute worst for His glory. 
Nancy: We can't predict all the Lord will do this year at True Woman '14. We're asking and expecting Him to help thousands of women to find greater freedom, fullness, and fruitfulness in Christ.
I hope you'll plan to join me there. You're going to love the speaker line-up with have this year. Mary Kassian will be back with us and Janet Parshall and Joni Eareckson Tada, along with some speakers we've not had before: Pastor Jim Cymbala, Lauren Chandler, Angie Smith, and others. We'll worship with Keith and Kristyn Getty, plus we'll hear from Blair Linne who is a spoken word artist and the Chicago Tabernacle Choir. But the most important guest, the one we're most excited to hear from is we're inviting the Lord to come and meet with us there.
True Woman '14 is coming to Indianapolis October 9–11. Now that may seem a long way out. But you can get in on early discounted registration if you sign up before May 1. Register or get all the details by visiting ReviveOurHearts.com.
Now, let's hear Bill and Holly Elliff in the message, "Epicenter: The World-Changing Impact of a Christ-Centered Home," recorded at True Woman '12. 
Bill Elliff: I never dreamed forty-five years ago when I saw that really cute girl with the short hair, sitting behind me in homeroom, that was just kind of blossoming in the ninth grade and took my breath away a little bit, that I would spend forty years married to her and have eight kids and six grandkids at present, and counting.
I never dreamed that we would be on the adventure the Lord has taken us on through the years—it's been quite an adventure.
Holly Elliff: It really has been an adventure. For those of you who think we are doing this session because we have the model, normal family, I can assure you that there is nothing normal about our family.
You heard Billy say we have eight kids. I can remember after our eighth one was born, we all went to the mall, and I turned around and looked at Billy and I said, "People are staring at us." And he said, "Well, they're trying to decide if we're a tour group or something." But it was just us with our kids.
Bill: We always wanted to get shirts made that said all the answers to the stupid questions: "Yes, we know what causes this."
Holly: "No, we're not Catholic; no we're not Mormon. We're just plain ole Southern Baptist." This will help you understand my life a little—the very first time I ever recorded on Revive Our Hearts with Nancy, we were just getting ready to go on the air, and I got a phone call from my oldest daughter, who said, "Mom, what do I do? The little kids have all taken their mattresses out to the front yard and they're sliding down the hill."
I hung up the phone, and Nancy said, "What was that?"
And I said, "You don't want to know."
Bill: It's kind of gone like that ever since. The Lord has taken us through low times and hard times and suffering and great mountains, like He does every family. But along the way somewhere God really hijacked us. He gripped us with a burden to see our world change for the glory of God.
He put something inside of us that helped us realize that really our first church and our primary tool for seeing that happen was our family, was our home. That's what we're going to talk about this morning. I wonder, as we begin, Holly, would you just lead us in a word of prayer?
Let's ask for the Lord's presence as He speaks to us today.
Holly: Father, today we just acknowledge that there is no truth we can deliver that will change any life. Lord, we ask You to just show up here. We need Your presence. Father, by Your Spirit and through Your Word, would You give us instruction?
We ask that You would give us ears to hear what You want us to hear, and Lord, would You take these words and interpret them in the way You know that each woman needs to hear them? We ask You to do that in Jesus' name, amen.
Bill: On Sunday, December 26, 2004, the day after Christmas, the third largest earthquake ever recorded in human history happened in the sub-floor of the Indian Ocean and had a magnitude on the Richter Scale of 9.1. You remember this moment because it was the longest duration of faulting that was ever observed.
It went on for about ten minutes under the ground. It caused the entire planet to vibrate as much as four tenths of an inch, which was an amazing thing. The result was it created a tsunami and that tsunami started at the epicenter, and then it just went over hundreds and hundreds of miles.
Finally when it hit a solid object, it hit fourteen different countries and created tidal waves, or tsunami waves, that were over a hundred feet tall. Over 230,000 people were killed in just a brief period of time. One of the greatest tragedies was that over a third of those were children.
Ladies, we don't need to convince you of that fact that in our nation today, in our world, we need a spiritual tsunami. We need something that would change the world, amen? Something that would make things change. "Spiritual tsunamis," as we're going to see today, start with a white-hot core that creates momentum and literally changes the world.
If you have your Bibles, I want you to turn with us to 2 Timothy 1. We're going to look at the story of three generations of a family that were part of a group of people in the first century that literally changed the world. They probably had no idea the ramifications of what they were doing, but the reality is that what happened in this family—and other families like them in the first century—is affecting you this afternoon as you sit here in your chair.
It's a family of a grandmother and a mother and a son named Timothy. Let's read the text together, if we could, beginning in 2 Timothy 1:1:
Paul, an apostle of Christ Jesus by the will of God, according to the promise of life in Christ Jesus, to Timothy, my beloved son: Grace, mercy and peace from God the Father and Christ Jesus our Lord.
I thank God, whom I serve with a clear conscience the way my forefathers did, as I constantly remember you in my prayers night and day, longing to see you, even as I recall your tears, so that I may be filled with joy. For I am mindful of the sincere faith within you, which first dwelt in your grandmother Lois and your mother Eunice, and I am sure that it is in you as well. For this reason I remind you to kindle afresh the gift of God which is in you through the laying on of my hands. For God has not given us a spirit of timidity, but of power and love and discipline.
Therefore, don't be ashamed of the testimony of our Lord or of me His prisoner, but join with me in suffering for the gospel, according to the power of God, who has saved us and called us with a holy calling, not according to our works, but according to His own purpose and grace which was granted us in Christ Jesus from all eternity, but now has been revealed by the appearing of our Savior Jesus Christ, who abolished death and brought life and immortality to light through the gospel, for which I was appointed a preacher and an apostle and a teacher. For this reason I also suffer these things, but I'm not ashamed; for I know whom I have believed and I am convinced that He is able to guard what I have entrusted to Him until that day. Retain the standard of sound words which you've heard from me, in the faith and love which are in Christ Jesus. Guard, through the Holy Spirit who dwells in us, the treasure which has been entrusted to you (1 Tim. 1:1–14).
Then look down in 2 Timothy 2:1, "You, therefore, my son." Paul felt like Timothy was as much of his family as much as anybody else. Over four or five times he calls him, "My son, my true child, my true child in the faith."
So here's Paul, in a father's role, saying, "My son, be strong in the grace that is in Christ Jesus. The things which you have heard from me in the presence of many witnesses, entrust these to faithful men who will be able to teach others also" (2:1–2).
Holly: Now, girls, you know when we cook, it's really critical for us to have the right ingredients, right? It doesn't turn out well if you don't. My daughter has had some experimental dishes that were interesting. She one time made a birthday cake where the candles sunk as we were singing "Happy Birthday."
We never figured out what she did wrong, but it didn't work because the essential components were not there. So today as we look at this passage, we want to look at some essential components for our homes becoming that epicenter.
Second Timothy 2:5 starts with a picture of that white-hot core, that epicenter, that we want to see. As Paul traveled to a town called Lystra, he met a family, and in this verse we get to meet them, too. There's Lois, who is a grandmother and a mother. We know that Lois was Jewish. We know that her daughter, Eunice, was also Jewish.
Eunice was married to a Greek man, and as far as we know, he was not a believer. We know that she was mother to an adult son, at this point, named Timothy. We learn something else about them. Lois and Eunice possessed something priceless. Because Paul calls it a sincere faith.
The word sincere in the Webster's 1828 Dictionary—the original one (it's one of my favorites)—is very interesting. What it really means is "totally pure." It's the idea of "honey without wax." That's the illustration they use.
I can remember watching my uncle haul in a big bucket of raw honey in a big metal pail and putting that down in front of me. I can vividly remember looking in that bucket and it had bees, and it had bee parts, and it had bark, and it had all this stuff kind of floating on the top.
I had only seen honey in the little cute bear—you know the little plastic bear. That's the only way I had ever experienced honey, and I can vividly remember looking in that bucket and thinking, I will never eat that again. But what happened was that my uncle took that honey, and he processed it through a series of sieves. He poured it through one, and the bark was all gone. He poured it through another one, and the bees were gone. And he poured it through another one, and the bee parts were gone.
Then finally, all that stuff floating on the top was gone, and he finally had honey that was just pure—no wax, no bees, no bee parts. It was pure. That's the picture of this word sincere that Paul uses, of the type of faith that Lois and Eunice had. The definition goes on to say that sincere means "being in reality exactly what it appears to be."
It's not something that you put on or assume for the sake of appearance, it's not hypocritical, it's not pretentious. Actually, it's very similar to the definition of another word, and that word means "original," "fundamental," "essence without deviation," "something also pure." Do you know what the word is? The word is radical.
When I read the names Lois and Eunice, I'll have to admit the terms white-hot radical were not the first things that came to my mind. But that's exactly what these women were. They were white-hot, radical women in pursuing Christ. We're going to see more about that.
These women possessed and lived out white-hot radical faith before their son and grandson, Timothy. Scripture says it was real—"it dwelt in them"—and that just means it was settled down in them. It was at home in them. Lois and Eunice had met Jesus, and He had changed them from the inside out.
The relationship that He offered wasn't an outward demonstration. They would have seen that in the Pharisees putting on an outward demonstration of piety, but that's not what it was. It was total transformation in them.
Jewish homes in that day would have had a little box outside the doorpost that hung at an angle, and it was called a mezuzah. It contained Scripture, and it was a symbol that that home belonged to God—that it was ruled by God.
Lois and Eunice would have had that, probably, on their doorframe. But what they probably didn't have was a sign in their yard that said, "We are also Christians." You know why they didn't need that sign in their yard? Because it was evident in their lives. They were transparent, and they lived out what was at their core.
They were the evidence of that reality, as they put Christ on display in their lives. It was a reality that was not just for them, it was also for Timothy.
Bill: This sincere faith was at the heart—it's always at the heart, isn't it—of a genuine, godly family, a Christ-centered home. And everything must be done to make sure my faith is pure, my faith is real, my faith is authentic. But along with that there were other components that were in this home and in their lives. The second thing we want you to see that really contributes to building an epicenter that can literally change the world is a strong understanding and development of spiritual gifts.
In the next verse, he makes this statement, in verse 6: "For this reason I remind you to kindle afresh the gift of God which is in you." You know, probably, what a spiritual gift is. The Bible teaches very clearly that when we come to Jesus Christ, He gives us something unusual. He calls them these gifts, and they're spiritual gifts.
I once heard a man define a spiritual gift like this: "It's a God-given ability for service." That's what it is. It comes from God. You don't choose—you don't go to the store and say, "I want this gift, and not this gift." You get the gift that God gives you, because He knows you best—and so do your children, and so does your husband.
And it's for a specific purpose. It's not just to be used on yourself, selfishly; it's a gift for service. Paul says, "Timothy, you have some gifts, and they're inside of you, and don't waste them. You need to stir those up; you need to fan the flame; you need to kindle up those things." It may have been the gift of leadership.
Or in your children, or in your life, or in your home, it may be the gifts of teaching or of exhortation or service or administration—all those different kinds of gifts. Now God has this incredible plan, doesn't He? It's a beautiful thing. His plan is this—He has created millions of people, and we all are in these families.
Each person—every child—is fearfully and wonderfully made. They have unbelievable abilities, temperaments, personalities, and then along the way we pick up life experiences—all those things that form us into who we are. But there's a problem, and the problem is that we are fallen.
So God's plan, as we've already heard about in this conference, is to redeem us, is for us to come to the end of ourselves, cry out to Christ, so that He would save us and come to live inside of us. The Bible clearly teaches that when He does, at the moment of our conversion, He gives us this special spiritual gift for service—a unique ability to serve mankind.
Our kids don't know this unless we train them, unless we teach them, unless we help them understand that. In fact, if left to themselves, they might just think exactly the opposite, because the world, the flesh, and the devil are constantly lying to them about their life.
Have you heard any of these lies, as a child growing up, or do your kids hear them right now? "You're nothing . . . you can't do anything . . . you're stupid . . . you're below average." Or "You need to just blend in with the crowd and be like everybody else."
You look at another person and say, "They could really affect the world, but I'm not going to affect the world." So if our kids believe this, they just settle into mediocrity, and the reality is, they are holding in their life—if they are followers of Christ—this unbelievable dynamic that can really affect the world.
Nancy: That's Bill Elliff. He and his wife Holly have been showing you why your investment in the next generation is so important. God designed the young people in your life with unique gifts and callings. Bill and Holly have been challenging you to help develop those gifts so the gospel can be spread.
Bill and Holly were talking mostly to moms, but for those of us who are single woman, there is still a lot we can get out this message. There are times that I can say some things to younger people that their parents may have a hard time saying. I really try to be intentional about looking for ways to invest in the children and the young people God has brought into my life. In fact, I have a family with five teens who are coming next week to spend a week with me in my home. I am so looking forward to this opportunity to invest in their lives.
So whether you are a single woman or a grandparent or an aunt or just a good friend from church, I hope you see the value of encouraging the next generation to seek the Lord.
I hope you'll ask yourself. Is there are younger person in my life who could use my investment in their life in this season? What are the gifts God has given them? How can I encourage them to use those gifts for Christ's glory?
That message is part of a series called "Epicenter: The World-Changing Impact of a Christ-Centered Home." To hear the audio of the full message, visit ReviveOurHearts.com. Or maybe you know a parent who would benefit from this message. You can send them a link to the audio or transcript, or order the series on CD by visiting ReviveOurHearts.com.
Leslie: Thanks, Nancy.
We're able to bring you programs like this one because of listeners who believe in Revive Our Hearts and want to keep hearing it. So they support the ministry with their financial gift. 
This month, when you support the ministry with a gift of any size, we'll say thanks by sending you the new music CD from Nancy Leigh DeMoss. It's called Be Still. 
Nancy: A listener named Heidi supports Revive Our Hearts, and she was excited to get her copy of Be Still. In an email to the ministry, she said:
As a homeschooling mother of eight children, my days are quite full. I am loving Nancy's new CD, Be Still. The hymns are wonderful and so worshipful and soothing in a busy household. They truly help usher me in to a place of stillness even if the household is busy.
Maybe you have a busy household too and want to enjoy that place of stillness. We'll send you the CD, Be Still, when you support Revive Our Hearts with a gift of any size. Call with your donation to 1–800–569–5959, or visit ReviveOurHearts.com.
Today, Bill and Holly Elliff challenged you to recognize the gifts God has given your children.  Tomorrow they'll be back to how you how to begin doing that. Please be back for Revive Our Hearts.
Revive Our Hearts with Nancy Leigh DeMoss is an outreach of LifeAction Ministries.
*Offers available only during the broadcast of the podcast season.
Support the Revive Our Hearts Podcast
Darkness. Fear. Uncertainty. Women around the world wake up hopeless every day. You can play a part in bringing them freedom, fullness, and fruitfulness instead. Your gift ensures that we can continue to spread gospel hope! Donate now.
Donate Now