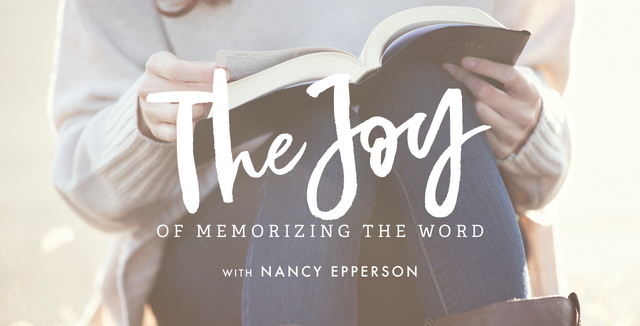 When Bible Memory Meets the Real World
Leslie Basham: A woman named Christy once memorized an important verse from the Bible.
Christy: "God is faithful. He will not suffer you to be tempted above that which you are able." (1 Cor. 10:13)
Leslie: The verse stayed with her in important moments.
Christy: I have quoted that verse hundreds of times even. "Lord, I know you have a way of escape. Please show me."
Leslie: You're listening to Revive Our Hearts with Nancy Leigh DeMoss for Thursday, May 24.
Earlier this week Nancy Leigh DeMoss spoke with Nancy Epperson about the value of memorizing God's Word. Many of our listeners have been discovering the joy of getting the Bible into their hearts. We'll hear from a few of them today. Some women are talking with Nancy about the way knowing Scripture affects them day by day. We'll start with a guest named Christy.
Christy: My mom got saved when I …
Leslie Basham: A woman named Christy once memorized an important verse from the Bible.
Christy: "God is faithful. He will not suffer you to be tempted above that which you are able." (1 Cor. 10:13)
Leslie: The verse stayed with her in important moments.
Christy: I have quoted that verse hundreds of times even. "Lord, I know you have a way of escape. Please show me."
Leslie: You're listening to Revive Our Hearts with Nancy Leigh DeMoss for Thursday, May 24.
Earlier this week Nancy Leigh DeMoss spoke with Nancy Epperson about the value of memorizing God's Word. Many of our listeners have been discovering the joy of getting the Bible into their hearts. We'll hear from a few of them today. Some women are talking with Nancy about the way knowing Scripture affects them day by day. We'll start with a guest named Christy.
Christy: My mom got saved when I was about five. She had us memorize verses. So I really grew up with her telling us what to memorize, so her picking verses for us.
Then I went to a Christian Junior High, High School, College, I had to memorize, but I didn't get to pick them.
Fast forward until about twelve years ago, I was thirty-one, and I was at a prayer meeting. The pastor's daughter, said, "I read a passage, and I want to talk to you about it if it's really true."
I thought to myself, "Ask your dad, he's the pastor." I didn't say that out loud.
Then we went to have bagels after prayer, and she read the passage, and I said, "Jenny, that's a great passage."
She said, "I know. Do you think it's true?"
I said, "I think it is true."
And she said, "I think we should memorize it."
I said, "Jenny, I'm thirty-two. I can't memorize anymore. I'm old."
She goes, "Oh, you're not capable of memorizing?" or something like that.
She kind of made me feel . . . I'm competitive, so I said, "Well, I can try."
So we memorized that passage. Then through my work I've been able to share that with people, so I started memorizing then. So, really, about eleven or twelve years ago . . . Even yesterday at work somebody had something discouraging at work. I was able to say, "Remember this?" And the passage is Isaiah 8:11-14:
The Lord has said to me in the strongest terms: "Do not think like everyone else does. Do not fear that some plan conceived behind closed doors will be the end of you. Do not fear anything except the Lord God Almighty. He alone is the Holy One. If you fear Him, you need fear no other. He will keep you safe."
So when I memorize verse, it's because I read a passage. It helps me that day at work, at AWANA, at church, and then I think, "That's a verse I want to be able to tell someone without having to say, 'Let me look it up.'" So I memorize verses really that God speaks to me about.
Nancy: Now I understand that you have more recently undertaken a pretty ambitious Scripture memory project. Tell us about that.
Christy: A couple months ago our Children's Ministry Director went to something for Children's Ministry Directors. There was a man there who said he memorizes by picking a book and just reading the book, reading the book, reading the book—not concentrating on memorizing it.
That was in October, and I thought to myself, "I love the book of Ephesians. I have different snippets of Ephesians memorized. Maybe I should memorize Ephesians."
I thought about it a little bit, and I talked to a friend of mine, Gwen.
Then I said, "Maybe I should ask Christy, her daughter, to join me in that."
Then I thought, "Well, wait a minute. I've been an AWANA leader. I could ask some AWANA kids."
So I have about twelve people that are joining me to memorize Ephesians.
I've been memorizing it—I started in January, and I'm through 2:12. Monday I was at work with an attorney I work with, and he said, "So what's new and exciting?"
We were talking. I've shared Scripture with him before, so I said, "I'm memorizing Ephesians this year."
He said, "You are?"
So there at my work lunch, I quoted Ephesians 1 to him and part of Ephesians 2. He said, "That's good."
I said, "Of course it's good. It's the Bible."
He said, "I'm going to go home and read that."
Nancy: That's great.
Gwen, are you in here? Come here a second.
Christy, one of the twelve people that's memorizing Ephesians with her is Gwen's daughter, Christy. Right? How old is she, Gwen?
Gwen: She's seventeen.
Nancy: How did she get roped into this? Was it something she was excited about? What got her into this?
Gwen: My Christy is growing so much spiritually right now, and she will just sit at any given time and read the Word—especially at night. She'll just sit and read. I think this came at a perfect time for her in her life. She wants to fill her mind with the Word. So I think God just used the timing. It's perfect. She's filling her life with this. She has no time for TV or Internet or anything because she really is using it. She teaches the Bible, and now she's memorizing it. I think she'll be a great influence on those young kids she's teaching.
Nancy: Seventeen years of age is a lot easier to be memorizing Scripture than when you're my age. It's possible at any age, I really do believe, but what a great thing, Christy, to get those teenage gals doing this with you.
Sue, tell us about your experience with Scripture memory.
Sue: Well, I started in high school, which was a long time ago. We had to do that as part of a competition in our youth group, then it kind of fell to the wayside for many years. Then in about 1999 I went to Israel with a Bible teacher from the Holland area, and he really inspired us on the trip on the importance of Scripture memorization.
When we went to a synagogue. I should have known this, but I didn't realize this that all the kids at Bar Mitzvah have to memorize the first five books of the Bible. So all Jewish children, especially boys, have to have that all memorized.
I'm thinking, "If they could do that, what am I doing?"
So I really took that seriously. I have not done the whole book of James—like you. James is one of my favorite books. I'm through the first chapter and into the second chapter, and just various verses that God brings to mind. I just really like to commit them to memory. I put them on my bathroom mirror every morning and evening and then just kind of work the week through.
One thing that this Bible teacher really helped me with is that he said, "It's your job to commit to doing it. It's God's job to bring it to your mind."
So that kind of took all the pressure off of, "What if I forget it? What happens?"
It's been wonderful because the verses just come to mind when I need it or a friend needs it or it's in a situation. It's just a huge blessing.
Nancy: Can you give an illustration of a time when you found it coming to mind?
Sue: My next-door neighbor, I just moved into a new neighborhood in the last six months, and my next-door neighbor is going through some really difficult situations. So God's been bringing back these verses I memorized to mind, and it's right when she asks me a question that I can just point her to a verse rather than having it be my word or someone else's word of their own wisdom. It's God giving me that verse to give to her, and hopefully that will bear fruit in her life.
Nancy: I've never memorized the book of James, I don't think, the entire thing, but chapter 1, when you memorize that, the verse that's got to keep coming back to you is, "Count it all joy when you encounter various trials" (v. 2).
Does this haunt you sometimes?
(laughter)
Sue: Actually, the verse that haunts me more than that is the one, "Be quick to listen, slow to speak, and slow to become angry" (James 1:19 NIV). That's the one I started memorizing James for because I tend to be really quick to respond to different things and slow to listen. God has worked on that more. That second verse that definitely takes it preeminence in my life. It's just a little bit after the "being quick to listen."
Nancy: I think maybe I'll start with chapter 2. Chapter 1 is too convicting.
(laughter)
Woman 1: For some people it's very easy for some people to memorize. I'm one of those who it's very hard or very difficult. Even though I grew up in a Christian home, I was very much surrounded by Christians and lots of Scripture memory. We did Bible quizzing where I've seen ten-year olds or even younger, like my siblings, memorize books at a time. They just eat it up. They do it competitively, but they love it.
So, personally, I've seen this challenge of just realizing, "I memorize Scripture, but I forget it so often. It just feels like a losing battle sometimes."
My husband and I are currently college ministry leaders in our church. We are seeing that Scripture memory is very vitally important to our own lives as leaders, as mentors, encouragers of disciples of the Word, and we want to encourage that.
I was one of those young moms that are asking God, "I'm at this stage in life where I find I'm very confined, very limited in what abilities I can do for outreach and ministry." So I've been praying about what kind of things can I do to minister and encourage the girls in my college ministry to be in the Word and to know God more.
The thing that came up to me, I realized what I could do was that I could get up extra early in the morning, go to the campus where the girls work out, and ask them if they would meet me there and we could actually memorize 3 x 5 card Scriptures and rotate on the machines. We would do that on a regular basis. So that's what we ended up doing for certain semesters. It's been fabulous; a great experience.
Nancy: Great for you and great for them.
Woman 1: Exactly. It's been helping us do it based on accountability. We're holding each other accountable, but we're also memorizing and we're realizing, "Yes, we might forget it, but you're exactly right (someone else mentioned), God does bring the Scripture back to your memory when you need it." It's been a blessing.
Nancy: That's great. Doing it on the machine. You get a couple of other benefits out of that, too.
Sarah: Scripture memory has been important to me—not so much word-perfect memorization, but in studying the Word and then having it be able to come to mind later in talking with a friend or in a certain situation.
I was mentioning a few years ago I went through a challenging time personally, just a situation I was in. I used to swim laps regularly. What I would try to do when I swam laps was to recall God's truth in my mind. So I would be focusing on His truth instead of the pain or the struggles I was going through.
First of all, I would go through God's attributes. I might say:
A—Lord, You are always there. 
B—You will be near. 
C—I can count on You, Lord. 
D—You are deity. 
F—You are forgiving.
Then I would go through the alphabet and start going:
A—Your Word says, "You are always here." 
B—"Be still and know that I am God." (Ps. 46:10) 
C—"Come to Me all who are weary and heavy laden." (Matt. 11:18) 
D—"Do not let this Book of the Law depart from my mouth." (Josh. 1:8)
It wasn't necessarily word perfect, but I was saturating my heart and my mind with His truth. Then it helped me to be able to find joy because I was fighting for joy and in drawing on Scripture that I'd learned through the years, then my heart could be renewed to function.
Nancy: It's really learning to counsel your heart according to God's Word. 
Rebecca, your husband's a pastor. You and he have served in ministry for many years and grew up in a time, as I did, when there was more emphasis probably on Scripture memory and on knowing basic Scriptures than today. There are so many different translations and just less emphasis—unless you're in AWANA or a Bible quizzing program or something like that.
You have a burden to get Christians back to making sure that they really know the key Scriptures that explain and define our faith. Tell us a little bit about that.
Rebecca: When I was a young person, there was a program called Bible Memory Association. It may have been more in the south. I grew up in Texas. We memorized whole little books of selected Scripture, and you earned a Bible or you earned certain things. That was my background. Even though I grew up in a very dysfunctional home, it was still a Christian home, and the Word of God was honored, and we did memorize it.
It says here in Hebrews 4:12:
For the Word of God is quick, and powerful, and sharper than any twoedged sword, piercing even to the diving asunder of soul and spirit, and of the joints and marrow, and is a discerner of the thoughts and intents of the heart. (KJV)
This verse, to me, just says so much. If you had time, you could just take it apart. What the Word of God can do to a human being, to a heart . . . I think so often we don't know what the Word of God sometimes may say about a certain topic, and we get into discussions with people, like Christy. She often quotes Scripture to people. She doesn't mince any words. She just quotes. If we don't know what to say, then we're not going to be able to defend our faith.
Christy would know this verse, perhaps, where it talks about how the Word of God washes us and cleanses us. John 1:1 says, "In the beginning was the Word, and the Word was with God, and the Word was God" (KJV). When we know the Word, we know God, and we know Jesus His Son better.
I had a burden. My husband and I have been talking about this, and we recently talked with a publisher about writing a book on the most important Scriptures that we need to know as Christians. Even the teaching you were doing a while ago, talking about holding fast to what we have.
I believe that also refers to what we believe. If we don't know the Word of God, we can't just reach for that verse that our doctrines are based on, we're going to be led astray.
That's why we have to know the Word of God.
Christy: One of the passages that has helped me the most at work is in Proverbs. It's Proverbs 29:25. This is one of the first times I was reading Proverbs and then Psalms every month. So it must have been—it was February 29, so it was a Leap Year. And the verse was, "Fearing people is a dangerous trap, but to trust the Lord means safety."
That day I had to go down into Chicago at 3 o'clock on a Friday for a meeting. It was a terrible meeting. But the whole time I was sitting in the meeting, that verse kept running through my head, "Fearing people is a dangerous trap, but to trust the Lord means safety. Please, Lord, don't let me cry." That's just what I repeated to myself the whole time in the meeting.
Jesus gave us the example when He was tempted in the wilderness how He overcame the devil was quoting Scripture. If you look closely (and I can remember in high school someone bringing this up), the devil was quoting Scripture, but he was misquoting it. So many people don't realize he was misquoting it. Of course Jesus knew because He wrote the Bible.
But if we have verses in our hearts, and even if we haven't learned them for a long time, and we haven't been reviewing them . . . I tell my AWANA kids this every week, "I'm telling you these verses now so when you need it later, it will help you." I'm a stickler in AWANA on the Bible memory. I am really a softy, and I was a softy once, and the Holy Spirit said, "She's going to need that verse, and you just passed her, and she doesn't know it now." So I became a dictator.
(laughter)
There was this girl—her name was Sarah—and she was trying to memorize 1 Corinthians 10:13, which I think is a verse everyone needs to know. I know it in the King James, but it's about temptation:
There is no temptation taken you but such as is common to man: but God is faithful, He will not suffer you to be tempted above that which you are able; but will with the temptation provide a way of escape, so that you may be able to bear it.
I've quoted that verse hundreds of times, "Lord, I know you have a way of escape. Please show me."
Well this girl, Sarah, it took her two weeks to memorize that verse, and she was in tears. And then they moved. I always felt kind of bad about that. Well, fast forward. She's a junior in Wheaton College. I was going to dinner with my husband, and I saw her sitting at a Starbucks. I said, "Are you Sarah?" She was a junior in college, and I hadn't seen her since fifth grade because they moved to Wheaton.
She said, "Yes, and you're still making those girls memorize the verses, right? It's helped me my whole life."
So, not that that's great that I'm doing it, because it's the Spirit that's helping them. I tell my AWANA girls, third through sixth graders, "This is what you need to know so that when you're tempted, you're going to have this in your heart, and the Holy Spirit can tell you. Like last week I talked about in Deuteronomy, we belong to Christ. It's in Ephesians, Romans, it's everywhere." I said to the little kids, "So if you feel bad and people are being mean to you, you kind of think to yourself, 'I belong to Christ.'" They all nodded their heads, but even the junior leader said, "Can I have the verses to bring home with me?"
A lot of people say, "How do you memorize?"
What I do is I go to a computer and on the Internet, like BibleGateway.com, I look it up, and then I print it out, and then I carry it with me. I kind of think how you're supposed to have it on your forehead and everywhere. I usually have it with me. I have it with me now in my pocket or in my purse.
It was funny. When I first started doing it, I was working out. I do a spinning class, and the music isn't great. So if you're having this in your mind, you don't hear the bad music. I was looking at it, and one of the ladies said, "Hey, Christy, what's that? Is that your cue sheet?" I was kind of embarrassed, but the more I thought about it, I thought, "It really is our cue sheet." Because a cue sheet when you're biking says, "Two miles then take a right, be careful, there are railroad tracks." It tells you exactly what you're going to need to do when you do these long bike rides. But really, the Bible is our cue sheet. Just do verse by verse. I tell people, "If you're not good at memorizing, just write it on a flip chart, or ask God to help you."
I can't memorize Ephesians, the whole book on my own, but I can do it with Him helping me.
Terry: As I was think about this, I was thinking, "I didn't become a Christian until I was in college." So I didn't have all the wonderful upbringing. I had a hard time memorizing Scripture. In one of my ladies' studies, we would write it all out on a board. Then we would erase the first word and say the whole thing. Then we would erase the second and say the whole thing. By the end of doing that, we had it.
Years ago I was in a prayer meeting with Del Fehsenfeld's sister. She just kept praying back Scripture that she had memorized. That really impressed upon me to memorize Scripture that praises God. 
It has been the most wonderful thing for me because in all kinds of situations, I can just go to God and worship Him. One time I thought I was having a heart attack. I went to the hospital, and he just wanted to watch me. So my husband and the doctor are just standing there watching me. I really thought I was going to die. So I just started to quietly, not out loud, just inside, praising God. And I thought, "What better way to die, than to be praising God and singing hymns right into His presence."
I really see the importance of memorizing Scriptures that praise God.
Nancy: It may be the praise the resuscitated your heart!
Terry: I never thought of that.
Woman 2: My parents while I was growing up had such a great love for Scripture, and, of course, they still do. That really impacted both my brothers and myself. One thing that really made such an impact was that not only did they memorize Scripture and know Scripture, whenever situations in life came up, trials, struggles, difficulties, death; they would quote that Scripture and share that Scripture with us.
So we saw them not only memorizing the Scripture, but truly living the Scriptures out and clinging to the Scriptures in those difficult times. I can remember my dad all throughout his business career just using Scripture for different things that would come up in business. That just made a profound impact on me.
Now as an adult, I find myself placing such a high importance and value on Scripture and knowing it. If we don't know it in our heart, how can we use it, as other people have been saying, when the trials and testings come up?
One thing my parents did when I was younger is they had contests between me and my brothers. Whoever would memorize the most verses, a particular thing would happen.
Nancy: So they bribed you?
Woman 2: They brided us, but I have to say. They have three kids now who are all walking with the Lord, who love Scripture, and who are now teaching their children to love Scripture. So something that they did worked.
Nancy: That's great.
Ruth Ann: I just started recently, and I'm in my sixties. I was going through a time thinking, "I don't want to think about this," because something was on my mind so much. So I thought about Scripture. I started with the song, "His Eye Is on the Sparrow." I memorized that song.
The way I do it is that I rest in the afternoon, and I rest with my Bible on my lap. I'll look at the verse and go through it with my eyes closed, because I'm resting. That just helps me to relax. I memorized Psalm 103. I didn't let that "you're too old" get me.
I just praise God for His Word, because for me it is just relaxing, and it just keeps your mind where it need to be.
Nancy: That's great. So somebody listening thinking, "I could never do this. I'm in my sixties." You just heard a testimony that you can do it, that you can set your heart to it.
It's a matter of priorities, really, and what's important to us. It's amazing the things we do have memorized—that we don't even try to memorize, But the Word of God is the most precious thing we could store in our hearts.
Leslie: Nancy Leigh DeMoss has been talking with several women who understand the power of memorizing Scripture. The verses you commit to memory will have a big effect on you for a long time.
This year, Nancy's been encouraging you to go deeper in God's Word.  Many, many listeners have joined a challenge to read the Bible every day in 2012. To join them, visit ReviveOurHearts.com and sign up for this challenge. We'll send you occasional emails to remind you to continue seeking the Lord through His Word.
At Revive Our Hearts you can also support this ministry with your donation. We couldn't encourage women the way we do without your help. When you donate any amount, we'll send you a CD from Nancy Epperson. She was our guest earlier this week, and she quotes many of her favorite passages on this CD called, "Powerful Scriptures." Nancy, this is going to be a helpful resource to our listeners.
Nancy: I do hope every listener will get a copy of this CD from Nancy Epperson. I think you'll find that it helps you to love God's Word more and to be able to memorize it more effectively.
But when you give Revive Our Hearts, you'll receive far more than a CD, as helpful as it is.
You'll also know that you're part of something really important that God is doing in the lives of women around the world. Listeners have been giving special gifts all this month. 
As we've been sharing with you, May 31 is the close of our fiscal year. During this time, some friends of the ministry are doubling the gifts of every new listener, up to $100,000. That means if you've never before given to Revive Our Hearts, your gift at this time will be doubled.
And if you have given to Revive Our Hearts before, we need to hear from you too, as we are asking the Lord to provide a total of $350,000 this month in listener support. So please, give us a call with your gift at, 1-800-569-5959, or if you prefer, visit us online at ReviveOurHearts.com.
When you call or go online to make your contribution, be sure to ask for the CD of Nancy Epperson reciting Scripture.
Leslie: What is the greatest challenge you're facing right now? Joni Eareckson Tada will provide perspective you need to meet that challenge. Hear from Joni tomorrow, again on Revive Our Hearts. 

Revive Our Hearts with Nancy Leigh DeMoss is an outreach of Life Action Ministries.
*Offers available only during the broadcast of the podcast season.
For a donation of any amount