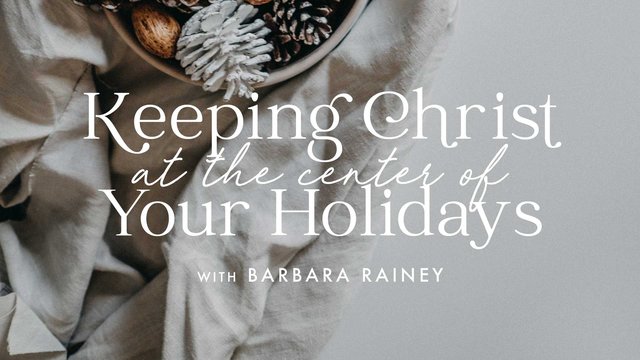 — Audio Player —
Trusting in the Prince of Peace
Dannah Gresh: When Isaiah foretold the birth of Jesus, he prophesied that Christ would be called the Prince of Peace. Here's Barbara Rainey. 
Barbara Rainey: I think that's very significant, and I think it's because God knows how desperately we need peace. He knows far better than we do how broken we are, how desperate we are, how lonely we are, and how much we need His peace.
Dannah: This is the Revive Our Hearts podcast with Nancy DeMoss Wolgemuth, author of The Wonder of His Name, for November 19, 2021. I'm Dannah Gresh.
I want to ask you, where do you search for peace? I mean, as you approach the holidays. I once thought the perfectly decorated house was the key to feeling the Christmas peace, so I'd stress myself like crazy in one weekend decorating like my life depended on it. Each year had to be bigger, brighter, better. But it was just distracting me from true peace. So now, I spend a little time on my heart filling it with thoughts of Jesus' birth . . . then I decorate for an hour day-by-day, a little at a time . . . with the focus on my heart first. My house isn't quite as grandly decorated as it once was. But true peace just evaded me when I thought it was about getting everything organized, and obsessing about the condition of my house without considering the state of my heart. 
Today, Nancy DeMoss Wolgemuth and Barbara Rainey are wrapping up a conversation (wrapping . . . see what I did there?). Anyway, the conversation is about cultivating Christ-centered holidays! They're going to talk about how knowing Jesus as the Prince of Peace impacts your day-to-day life, especially in these particularly busy seasons like the holidays. 
I hope this series has been encouraging to you as you consider how you can put Christ as the focus of your holidays. We're able to bring you messages like these through the help of friends like you.
Revive Our Hearts is a listener-supported ministry, which means that with every donation you give, you're partnering with us to help women thrive in Christ. You can be part of offering hope to women who need to experience the freedom, fullness, and fruitfulness in Christ. If you'd like to join us in that mission, you can give online or over the phone today. 
Plus, this month with your donation of any amount, we'll send you the brand-new 2022 Revive Our Hearts Wall Calendar. I'm really excited about this. It's both a beautiful piece of art and a declaration of truth that you can hang in your home. 
Our team designed this calendar as a reminder to stay grounded in God's promises in every season. This is also a perfect idea for your holiday gift-giving or a way to express your gratitude to your Thanksgiving hostess. These calendars make great gifts.
Visit ReviveOurHearts.com to give, or call us at 1–800–569–5959 and request your calendar today. Now, here's Nancy.
Nancy DeMoss Wolgemuth: Our guest this week has been my friend, Barbara Rainey. It's a joy, Barbara, to have you here with us on Revive Our Hearts today. Thank you so much for joining us.
Barbara: Thanks. I'm glad to be here.
Nancy: We've been talking about holidays, making them "holy days," and not getting caught up in all the trappings and the chaos that goes—really pretty much—from now for the next month or so, in our Western culture for sure. Then everybody kind of drops dead at the end of December . . . distressed and in debt and distressed. 
We want to help our listeners. Several years ago I said that I was declaring war on the stressed-out holidays—and  I haven't conquered that—but I've been very intentional in recent years about dropping some things that just aren't essential. I just want to simplify, simplify, simplify. Maybe we're getting older. We are getting older!
Barbara: Well, that is part of it, but I do think it's also some acquired wisdom that helps us see that it's not all that important.
Too often, I think we take our cues from the world, just the pressure of the world, to do the shopping and all of that stuff. Without thinking, we take our cues from the world. To not do that takes a concerted effort, to stop and say, "Okay, who am I listening to? Who should I be listening to? What do I want the holiday celebration (Thanksgiving, Christmas and others) to look like in my home?"—because I have control over that.
I don't have to do everything everybody else is doing. I don't have to have a gazillion parties and send gifts to everybody I know. We all spend a lot money on cards and postage for something that is going to go in the trash. When we stop and look at it that way, it's like, "Really? Why am I doing this, then?"
So it's good for us to pull back and look objectively and pause and ask, "Who am I listening to? Who am I getting my cues from? What is most important, and what does God want me to focus on?" That's the whole purpose for what we're talking about here. We're talking about making the holidays meaningful. When we say "making them meaningful," we're saying, making them spiritually meaningful.
It doesn't mean "meaningful" with Santa Claus and the elf on the shelf and secular things that are available, because those don't really bring meaning. What brings meaning is the story of Christ, because that's what Christmas is all about.
Nancy: And other-centeredness—with Christ-centeredness first. I'm thinking as we're talking, my dad has been gone for years. But I remember on Thanksgiving mornings (maybe Christmas, too; I'm not sure, but I know on Thanksgiving) he would make phone calls to some widows and would just let them know that we as a family were thinking about them, and he'd encourage them.
I don't do that every year, but I've picked that up and I try and make some calls the day before Thanksgiving to people who may have experienced a loss that year, or people who may be suffering, just to pray for them, to maybe read a Scripture to them. I don't spend hours doing that, but just to be in some way thinking of somebody other than myself on that holiday.
Do I remember you sharing something with me about how you handled Christmas gifts and giving with your kids? Didn't you do something special with that?
Barbara: Yes, we did. It was not something really fancy, but I knew as a child growing up my brothers and I would get the catalog that came in the mail—the Sears catalog, which was about three inches thick in those days. We would pore over that catalog as kids and look at all of the things that we wanted. 
Nancy: Of course, it's not just the Sears catalog, now, is it? There are a zillion other catalogs. 
Barbara: There isn't a Sears catalog anymore, but there are multiples in its place. We would focus for hours on what we wanted to get for Christmas. When I became a parent and I had my own kids, I thought, I don't want my kids spending hours thinking about what they want to get, thinking about, "What can Mom and Dad give me?" or "What can Santa Claus give me?" or whomever. I want them to think about giving, because the truth about Christmas is that it's a season of giving.
Nancy: "God so loved the world. . ." (John 3:16)
Barbara: I was just thinking of that verse. Exactly. It's not a verse we associate with Christmas, typically, but it is about Christmas. We celebrate Christmas because of the gift of Christ. We give gifts to one another to remember the gift of Christ. So in our family, Dennis and I made a conscious decision that we wanted to teach our children to focus on giving, not getting.
So for the whole month of December, as we helped them when they were little or even when they were teenagers, the focus was, "What are they going to buy for one another?" or "What are they going to get for their grandparents? Who did they want to give to who was a good friend at school." But, "What do you want to give? What do you want to say in that gift?"
The way it worked in our family on Christmas morning, instead of it being a free-for-all where everybody runs into the room, finds all the gifts with their name on them, tears into all the presents to find out "What I got"; we would come into the living room, and everyone would gather from under the tree the gifts that they purchased for everyone else.
So each of us, Dennis and me and our six children, would be sitting around the living room. Around our feet or next to us in a pile were the gifts that we bought for everyone else in the family. We would take turns, one by one. If I went first, I would give you my gift, and you would open my gift. Then it was your turn to give. You would look at your pile . . . Our kids would really get excited about this. They would look at their pile, and they knew what was in all those boxes. They were thinking, Do I want to give Benjamin his present, or do I want to give Ashley her present?
They would wrestle over that, and they would pick out the one to give that they couldn't wait to give. They would walk across the room to that sibling, and they would say, "This is what I got for you." And that sibling, that brother or sister, would open their gift. Then it was their turn to do the same. They would look at their pile; they would think through, What do I want to give? Who do I want to give to?
So our Christmas gift giving celebration often lasted until one o'clock in the afternoon, because we focused on the giver and on who that person wanted to give to. Those gifts were purchased or made with a lot of thought and a lot of intentionality for that person. When you have a free-for-all, all of that is lost; all the meaning goes out the window.
But when we focused on giving and the act of giving, the process of giving, then the focus became much more intentional. We were focusing on the relationship and the love that we have for each other. We often would stop at nine or ten o'clock in the morning and go have breakfast, and then come back and finish.
It made the day so much more meaningful for us as a family because we focused on the giving of gifts to one another rather than on what we were getting.
Nancy: I love that—just the shift in focus and shift in perspective. 
Barbara: It didn't cost any money; it didn't take a lot of effort. It just was being intentional, to help our children think about what Christmas was really about, as opposed to having a self-focus for the Christmas holiday.
Nancy: I love that. And how like God, whose focus was on giving to us the best gift that He had and could possibly give, which is Jesus. I know it's not even Thanksgiving yet—that's tomorrow, but our attention is turning quickly to what we can do and how we can be intentional about keeping a Christ-centered focus throughout this holiday season, making it a holy season, as we anticipate the advent, the coming of Jesus to this earth.
It's not too early to be thinking about this. As we've said, the world's been thinking about it all year long. For months they've had stuff up in the stores. This is the time when I start playing Christmas music in my home, and I surely wouldn't legislate this for anybody else, but for me personally, I want Christmas music that is Christ-centered.
I love the carols. I don't personally want to hear "Frosty the Snowman" or "Jingle Bells." I'm not saying there's anything wrong with those, but there are so many rich and beautiful carols of all different styles, so I have them on my iPhone and playing through speakers in my house almost continually for the next month. I'm just trying to focus my heart on who Christ is, to worship Him. That music is one way that I do that in my home.
Barbara: I agree.
Nancy: You've helped us to focus on the names of Jesus—seven names of Jesus that relate to His birth and to Christmas. I want to focus today on one particular name, the Prince of Peace. I love this name—I love them all—but the Prince of Peace. You think about peace—that's something that is in short supply in this world. We think of all the wars going on in the world and the conflicts. Our families need peace, our hearts need peace, and if there's any time of year we seem to be lacking peace, it might be in the busyness of this next month.
So what is knowing Jesus as the Prince of Peace? How does that bring us peace? Why is that a name we really want to focus on at this time of year?
Barbara: I think it's very interesting that when God foretold the birth of His Son, He listed four names in the book of Isaiah. One of them is Prince of Peace. I think of all the names that we know about Christ, this would be one of the four that He would choose to identify Him as, to let us know this is who is coming.
I think this is very significant, and I think it's because God knows how desperately we need peace. He knows far better than we do how broken we are, how desperate we are, how lonely we are, and how much we need His peace. So that is a title of Jesus. He came to earth to be our Prince of Peace.
It's not just we adults who need His peace, even our children need His peace. As a mom, I just hated it when my kids had difficult things in their lives, or when someone at school was mean, or something bad happened at school. 
I remember one of our daughters, any time she would catch the news (she was a particularly sensitive child) . . . Anytime she would see something about a car accident or a war or something on the news, she would start crying. That child, my daughter, needed to know the Prince of Peace. So it's wonderful for us during the Christmas season to be able to focus on these names of Jesus that were spoken of Him in the Luke 2 story about His birth and from Isaiah in the foretelling of His coming, because those names are very significant to us.
They help us know Him, and when we know Him, not only do we worship Him, but we can experience some of what He came to offer—by understanding what He offers us.
Nancy: We look for peace in so many other places—constantly.
Barbara: Oh, we do. We look for it in relationships. 
Nancy: We look for it in stuff and parties and food and shopping. The more we look for those inner needs of our souls to be satisfied in this world, the more distressed and dissatisfied we become. Part of the message of Christmas is that Christ came to redeem us from ourselves and this world and to give to us that deep sense of soul-rest and satisfaction and fullness that we can't find anywhere else.
So He's not just a nice option for our lives—He's the Prince of Peace. The supreme and only giver of true Peace.
Barbara: Exactly. I think even those who don't know Christ, long for the Prince of Peace at Christmas. Even at Christmas you can hear Christmas carols being played in stores that are not Christian stores and not Christian bookstores. I think it's because, intuitively, we all know we're broken; we all know we're lost. Millions of people would never admit it, but we long for the Prince of Peace because we know how desperate our need is. I think we feel it more acutely at Christmas, perhaps, than any other time of the year. We know that's what Christmas offers. We know that's why Christ came, but we're so unable to find it on our own.
When we learn about His name and we learn more about who He is and what He offers, we can learn more about how to experience that peace that only He can give us.
Nancy: I thought it was interesting about the Prince of Peace that you told that wonderful story about the background of the writing of the hymn, "It Is Well with My Soul." I know a lot of us have heard that story, but I never get tired of hearing it.
Barbara: I don't either.
Nancy: Just remind us how that hymn was written, and how it reminds us of how it points us to the Prince of Peace.
Barbara: I included that story in there for several reasons. One is because it is my favorite hymn of all times. It was my father's favorite hymn, too. He died two years ago, and we sang it at his memorial service. It's the kind of hymn—it's the words—that we all need to hear.
Nancy: "It Is Well with My Soul" starts out, "When peace like a river attendeth my way . . ."
Barbara: "When sorrows like sea billows roll . . ."
Nancy: And some of our listeners are experiencing, right now, those sorrows rolling like the waves of the sea. 
Barbara:  The background of this story I actually learned when I was homeschooling my children. We discovered this story, and it was very life-changing for me. The story is about a man named Horatio Spafford who was from Chicago. He and his wife and his daughters were making a trip to England. For some reason, at the last minute, he was not able to join them, so he sent them by ship (which was their means of transportation in those days) across the Atlantic (there were no planes).
So his wife and four daughters boarded the ship and went on ahead of him. He attended to some business details and then he was going to follow on the next ship. As they were nearing the coast of England, they encountered a bad storm and the ship broke apart and sank very, very quickly. His daughters drowned, and his wife was only saved as sort of a last-minute thing—it was obviously the sovereignty of God.
She managed to be on a plank of wood that supported her weight, and she was rescued. A telegram was sent back to him announcing that all of his daughters had perished in the sea, and she alone survived. So when he did get on that next ship and he crossed the Atlantic Ocean, when the ship got to that spot in the ocean where the other one had gone down, he stood on deck at the rail and he ended up writing the words to this song. It came to him.
To put yourself as a parent—as a mom or as a dad—in his shoes, and to think, What must that have felt like to be on the deck of that ship, to be looking in the water and to know that your four beautiful, beloved daughters were entombed there. What grief, what anguish, what sorrow! And as he wrote, "Sorrow like sea billows roll," he must have been overwhelmed.
And yet, he wrote these words, "When peace like a river attendeth my way . . ." That kind of peace can only come from the Prince of Peace. That kind of peace is not human. It's not natural; we can't work it up on our own. It is a gift that is only given by the grace of God from the Prince of Peace.
Nancy: To be able at a time like that to say, "It is well with my soul." That's astonishing!
Barbara: It is astonishing. So I've included that story because I think it speaks to all of us. I think that all of us know that peace is unobtainable by our own power. We try, as you said earlier, in lots of different ways. But ultimately we all know we can't find peace any other way.
So when we learn about Jesus as the Prince of Peace, and we remember that name in particular during Christmas season when life is so busy and so crazy and we're frazzled and we're stressed and we're tired, but we pull back and remember, "This is about Jesus. This is about the Prince of Peace, and He came to offer me this peace. I need to partake of His peace. I need to welcome that gift that He came to give me into my life. I can be peaceful in this season of Christmas if I will focus on Him and receive that peace that He alone can offer."
Nancy: Your family can have peace. That doesn't mean that everything will go well and there won't be any heartache or sorrow. This man, Horatio Spafford, had sorrow galore in his life.
Barbara: Absolutely! But he had peace. If he can have peace in the midst of losing his four children all at once, then I can have peace as well.
Nancy: But if we're not focusing on Christ, we're going to be subject to those storms, and those waves are going to take us under. I know during the holidays that they do take a lot of people under. There's a lot of sorrow, there are broken families, there are broken relationships, there are financial challenges and stresses and, in the best of circumstances, it's a stressful and busy time.
There are a lot of things you've got to go to and things you've got to do. My prayer for our listeners is that these next four weeks between now and Christmas Day will be joyful, they'll be faith filled, they'll be Christ-centered, and they'll be full of peace because our eyes are not on anything or anyone other than Jesus.
My prayer is that those who do have families—those who have children or grandchildren—will take advantage of this opportunity to point their families to Jesus. Fix our eyes on Jesus. Consider Him.
Thank you so much, Barbara, for helping us to get our hearts tuned and our eyes fixed on Jesus as we head into this holiday season. I know, Barbara, that your heart and mine for our listeners is that this will be a holy season, filled with the peace of Jesus Christ.
Barbara: I totally agree. That's the goal—that's why God wants us to celebrate these holidays—so that we will step out of our crazy lives and focus on Him.
Dannah: How will you fix your eyes on Jesus this holiday season? Barbara Rainey and Nancy DeMoss Wolgemuth have been giving us some inspiring and practical ways to remember our Prince of Peace even when times get crazy. If you missed any of their conversation over the last few days, you can find it all on the Revive Our Hearts app or on our website, ReviveOurHearts.com.
Also on our website, you'll see the 2022 Revive Our Hearts wall calendar I mentioned at the beginning of today's episode. This month, we'd love to send that to you when you give a gift of any amount to support this ministry. Visit ReviveOurHearts.com to give, or call us at 1–800–569–5959 and ask for the wall calendar.
Next week is Thanksgiving! I hope you're already thinking about what you're thankful for. Nancy's going to take us through Psalm 100 as she explains why God is so worthy of our praise.
Nancy: God is good, but I'm not. That's why I need a Savior. So the goodness of God brings us to thanksgiving; it brings us to praise; it brings us to repentance. We need a Savior and we have in Him a Savior.
Please be back for Revive Our Hearts.
Revive Our Hearts with Nancy DeMoss Wolgemuth is calling you to freedom, fullness, and fruitfulness in Christ. 
*Offers available only during the broadcast of the podcast season.
Support the Revive Our Hearts Podcast
Darkness. Fear. Uncertainty. Women around the world wake up hopeless every day. You can play a part in bringing them freedom, fullness, and fruitfulness instead. Your gift ensures that we can continue to spread gospel hope! Donate now.
Donate Now