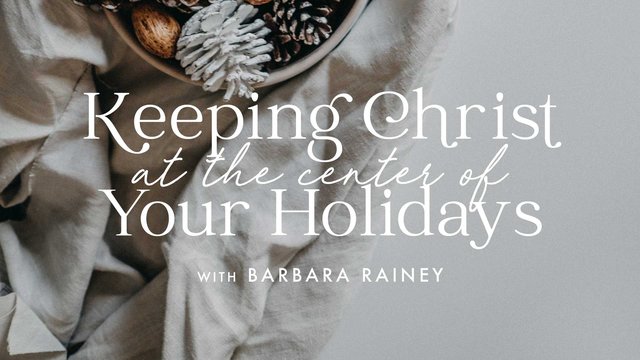 — Audio Player —
Focusing on Jesus This Christmas
Dannah Gresh: Even before Thanksgiving, doesn't it feel like the rush toward Christmas is upon us? How do you focus on what really matters this season? Well, here's what one Revive Our Hearts listener discovered.
Woman: Some of the things that I've found that quieted my Christmas is Christmas presents are bought throughout the year. When I see something that reminds me of my mom, or I think, Oh, that would be good for my mom, it might be February, but I'm buying it. I'm putting it in a little bin in my basement so that pretty much by the time Thanksgiving comes around, I'm done. I want to be done by Thanksgiving. I do give gifts, but they're bought throughout the year.
The other thing that quiets my heart is like on my calendar for tomorrow, it says, "No plans." There are no plans, and that is the plan. I just have to be intentional about when we do "nothing." But really what that time is it's a time for you to be together with your family. It's a time for you to have that quietness with the Lord in this season. So purposefully sprinkled throughout December is days for no plans, and those are sacred.
Dannah: This is the Revive Our Hearts podcast with Nancy DeMoss Wolgemuth, author of The Wonder of His Name, for November 18, 2021. I'm Dannah Gresh.
How do you prepare for the holidays? Is your heart quiet and calm, or do you find yourself in a frantic panic? We're about to hear some good advice on savoring the holidays and keeping Christ at the center of them.
Nancy speaks with Barbara Rainey in just a moment. 
But first, here's a quick reminder from Noël Piper on the importance of treasuring Christ in our traditions. Oh, this precious woman has inspired me in a very special way to keep Jesus as the centerpiece of this busy season! Noël is the the wife of longtime pastor and author, John Piper. She's the mom of their five children. She's written a number of books, and she has a passion for making holidays special as a family. Here's a portion of a message she delivered some years ago at the Gospel Coalition's National Women's Conference. Let's listen.
Noël Piper: I want you to think about what you're doing in your traditions. You might be doing really excellent things. You can have two people who are doing exactly the same thing in traditions—for Christmas, for Easter, for birthdays, whatever—and for one, it's pointing them toward Jesus and helping others to understand, and for the other it's just "what we always do every year."
So you could be doing something excellent, but if you're not thinking about where that activity is coming from, why you're doing that, how it expresses your love and appreciation for God, then it's empty in a way. No tradition is totally empty—I don't want to say that—because there are a lot of family-strengthening things that happen in traditions. But as far as helping a family see Jesus better, or helping you see Jesus better, I don't want our traditions to be empty. I want us to think about what we're doing. Realistically, in most homes it is you, the homemaker, who is determining what traditions are followed in a home.
Our oldest son is almost forty, but I can still hear in my heart and head his sing-song six-year-old voice reciting James 1:17: "Every good and perfect gift is from above, coming down from the Father of the heavenly lights, who does not change like shifting shadows." Every good gift, including traditions, comes down from our Father in heaven. He's the inventor of traditions and giver of traditions just like He's the inventor and giver of every good thing. Traditions help us remember what God has done for us. They help us to honor the Lord. Traditions are an occasion to acknowledge and give glory to God. 
We're going to follow on now to Leviticus 23, starting at verse 42, to get a couple more things. This is about the Festival of Booths. "Live in [booths] seven days. All the native-born Israelites are to live in booths so your descendants will know that I had the Israelites live in [booths] when I brought them out of [the land of] Egypt. I am the Lord your God" (vv. 42–43 NIV).
So your "descendants will know." Traditions are for the sake of the next generations. "I am the Lord your God." He's saying that to the people He's talking to here. He shows Himself to us while we are carrying out the traditions that are for the next generations. So, that means traditions are not just for the next generations—they're for us, too.
Dannah: A great reminder from Noël Piper, speaking some years ago at the Gospel Coalition's National Women's Conference. You can hear her entire message when you click on the link in the transcript of today's program. Her message is titled Treasuring Christ in Our Traditions.
Another friend of Revive Our Hearts who loves inspiring families to develop God-honoring traditions is Barbara Rainey. Here's Nancy, continuing in conversation with Barbara, talking about how we can keep Christ at the center of our holidays.
Nancy: Well, Thanksgiving is right upon us, and in the midst of whatever preparations you may be making for family events, for cooking, for traveling, for being with extended family, I hope you're, in the midst of all that, just focusing on how much you have to be grateful for. Of course, this needs to be a year-round exercise. There's no greater grace probably and evidence of Christ in us than to have thankful hearts. But this is a great time of year to stop and celebrate that we have so much for which to be thankful.
Our guest this week on Revive Our Hearts is my longtime and sweet friend, Barbara Rainey. She's been a guest on this program before. And Barbara, thank you so much for coming and talking with us about the whole area of holidays, how to make them meaningful, how to use them as a teaching opportunity for our children. You've done some great work on this, and it's great to be talking with you about it.
Barbara: Well thanks, I'm glad to be here. It's really fun.
Nancy: You have six children—they're now grown.
Barbara: They're all grown.
Nancy: Wow! I suppose it's hard to get them all together.
Barbara: It's very hard to get them all together, yes.
Nancy: But when you do . . . I've seen some of those Rainey pictures over the years, and it's been fun. I don't know how you fit them all in one picture now.
Barbara: It's a lot of Photoshopping!
Nancy: To get everybody in, but I've watched that family grow. I knew you first when most of your children were single—maybe all of them—and to see them marry and establish their own homes. That's got to be a great joy for you and Dennis. Although, as with all families, there are times of ups and downs and heartaches. We're all broken, dysfunctional people. Right?
Barbara: That's right. We are, and we are no less broken and dysfunctional than anybody else. We've got all kinds of challenges, and we have issues just like everyone else.
Nancy: And all very much in need of God's grace.
Barbara: Absolutely.
Nancy: You just consider holidays a very special thing. I love that, because holidays in Scripture were originally intended to be holy days.
Barbara: So, even though the Old Testament people didn't celebrate Thanksgiving, God made a big deal about us being thankful people and being grateful for what He has done.
Nancy: And He put certain dates on the calendar, the Jewish calendar, for the people to express their thankfulness to God.
Barbara: He did. That's right. I think that whole pattern that God initiated with His people of coming to Jerusalem three times a year, of having those feast days, feast seasons in their lives, He knows how easy it is for us to forget Him. He knows how prone we are to wander. And so He says, "Gather together. Come together, and remember Me. Think about Me."
Nancy: And they did it annually.
Barbara: That's right.
Nancy: Every year they had these festivals. They would make the trek. In fact, some of our psalms in the Old Testament were sung as the people would be walking to Jerusalem to celebrate these festivals.
Barbara: Yes, walking back. That's right.
Nancy: So it was a pause from your normal work routine; stop and think about your redemptive history, about who God is, about what He has done in your life. And they did it as families. They did it as community. And you've said, this is something that shouldn't just be for the Old Testament.
Barbara: No.
Nancy: This is for New Testament believers, too.
Barbara: Right. I think many of our holidays mirror that—especially Easter—because Easter is the New Testament holiday that sprung from Passover. Easter occurred simultaneously with the Passover the year Jesus was crucified.
Even Christmas somewhat parallels the festival of lights, which wasn't one of the original festivals that God initiated in the Old Testament, but it is and was celebrated for many, many centuries by the Jewish people.
Our holidays have a reflection back to what God initiated in the Old Testament. So when we take time to celebrate the birth of Christ at Christmas, when we take time to celebrate His resurrection at Easter, we are mimicking, we're continuing the traditions that God established in the Old Testament.
Those holidays help us remember who God is and what He has done and the privilege of belonging to Him, the absolute, amazing truth that Jesus came to earth at Christmas—He didn't have to do that, but He did—and that He came to earth in order to die.
When we get our families together, around those two holidays in particular, and we talk about what Jesus did, it's a great opportunity to teach them. It's a great opportunity to remind them and ourselves of how great our redemption is, how great our salvation is and that adds so much meaning. It adds so much depth to your family when you can center your holiday around the true meaning behind it.
Nancy: And it's a really important rhythm.
We have weekly rhythms. We have the Lord's Day—in the Old Testament, they had the Sabbath—they would celebrate weekly to remember God, to rest in Him, to worship Him, to recreate.
But then there were monthly holidays. There were holy days. There were annual ones. We need those rhythms where we stop, we reflect, and we tether our hearts to our past heritage in Christ, and even the roots that go back before Christ appeared on the earth, and then to our future, ultimate celebration in Christ's presence forever. So there's this whole continuum. We join with saints and citizens here on earth through all history, and then in heaven above, as they worship the King.
It really ties us to the people of God, to our past, our present, and our future, which is—we're not of this earth. We're not of this kingdom.
Barbara: Yes. That's right.
Nancy: We celebrate the kingdom of Christ and the redemptive story. So these annual holidays that can make so many of us beleaguered and exhausted (laughing) from doing it the world's way, you've really challenged us to redeem those and make them spiritually significant.
Barbara: That's right.
Nancy: Many of the holidays in our calendar have their foundations in the Christian faith. But it seems like they've become pretty secular and just time for shopping and just a day off of school, and just not so meaningful anymore.
Barbara: Yes. They have become very secular. I love that God did that for us, that He instituted for His people, the nation of Israel, before Christ came, all of these feasts and all of these celebrations. It just reminds me that God knows how prone we are to wander and that we need those moments in the calendar year, year after year after year, where we can pull away from our daily activity, and we can stop, and we can rest, and we can focus on Him, and we can be reminded of who He is and what He has done for us.
Most of us don't celebrate the Jewish feasts and the Jewish calendar, but in our lives we celebrate Christmas and Easter and Thanksgiving and those come around every year. Year after year they always show up. I think it's a prime opportunity for moms and dads to impart spiritual truth to their kids because, as you've said, these holidays are all rooted in biblical truth and biblical history.
The reason we celebrate Christmas is because of the incarnation of Christ. It's not because of Santa Claus. It's not because of all of these other things. It still surprises me that we can hear Christian hymns that talk about Jesus in stores at Christmas time.
Nancy: At least for a while longer.
Barbara: I know. I'm amazed that every year it hasn't been stopped. But what it tells me is that people are receptive to hearing about Jesus at Christmas. We know that's what this is all about. Everybody knows what it's all about. And yet we don't know how to get in touch with that truth. We don't know how to take that generic, general knowledge that Christmas is about Jesus and really make it about Jesus in our homes.
My dream is that one day in Christian homes all over the country, and I pray all around the world, people who put up Christmas trees that their trees will proclaim who Christ is and why we celebrate Christmas. My dream is the trees won't be covered with footballs and ballerinas and cupcakes and a gazillion trivial things that have absolutely nothing to do with the reason why we celebrate Christmas.
Nancy: And, by the way, even if you don't put up a Christmas tree . . . I know that we think everybody does, but some years I actually don't.
Barbara: That's right. I don't do much of one anymore. In fact, last year I put up this really cool urn. It's full of branches that I painted white, and that's where I hung all my ornaments. So it's not really a tree in the true sense of a green evergreen. But I really like it better because it shows off the ornaments. And, of course, I had mine covered with the names of Christ. I just loved it.
Nancy: I love having in my home year-round things on the walls in terms of décor that point my own heart and guests who come into my home to Christ, to Scripture. I just think there's something encouraging, there's exhortation, there's a focus on Christ.
Barbara: I agree.
Nancy: We're supposed to consider Christ. We're supposed to fix our eyes on Christ. To be able to walk into a home and see on the walls and on the shelves and on the countertops reminders of Scripture and who Christ is, it's a way of keeping Christ central and God's Word central in our hearts.
Barbara: When we think about Christmas, one of the phrases on one of our favorite carols that we all sing every year says, "Oh come let us adore Him."
The purpose of Christmas and celebrating it is that we would adore Him, that we would adore Christ, the newborn King. And yet the way we celebrate Christmas practically is there is very little that helps us focus on adoring Him.
Nancy: I'm thinking about Luke chapter 2, early in the Christmas story, when Jesus had just been born and the shepherds had come to see Him, they had come to worship Him. Then it says, and you're familiar with this verse, but Luke 2, verse 19 says, "Mary treasured up all these things, pondering them in her heart."
I think one of the things we don't do a lot of in the holiday season is to treasure the things we've that seen and heard, the things we know about Christ, and to ponder them in our heart, and to do that as a family. For a lot of families, every time of the year is busy, but if there's a busiest or busier time of the year, I think it's around the holidays. There's so many things that seem to get added into the schedule. I hear families and people without families—singles, empty nesters—pulling their hair out. They are asking, "How can we not have so much chaos and craziness at this season?"
You can get your tree up. You can get it decorated. But you can end up so frazzled and frenzied that everybody's kind of dreading it and thinking, Thank the Lord next Christmas is eleven months away!
Barbara: Exactly.
Nancy: We don't want people to end up that way.
Now, I know it's still November, and people are saying, "But you're talking about Christmas now, and we haven't even had Thanksgiving yet!" Well, the world's been talking about Christmas for a long time.
Barbara: That's right—for months.
It's such an interesting story, and we all know it so well. But when we pull back, and we look at the wonder of how the name Jesus was given . . . It was the angel Gabriel who announced what His name would be.
I just think it's stunning. It's just amazing to pull back and think what must that have been like for Mary and for Joseph to have had a visit from the angel, and then he tells them what the name of this child would be. 
Nancy: And how it ties back to the Old Testament name Joshua.
Barbara: That's right.
Nancy: Who was an Old Testament deliverer and military leader, and how Jesus would come and deliver His people. Save them from the enemy of sin and Satan.
Barbara: That's right, exactly.
Nancy: It ties together the Scripture in a beautiful way, to step back and look at the meaning of that name.
Barbara: Yes. I think what's important is that we communicate this truth to our children. It's one of the first names that children learn—Jesus—they know how to say it from the time they're toddlers. But as they get older, they don't know what it means.
Nancy: Sometimes adults don't know what it means, either!
Barbara: Oh, I know—adults don't know what it means either. In fact, I learned a lot, obviously, by working on this series and doing research on what each of the names mean. But as you hang the name of Jesus on the tree, and as you read the story about that name, it just leads us to worship because it reminds us of the truth of who He is and why God sent Him and why we need Him.
That's what Christmas should be about. It should be about adoring Him and worshiping Him because He was willing to come and be born as a baby. It's such a stunning, overwhelming, amazing, incomprehensible thing that He did for us that He would come. So by focusing on His names, each of the names, it leads us to worship, which will make the Christmas season much more meaningful.
Nancy: I've watched some of my friends who have small children. If the parents have been praying and teaching their children the ways of God, some of those children's hearts are so tender, to sensitive, so receptive.
I have a little six-year-old friend who stopped me in the driveway the other day and said, "Miss Nancy, would you pray for me about . . ." Then she starts telling me she's afraid of something that's coming up. We stopped right there in the driveway and prayed. She came up to me again just a few days ago—same child—and said, "Oh, Miss Nancy, I prayed the other night, and I asked Jesus to forgive me for my sins and to help me love my little sister."
I'm looking at this child and saying, "The Spirit of God is working in her heart." What a tender, sensitive time before the kids are disinterested and wanting to get out of church, but to just capitalize on the wonder those little ones have.
By the way, maybe you're a grandmom. Maybe your children are not raising their children in the faith, but you have opportunities during the holiday season to be with those little ones. Maybe you're a single mom or a big sister friend to somebody else's children. There are lots of ways that we can be speaking into the lives of these little ones. Then we are reminding our own hearts about who Jesus is and why He came and the wonder of it all and looking at these names with fresh eyes. I just think that rekindles that wonder.
We want to be putting things around us and in our homes, just visual reminders of who Jesus is, why He came, His redeeming work, His love for us. So these different names, He shall be called Savior, Christ the Lord, Emmanuel, Wonderful Counselor, Mighty God, and Prince of Peace.
Dannah: Nancy DeMoss Wolgemuth and Barbara Rainey have been talking about how to intentionally focus on Jesus this Christmas. They shared about the importance of speaking into the lives of others, particularly our families, our children. How you communicate the truth of God to your children is so important. We recently heard from a twenty-seven-year-old listener named Rebecca. She grew up in a Christian home, and her mom listened to Revive Our Hearts for as long as Rebecca could remember. That had a profound impact on her.
Rebecca: I have this picture in my mind of sitting in the living room, while my mom was in the kitchen making bread, listening to Revive Our Hearts.Then there were times where the days were crazy, and my mom would say, "I'm going to listen to my radio series,;you are going to have to leave me alone." And she would go into a room and lock her door, and she would take that time to listen to Revive Our Hearts, because it was just life for her soul.
Dannah: Rebecca saw her mom prioritizing listening to God's Word being taught through Revive Our Hearts, and she began listening as well.
Rebecca: I grew up learning how to play the piano. But I think one of the first songs I ever learned to play was "Come Thou Fount," and it was just like with one finger. But I learned the tone, because I always heard my mom listening to Revive Our Hearts every day. She would listen to it while she worked in the kitchen making food for our family of eleven. So, I just thought that was cool. That it left such an impression on me, even as a child, that'd be one of the first songs that I ever learned to play piano.
And I have found now that I'm a mom of two young little girls that I also find Revive Our Hearts to be refreshing, rejuvenating, and my first go to when I have a quiet moment where I'm folding the laundry or doing the dishes. It's so nice to have a place that is truth and encouraging, and, just really life for my soul. So I really love the ministry of Revive Our Hearts and the testimony of Nancy DeMoss. I feel like we're friends, even though she's never met me. You've touched my mom's life, my sisters' lives, my life, and hopefully soon, my daughters' lives through your ministry and what you've done over the years. I really appreciate it. Thank you.
Dannah: What a beautiful picture of what we read in Psalm 78, about older generations passing on God's truth to their children and grandchildren. We're only able to minister to people like Rebecca and her mother through the support of generous listeners, like you. When you support the ministry of Revive Our Hearts, you're making it possible for women around the globe to experience the freedom, fullness, and fruitfulness of Christ.
By the way, when you donate any amount this month, you'll receive the 2022 Revive Our Hearts Wall Calendar. Each month of this beautiful calendar contains Scripture and encouraging quotes from Nancy. Each designed to keep you grounded in Christ and His Word. Like Nancy talked about today, we need reminders all around us of who Jesus is. This calendar is something you can put up in your home as a visual reminder to keep your focus on Christ.
Request your calendar today when you give at ReviveOurHearts.com, or call us at 1–800–569–5959.
Barbara will be back with us again tomorrow here on Revive Our Hearts. We're going to talk about the significance of the name, the Prince of Peace, and why we need Him and how He brings us peace that we can't get from any other source. Thank you for being with us today, and I hope you'll join us tomorrow on Revive Our Hearts.
Revive Our Hearts with Nancy DeMoss Wolgemuth invites you to experience freedom, fullness, and fruitfulness in Christ.  
*Offers available only during the broadcast of the podcast season.
Support the Revive Our Hearts Podcast
Darkness. Fear. Uncertainty. Women around the world wake up hopeless every day. You can play a part in bringing them freedom, fullness, and fruitfulness instead. Your gift ensures that we can continue to spread gospel hope! Donate now.
Donate Now