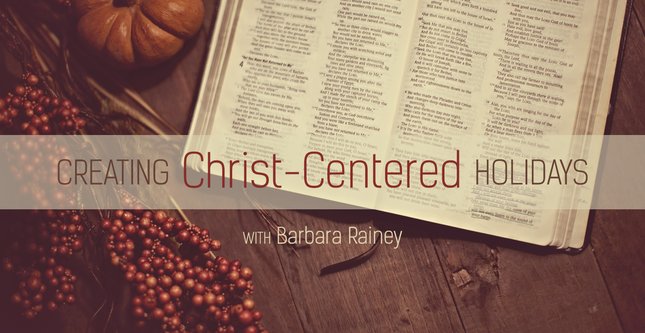 Focusing on Jesus this Christmas
*Offers available only during the broadcast of the podcast season.
Leslie Basham: Even before Thanksgiving, doesn't it feel like the rush toward Christmas is upon us? How do you focus on what really matters this season? Well, here's what one Revive Our Hearts listener discovered:
Woman: Some of the things that I've found that quieted my Christmas is Christmas presents are bought throughout the year. When I see something that reminds me of my mom, or I think, Oh, that would be good for my mom, it might be February, but I'm buying it. I'm putting it in a little bin in my basement so that pretty much by the time Thanksgiving comes around, I'm done. I want to be done by Thanksgiving. I do give gifts, but they're bought throughout the year.
The other thing that quiets my heart is like on my calendar for tomorrow, it says, "No plans." There are no plans, and that is the plan. I just have to be intentional about when we do "nothing." But really what that time is it's a time for you to be together with your family. It's a time for you to have that quietness with the Lord in this season. So purposefully sprinkled throughout December is days for no plans, and those are sacred.
Leslie: This is Revive Our Hearts with Nancy Leigh DeMoss for Tuesday, November 26.
We're about to hear some good advice on making the holidays more meaningful.
First, let me remind you to be praying for Revive Our Hearts. The next month is so important to the kind of ministry we're able to take on in 2014. Almost half of the donations we rely on for the year arrive in December. We're asking the Lord to meet our needs and give Revive Our Hearts listeners the joy of giving to the ministry.
Would you pray that He'll provide everything we need to continue calling women to freedom, fullness, and fruitfulness in Christ? For details on our financial needs, visit ReviveOurHearts.com.
Here's Nancy.
Nancy Leigh DeMoss: Well, Thanksgiving is right upon us, and in the midst of whatever preparations you may be making for family events, for cooking, for traveling, for being with extended family, I hope you're, in the midst of all that, just focusing on how much you have to be grateful for. Of course, this needs to be a year-round exercise. There's no greater grace probably and evidence of Christ in us than to have thankful hearts. But this is a great time of year to stop and celebrate that we have so much for which to be thankful.
Our guest this week on Revive Our Hearts is my longtime and sweet friend, Barbara Rainey. She's been a guest on this program before. And Barbara, thank you so much for coming and talking with us about the whole area of holidays, how to make them meaningful, how to use them as a teaching opportunity for our children. You've done some great work on this, and it's great to be talking with you about it.
Barbara Rainey: Well thanks, I'm glad to be here. It's really fun.
Nancy: Barbara is the wife of Dennis Rainey, and many of you listen to FamilyLife Today on this or another radio station or on the Internet. It's a ministry that God's used in a significant way—is using—to build strong families. Barbara and Dennis co-founded that ministry . . . how many years ago now?
Barbara: A long time.
Nancy: More than twenty-five, I know that.
Barbara: Yes, more than twenty-five.
Nancy: You had little children then. You have six children—they're now grown.
Barbara: They're all grown.
Nancy: And did you tell me nineteen grandchildren?
Barbara: I did, and one more on the way.
Nancy: So what's the age range of those grandchildren?
Barbara: The oldest turned fourteen this summer, and then most of them are ten and under. So that would be seventeen are ten and under.
Nancy: Wow! I suppose it's hard to get them all together.
Barbara: It's very hard to get them all together, yes.
Nancy: But when you do . . . I've seen some of those Rainey pictures over the years, and it's been fun. I don't know how you fit them all in one picture now.
Barbara: It's a lot of Photoshopping!
Nancy: To get everybody in, but I've watched that family grow. I knew you first when most of your children were single—maybe all of them—and to see them marry and establish their own homes. That's got to be a great joy for you and Dennis. Although, as with all families, there are times of ups and downs and heartaches. We're all broken, dysfunctional people. Right?
Barbara: That's right. We are, and we are no less broken and dysfunctional than anybody else. We've got all kinds of challenges, and we have issues just like everyone else.
Nancy: And all very much in need of God's grace.
Barbara: Absolutely.
Nancy: That's the message you and Dennis and your wonderful staff there at FamilyLife are proclaiming day after day. So thank you for your ministry. For those who don't know, it was some of the staff there at FamilyLife who had the vision to start what became Revive Our Hearts. So the ministry you and your husband founded is kind of the parent to Revive Our Hearts, and we've had a close and sweet relationship over those years.
Barbara: Yes, we have.
Nancy: I'm very thankful to be spreading the message now, too.
Barbara: Yes. It's been a privilege to partner.
Nancy: You just consider holidays a very special thing. I love that, because holidays in Scripture were originally intended to be holy days.
Barbara: That's right.
Nancy: These were annual times of celebrating, whether it was the Passover or the ingathering of the harvest or different moments and days in the calendar and the rhythm of the people of God. They would stop. Some days were fast days, some days were feast days. But they would stop and recount what God had done and remember and focus and put aside their ordinary work.
Barbara: That's right.
Nancy: Many of the holidays in our calendar have their foundations in the Christian faith. But it seems like they've become pretty secular and just time for shopping and just a day off of school, and just not so meaningful anymore.
Barbara: Yes. They have become very secular. I love that God did that for us, that He instituted for His people, the nation of Israel, before Christ came, all of these feasts and all of these celebrations. It just reminds me that God knows how prone we are to wander and that we need those moments in the calendar year, year after year after year, where we can pull away from our daily activity, and we can stop, and we can rest, and we can focus on Him, and we can be reminded of who He is and what He has done for us.
Most of us don't celebrate the Jewish feasts and the Jewish calendar, but in our lives we celebrate Christmas and Easter and Thanksgiving and those come around every year. Year after year they always show up. I think it's a prime opportunity for moms and dads to impart spiritual truth to their kids because, as you've said, these holidays are all rooted in biblical truth and biblical history.
The reason we celebrate Christmas is because of the incarnation of Christ. It's not because of Santa Claus. It's not because of all of these other things. It still surprises me that we can hear Christmas hymns that talk about Jesus in stores at Christmas time.
Nancy: At least for a while longer.
Barbara: I know. I'm amazed that every year it hasn't been stopped. But what it tells me is that people are receptive to hearing about Jesus at Christmas. We know that's what this is all about. Everybody knows what it's all about. And yet we don't know how to get in touch with that truth. We don't know how to take that generic, general knowledge that Christmas is about Jesus and really make it about Jesus in our homes.
So in my empty-nest years, I've started creating products and resources primarily for women, because women are the ones who buy the decorations. We're the ones who put up the tree. We're the ones that say, "Yes, we're going to do this." These products and resources are not female exclusive. They're significant enough that I think men are going to be able to get just as engaged as the women.
So what these are designed to do, and what we're talking about today are these ornaments that we've created that can go on your Christmas tree. They're the names of Christ. My dream is that one day in Christian homes all over the country, and I pray all around the world, people who put up Christmas trees that their trees will proclaim who Christ is and why we celebrate Christmas. My dream is the trees won't be covered with footballs and ballerinas and cupcakes and a gazillion trivial things that have absolutely nothing to do with the reason why we celebrate Christmas.
Last year we introduced the first set of names of Christ as a set of Christmas ornaments. This year, 2013, we're introducing set two, which is another set of seven of His names. I'm hopeful that, God willing, we will be able to have six or seven different sets of the names of Christ so that truly our Christmas trees would do as we're instructed in Deuteronomy: that our homes, our gates, our doorposts, and in fact, our Christmas trees, would proclaim the truth of Christ.
Nancy: And, by the way, even if you don't put up a Christmas tree . . . I know that we think everybody does, but some years I actually don't.
Barbara: That's right. I don't do much of one anymore. In fact, last year I put up this really cool urn. It's full of branches that I painted white, and that's where I hung all my ornaments. So it's not really a tree in the true sense of a green evergreen. But I really like it better because it shows off the ornaments. And, of course, I had mine covered with the names of Christ. I just loved it.
Nancy: I love having in my home year-round things on the walls in terms of décor that point my own heart and guests who come into my home to Christ, to Scripture.
Barbara: I do, too, Nancy.
Nancy: I just think there's something encouraging, there's exhortation, there's a focus on Christ.
Barbara: I agree.
Nancy: We're supposed to consider Christ. We're supposed to fix our eyes on Christ. To be able to walk into a home and see on the walls and on the shelves and on the countertops reminders of Scripture and who Christ is, it's a way of keeping Christ central and God's Word central in our hearts.
So these names of Christ, they're not just exclusive to the Christmas season.
Barbara: Oh, absolutely.
Nancy: In fact, this year we've been focusing a lot on the names of Jesus here at Revive Our Hearts. Many of our listeners remember that last spring we took a Revive Tour in eight cities around the United States. We recorded with a live audience some radio programs that we'll be airing this coming spring during the Lenten season. We've called the series "The Wonder of His Name."
It's thirty-two names of Jesus, one program on each of those thirty-two names. So that will be airing starting this March; you can look forward to that. I'm very excited about this series.
Then, as you've heard over the last couple of months, we've produced, with the help of artist Timothy Botts, a beautiful calendar, wall calendar, called "The Wonder of His Name." You just got to see it, Barbara.
Barbara: I did.
Nancy: And you're an artist, so you really appreciated that artwork.
Barbara: I do, and it's beautiful.
Nancy: It's still available. Contact our ministry if you haven't gotten a copy of that calendar yet. We'll be glad to send that to you for a donation of any amount.
So we've been doing a lot of focusing on the names of Jesus, and that brings me back to these ornaments, which you've called "adorenaments." For those who didn't hear us yesterday, just explain again the significance of that name, "adorenaments."
Barbara: When we think about Christmas, one of the phrases on one of our favorite carols that we all sing every year says, "Oh come let us adore Him."
The purpose of Christmas and celebrating it is that we would adore Him, that we would adore Christ, the newborn King. And yet the way we celebrate Christmas practically is there is very little that helps us focus on adoring Him.
So we've created these ornaments, and we've called the ornaments "adorenaments" because they are ornaments that should lead us to adore Him. With the ornaments comes a booklet that talks about what each of the seven names means.
It's designed to be read aloud. You can hang one each day on your tree or display one each day in a frame. I have two of them framed in my house that I framed at Christmas last year, and they've been up since Christmas. I love having them where I can see the names of Christ in my house.
But back to the booklet, it gives you an opportunity as a parent, if you still have children at home, to read the stories about each of these seven names to your children so that they understand why Jesus was called "Wonderful Counselor," why He was called "Mighty God," why He's called "Christ the Lord." What does that mean and what should that mean to us? What should that mean to me as a believer? And what do I need to do in response to that name?
So not only are they meant to cause your heart to worship, but they're meant to teach your children, to pass on truth to the next generation as we're instructed to do in Deuteronomy, to teach these truths to your children.
Nancy: I'm thinking about Luke chapter 2, early in the Christmas story, when Jesus had just been born and the shepherds had come to see Him, they had come to worship Him. Then it says, and you're familiar with this verse, but Luke 2, verse 19 says, "Mary treasured up all these things, pondering them in her heart."
I think one of the things we don't do a lot of in the holiday season is to treasure the things we've that seen and heard, the things we know about Christ, and to ponder them in our heart, and to do that as a family. For a lot of families, every time of the year is busy, but if there's a busiest or busier time of the year, I think it's around the holidays. There's so many things that seem to get added into the schedule. I hear families and people without families—singles, empty nesters—pulling their hair out. They are asking, "How can we not have so much chaos and craziness at this season?"
These adorenaments, with the materials that go with them, I think, are one way of stopping and pondering the wonder of His name and stopping and adoring Christ for who He is.
Barbara: That's right.
Nancy: You can get your tree up. You can get it decorated. But you can end up so frazzled and frenzied that everybody's kind of dreading it and thinking, Thank the Lord next Christmas is eleven months away!
Barbara: Exactly.
Nancy: We don't want people to end up that way.
Barbara: No, no, we don't.
Nancy: Now, I know it's still November, and people are saying, "But you're talking about Christmas now, and we haven't even had Thanksgiving yet!" Well, the world's been talking about Christmas for a long time.
Barbara: That's right—for months.
Nancy: So we need to start preparing. I think many of our listeners would like to get these ornaments in their home, would like to be preparing, thinking, How can you have this resource so you can be ready when Christmas comes around, to be training your children, pondering these things, putting these ornaments in your home.
We're going to talk about what some of those names are today and tomorrow, but let me just say, this entire set of adornaments is available for purchase. If you go to ReviveOurHearts.com, there's a link that will take you to where you can purchase the entire set and other resources that Barbara has developed for helping to make various holidays meaningful.
But there's one of these ornaments that we're offering to any of our listeners who make a donation of any amount to the ministry of Revive our Hearts, and we'll send this to you as our way of saying, "Thank you for supporting this ministry." It's the ornament, and I have it right in front of me, it says, "Prince of Peace."
We're going to talk a little bit more about that particular one this week, but it's beautiful. It's a beautiful gold, glittery. It's got a pretty ribbon that you can use to hang it on a tree or in a special place in your house, and it comes with a reading, and we'll talk about that in just a moment. But we'll be glad to send that ornament with the companion material to you as our way of saying, "Thank you for making a gift to Revive Our Hearts."
You can give us a call, if you want to make that donation by phone, at 1–800–569–5959, or you can visit us online at ReviveOurHearts.com and let us know you'd like to make a gift and that you'd like the Prince of Peace ornament. That's our way of saying, "Thank you."
Now let's talk about what some of these names are. There's seven in this set, and they're some of the names of Jesus that particularly relate to the Christmas season and His birth. And you start with . . .
Barbara: The name Jesus. It's such an interesting story, and we all know it so well. But when we pull back, and we look at the wonder of how the name Jesus was given . . . It was the angel Gabriel who announced what His name would be.
I just think it's stunning. It's just amazing to pull back and think what must that have been like for Mary and for Joseph to have had a visit from the angel, and then he tells them what the name of this child would be. And so in the booklet, I've written about what the name Jesus means and why that has significance.
Nancy: And how it ties back to the Old Testament name Joshua.
Barbara: That's right.
Nancy: Who was an Old Testament deliverer and military leader, and how Jesus would come and deliver His people
Barbara: That's right.
Nancy: Save them from the enemy of sin and Satan.
Barbara: That's right, exactly.
Nancy: It ties together the Scripture in a beautiful way, to step back and look at the meaning of that name.
Barbara: Yes. I think what's important is that we communicate this truth to our children. It's one of the first names that children learn—Jesus—they know how to say it from the time they're toddlers. But as they get older, they don't know what it means.
Nancy: Sometimes adults don't know what it means, either!
Barbara: Oh, I know—adults don't know what it means either. In fact, I learned a lot, obviously, by working on this series and doing research on what each of the names mean. But as you hang the name of Jesus on the tree, and as you read the story about that name, it just leads us to worship. This is not because of what is written in the booklet is so good, but because it reminds us of the truth of who He is and why God sent Him and why we need Him.
That's what Christmas should be about. It should be about adoring Him and worshiping Him because He was willing to come and be born as a baby. It's such a stunning, overwhelming, amazing, incomprehensible thing that He did for us that He would come. So by focusing on His names, each of the names, it leads us to worship, which will make the Christmas season much more meaningful.
Nancy: I've watched some of my friends who have small children. If the parents have been praying and teaching their children the ways of God, some of those children's hearts are so tender, to sensitive, so receptive.
I have a little six-year-old friend who stopped me in the driveway the other day and said, "Miss Nancy, would you pray for me about . . ." Then she starts telling me she's afraid of something that's coming up. We stopped right there in the driveway and prayed. She came up to me again just a few days ago—same child—and said, "Oh, Miss Nancy, I prayed the other night, and I asked Jesus to forgive me for my sins and to help me love my little sister."
I'm looking at this child and saying, "The Spirit of God is working in her heart." What a tender, sensitive time before the kids are disinterested and wanting to get out of church, but to just capitalize on the wonder those little ones have.
By the way, maybe you're a grandmom. Maybe your children are not raising their children in the faith, but you have opportunities during the holiday season to be with those little ones. Maybe you're a single mom or a big sister friend to somebody else's children. There are lots of ways that we can be speaking into the lives of these little ones. Then we are reminding our own hearts about who Jesus is and why He came and the wonder of it all and looking at these names with fresh eyes. I just think that rekindles that wonder.
Barbara: It does. One of my favorite stories from last year is that we gave several sets of these ornaments to an inner-city church in the Little Rock area. They used the booklet to teach the children who came to that church about the names of Jesus. Then they gave each child one of those names as a Christmas gift. The woman who runs the program said, "You should have seen the eyes of these little children. They got big as saucers."
It was so much better to give those little kids an ornament that was their very own, that they could take home, and they could keep forever and ever rather than giving them some little trinket toy or a bag full of candy. Instead, this inner-city ministry read the stories of the names of Jesus and then gave each child an ornament. I just love that because that's what Christmas is all about.
My guess is that those children will treasure those for years to come. I know I would have because when I was a child, I remember being so receptive to anything about Jesus in my little Sunday School class. If someone had given me an ornament with a name of Christ, I probably would still have it because I have some of those little things that were passed out in Sunday School when I was a kid.
So there are lots of ways that these adornaments can be used outside of just your own family.
Nancy: And outside of the Christmas season as well.
Barbara: Exactly.
Nancy: Potentially, year round. We want to be putting things around us and in our homes, just visual reminders of who Jesus is, why He came, His redeeming work, His love for us. So these different names, these adornaments, we talked about Jesus, and we'll talk about a couple more tomorrow, but He shall be called Savior, Christ the Lord, Emmanuel, Wonderful Counselor, Mighty God, and Prince of Peace.
Of course, those last ones are the names found in Isaiah—700 years before Jesus was born. God named His Son, told us what His names would be. Each one of those names tells us something wonderful and special about Him.
That last one, the Prince of Peace, as we've been saying, is an ornament that we would be glad to send any of our listeners. It will also come with the little story that goes with it. It's good for adults to read. It's good for children to read. We'll give some background. We'll read part of that story tomorrow, so be sure and join us for Revive Our Hearts. But when you make a donation of any amount to Revive Our Hearts this week, we'll send you that ornament and the story that goes with it—the Prince of Peace.
Be sure and ask for that when you give us a call at 1–800–569–5959, or you can visit us online and let us know you'd like to make a gift to this ministry there at ReviveOurHearts.com, and we'll send that to you. If you want the entire set of adornaments, go online and there's a link there. You can purchase the entire set. There are other resources available that will help you make holidays a holy day for you and your family. I hope that this Thanksgiving week that you're thinking ahead, and you'll take advantage of this opportunity to get these very special resources.
Well, we have run out of time for today, but Barbara will be back with us again tomorrow here on Revive Our Hearts. We're going to talk about the significance of that name, the Prince of Peace and why we need Him and how He brings us peace that we can't get from any other source. Thank you for being with us today, and I hope you'll join us tomorrow on Revive Our Hearts.
Revive Our Hearts with Nancy Leigh DeMoss is an outreach of Life Action Ministries.