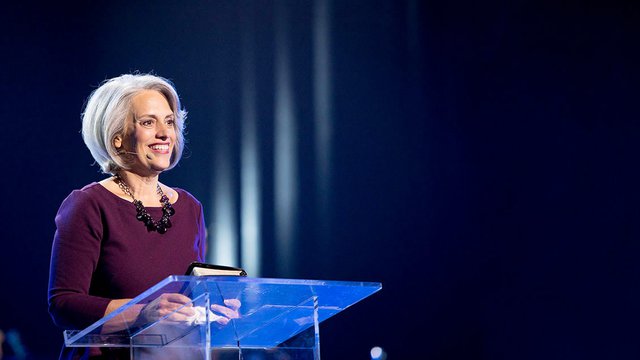 — Audio Player —
Saturating Your Heart in God's Word
Leslie Basham: Nancy Leigh DeMoss offers a prayer from Psalm 90, the perfect way to start a new year.
Nancy Leigh DeMoss: "Establish the work of our hands upon us; yes, establish the work of our hands!"
Music:
 I will abide in the law of the Lord; 
I will meditate day and night.
Then like a tree firmly planted,
I'll be grounded in Your Word.
Leslie:  This is Revive Our Hearts with Nancy Leigh DeMoss for Monday, January 2.
Blessed is the one who follows the way of the Lord.
Blessed is the one.
Nancy: Well, happy New Year! I hope that you had a blessed and worshipful weekend and that you are expecting great things from the Lord in 2012.
We have a special program to bring to you today, but before we get into that, I want to take a moment to say how thankful I am for everyone who gave toward a $600,000 matching challenge that we had at the end of the year.
Our office is closed today in celebration of the New Year, so we don't have a total tallied up yet, but even as we're doing that, I'm so grateful for all who have given to help make this ministry possible.
I know some of you have been wondering and asking how the challenge went. So, to get the most up-to-date information, visit us at ReviveOurHearts.com.
Now this year, one theme that you're going to hear a lot about on Revive Our Hearts is the importance of God's Word. In recent days, as I have been seeking the Lord about what themes we should emphasize during this coming year, the thing that has been on my heart over and over again is the need for all of us to get into God's Word and get God's Word into us.
So many times as I talk with people who are in crisis situations or read emails that come in from listeners who are facing major struggles, I realize that people need mega doses of God's Word to renew their minds and their hearts and transform their lives.
So it's been on my heart to offer our listeners a challenge here at the start of the year to commit to read God's Word every day for the rest of 2012. We're calling it simply "The Daily Bible Reading Challenge."
Now, we're not saying how much or what you should read or that you have to do it at the crack of dawn, but I'm appealing to you to take this simple challenge not to let a day go by this year without spending some time in God's Word.
We'll be reminding you of this challenge from time to time throughout the course of the year, but as we begin this emphasis here on the first week day of the new year, rather than asking you to listen to me teach about the Word of God, I want to take the full program today to encourage you to just listen to the Word itself.
We're going to be hearing from a CD that our team has produced called Psalms from the Heart. Our producers asked me to record some of my favorite Psalms, and they've created a beautiful musical background. I can't think of a better way to start a new year than by filling our minds with these psalms.
So, O Lord, I pray for our listeners—some are at home doing household chores; some are perhaps in a vehicle driving with others with them—in different places, doing different things, but I just ask that You would quiet our hearts, that You would still our hearts.
A lot of us have had a busy, active, maybe hectic weekend; some are maybe lonely or hurting or struggling; some are excited about starting a new year. Wherever You find us, Lord, I pray that You would quiet our hearts to receive Your Word, and that You would wash us with the water of Your Word.
Encourage Your people. Strengthen our hearts. Give us courage and faith and hope in all that we need as we start into this New Year by listening to You speak to us through Your Word. I pray it in Jesus' name, amen.
Now, let's listen to some selections from Psalms from the Heart.
Psalm 1:
Blessed is the man who walks not in the counsel of the wicked, nor stands in the way of sinners, nor sits in the seat of scoffers; but his delight is in the law of the LORD, and on his law he meditates day and night.

He is like a tree planted by streams of water that yields its fruit in its season, and its leaf does not wither. In all that he does, he prospers. The wicked are not so, but are like chaff that the wind drives away. 

Therefore the wicked will not stand in the judgment, nor sinners in the congregation of the righteous; for the LORD knows the way of the righteous, but the way of the wicked will perish.
Psalm 37:
Fret not yourself because of evildoers; be not envious of wrongdoers! For they will soon fade like the grass and wither like the green herb. 

Trust in the LORD, and do good; dwell in the land and befriend faithfulness. Delight yourself in the LORD, and he will give you the desires of your heart. 

Commit your way to the LORD; trust in him, and he will act. He will bring forth your righteousness as the light, and your justice as the noonday. 

Be still before the LORD and wait patiently for him; fret not yourself over the one who prospers in his way, over the man who carries out evil devices! 

Refrain from anger, and forsake wrath! Fret not yourself; it tends only to evil. For the evildoers shall be cut off, but those who wait for the LORD shall inherit the land. 

In just a little while, the wicked will be no more; though you look carefully at his place, he will not be there. But the meek shall inherit the land and delight themselves in abundant peace. 

The wicked plots against the righteous and gnashes his teeth at him, but the Lord laughs at the wicked, for he sees that his day is coming. 

The wicked draw the sword and bend their bows to bring down the poor and needy, to slay those whose way is upright; their sword shall enter their own heart, and their bows shall be broken. 

Better is the little that the righteous has than the abundance of many wicked. For the arms of the wicked shall be broken, but the LORD upholds the righteous. 

The LORD knows the days of the blameless, and their heritage will remain forever; they are not put to shame in evil times; in the days of famine they have abundance. 

But the wicked will perish; the enemies of the LORD are like the glory of the pastures; they vanish—like smoke they vanish away. 

The wicked borrows but does not pay back, but the righteous is generous and gives; for those blessed by the LORD shall inherit the land, but those cursed by him shall be cut off. 

The steps of a man are established by the LORD, when he delights in his way; though he fall, he shall not be cast headlong, for the LORD upholds his hand. 

I have been young, and now am old, yet I have not seen the righteous forsaken or his children begging for bread. He is ever lending generously, and his children become a blessing. 

Turn away from evil and do good; so shall you dwell forever. For the LORD loves justice; he will not forsake his saints. They are preserved forever, but the children of the wicked shall be cut off. The righteous shall inherit the land and dwell upon it forever. 
The mouth of the righteous utters wisdom, and his tongue speaks justice. The law of his God is in his heart; his steps do not slip. The wicked watches for the righteous and seeks to put him to death. The LORD will not abandon him to his power or let him be condemned when he is brought to trial. 
Wait for the LORD and keep his way, and he will exalt you to inherit the land; you will look on when the wicked are cut off. 
I have seen a wicked, ruthless man, spreading himself like a green laurel tree. But he passed away, and behold, he was no more; though I sought him, he could not be found. 
Mark the blameless and behold the upright, for there is a future for the man of peace. But transgressors shall be altogether destroyed; the future of the wicked shall be cut off. 
The salvation of the righteous is from the LORD; he is their stronghold in time of trouble. The LORD helps them and delivers them; he delivers them from the wicked and saves them, because they take refuge in him.
Psalm 73:
Truly God is good to Israel, to those who are pure in heart. But as for me, my feet had almost stumbled, my steps had nearly slipped. For I was envious of the arrogant when I saw the prosperity of the wicked. 
For they have no pangs until death; their bodies are fat and sleek. They are not in trouble as others are; they are not stricken like the rest of mankind. Therefore pride is their necklace; violence covers them as a garment. Their eyes swell out through fatness; their hearts overflow with follies.
They scoff and speak with malice; loftily they threaten oppression. They set their mouths against the heavens, and their tongue struts through the earth. Therefore his people turn back to them, and find no fault in them. And they say, "How can God know? Is there knowledge in the Most High?"  
Behold, these are the wicked; always at ease, they increase in riches. All in vain have I kept my heart clean and washed my hands in innocence. For all the day long I have been stricken and rebuked every morning. If I had said, "I will speak thus," I would have betrayed the generation of your children.
But when I thought how to understand this, it seemed to me a wearisome task, until I went into the sanctuary of God; then I discerned their end. 
Truly you set them in slippery places; you make them fall to ruin. How they are destroyed in a moment, swept away utterly by terrors! Like a dream when one awakes, O Lord, you rouse yourself, you despise them as phantoms. When my soul was embittered, when I was pricked in heart, I was brutish and ignorant; I was like a beast toward you. 
Nevertheless, I am continually with you; you hold my right hand. You guide me with your counsel, and afterward you will receive me to glory. Whom have I in heaven but you? And there is nothing on earth that I desire besides you. My flesh and my heart may fail, but God is the strength of my heart and my portion forever. 
For behold, those who are far from you shall perish; you put an end to everyone who is unfaithful to you. But for me it is good to be near God; I have made the Lord GOD my refuge, that I may tell of all your works.
Psalm 90:
A Prayer of Moses, the man of God:
Lord, you have been our dwelling place in all generations. Before the mountains were brought forth, or ever you had formed the earth and the world, from everlasting to everlasting you are God. 
You return man to dust and say, "Return, children of man!" For a thousand years in your sight are but as yesterday when it is past, or as a watch in the night. 
You sweep them away as with a flood; they are like a dream, like grass that is renewed in the morning: in the morning it flourishes and is renewed; in the evening it fades and withers. 
For we are brought to an end by your anger; by your wrath we are dismayed. You have set our iniquities before you, our secret sins in the light of your presence. 
For all our days pass away under your wrath; we bring our years to an end like a sigh. The years of our life are seventy, or even by reason of strength eighty; yet their span is but toil and trouble; they are soon gone, and we fly away. Who considers the power of your anger, and your wrath according to the fear of you? 
So teach us to number our days that we may get a heart of wisdom. Return, O LORD! How long? Have pity on your servants! Satisfy us in the morning with your steadfast love, that we may rejoice and be glad all our days. Make us glad for as many days as you have afflicted us, and for as many years as we have seen evil.
Let your work be shown to your servants, and your glorious power to their children. Let the beauty of the Lord our God be upon us, and establish the work of our hands upon us; yes, establish the work of our hands!
Leslie: There is no better way to enter a new year than to saturate your hearts with God's Word. To do that, we've been listening to a CD from Nancy Leigh DeMoss called Psalms from the Heart. It includes many of Nancy's favorite psalms set to music. We're just hearing a sampling today. When you get the CD, you'll hear many more of these psalms.
We'd like to send you Psalms from the Heart when you make a donation of any amount to Revive Our Hearts. Just visit ReviveOurHearts.com, or call 1-800-569-5959.
Now, here's more of that CD, Psalms from the Heart.
Nancy: 
Psalm 145:
I will extol you, my God and King, and bless your name forever and ever. 
Every day I will bless you and praise your name forever and ever. Great is the LORD, and greatly to be praised, and his greatness is unsearchable. 
One generation shall commend your works to another, and shall declare your mighty acts. On the glorious splendor of your majesty, and on your wondrous works, I will meditate. They shall speak of the might of your awesome deeds, and I will declare your greatness. They shall pour forth the fame of your abundant goodness and shall sing aloud of your righteousness. 
The LORD is gracious and merciful, slow to anger and abounding in steadfast love. The LORD is good to all, and his mercy is over all that he has made. 
All your works shall give thanks to you, O LORD, and all your saints shall bless you! They shall speak of the glory of your kingdom and tell of your power, to make known to the children of man your mighty deeds, and the glorious splendor of your kingdom. Your kingdom is an everlasting kingdom, and your dominion endures throughout all generations. . . .
   
The LORD upholds all who are falling and raises up all who are bowed down. The eyes of all look to you, and you give them their food in due season. You open your hand; you satisfy the desire of every living thing. The LORD is righteous in all his ways and kind in all his works. The LORD is near to all who call on him, to all who call on him in truth. He fulfills the desire of those who fear him; he also hears their cry and saves them. The LORD preserves all who love him, but all the wicked he will destroy. 

My mouth will speak the praise of the LORD, and let all flesh bless his holy name forever and ever.
Leslie: There's no better way to start a new year than to let God's Word wash over us.
Nancy Leigh DeMoss has been reading some of her favorite psalms, and everything you just heard is available on a CD called Psalms from the Heart.
Nancy, I know a lot of listeners appreciated this chance to just take an extended time just listening to the Bible.
Nancy: Yes. I think it's such a great thing and so needed in this hectic culture in which we live to just let the Word of God wash over our souls. So I'm grateful we've had that time today, and I hope that in 2012 this will be an everyday habit for every listener.
I want to challenge every person hearing my voice today: Would you make a commitment, God helping you, to read something from God's Word every day throughout 2012?
I'm not saying how much you have to read or what time you have to get up, just that you will take some time to get God's Word into your mind and heart. Don't get intimidated by how much it has to be. Just say, "Yes, Nancy, I want to join you in reading something from God's Word every day in 2012."
Then I'd like to encourage you to go a step further and visit ReviveOurHearts.com and sign up and let us know that you're taking "The Daily Bible Reading Challenge."

One: That will help give you a little more accountability when you know you've signed up for that challenge; but also, when you sign up at ReviveOurHearts.com, we'll send you a couple of email reminders every month to help you stay on track. I know I need those reminders as my New Year's resolutions kind of wear off through the course of the year, and I can forget those. Well, we're going to help you not forget this challenge.
Then you'll also find at that site a forum where you can interact with others who are taking the challenge. You can share what God's speaking to you about from His Word; you can interact about questions or challenges you find as you're reading the Scripture. It will help you do this in community with other like-minded believers.

And, when you visit ReviveOurHearts.com and make a donation of any amount, we'll send you a couple of helpful resources. One of those is a new resource we've developed called My Personal Bible Reading Journal.
This is a journal to help you keep track of what you read each day, and it gives you a place to record in just a brief way the insights you're getting from God's Word. It will be a valuable record of your journey through God's Word in 2012.
We'll also send you the CD that you heard in today's program called Psalms from the Heart. Listening to these psalms set to music is a great way to help you fill your mind with God's Word throughout the day.
So ask for My Personal Bible Reading Journal and Psalms from the Heart when you support Revive Our Hearts with a gift of any size. Just give us a call at 1-80-569-5959 or you can make your donation online at ReviveOurHearts.com. [For a two-week page of the journal to get you started, click here.)
Now, tomorrow we're going to embark on a study of an amazing poem and the longest chapter in the Bible. I hope you'll be back as we tackle Psalm119. In fact, you may want to take, oh, about fifteen minutes sometime between now and tomorrow to pull out your Bible and read Psalm 119 for yourself and ask the Lord to prepare your heart for what He has for us over these next days. 
That's the beginning of our study on Psalm 119, next time, on Revive Our Hearts.
Revive Our Hearts with Nancy Leigh DeMoss is an outreach of Life Action Ministries.
All Scripture is taken from the English Standard Version.
*Offers available only during the broadcast of the podcast season.
Support the Revive Our Hearts Podcast
Darkness. Fear. Uncertainty. Women around the world wake up hopeless every day. You can play a part in bringing them freedom, fullness, and fruitfulness instead. Your gift ensures that we can continue to spread gospel hope! Donate now.
Donate Now