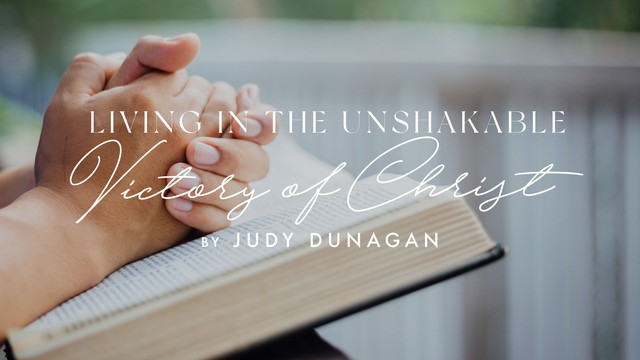 Protected by Jesus
Dannah Gresh: Ah, the battle! Living the Christian life isn't easy, and we have a powerful enemy. But aren't you glad for the armor God gives us to fight with? You know, the shield of faith, the breastplate of righteousness, the belt of truth. According to author and speaker Judy Dunagan, that spiritual armor points us to a Person.
Judy Dunagan: I believe the armor—I know the armor—is Jesus! It's Jesus who covers us. It's His righteousness that can be like our breastplate. It's His salvation that covers our minds like a helmet. It's His truth that's a belt that holds this armor on us
Dannah: We'll hear about how to live in the unshakable victory of Christ, today on the Revive Our Hearts podcast. It's July 3, 2023, and I'm Dannah Gresh. Our host is the author of A Place of Quiet Rest, Nancy DeMoss Wolgemuth.
Nancy DeMoss Wolgemuth: …
Dannah Gresh: Ah, the battle! Living the Christian life isn't easy, and we have a powerful enemy. But aren't you glad for the armor God gives us to fight with? You know, the shield of faith, the breastplate of righteousness, the belt of truth. According to author and speaker Judy Dunagan, that spiritual armor points us to a Person.
Judy Dunagan: I believe the armor—I know the armor—is Jesus! It's Jesus who covers us. It's His righteousness that can be like our breastplate. It's His salvation that covers our minds like a helmet. It's His truth that's a belt that holds this armor on us
Dannah: We'll hear about how to live in the unshakable victory of Christ, today on the Revive Our Hearts podcast. It's July 3, 2023, and I'm Dannah Gresh. Our host is the author of A Place of Quiet Rest, Nancy DeMoss Wolgemuth.
Nancy DeMoss Wolgemuth: You know, it seems like many of us as Christians operate as if we're helpless in the face of the onslaught of evil that's going on all around us. And I get that. Sometimes I feel that way myself.
It can be easy to try to hunker down and protect ourselves in our Christian holy huddles so we don't have to deal with it. Like, "Keep that out there, but barricade our walls and our homes and our churches so none of that can get in here."
But as we're going to hear today, Scripture calls us to resist, to be firm, to engage with the powers of darkness, to take on the full armor of God, to withstand, and be used by God to extinguish the works of the evil one.
Does that sound overwhelming or impossible? Well, my sweet friend Judy Dunagan wrote a book on just what it looks like to resist, and it's such a helpful reminder. It's called The Loudest Roar: Living in the Unshakable Victory of Christ. Judy led a workshop on this topic at a recent True Woman conference. Today and tomorrow on Revive Our Hearts we're going to hear the message she shared in that session. 
Judy is a wife, a mom, a grandma; she's also an acquisitions editor for women's Bible studies and books at Moody Publishers—and how grateful we are for the publishing partnership we've had with Moody over many years. As you're about to hear, Judy's a wonderful student of God's Word. So if you can, pick up your Bible if you can, and let's follow along with Judy Dunagan. Let's pray with her now. 
Judy: Holy, holy, holy God, we are so grateful to be Yours. We worship You together today in the beauty of Your holiness. Great is Your faithfulness. Your mercies are new every morning. I just praise You that through Your Holy Spirit, You know everyone in this room. You know their names, their stories. You know just what they need to hear today. I pray that Your Spirit will speak over them through the words that I share. We just give this all to You, God. 
I love Psalm 115:1 that says "Not to us, O LORD, not to us, but to your name give glory, for the sake of your steadfast love and your faithfulness!"

And we just thank You for Your protection over us, Jesus. The protection that You purchased through Your death and resurrection and ascension. You are the ascended King of kings, and You have conquered the enemy. You've given us a way of escape from temptation. God, I just pray that chains will come off today from all of us—whatever is holding us captive. We love You, and we thank You for Your lavish love for us. In Your holy, yet very personal name, we pray, amen.
Well, friends, my two-year-old grandson, who calls me Momo. Now he's five. He just started kindergarten. But when he visited us, when he deemed me "Momo" was when he was two. I live in Colorado Springs. I have to brag; I think it's one of the most beautiful cities. We have a zoo called Cheyenne Mountain Zoo, if you're ever there. It's tucked up against a mountain, and you just feel like you're out in the wild with these animals.
And so, all of the sudden we're going through the zoo, and we hear this roaring lion like I had never heard before. Apparently, lions' roars can be heard from five miles away. It almost felt like that, like your chest is just beating as you look at this magnificent lion. And our brave little two-year-old was up against the protective glass while the lion is roaring. There's Liam, and he goes, "Hey you. Hey you." As if he was saying, "You quiet down now. You just be quiet."
Well, I think that is such a beautiful example of our Lord Jesus Christ, being our protective barrier. You know, when Jesus died and rose again, and then when He ascended, He is our victorious King of kings. 
We don't talk about the ascension much. Sometimes it's when He ascended and gave the Great Commission to His disciples, it almost seems sad. It's like He's leaving them right when they need Him the most, and they're not going to see Him for a long time. 
But really, it's like the second triumphal entry. When He ascended it's almost like the crescendo that is finished. Because when He ascended, we're told that He sat down at the right hand of the throne of God. 
A lot of verses related to our victory is about that position. In Ephesians 2 we are told that we are seated with Christ in the heavenlies. Ephesians 2:6, and that's not just in heaven, when He takes us home to glory or returns for us. We are seated there with Him now.
So, we have that position of victory with Jesus Christ, now. 
The way I came up with the title of my book, The Loudest Roar, it came out of ministry. I was on staff at a church for twenty years. There was a woman I counseled that probably had one of the hardest stories I've ever heard. 
It was like one thing after another. She was worried that her husband was going to leave her, and her son was leaving the faith, and she was starting to question God's goodness and faithfulness. I sensed a battle over her. Now, those were the decisions of her husband and her son. But the way the enemy was coming, because he knows when we are vulnerable. 
I prayed over her, and I gave her some resources. I told her I'd love to meet with her again. But after she left, I walked back to my office, and my head was really down in defeat. I just cried out to my Lord and I said, "Your Word tells us that the enemy is like a roaring lion, seeking whom he can devour. Why does he have so much power? Why is his roar so loud over us?"
And I'll never forget it, it was like God cemented it in my heart right then that He's the bigger lion, with the loudest roar. Amen! He's the Lion of Judah. He is seated on the throne, and Satan is ultimately a defeated foe. 
Now, Satan has a lot of power. We see him from Genesis, when he tempts Eve, and the fall. We see him throughout the Word. We're told he is the father of lies. We're told he's the accuser of the brethren. We see him in Revelation, and yet he's on a leash, isn't he?
But sadly, many of us, and I've been hearing this from many people, it's almost like they're starting to believe the enemy has more power than our mighty God, and they're afraid of him. They think of all of the havoc he's wreaking. What if we stood in the victory that Jesus won for us? Jesus died to give us this victory. 
And so, I mentioned my prayer, and that comes from 1 Peter 5:8–9. We're told, "Be sober-minded; be watchful. Your adversary the devil prowls around like a roaring lion, seeking someone to devour. Resist him, firm in your faith . . ."
Now, my father is an author. He was a pastor for over forty years. He's a best-selling author of the book, The Adversary, which Moody published back in 1975. His name is Mark Bubeck. It was one of the first biblically balanced books on our victory in Christ, when it came out way back then. 
And then his second book has just been renamed, it's called Warfare Praying: Biblical Strategies for Overcoming the Adversary. Recommended highly, they are selling it here. But this is a quote from that book. My father said, 
Satan roars to make us afraid and thus more vulnerable, but our purchased right is courage to resist him. 
Don't you love that? What it means, the purchase right He purchased through His death on the cross and His shed blood. Our purchased right is courage to resist the enemy. 
Friends, I just wonder, are you sensing the enemy's attack on you like never before? Perhaps on your marriage? Or perhaps you have a prodigal, and you know the enemy is luring that child away from truth? Or perhaps you're sensing attacks on your ministry? Have you lost sight of the victory that Jesus has won for us?
There was a season in my life when I was there, even though I had grown up knowing these truths. My dad wrote that first book when I was a middle schooler, I was in seventh grade. At that time, I had actually come under the enemy coming at me. I started having debilitating nightmares and part of the time problem was I had gone to a slumber party and had dabbled with séances and Ouija boards. I knew better, but the peer pressure, and I didn't understand fully, even though God's Word warns us against that, and it was almost like I had given the enemy a foothold to create this fear. 
And so, my dad started praying over me. Sometimes I'd wake up terrorized, and he would just come in my room and pray Scripture over me. He taught me about the armor, which we're going to look at in Ephesians 6. 
So, I began to learn this at a very young age. Now I am much older than that, and I am in my early sixties, and I can tell you all these decades, I've had an awareness of the battle we are facing and the victory that we have. That's my heart for all of you.
The key—and my dad used to say this—is, be brave and be biblical and balanced. There's a lot of books out there on teaching on the enemy and spiritual warfare that are not biblical, extra biblical based on the Word of God and not balanced.
I think when it comes to believers and our understanding of the enemy is that there can be two extremes. On one side you have people who blame the enemy for everything, like even their sin.
I know someone who fell into an affair, and they blamed it on the enemy. That is their sin. That was their choice. 
And then you have the other side of the spectrum, where people think the enemy is a fictionalized character and not real. That he's just a character in horror movies. 
And probably in the middle are some believers who think, I don't want to know this. I don't want to think about the enemy, because I'm afraid he'll step up his attacks on me and my family. I actually had a pastor tell me that once. 
So, again the key is to be balanced and biblical and to run to God's Word. And God's Word is so full of promises of our victory and His protection. In this one season when I was very vulnerable, our family moved to Beijing, China. Our daughters at the time were only three and five years old. It was with my husband's job and we were there for three years. It was in the mid-nineties, so it was right after the turmoil at Tiananmen Square in '89. I don't know if you remember that or have read about it?
It was really an uncertain time, but when we first got there, our youngest daughter was sick all of the time. She had really debilitating illnesses, lots of upper respiratory problems because of the pollution, and the medical care wasn't what I was used to in the States. 
There was one night where I was so overcome with fear for her, because I was pretty sure she had strep throat, but they wouldn't give her antibiotics because they didn't think it was strep. 
About three days in with a high fever, I got a glimpse of what it might be like to lose your mind to worry. I was just gripped. I realized the enemy was stepping up his attacks on me. 
Now, I'm not saying he causes anxiety or causes our anxiety, but he knows where we are vulnerable. He's like a preying lion who is going to try an attack on those who are vulnerable. I was vulnerable that night, and I was spiraling. 
It was about 3 a.m., and I woke my husband up and had him pray over me. Kelly had fallen asleep because she had ibuprofen. The thing about China then, there was no 911, there was no urgent care, and the closest hospital emergency room was an hour and half away. 
So, I knew we needed to wait out the night. She had fallen asleep, and her fever had come down a little bit. I was trusting the Lord, but I have to tell you, I also got on the phone to my daughter's pediatrician in the States. It was 3 a.m. my time, 3 p.m. his, and he got on the phone, can you believe it? Because when you call the pediatrician, you don't get the doctor, but he got on the phone. He said this was a first, getting a call from a mom in China. He said, "I don't want to diagnose her over the phone, but I'd recommend getting to the clinic tomorrow and pretty much demand antibiotics because she was prone to strep, and strep can be very dangerous if you don't treat it." 
But I had the rest of the night. It was really almost like a dark night of my soul. Rick had been able to fall back asleep. I knew I had to get away with the Lord. I imagined as if I had Kelly in my arms, and I just lifted her in my heart and mind. I said, "I know You love her more than I do. I know You can heal her, but You may not choose to. I am still going to follow You, but I pray for protection." Then I prayed that she'd heal. 
But that surrender, I didn't realize that I needed to do it. I realized later that I was making an idol out of my babies and toddlers. I remember when I had my first baby in my arms, in my heart it was like, "Thank You, God, don't ever let anything happen to her." It was almost as if I had made a deal with Him. 
And so that night I knew I had to surrender her to Him. I had a breakthrough in that. And the peace that God's Word talks about in Philippians 4 that goes beyond our human understanding, just washed over me. 
That's the only way I could sleep. I was in a battle. And the next morning, this momma bear was on the phone with the clinic. I got her in, and she got antibiotics. She's fine, and she's turning thirty-one, and a mother of two, but it was a terrifying night. 
But from that, I also learned that I had to dwell in God's Word. A favorite psalm of mine is Psalm 91. I see it as a warfare psalm. You can turn to it, if you want. I'm going to try and quote as much as I can, just so it would wash over you. We don't know who wrote it. Moses wrote Psalm 90, and some of the way of the prose of it, some people think it's Moses, some think it was David. All I know is that God has used it mightily, and so I'm just going to quote as much as I can remember. I just know at these conferences, sometimes you go from one thing to another, so let's just dwell in these words, let them wash over you. 
He who dwells in the shelter of the Most High
   will abide in the shadow of the Almighty.
I will say to the Lord, "My refuge and my fortress,
   my God, in whom I trust."

For he will deliver you from the fowler's snare
   and from the deadly pestilence.
He will cover you with his feathers,
   and under his wings you will find refuge;
   his faithfulness will be your shield and rampart.
You will not fear the terror of the night,
   nor the arrow that flies by day,
nor the pestilence that stalks in darkness,
   nor the plague that wastes at noonday.

A thousand may fall at your side,
   ten thousand at your right hand,
   but it will not come near you.
You will only observe with your eyes
   and see the punishment of the wicked.

If you have made the Lord your dwelling place—
   the Most High, who is my refuge—
no harm shall be allowed to befall you,
   no plague come near your tent.

For he will command his angels concerning you
   to guard you in all your ways.
They will lift you up in their hands,
   lest you strike your foot against a stone.
You will tread on the lion and the adder;
   the young lion and the serpent you will trample underfoot.

"Because he holds fast to me in love, I will deliver him;
   I will protect him, because he knows my name.
When he calls to me, I will answer you;
   I will be with you in trouble;
   I will rescue you and honor you.
With long life I will satisfy you
   and show you my salvation." (vv. 1–16)
Can I hear an amen? 
You know, that is a favorite psalm for anyone. For a lot of Christian moms and spouses who have loved ones in the armed forces . . . I know a young mom, a wife, who used to write on her husband's helmet things like when he was going to be deployed, like "salvation" and "belt of truth" and it became her prayer for him. 
So, we've talked about the battle we're facing. But I want to talk about the battle plan and what is really important. I believe three things in our battle plans are the armor and God's Word and prayer. 
We're going to look at the armor first. And Ephesians 6:10–18, some of you are familiar with this. I'm going to read these verses over us in a minute. They were written by Paul, and to the church in Ephesus. If you look at Ephesus and study about it, there was a lot of spiritism going on there. A lot of worship of goddesses and other gods, and I think he just had a burden for these beloved believers, that they would understand their victory in Christ. 
So, this is a victory cry. From Ephesians 6:10–18: 
Finally, be strong in the Lord and in the strength of his might. Put on the whole armor of God, that you may be able to stand against the schemes of the devil. For we do not wrestle against flesh and blood, but against the rulers, against the authorities, against the cosmic powers over this present darkness, against the spiritual forces of evil in the heavenly places. Therefore take up the whole armor of God, that you may be able to withstand in the evil day, and having done all, to stand firm. 

Stand therefore, having fastened on the belt of truth, and having put on the breastplate of righteousness, and, as shoes for your feet, having put on the readiness given by the gospel of peace. In all circumstances take up the shield of faith, with which you can extinguish all the flaming darts of the evil one; and take the helmet of salvation, and the sword of the Spirit, which is the word of God, praying at all times in the Spirit, with all prayer and supplication. To that end, keep alert with all perseverance, making supplication for all the saints. 
Now, that's a victory cry. When I used to read that, it seemed like a lot of "to-dos" for us, right? A lot of things we've got to do. It says things like: be strong, put on the armor, stand against, take up the armor, withstand the evil day, having done all to stand firm, fasten on, put on. 
So, I don't know about you, but I'm not sure that I can do all of that in my own strength. But let's look at the way it starts. Let's look at the key there, "Be strong in the Lord and the strength of His might." It's in Him and His might. 
And another thing about the armor, I've had women say to me, "I've had a terrible day today. I didn't pray on my armor." I think that's what's going on. It's almost like a striving or a performance. 
And something that the Lord showed me not that long ago, as I dwelt in this. I know the armor is Jesus. It's Jesus who covers us. It's His righteousness that can be like our breastplate. We're called righteous if you're new in Christ. If you're a believer, you are righteous but only because He is righteous. 
It's His salvation that can cover our minds like a helmet from the intrusive thoughts that can come, where you're doubting God's goodness, or you're believing lies you've heard in our world, or what people are saying about our Lord Jesus, or the enemy is throwing lies at you. It's His salvation that covers our minds like a helmet. 
And then it's His belt, it's His truth that is a belt that holds this armor on us. I love that, because we are told He is the truth, He the way, the truth, and the life. His Word is truth. 
And then we can walk in sandals of peace I believe only because Jesus is the Prince of Peace. His peace He gives us in Philippians 4. We're told goes beyond our human understanding, no matter our circumstances. 
Those sandals also talk about the readiness of the gospel of peace. I believe that's being ambassadors for Jesus and being willing to share Christ, even when it's scary. You have those sandals of peace, where you can do that in peace and trust the outcome if you have a loved one that you're praying for and want to share Christ with. 
And then when you talk about the shield of faith. If you think about a shield, there's a handle you've got to grab. You've got to hold that. So, there is a part where our faith is very important to believe, that our Lord Jesus is shielding us. But I just quoted in Psalm 91, where it talked about the shield of His faithfulness.
So, yes, it's our faith that can shield us, but ultimately, it's His faithfulness that's covering us from the top of our head to the tip of our toes—all of those pieces of the armor. 
There's a new song out, I think it's Christy Nockels, in a lullaby song on CD. She's got a song on there called "Head to Toe." You've got to listen to it, especially if you're a young mom. That it's talking about the armor on the babies, and how it protects them.
I used to pray over my children and just think of the armor. I'd joke, does the armor come in toddler sizes? But really that prayer was just really thanking the Lord. 
So, putting on the armor, I don't think it's striving, like, "I've got to have enough righteousness to be protected." I believe it's abiding in it, and living in it, and being aware of it, as you walk through your day. Because as believers in Christ, we are targets of the enemy. We have a lot of temptation coming at us. 
I talked about how I'm prone to anxiety and so he knew where I was vulnerable. He knew where he was going to come at me with that. I also believe that he comes at us with temptation, of course. And the thing about temptation is that he'll try to lure you into a sin, and you fall into it. Well, first he tries to lure you in and say it's not that big of a deal, or God didn't really mean that, right? Like what he did with Eve. 
And then you fall into sin, it's all about shame, condemning you, even saying, "Why confess? Why leave it behind?" You know how he works. 
But thankfully, the loudest roar is our Lord Jesus Christ, as He speaks over us, where we can be redeemed and saved and forgiven. 
We're told in God's Word that He hems us in from behind and before, and I think of that so much as of late as a mother of two grown daughters and now five grandchildren. I just decided that I am going to be a prayer warrior after them, and I am so grateful for that. 
So, I just want to encourage you, when you wake up tomorrow morning, just think about being robed in righteousness. Just think about being covered from the top of your head to the tip of your toes in His protection, His hemming you in. 
Song: Christy Nockels "Head to Toe"
And with His righteousness across your chest,
Salvation for your head,
The belt of truth around you now,
With the shield of faith in hand,
And with His peace upon your feet,
Everywhere you go,
His Word will be the sword you keep
You're covered, head to toe.1
Judy Dunagan: I want to talk about our part in that armor, though, because in verse seventeen it talks about the sword of the Spirit, which is God's Word. It is up to us to dwell in it, to memorize it, to spend time in it. The enemy has to flee when we wield God's Word. 
Nancy: What a good reminder from Judy Dunagan, with some help there from Christy Nockels. It's so important for us to see those passages on spiritual warfare not as more things to do, more boxes to check off, but as more ways to rely on the Lord and His strength. She'll finish her message tomorrow on Revive Our Hearts.
I mentioned this earlier: Judy's book is titled The Loudest Roar: Living in the Unshakable Victory of Christ. Listen, if you feel stuck battling the same fears and temptations (as Judy mentioned today), if you wonder whether you'll ever overcome your doubts, if it feels like you're all alone in that battle, Judy's book will help you marvel at the power, the majesty, and the authority of King Jesus. It'll help you learn how to stand in the unshakable victory He's already won for you. 
You'll find more information about Judy's book The Loudest Roar, including how you can get a copy, linked in the transcript of this program at ReviveOurHearts.com. 
Dannah: Thanks, Nancy. I love realizing that the devil's roar is only a whisper compared to the roar of the Lion of Judah!
We're able to bring you teaching like this because of the faithful prayers and support of our listeners—listeners just like you. Thank you so much for praying, and thanks for giving as well.
This month we're focusing on the supreme importance of our identity in Christ. Who you are is tied directly to whose you are. And this week, as a thank-you for your donation of any amount, we'll send you a book by Allie Beth Stuckey, You're Not Enough (And That's Okay). Listen to this subtitle: Escaping the Toxic Culture of Self-Love. 
Again, we'll send you a copy when you request it along with your donation to help support Revive Our Hearts. To do that, just visit ReviveOurHearts.com, or call us at 1-800-569-5959. Ask about the book You're Not Enough (And That's Okay), by Allie Beth Stuckey when you call. 
Tomorrow Judy Dunagan will point us to someone who successfully fought off the devil, and that's the Lord Jesus Himself. Please be back for Revive Our Hearts.
Revive Our Hearts with Nancy DeMoss Wolgemuth is calling you to live in the unshakable freedom, fullness, and fruitfulness found in Christ.
All Scripture is taken from the NIV unless otherwise noted.
1"Head to Toe" (The Armor of God Song), Christy Nockels, Be Held: Lullabies for the Beloved ℗ 2017 Keeper's Branch Records/The Fuel Music.
*Offers available only during the broadcast of the podcast season.
Support the Revive Our Hearts Podcast
Darkness. Fear. Uncertainty. Women around the world wake up hopeless every day. You can play a part in bringing them freedom, fullness, and fruitfulness instead. Your gift ensures that we can continue to spread gospel hope! Donate now.
Donate Now