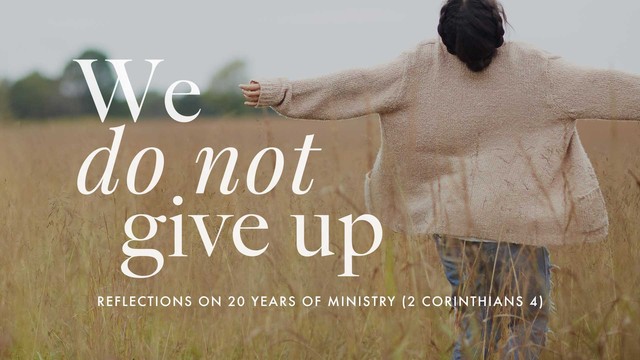 Pressing On in the Face of Adversity
Dannah Gresh: Well, it's time for everyone's favorite activity—a math lesson. I might add, it's going to be taught by a woman who is fairly not good at math.
Nancy: Well Dannah, I can hardly wait for that, because as you say, math was never my greatest subject.
Dannah: We are word girls. We liked English. Okay, here's the math, ready? Two months equals ten months.
Nancy: I'm already stumped.
Dannah: Okay, let me explain. The Revive Our Hearts program we're about to hear is made possible by donations. And the amount of donations that arrive in two months of the year, May and December, equals the donations that arrive the other ten months of the year.
Nancy: So, two months equals ten.
Dannah: Yeah, it's like a math word problem. But here's the bottom line with no numbers involved. It's December, and we really, really need your help.
Nancy: …
Dannah Gresh: Well, it's time for everyone's favorite activity—a math lesson. I might add, it's going to be taught by a woman who is fairly not good at math.
Nancy: Well Dannah, I can hardly wait for that, because as you say, math was never my greatest subject.
Dannah: We are word girls. We liked English. Okay, here's the math, ready? Two months equals ten months.
Nancy: I'm already stumped.
Dannah: Okay, let me explain. The Revive Our Hearts program we're about to hear is made possible by donations. And the amount of donations that arrive in two months of the year, May and December, equals the donations that arrive the other ten months of the year.
Nancy: So, two months equals ten.
Dannah: Yeah, it's like a math word problem. But here's the bottom line with no numbers involved. It's December, and we really, really need your help.
Nancy: Now, that I understand. That's because the donations that arrive in December to Revive Our Hearts fund a good part of the entire following year in months when donations are much lower. So, if the teaching from Revive Our Hearts has been a blessing to you and it's helped you or others you know, we really need to hear from you this month. And Dannah, now, I actually want to add more math.
Dannah: You do?
Nancy: I do. Because this is very exciting. Here's the math. Your gift in December times two.
Dannah: Ah, multiplication. I like this kind of math.
Nancy: Whatever you're able to give this month, take it and multiply it times two. That's because some generous friends of Revive Our Hearts are doubling every gift as part of a matching challenge during the month of December. So, if you give $100 . . .
Dannah: Oh, I get it. I got it. This is easy math. I can do it. If you give $100, it will become $200.
Nancy: Perfect.
Dannah: To double each dollar you donate here in December, all you have to do is contact us with your donation. Some friends of Revive Our Hearts have already done the rest, including the math. They're matching your donation with a donation of an equal amount. That's going to help us toward our end of year goal. 
So, get in touch with us by heading to ReviveOurHearts.com, or calling us at 1–800–569–5959. Help us make two equal ten, and one become two. 
This is the Revive Our Hearts podcast with Nancy DeMoss Wolgemuth, author of Adorned, for December 3, 2021. I'm Dannah Gresh.
Okay, here's one more math lesson for you. 0.1 plus 0.1 plus 0.1 plus 0.1 equals what so far? Are you paying attention? Right, 0.4. Now add another tenth to it and another. Yes, plus 0.1 plus 0.1. How far are we now? 0.8, almost to 1. It's going to take a while to get to 1,000 don't you think? We could say it's going to take some perseverance, yes, endurance. I think it was the famous preacher, Charles Spurgeon, who said, "It was by perseverance that the snail reached the ark."
Not giving up is something that was on Nancy's mind recently. She addressed a group of Revive Our Hearts ministry partners, and she looked back at the last twenty years of this ministry. There were times where it felt like we were trying to count to one thousand by tenths or hundredths, but perseverance has paid off. Nancy wanted to thank our ministry partners for persevering with us. 
Let's listen to part 2 of Nancy's message, "We Do Not Give Up." It's based on 2 Corinthians chapter 4. Here's Nancy.
Nancy: Look at verse 5. 
For we are not proclaiming ourselves but Jesus Christ as Lord, and ourselves as your servants for Jesus' sake. 
Paul's message never centered on himself. He had no interest in being applauded for or celebrated for his gifts, for his abilities. His only goal was to make much of Jesus, to proclaim Christ. And the only way he and his fellow apostles and coworkers cared to be known was as "your servants for Jesus' sake." 
Slaves is the word. We're slaves of Jesus. We're your slaves for Jesus' sake. We are here to serve and to make much of Jesus. We are not heroes; we are servants of Jesus and of His people. We are not the message. We are not the attraction. We seek only to point people to Jesus. He is everything.
For God who said, "Let light shine out of darkness, has shown in our hearts to give the light of the knowledge of God's glory in the face of Jesus Christ." (v. 6) 
The God who spoke into the darkness at creation and "there was light" is the same God who has spoken into the darkness of our hearts. It's revealed to us the glory and beauty and the magnificence of Jesus and has produced faith in our hearts. He is the same God who works through us by His Spirit to open the eyes of those who are lost and to make Christ visible, beautiful, glorious to them so that they too might believe and be saved.
Now we have this treasure now in clay jars, so that this extraordinary power may be from God and not from us. (v. 7) 
For the first year and a half that we were in this new ministry, virtually every single day as I awakened in the morning, the first conscious thought I had was this little line from "Jesus Loves Me." 
We are weak but He is strong. 
Every morning, day after day, it was a gift from the Lord to remind me, "You are weak, but I am strong." I felt so weak. I still feel weak. Years ago as a young woman starting in the ministry, I asked the Lord to never let me get to the place where I could do what He had called me to without needing Him. That is one prayer God has been very faithful to answer. 
Every time I get up to speak, to minister, to counsel, to lead an effort, I feel so weak. God gave me that sweet reminder: you are weak, but I am strong. We are weak, but He is strong. The gospel is an exceedingly great and precious treasure. But in His wisdom, in His sovereignty, God has chosen to place that great treasure in flawed, weak clay pots, clay jars so we would realize that the life-changing power is not from us, but it's from God who lives in us and works through us to save and change lives.
We are afflicted in every way [the apostle said] but not crushed; we are perplexed, but not in despair; we are persecuted but not abandoned; we are struck down but not destroyed. We always carry the death of Jesus in our body, so that the life of Jesus may also be displayed in our body. For we who live are always being given over to death for Jesus' sake, so that the life of Jesus may also be displayed in our mortal flesh. So then, death is at work in us, but life in you. (vv. 8–12) 
God did not spare His own Son from the cross. God does not spare His servants from painful trials, but He does give us grace to endure those trials. Whatever harm others can do to us is actually furthering the ministry and the cause of Christ rather than defeating it. For in God's economy, death brings life. Through our weakness and our frail humanity and our suffering, the power and the glory of Jesus are manifest and His life is imparted to others. Even if they take our lives from us.
For we know that the one who raised the Lord Jesus will also raise us with Jesus. (v. 14) 
We can't lose. Nothing can take away our hope in the resurrection. He will make all things right.
Indeed, everything is for your benefit so that, as grace extends through more and more people, it may cause thanksgiving to increase to the glory of God. (v. 15) 
Everything Paul did was for the sake of others, for their salvation, for their sanctification, for the spread of the gospel, for God's ultimate glory. So, when the grace of God reaches more and more people, that's what is happening through this ministry and other ministries that you support and pray for. The grace of God is reaching more and more people. What happens? Gratitude happens. Gratitude. They give thanks to God. And then what happens? God is glorified. Grace, gratitude, glory, that's the outcome for which Paul labored and for which we too are called to give our lives.
So, verse 16, here we come to the second book end. 
"Therefore [say it with me] we do not give up. [We do not give up.] Even though our outer person is being destroyed, our inner person is being renewed day by day. (v. 16) 
This is the hope, this is the perspective that kept Paul going, kept him serving faithfully even when he was persecuted. Yes, his physical body was being destroyed, but he had an inner, deeper source of life that no one could touch. Day by day he was strengthened, he was energized by the Spirit of God within him.
For our momentary light affliction is producing for us [something really beautiful]. (v. 17)
He's saying our trials are purposeful, they're productive, they're producing something. Our momentary, light affliction . . . You say, it doesn't seem very momentary, it doesn't feel very light. It feels really heavy right now. That's because we have such an earth-bound perspective, right? He said it's producing for us an absolutely incomparable eternal weight of glory. When we see what God has been preparing for us, these momentary, light afflictions will seem as nothing compared to that incomparable eternal weight of glory.
So we do not focus on what is seen, but on what is unseen. For what is seen is temporary, but what is unseen is [what?] eternal. (v. 18) 
When we view our trials in the context of eternity they look so different. Rather than destroying us, they are working in us to produce something of great eternal value and worth. If we could see what God sees now, and what we will see in eternity, we would not resent or resist our trials. We would receive them, we would welcome them as friends. We would thank God for the hardest things that come into our lives. 
It doesn't mean we wouldn't weep. It doesn't mean we wouldn't grieve, but we would not grieve as those who have no hope. We would patiently endure them, in anticipation of the incredible, beautiful outcome they are producing for us. 
When we stand in eternity looking back on this fleeting life, we will have zero regrets. We'll have only intense gratitude for how our troubles pressed us to Christ, how they purified us, and how they prepared us for a glorious eternity in His presence. The greatest hardships we may encounter in this life are worth enduring. I'm preaching to myself. That's why I love teaching the Word, because I get to counsel my own heart. 
When I'm walking through something tough, I need to hear myself say that these hardships are worth enduring for the sake of others who will see Christ's light shine through us. They're worth enduring for the internal hope that lies ahead of us, and for the glory of Christ who saved us from our sin and eternal death by His grace. 
Our sufferings, our hardships, our trials, our afflictions are actually a means by which the saving, life-giving work of Christ is made real to others. So, we lay down our lives, our convenience, our comfort, our reputations, everything as Paul says, for Jesus' sake, so that He might be seen and known and trusted and loved and worshiped.
Mercy in the ministry we have received from God, the renewing grace that we receive day by day, and the hope of that incomparable eternal weight of glory that we will receive someday. These are the things that keep us from giving up in the face of hardship. These are the things that enable us to press on in our calling, to endure, and to be fruitful, joyful, and hopeful, even in the face of adversity.
As Paul says, we don't focus on what's seen, but on what is unseen.
As he says in Colossians 3, we set our "minds on the things above, not on earthly things" (v. 2).
In Hebrews 12, "we keep our eyes on Jesus" and "we run with endurance the race that lies before us" (v. 1–2).
Romans 8, knowing that "the sufferings of this present time are not worth comparing with the glory that is going to be revealed to us" (v. 18).
As I spent days and weeks meditating on this chapter, I like sometimes to summarize what I've been studying and reading. Sometimes I'll tweet it. I did with this one. Just some words that capture and summarize. Let me tell you how I summarized this chapter: 
Mercy shown. Ministry given. We do not give up. People perishing. Satan opposing. Minds blinded. Exquisite treasure. Clay jars. Afflicted, persecuted. Always dying. Jesus life displayed. Death in us. Life for others. We suffer everything for others benefit. For Jesus' sake. For God's glory. Renewed each day. Future glory promised. Eyes on eternity. We do not give up.
As we think about eternity, ministry methods and outreaches made, which you'll hear about this morning and this evening, those things are not eternal. Programs are not eternal. They're just tools for reaching the hearts of people. It's people who are eternal, they're lives.
I want to close by sharing with you just a life that the Lord has brought into my life in recent months and how God is reaching and changing this woman's heart. A few months ago, Robert and I spent a couple weeks at Lake Michigan, not far from our home. On several of those days, I took a walk along a rocky bluff that overlooks the lake. 
Each day as I was walking I came across debris that was just lying on the ground. Stuff that had at some point washed up out of Lake Michigan. It was a lot of small tiles, pieces of shells that the waves and storms had swept onto the shore. As I saw these pieces, I picked them up, and I took them back to the condo where we were staying. Mostly broken pieces, trash, nothing there of any worth. 
On our last day at the lake, I pulled out the pieces I had collected, and I assembled and glued them on a wood picture frame that I had. I brought the frame home, set it on the counter in our kitchen, planning to insert a photo of one of the sunsets that we had seen at the lake just as a memory of our time away. 
A few days later, a woman who lives several hours away from us came to our home to meet with me about an insurance policy. As it turned out, the Lord had a whole different purpose than she did or I did for that encounter. It was actually our second meeting. 
During the first appointment a few weeks earlier, I had learned that she was a believer who had been through some really hard things and had some serious trust issues with the church. During that visit, that first visit, she had asked me to pray about a crisis she was going through with one of her children. Before she left the house that day, I prayed with her for her daughter and I sent her home with several resources from Revive Our Hearts for her as a mom and for her daughter and for her husband. She was so grateful. You would have thought I had given her this exquisite treasure. It was an exquisite treasure because I was giving her Christ. 
On her way to the house for the second appointment, after we just spent this time at the lake, she texted me and said, "Could you pray for me again today? I really need it." 
I texted back and said, "Of course," not knowing what in the world she was going through. She arrived at the house, and within a matter of minutes she burst into tears. She was sobbing as she told me that the night before, late the night before, her husband had confessed that he had been unfaithful to her. To complicate it all, her family was facing severe financial problems. 
As she just poured all this out, I held her; I loved on her. For the next thirty minutes, I shared Scripture with her. I talked with her about the gospel, about the promises of God. Robert and I prayed together over her before she left. As she was getting ready to leave, her countenance had changed. She was so grateful. She was leaving with some hope in her heart. 
As she was getting ready to leave, I learned that her husband had driven her to the appointment and was sitting outside in the car waiting for her in our driveway. Of course, I said, "Can you please ask him to come in?" He did. 
Robert and I talked and prayed with this couple for another twenty to thirty minutes before they had to leave for the next appointment. As we were saying goodbye, it was really a sweet encounter. We prayed over them, we just poured our hearts into them.
I noticed that picture frame with all the bits and pieces of stuff that I had glued to it. I saw that frame sitting on our kitchen counter and immediately as I laid eyes on it, I knew that I was supposed to give that frame to this couple. I picked it up and showed it to them. I told them the story of how I'd found these tiles and shells on the ground near the lake, mostly broken pieces and trash—nothing of any worth. I told them how I'd assembled them on this picture frame to make something of beauty and worth and value. 
I handed the frame to them, and I said, "Your lives are broken pieces at this moment; they don't seem to be worth much. Your marriage has been through a storm. In fact, it's a wreck right now. But God loves you. He brought you here today, and I believe He wants to make something beautiful out of your lives and your marriage. I want to give you this frame." 
It just had the picture that the frame came with in it. I said, "I want you to go home, and I want you to put a picture of yourselves as a couple in that frame. I want you to keep this as a reminder of what God wants to do in your lives." 
When that couple left our house that day they were smiling. They had hope. They had new perspective. That hope was not found in Robert or me, but in Christ and the gospel. It was one of these times you can never forget. 
The next day that young woman texted me to say that she and her husband had had a long conversation on the way home and had decided to stay together and to let God work on their marriage. I've been texting with her since. There have been ups and downs. There have been moments when I've thought, They're not going to make it. But Jesus. God is giving this woman grace; He is giving her hope, and He's in the process of transforming her life and her marriage.
All around us, all of us, where we work, where we live, where we go to church, chance encounters, (there's no such thing), as we travel . . . all around us there are lives that have been battered by sin, by storms. They're broken pieces. Many would consider those people worthless. They've been discarded; they've been thrown away on the beaches of life. Over the past twenty years, here at Revive Our Hearts, we've been picking up those shattered pieces.
Women who are overwhelmed with the pain of abuse and betrayal. Women weighed down by guilt and shame. Women who are fearful, anxious, depressed. Women with unfulfilled expectations and shattered dreams. Women who are crying themselves to sleep at night over prodigal sons and daughters and grandchildren. Women with disordered affections and relationships. Self-righteous women who think their husband and their church and their kids are the ones who have the real problem and really need revival. Joyless women who are bored with what they think is Christianity. Women who are searching for meaning in things that will never fill the hole in their hearts. Women who've bought into this world's lies. Women who are desperate for hope. Women who need Jesus. Broken pieces. Shattered lives. Worthless as far as the world is concerned, as far as they're concerned. 
We've put these women, one at a time, into Jesus' loving hands. We've held them; we've prayed for them; we've loved on them; we've pointed them to the truth and the promises of God. We've carried them one at a time to His throne of grace. 
For twenty years, the Spirit of God has been restoring and redeeming those broken lives. Transforming them into a work of art. He's breathed new life into them. He's infused His amazing grace into lifeless, graceless hearts. Now many of those same women, some in this room today, have joined us in the sweet work of recovering and redeeming other broken lives. May God give us courage and faith and humility, grace and compassion, as we continue to proclaim Jesus and to serve those He has called us to reach. As always, our prayer is, may Christ be magnified.
Dannah: That's our host, Nancy DeMoss Wolgemuth, keeping the focus where it's been throughout the twenty years this program has been in existence, on Jesus Christ. Nancy gave that message to a group of ministry partners in Phoenix, Arizona, just last month. 
And like we mentioned at the beginning of today's episode, we'd love you to be a part of what God's doing through the ministry of Revive Our Hearts. We'd love for you to become a partner too. To do that visit ReviveOurHearts.com, or call us at 1–800–569–5959. Don't forget the matching challenge going on right now.
How can a mom keep her eyes on the Lord while she cares for a son with severe special needs? You'll hear this sweet and amazing story of Carrie Thifault on Monday. See you then for Revive Our Hearts. Revive Our Hearts with Nancy DeMoss Wolgemuth calls you to press on toward freedom, fullness, and fruitfulness in Christ.
*Offers available only during the broadcast of the podcast season.
Support the Revive Our Hearts Podcast
Darkness. Fear. Uncertainty. Women around the world wake up hopeless every day. You can play a part in bringing them freedom, fullness, and fruitfulness instead. Your gift ensures that we can continue to spread gospel hope! Donate now.
Donate Now