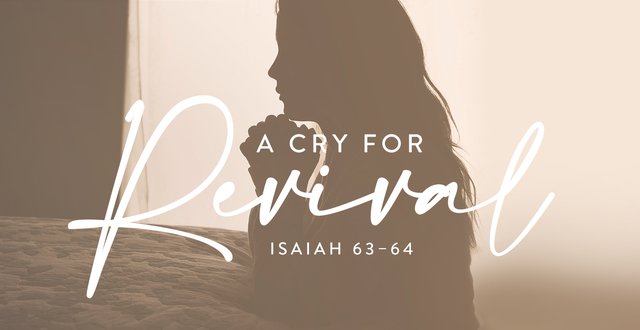 — Audio Player —
A Prayer for Urgent Times
Nancy DeMoss Wolgemuth: Today on Revive Our Hearts, we're going to be looking at a prayer for urgent times, based on Isaiah chapter 63. Before we do, though, we've asked Kimberly Wagner to cry out to the Lord on behalf of our nations. I'm going to be praying for my nation, the United States, but I want to encourage you to pray for whatever your nation is, for God's intervention in your country. Here's Kim Wagner to lead us.
Kimberly Wagner: Father, I come to you on the basis of Your faithful and compassionate heart. We need You to display who You are. We are a nation torn apart by injustice, oppression, cruelty, and violence. We are marred by ethnic and social prejudice. I cry out to You to stand and an advocate for the helpless, the unborn, the voiceless.
I ask You, Almighty God, to defend those who are abused, those who are sold through sex trafficking or marketed by the porn industry. I cry out to You to abolish these industries that prey on the most vulnerable.
Would You, Father, stir up Your Church by Your Spirit to actually display Your good and merciful character. Help us live out the gospel by caring for our neighbors, by respecting one another as the image bearers of You that we are created to be—all of equal worth and value. Would You move in Your Church and give us grace to love one another well, to care for the orphan and the widow, to battle for marriages headed for divorce, to battle for the addicts freedom, to provide hope for the hopeless by giving a credible witness to the world of Your reality.
Oh Lord Jesus, I ask these things in Your name and for Your glory, in Jesus' name, amen.
Dannah Gresh: The prophet Isaiah didn't believe in offering predictable prayers. Nancy DeMoss Wolgemuth describes the way Isaiah cried out.
Nancy: He gets honest. He gets earnest. And in that honesty and in that earnestness lies our only hope.
Dannah: This is Revive Our Hearts with Nancy DeMoss Wolgemuth, the author of Brokenness: The Heart God Revives, for Wednesday, October 21, 2020. I'm Dannah Gresh.
We're in the middle of a series called "A Cry for Revival," this week. It fits perfectly with our month-long, special focus on crying out to the Lord in desperation. Let's ask God to prepare our hearts as we listen to this teaching from Nancy.
Nancy: I want to pick up in Isaiah 63 where we left off yesterday. In the first part of the chapter we saw the judgment of God, the day of the Lord's vengeance. And then looking in verses 7–10, I'll just read that passage, we saw the Lord's mercy and His kindness to His people.
Let me read again and we'll pick up where we left off. 
I will recount the steadfast love of the Lord, the praises of the Lord, according to all that the Lord has granted us, and the great goodness to the house of Israel that he has granted them according to his compassion, according to the abundance of his steadfast love. . . . and he became their Savior. In all their affliction he was afflicted, and the angel of his presence saved them; in his love and in his pity he redeemed them; he lifted them up and carried them all the days of old (vv. 7–9).
What an amazing God. Such mercy, such kindness, such compassion that when you read the next verse it kind of takes your breath away. How could it be? Verse 10, "But they rebelled." They rebelled.
Now, it's one thing to rebel against an angry, unkind god—a god who's hurt you, who's wounded you. But a God who is so incredibly good to you? 
They rebelled and grieved his Holy Spirit; therefore he turned to be their enemy, and himself fought against them.
Now, we talked yesterday about how this turning of God was for the sake of restoring His people—bringing them back to Himself; bringing discipline and chastening into the lives of His people. And we left off there. So I want to pick up now at verse 11.
Then he remembered the days of old, of Moses and his people.
Now, who is it who's remembering is not clear in this passage. And the commentators are not clear on it. It could be Israel who remembered, the people of God; it could be the person praying who remembered. But there is remembering taking place. They're going back and remembering the days of old, of Moses and His people.
So, here we are. Isaiah is writing for a generation that a hundred years later will be experiencing the exile in Babylon. But he says there's a call to remember—to go back hundreds of years and think about their history.
He remembers what God did for His people during the Exodus—bringing them out of slavery after 400 years in Egypt. And again and again and again the Old Testament and occasionally the New Testament as well calls the people of God to remember the Exodus—to remember God's deliverance out of slavery, because the Exodus in the Old Testament is such a graphic picture, a symbol, a type of our redemption from the slavery of sin.
So he calls us to go back and remember the days of old. And as they remember . . . (remember he's talking to these rebellious people.) As they remember, something happens. There's a recognition of what they've done. And in that recognition and in that remembering, they are brought to repentance. So he says, "Remember what happened in the days of old." And he takes them back to that Red Sea crossing.
After they came out of Egypt, they thought, Here we are. Scott free. We've been through a lot of troubles. Nobody knows the troubles I've seen. And now they're out but they realize the Egyptian army has had a change of heart, and they're breathing down their necks—mountains on one side, great sea in the front, Egyptians, the army behind them. "What are we going to do?"
And God takes these people in the point of desperation, and He does a miracle. He makes a way when there is no way. And that's what's referred to. It took place in Exodus 14, but here in Isaiah 63 the prophet remembers what God did.
Where is he who brought them up out of the sea with the shepherds of his flock? Where is he who put in the midst of them his Holy Spirit, who caused his glorious arm to go at the right hand of Moses, who divided the waters before them to make for himself an everlasting name, who led them through the depths? (vv. 11–13).
Let me stop there in verse 13. That word "the depths" literally could be "the tossing, roaring sea." God led His people through what had been a tossing, roaring sea, and He led them through on dry ground. It was a miracle.
The parting of the Red Sea. He took them through the deepest part of the sea to show the greatness of His power. This was not just like they were wading through a part of the sea that only goes ankle high. He took them, led them through the depths.
And it's talking here about the leaders, about Moses, the shepherds of the flock. This is talking about the leadership of Moses and Aaron. But the point is that Moses and Aaron weren't the ones who did this. They were just instruments in God's hand.
God was their unseen guide and Shepherd. He was the One leading. He was the One supporting Moses and Aaron so they wouldn't stumble, and they could lead the people of Israel through.
And by the way, in this passage in Isaiah 63 you see all three members of the Trinity, just a glimpse of them. We've seen God the Father who speaks about His children. "I thought they were children who would not lie to me." God the Father.
We've seen God the Son in the passage we talked about yesterday, the Angel of the Lord who saved them, who delivered them. That's Jesus. A pre-incarnate appearance of Jesus.
And now we're seeing God, the Holy Spirit, who was given to them and whom they have grieved with their rebellion.
So he says God led them through the depths. He put His Spirit in the midst of them. He showed His glorious arm and His strength to provide leadership for Moses. He divided the waters. This is what our God has done.
He's talking to His rebellious people. Remember. Remember. Remember. "Have you forgotten what I did for you when I redeemed you?"
Well, that's not all. Continuing in verse 13:
Like a horse in the desert [or the plain], they [the people of God] did not stumble.
The picture here is that they progressed through the sea as easily as a horse walks on level ground in open country. They didn't stumble. God removed the barriers, the hindrances, the obstacles so they could walk straight through on dry ground. Verse 14:
Like livestock that go down into the valley, the Spirit of the Lord gave them rest.
Third reference to the Holy Spirit in this passage. You don't see a lot of this in the Old Testament. But don't think that the Holy Spirit was absent until Acts 2 at Pentecost. The Holy Spirit from Genesis 1 was alive and well and working and accomplishing the purposes of God in His people.
"The Spirit of the Lord gave them rest." The picture here is as a herd that's led down from the hills to find cool refreshing streams of water and shade trees and protection from the burning sun in the heat of the day, so God the great Shepherd gave His people safety, and comfort, and rest.
And He did it even when they were being pursued by Egyptian armies. Even when they were facing the unknown and the great wilderness before them. You see, God knew how much His people could handle. And He was leading them to the Promised Land—the land of rest, the land of abundance.
So, God loved them. He had a plan for their lives, and He was carrying it out. He's telling these rebellious Israelites now in captivity, "Remember. Remember. Remember who God is. Remember what He did."
In their deepest distress, in their darkest days, God redeemed and rescued and cared for His people. And He is still doing that for His people. He leads us through danger. He delivers us from our enemies. He's leading us toward heaven. He's removing any obstacles that keep us from being able to walk with Him.
This passage reminds me of Psalm 23 where the Scripture says that our good Shepherd makes us to lie down in green pastures; he leads us beside still waters (v. 2).
Now, that doesn't mean there aren't any enemies, there aren't any storms. The children of Israel were going through a very real obstacle, but God cleared the way. He cleared the path. He made it possible for them to pass through. So, verse 14 continues:
So you led your people, to make for yourself a glorious name. So all the nations of the earth would say, "This is what their God did. They didn't do this. This is what their God did."
Jehovah is the Shepherd of His people. He's the one who leads them. And His purpose is to display the greatness of His name and His power. And you see this three times in this passage here in verses 12 and 14 and then in chapter 64, which we'll be looking at tomorrow, that His purpose was to put His name on display so others could see what He had done for and on behalf of His people—so people would know there was no other god who could have done this. God is about displaying His glory throughout the earth so that men and nations may believe and turn to Him and be saved, and they can give Him the glory that is due to His name.
Now, if we don't let God glorify Himself through us, here's what happens. You read about this in Romans 2:24. "As it is written, [Paul said] 'The name of God is blasphemed among the Gentiles because of you.'"
So as Christians, our lives, our attitudes, the way we talk, the way we live, the way we treat other people, the way we deal with problems and troubles and circumstances, the way deal with pain, the way we grieve at our funerals, the way we get married, the way we raise our kids, the way we do life is either causing the name of God to be blasphemed among those who don't know Him, or it's causing the name of God to be glorified. What are we doing as the people of God? How are we making the name of God look?
You think, It doesn't really matter if I stay bitter. Yes, it does matter, because you're giving God a name. You're giving Him a bad name. You want to give God a good name? That happens when you forgive and there's no human explanation for how you could have forgiven somebody who did that to you. You're giving God a glorious name when you do.
"Hallowed be your name." That's the point. In times of revival, because of what God does in the hearts of His people as they remember His works, then the result is that God's name is reverenced. It's hallowed. It's honored. It's exalted.
Well, as the people of God remember from their backslidden situation, remember what God has done for them in the past, it does several things.
First, it gives them a longing for God to intervene again. So we read in verse 11 two times, "Where is He who did this? Remember what God did. Where is He now? We want to see Him again. We saw what He did at the Red Sea for our forefathers generations ago."
This is why, by the way study of church and history is so important. Knowing the history of the Scripture is so important because as you see what God has done in the past, it gives you a longing to see God do it again in this day. Where is He? Where is He?
And then it gives hope as you remember. Hope that God can and will meet them in their current distress, as He has in the past. That He will remember His promises. You see the one who's praying wasn't there when God moved in the Exodus, but now, in exile, that history has become much more relevant to him.
He says, "If God did this for our fathers, God can deliver us today from our captivity." Where is God? Well, He's right where He's always been. And if we rebel, He will set Himself up against us. But if we repent, He will come to our aid.
So, God calls us in this passage to remember what He has done for His people in the past. When we get to chapter 64 tomorrow, we're going to see why this is so important. We're asking Him to make His name glorious once again!
Now, we pick up in Isaiah 63 at verse 15. And all the way till this point the prophet has been talking about God—His character, His ways, His track record. But in light of all that he has said, all that has been seen, he now talks to God. And verse 15 is where this great revival prayer actually begins.
Isaiah 63:15. Now he's no longer just talking about God, now he's talking to God and he says:
Look down from heaven and see, from your holy and beautiful habitation. Where are your zeal and your might?
So in verse 11 he says, "Where is He?" Now he says, "Where are You? God where are You? Where are Your zeal and Your might?" This is an honest question that's directed toward God. It's prayer.
And he's saying, "God, it seems like You're not doing anything. It seems like You're inactive in our day, like You're uninvolved, like You're absent, like the whole world has gone crazy. Where are You? Where is Your zeal? Where is Your power? Where is Your might?" And then continuing in verse 15 he says:
The stirring of your inner parts and your compassion are held back [or restrained] from me.
"God, it doesn't feel like You care anymore. It doesn't feel like You love us or like You're concerned about what we're going through."
Don't you think some believers in parts of the world where they are being tortured for their faith are feeling that? "God, where is the stirring of Your inner parts? Where is Your compassion? Are You holding it back? We've seen how You've shown compassion on Your servants in the past. Are You restraining it now?"
What about in our land? We've seen where God has moved in the past. Where is He today? "Lord, where are You? Look down from heaven and see what's going on. Where are You?"
Do you ever wonder, If God is so powerful, why is all this happening? Why is evil winning? Why doesn't God do this? Why doesn't He stop that? Does He really care?
And when we feel that way—whether you feel it about the world events or our nation's events or our church's events or events in your family or in your own life, when you feel that way—the solution is not to turn away from God. The solution is to turn to God—to turn to Him, to pray, to cry out to Him, to let Him know your heart.
And we need to remember that our emotions can mislead us. They're not a very good barometer of truth. We may feel forsaken at times, but if you're a child of God, you will never be forsaken. That's why we're called to remember and rehearse His promises and to believe what He has said, even when circumstances seem to tell us that just the opposite is true.
And so we have beginning in verse 15 of Isaiah 63 and continuing all the way through chapter 64, an earnest prayer and an appeal for mercy and help.
"Look down from heaven, O God. You've got a beautiful holy place up there but we're a mess down here. Look down and see this mess." He acknowledges that God is high and exalted and majestic and that we are lowly. We can't pray until we have God in His proper place and us in our proper place.
And he acknowledges that God sees everything. That the eyes of the Lord are in every place. But these people are particularly asking God to look down and see what they are going through. Do you ever just say, "Lord, look down on my household and see. See what's happening." Verse 16:
For you are our Father, though Abraham does not know us, and Israel does not acknowledge us; . . .
He's saying in essence, "Our spiritual forefathers would barely recognize what we have become. They might not even claim us as belonging to them. They might disown us, and yet we know that we belong to You. We're not acting very much like it. We don't look very much like it. We're not the godliest generation that every came up through Your people. But we know that You are our Father."
. . . you, O Lord, are our Father, our Redeemer from of old is your name.
He's saying, "You're still our Father. You're still our Redeemer. You birthed us. You created us. You've redeemed us and You are not going to disown us. And we are going to cling to You." He realizes we can come to You; we can cry out to You; we can expect to get help, because we have a relationship with You. We are Your people.
"So, Lord, this isn't the neighbor's kids crying out to you. This is Your kids. Come and hear and answer."
And then verse 17. One of the most imponderable verses I think in all of God's Word.
"O Lord," and again, this is not the pagan nations praying this prayer. This is God's people. So you can't pray this kind of prayer if you can't say, "O Lord." If He's not your Lord, then you need to pray, "O Lord, save me." Period. But here the people of God are saying,
O Lord, why do you make us wander from your ways and harden our heart, so that we fear you not?
Now, I don't understand all of that. But here's a little bit I think I do understand. First of all, they realize that in their hardness of heart they need God. And they realize that what they're experiencing is something that God has given them over to so that they would cry out to Him.
Now that they're crying out, it's an evidence that their hearts are no longer hard. Their hearts are being softened—getting tenderized. They're not blaming God for their hardness of heart. But they're acknowledging that they've been guilty and that God has given them over to the consequences of their own foolish, wicked choices.
This is a description, if ever there were one, of the unrevived church—wandering from His ways; hardened hearts; no fear of God; just like other believers. And yet they're saying, "You're still our Father. You're still our Lord. And we're coming to You, and we're recognizing that in this really hard place we're in, You are what we need. You are who we need. We can't get out of this condition apart from You."
And then they cry out, "Return." First they cried out, "Look down from heaven and see." And now they say, "Return."
Return for the sake of your servants, the tribes of your heritage.
That word "return" means "to turn back." They're pleading with God to act on their behalf though they know they don't deserve it. Because remember, they've been rebellious. They've hardened their hearts. There is no fear of God. They've wandered from God's ways, but they're saying, "Lord, have mercy on us. Turn back to us. Act on Your behalf. We're Your servants. We're Your heritage or inheritance or possession. We belong to You. We're precious to You."
This is a prayer that longs for a restoration of God's presence and His power among His people. They want the Shekinah glory that was the symbol of God's presence among His people. Long ago, that Shekinah glory had departed from the temple.
They are saying, "Return. Return. Come back. Soften our hearts. Give us a repentant spirit. Cure us of our rebellion. Cure us of our idolatry. Cure us of our spiritual adultery. Bring us back, O Lord. We want Your glory to come back to our midst."
Verse 18:
Your holy people held possession for a little while; our adversaries have trampled down your sanctuary.
And again this is a prophetic word written a hundred years before the exile when the Babylonians came in, took over the land, and destroyed the temple, and the Jews were taken into captivity.
But Isaiah looks ahead, and he gives the people a prayer for that season. This could be a prayer for our season, couldn't it? "O Lord, return. Your adversaries have trampled down Your sanctuary."
I heard again on the news yesterday about within the church just the affirming of things that we know are sexually abhorant to God and being affirmed in the church. And we cry out, "O Lord, bring back Your glory. Bring back Your holiness. Turn Yourself. Turn us."
Verse 19:
We have become like those over whom you have never ruled, like those who are not called by your name.
Based on our desolate condition, no one would know that we're any different than the pagan nations around us who've never had a relationship with You.
And so the one praying looks at the condition of God's people of which he is a part and he cries out. And he asks heartfelt questions. This is no pat prayer. This is no just take our perfunctory requests before the Lord. This is heartfelt. This is passionate.
He says, "We've seen Your power in the past. Where is it now?" (v. 15). Verse 17: "Why do You seem to be set against us? "
He gets honest. He gets earnest. And in that honesty and in that earnestness lies our only hope. His name is God. The Lord. Jehovah. The Maker of heaven and earth. Our Redeemer. The One who delivered and saved us in the past is the One who can come once again and deliver His people in this difficult day. And why? To make Your name glorious.
O Lord, we want the world to see that You are God. Right now they're looking at us, and they're not seeing that. But we want them to see that. And so we cry out. Lord, look down. Look down from heaven. See. Return. Turn back. And as You do, would You turn our hearts and restore Your presence and Your glory among us. That's our prayer.
Dannah: That's Nancy DeMoss Wolgemuth showing us the kind of prayer that's needed in urgent times. It's part of a series Nancy's teaching all this week called, "A Cry for Revival." If you've missed any of the messages so far, you can find them on the Revive Our Hearts app, or at ReviveOurHearts.com.
Have you been encouraged by this program? These messages are made possible through listeners just like you. When you give a gift of any amount to Revive Our Hearts, we want to thank you by sending you the new Advent devotional from Nancy DeMoss Wolgemuth. Prepare for the coming season with Born a Child and Yet a King—the third book in the Advent trilogy.
These have been an important anchor for my heart to stay focused on Christ when I am easily distracted by cookie recipes, family gatherings, and decorating! In fact, this year they were the first thing I pulled out to make my home and heart ready! Familiar Christmas carols will take on a new meaning as you gain a deeper sense of God's love. Just visit ReviveOurHearts.com, or give us a call at 1–800–569–5959, and be sure to ask for the Advent devotional.
Just before we go, think about this. What would happen if you could experience the presence of God as you never have before? What if He visited you and transformed your life? What would it do in your relationships, your family, your church, and your world? We're going to explore those questions tomorrow. Please be back for Revive Our Hearts.
Revive Our Hearts with Nancy DeMoss Wolgemuth invites you to eartnestly cry out to the Lord. It's an outreach of Life Action Ministries.
All Scripture is taken from the ESV.
*Offers available only during the broadcast of the podcast season.
Support the Revive Our Hearts Podcast
Darkness. Fear. Uncertainty. Women around the world wake up hopeless every day. You can play a part in bringing them freedom, fullness, and fruitfulness instead. Your gift ensures that we can continue to spread gospel hope! Donate now.
Donate Now