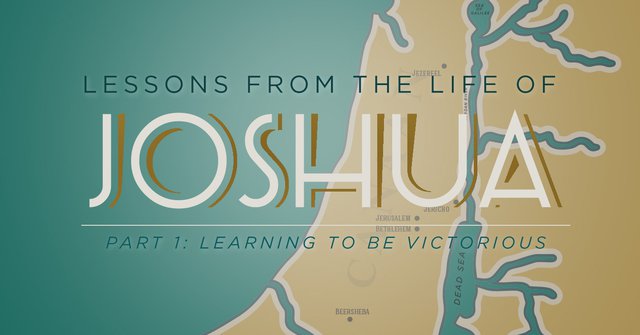 — Audio Player —
The Powerful Work of Intercession
Leslie Basham: Nancy Leigh DeMoss says prayer has a huge effect on your day-to-day life.
Nancy Leigh DeMoss: I believe one of the reasons we're seeing so many spiritual battles lost in our marriages and for the souls and the hearts of our children is because we don't have the work of intercession going on.
Leslie: This is Revive Our Hearts with Nancy Leigh DeMoss for Thursday, August 7.
Moses and Joshua are true biblical heroes. Does that mean they could do everything by themselves? No. We've seen just the opposite in our current series "Lessons from the Life of Joshua (Part 1): Learning to Be Victorious." These heroes needed God first, and they also needed other people. Nancy is here to continue that teaching.
Nancy: We're spending several days in our series on Joshua, looking at a passage in Exodus chapter 17 that God has really been using to impact my life in a significant way. This account has affected my perspective on various circumstances and situations in my own life.
For those of you who've not been with us in the past several sessions, let me read the account. As I do, I want you to pick out the names of the key players in this story. Then I want us to talk about the role that each one had. There were three players or sets of players, and each of them had a vital role. Each of them was necessary.
At various times we may find ourselves in one or the other of these different roles. See if you can pick them out as I read, beginning in Exodus 17:8.
Then Amalek came and fought with Israel at Rephidim. So Moses said to Joshua, "Choose for us men, and go out and fight with Amalek. Tomorrow I will stand on the top of the hill with the staff of God in my hand." So Joshua did as Moses told him, and fought with Amalek, while Moses, Aaron, and Hur went up to the top of the hill.

Whenever Moses held up his hand, Israel prevailed, and whenever he lowered his hand, Amalek prevailed. But Moses' hands grew weary, so they took a stone and put it under him, and he sat on it, while Aaron and Hur held up his hands, one on one side, and the other on the other side. So his hands were steady until the going down of the sun. And Joshua overwhelmed Amalek and his people with the sword (Ex. 17:8–13).
Did you catch the three players or groups of players, the three key characters in this account?
First of all, we have Joshua and the troops of Israel. What are they doing? They're in the valley fighting the physical battle, fighting against the enemy, the Amalekites. We saw earlier that the Amalekites are a picture of all the enemies of God that we fight in our spiritual battles.
So we have Joshua and the troops. We see that they are dependent on the Lord, and they are dependent on Moses who is standing on the hill interceding on their behalf. As Joshua is down fighting the battle, he is being prepared for his life's work, which is going to be as the military leader of Israel.
We haven't even gotten to the book of Joshua yet, and we won't for some time in our study of Joshua. There are forty years yet before Joshua assumes the role of the commander-in-chief of the troops of Israel, but he's being prepared as he fights this first battle.
I'm reminded that as we're in the battle, we need to recognize our dependence on the Lord, recognize that we cannot do this without Him. We cannot fight in our own strength. As the old hymn says,
Did we in our own strength confide, our strivings would be losing.
Were not the right man on our side, the man of God's own choosing.
Christ Jesus, it is He. He must win the battle.
"A Mighty Fortress Is Our God." Martin Luther
So as we take the place of Joshua, we're down in this valley of this world fighting the battles; we realize we don't fight on our own.
I find this applying in so many practical ways in my own life. When I'm teaching on a day like this as we're recording for Revive Our Hearts, I am so thankful for those who are praying. I'm conscious of my dependence on the Lord in this battle. I'm conscious that I cannot go out in my own strength and do this.
I will often do radio interviews with other stations or programs. Many times those are on the phone, and I can do those from my home or my study. I started a practice years ago of doing those interviews, whenever possible, on my knees.
Nobody knows that as they're listening to the interview. The person interviewing me on the other end doesn't know that. But this is something I started back in the days when I had not done many interviews and I was really desperate for the Lord's help. I knew I needed Him. So I would get on my knees and put the phone in my hand and do the interview.
It became a practice, a way for me of acknowledging my need for the Lord. I found myself not too long ago doing a string of interviews about a new book that had been released and thinking, I could do this interview sitting down. Well, I could, and nothing wrong with doing an interview sitting down.
But it struck me that I needed that symbol, that visible conscious reminder of my dependence on the Lord. Sometimes they're long interviews, and I don't end up on my knees for the whole time. But to start there at least and to say, "Lord, I need You." It reminds me that the battle is the Lord's.
At times I will ask others to pray. I will say to my office, "Can you send out an SOS? We have this going on in the ministry. We need people praying. Can you get prayer support?" Those of us who are the in valley fighting the battle, as you are in your workplace, in your church, in your home, in your marriage, fighting for the souls of your children, remember you need the Lord. Remember you need others praying for you.
Recognize your need to have others pray for you as you are in this battle. There's nothing wrong with picking up the phone and calling a friend saying, "I'm in a battle today." It may be with an addiction or besetting sins—a sin habit that you are struggling with. Or you are exhausted and you've had it with your children. And you know that if God doesn't intervene and give you grace, you are going to be one unpleasant mother to live with.
So pick up the phone. Call your husband. Call a friend and say, "Would you pray for me? I can't do this battle on my own." Wives, as you're in the battle spiritually during the day, you need the prayers of your husband. We need the prayers of our spiritual leaders. I will often, as a single woman, call one of the spiritual leaders that God has put into my life and say, "Would you please pray for me?" I need that covering. I need that protection.
If we're taking the place of Joshua in the battle, we need to realize our need for others to support and sustain us, that we cannot win the battle ourselves.
So we have Joshua who is fighting the physical battle down in the valley. Then we have Moses who is up on the hill looking down on the battle, and he is fighting a less visible battle but equally real. He's fighting the spiritual battle on behalf of those down in the valley.
I recognize as I've been meditating on this passage over the last weeks that the battle is won or lost up on the hill. The victory over the forces of evil down in the valley requires and depends on the ministry of intercession, someone holding up the rod of God toward heaven and calling out to God to intervene on our behalf.
That word intercession comes from a word that means "to intervene." Intercession is pleading with God on behalf of another person. It's calling out for God's intervention.
While I've been studying this passage and preparing for this series, I've received emails from a number of different people that have various prayer requests and concerns. You probably get those kinds of emails as well.
There have been a string of those emails recently that have related to major prayer requests, major crises and emergencies.
I have a friend's daughter over the last couple weeks who's been diagnosed with a brain tumor and has been through serious brain surgery. The wife of one of our staff members died suddenly of a heart attack at age forty-five. We got that email. Pray for this family. Debbie has just gone to be with the Lord. There are two teenaged kids and a husband left behind. I've had a friend during this series who has fallen morally—had a serious moral failure. That email went out to those of us who were close to him to pray and lift up this situation.
There have been other issues that have been less critical, less serious. But in a number of these cases as I've been studying this passage, I've kind of visualized this battle going on down in the valley, and realize that at this moment it's my time my place, to be up on the hill interceding, lifting up the rod of God.
I've found myself slipping to my knees or going to prayer and saying, "Lord, I lift up this rod to You. I lift up the banner, the name of Christ to You. I'm calling out to You on behalf of those who are waging this war down in the valley. Would You come and give them grace? Would you minister to them? Would you meet their needs?" I'm calling out to God on their behalf as so many have done for me time after time after time.
Intercession is work. I am not what I would call an intercessor. Intercession is hard work, and I think it's the hardest work I'm ever called to do. I've known people who really are intercessors; that's their primary calling and ministry. I've watched their lives, and I'm amazed at how they carry that burden.
It's hard work. It's vital work. The work of intercession determines the outcome of the battle. That's what releases God's power. When Moses' hands fell down, the Israelites began to lose. If there's not someone up on the hill interceding for us, we are going to lose the battle.
It's true on so many fronts that God's power is released through intercession. I think of James 5:16 that says, "Confess your sins to one another and pray for one another that"—what?—"that you may be healed."
Recognizing needs in each other's lives, recognizing sinful issues—we're to confess these; we're to be open about these so we can intercede for each other. When you learn about somebody's spiritual failure, somebody's sin, whether they come and tell you about it or you just observe it, that is a call to intercession.
That's a call to go to the hill and to lift up the rod of God and intercede on their behalf so they can be healed, so the spiritual victory can be won in their lives. Prayer is vital, determinative work.
Parents, you need to be praying for your children. That is the most strategic, vital, necessary work you can do on their behalf. I'm afraid it's the work that, in so many cases, goes by the wayside because it's the unseen work.
Everybody would notice if you didn't get your kids to school. Everybody would notice if your kids didn't have decent clothes. But not everybody notices if no one is praying for your child. But the real battle for your children's souls is being fought, is won or lost up on the hill in intercession.
Wives, are you praying for your husbands? They're out there in a battle. They're in a battle for their souls. I've seen so many men get tripped up with pride or sensuality, immorality, greed, lust. I'm wondering, Who was on the hill fighting for them? Who was interceding on their behalf? How did they get side swiped by the devil? Was somebody praying?
Are you praying for your pastor? Are you praying for other Christian workers? That's where the battle is won or lost. Prayer is hard work. It's vital work. It can be tiring work. We sometimes get weary in the battle and in the intercession, as Moses' hands grew weary as he was holding up that rod. So we need others to come alongside to help us.
Prayer is long work. We're told to pray without ceasing. Other kinds of work may be done. You can check things off your to-do list, but you can never check prayer off your to-do list. Prayer ought to always be at the top of our to-do list.
Moses held up his hands steady. How long? Until the going down of the sun—all the way to the end of the day. There's a long haul aspect to prayer.
Jesus said men ought always to pray and not to give up, not to lose heart, not to grow weary.
I think of those verses in Isaiah chapter 62, verses 6 and 7 that say, "On your walls, O Jerusalem, I have set watchmen [intercessors]. All the day and all the night they shall never keep silent." And then he goes on to say, You who remind the Lord. That's a description of an intercessor. "You who put the Lord in remembrance, take no rest, and give him no rest."
Do you ever think about you keeping God awake? God's not going to go to sleep. But there's a sense in which we're reminding the Lord and we're saying, "Lord, I'm not going to let You go until you win the battle in the life of this teenager or this adult son or daughter or this husband who is in a battle for his soul, involved in this extramarital relationship. Oh God, I'm crying out to You to win the victory."
"You who put the Lord in remembrance, take no rest, and give him no rest until he establishes Jerusalem and makes it a praise in the earth." Until the battle has been won.
Prayer is personal work. It's private work. But it's also corporate work. There are times when we need others to come around and pray with us. There's the power of one praying, but there's also the power of two or three coming together to pray. So sometimes we pray alone and sometimes we join with others.
I'm thinking of two friends, Gwen and Debbie, who listen to Revive Our Hearts on WMBI and on the Internet in the Chicago area. These are two women who didn't know each other until they both began praying for Revive Our Hearts. We ended up together at a function. They connected and they began taking up the burden to pray together for me and for the ministry of Revive Our Hearts.
These two precious women meet together once a month. They usually send me a card to tell me when it has been, to say, "We've been praying for you." They come together. They lift up my schedule. They lift up needs in my life. They lift up the ministry of Revive Our Hearts. They pray for a revival among women, for a revival of biblical womanhood. They're praying for a counter-revolution in the hearts of women. They are praying together.
My burden is that God would raise up women all across this country who would pray alone, pray in twos, pray in threes, pray through email, pray on the phone, get together and pray, little cells of women praying not only for me and Revive Our Hearts but for their marriages, for their churches, for their children, for this country, for revival, for the women in this country. Praying is personal work but it's also corporate work.
And then prayer is fruitful work. It's work, but it's fruitful work. I've seen the impact over and over again, as have all of us probably in our own lives, the fruit of people who have been praying for us.
I shudder to think where my life would be today had it not been for praying people, intercessors, starting with my Great-Grandma Ya Ya, my Greek grandmother who I never knew and will not know this side of heaven, who prayed for her children and grandchildren. I'm the product of those prayers.
I thank the Lord for the prayers of my dad and my mom to this day. I thank the Lord for people who prayed for me when I was a little girl, when I was a teenager in some awful stages where I obviously needed a lot of prayer. But I don't need it any less today.
I thank the Lord for those prayers. I thank the Lord for the impact of praying people in this ministry. When we have Revive Our Hearts conferences, we have people who come, some of them at their own expense, just to pray during that conference. They will go in a private room. They don't even hear the messages or the sessions. They will take prayer cards from the women who are in those conferences and they will pray through those prayer cards, sometimes hundreds or thousands of them. Through the course of Friday night and all day Saturday, they will pray.
Sometimes I've been in prayer meetings that are like a birthing room, a labor room, and people crying out to the Lord, "Lord, come and visit us. Lord, come and meet with us. Lord, intervene. Lord, we need You."
Where is that kind of praying going on today? It's fruitful. It's productive. I believe one of the reasons we're seeing so many spiritual battles lost in our marriages and for the souls and the hearts of our children is because we don't have the work of intercession going on.
That's never going to be a work that the majority give themselves to. It's never going to be highly praised or well-paid work. It'll be under-appreciated work. But it is the key, strategic, vital work to which God is calling us as women today.
So we have Joshua and the troops fighting the physical battle down in the valley. We have Moses fighting the spiritual battle up on the mountain, the battle of intercession. And then we have Aaron and Hur lifting up Moses' hands, enabling him to be steady, to persevere in the battle to the very end.
Again—I know I've said it but I just can't overstate the role, the impact of people who do that for me. I got a call last night from the director of our parent ministry, just wanting to pray for me as we went into today's recording sessions. Over the phone he prayed that God would anoint me with the power of His Spirit, that God would give stamina, would give energy, that God would speak to women today, that God would part the waters of the Red Sea and would win the battle in women's lives.
I'm so thankful for those calls and for those who are praying, even though they don't call, the Aarons and the Hurs. This is a call to come alongside of and lift up the hands of those who have spiritual leadership, those who are engaged in spiritual warfare, to encourage them, to support them, to grasp their hands and lift them up in the battle.
I hope you're doing that for your spiritual leaders. We can't point the finger when they fall. We can't criticize them when they blow it if we have not been lifting up their hands in the work of intercession. When they fall, I believe we share in the responsibility if we've not been doing the work of intercession.
Each of those people in this account in Exodus 17 is a picture of Christ. I want to remind us of that as we close this session. Jesus is our Joshua. He's the captain of our salvation who fights our battles. He's our Moses. He's at the right hand of the Father in heaven always interceding for us, helping us prevail over the enemy.
As the Children of Israel were encouraged when they looked up and saw Moses' arms uplifted with the rod of God, so we are encouraged in the battle as we look to Jesus the author and the finisher of our faith. That's what the writer to Hebrews says. "Consider him." Lift your eyes up and see your Moses, the Lord Jesus, so that you may not grow weary or faint hearted.
Jesus is our Aaron and our Hur. When we get weary, when we have no strength to continue in the spiritual battle or in the ministry of intercession, Christ our High Priest comes to our aid. He lifts our drooping hands and He helps us persevere.
So what was the outcome? All these fit into their place. All of these had their role. Verse 13 of Exodus 17 tells us, "Joshua overwhelmed Amalek and his people with the sword." That word overwhelmed is a word that means "mowed them down." Overwhelmed the enemy; this was a decisive victory.
It's not that Israel was militarily superior to the Amalekites. Quite to the contrary. This battle, the first battle the Israelites fought, was like a junior high school basketball team taking on the Chicago Bulls. I mean, this was a serious mismatch. The Israelites were major underdogs in this battle.
The Amalekites demonstrated their ability to prevail. Every time Moses' hands came down, the Amalekites started to win. But God intervened in response to Moses' intercession and supernaturally thwarted the victory.
So we're reminded that we're in a battle. The battle is a spiritual one. The battle has to be waged in the spiritual realm. We have to use the resources and the provision that God has made available, the armor of God that we read about in Ephesians chapter 6.
An essential part of that armor, an essential weapon we have in that battle is the ministry of prayer, prayer and intercession. Then we find victory. As the Scripture says in Romans 8:37, "In all these things we are more than conquerors through him who loved us." By God's grace we can mow down the enemy—not in our own strength but in His strength.
Thanks be to God who in Christ always leads us in triumphal procession and through us spreads the fragrance of the knowledge of Him everywhere.
Leslie: Nancy Leigh DeMoss has been encouraging you to fight your battles through the power of prayer.
Before this series began, I never realized how practical a study of Joshua would be. This Old Testament military leader has so much to teach us as women today about the struggles we face. We'll continue looking at the early life of Joshua over the next couple of weeks, seeing how God worked through him, teaching him to be victorious. 
I hope you'll follow up on this series by learning more about prayer. Nancy has written about prayer—how important it is and how to develop a daily habit of prayer in her book A Place of Quiet Rest. 
This book will help you approach daily devotions with passion. And it will show you how to develop the habit of spending time with the Lord each day. 
Ask for A Place of Quiet Rest  when you call with your gift of any size. Our number is 1–800–569–5959, or donate and get the book online. The address is ReviveOurHearts.com. We'll be making this offer through August 11 and will send one book per household when you make your donation. 
When you come out of a battle, then you really see celebration. Nancy will explain why tomorrow on Revive Our Hearts.
Revive Our Hearts with Nancy Leigh DeMoss is an outreach of Life Action Ministries.
All Scripture is taken from the English Standard Version.
*Offers available only during the broadcast of the podcast season.
Support the Revive Our Hearts Podcast
Darkness. Fear. Uncertainty. Women around the world wake up hopeless every day. You can play a part in bringing them freedom, fullness, and fruitfulness instead. Your gift ensures that we can continue to spread gospel hope! Donate now.
Donate Now