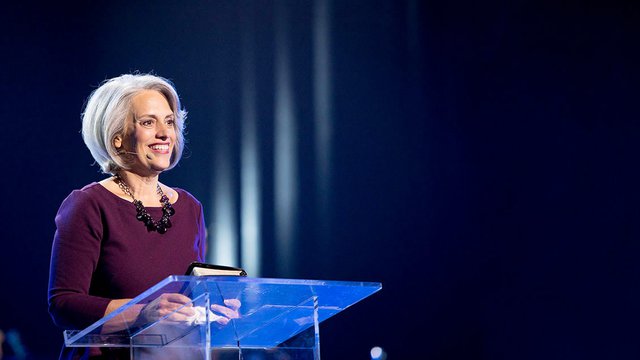 Misplaced Worship
Leslie Basham: Every addiction has a physical component. But ultimately, it is a spiritual issue. Here is Ed Welch.
Ed Welch: The deepest explanation for addictions is essentially the question of who will rule your life? Who will you honor? Who will you serve? Who will be your master? Who will be your Lord?
Are you trying to make your life work apart from God? Or are you seeking to have life work by faith in your Creator and Redeemer?
Leslie Basham: This is Revive Our Hearts with Nancy Leigh DeMoss. Happy Labor Day! And addiction is destructive on many levels. It can destroy a person's body, their family and their career.
But the most important issue is spiritual. As we will hear today, an addiction represents misplaced worship. Here's Nancy to introduce our guest.
Nancy Leigh DeMoss: I am so thankful for the women who write us here at Revive Our Hearts and share with us what God is doing in their lives and share prayer requests.
I want you to know that we do have a team who prays through those prayer requests because we are here to serve and to help and to minister God's grace to you in any way that we can.
And I read virtually all of those letters. I see many, many e-mails that come in each day from the program. And one of the things that we're hearing so often is that women are sharing a concern, a burden with us about either a personal struggle in their own lives--something that they feel is an issue that has them in bondage; that they are struggling to gain victory over.
Or they share with us an addictive issue or problem or situation in a relationship with someone they love. Often it's their husband.
And even just this week, I've received a number of e-mails from women sharing, My husband is in an addictive pattern and it's devastating our family. It's devastating our marriage. Help! I don't know what to do. I don't know if I can live with this any longer.
Well, today we are blessed to have with us on Revive Our Hearts a biblical counselor--and I stress the biblical. He does have an understanding of the Word and the ways of God. For years he has been helping people go back to the Scripture to deal with some of these very practical, real-life issues.
His name is Dr. Ed Welch. Ed is a counselor at the Christian Counseling and Educational Foundation in Glenside, Pennsylvania. And Ed, welcome to Revive Our Hearts.
And also, speaking to you as a fellow Philadelphian, I say, "Welcome to you."
Dr. Ed Welch: Ah, yes. Thank you. It really is a privilege for me to be with you, Nancy, and to be with your listeners.
Nancy Leigh DeMoss: Ed teaches at Westminster Seminary in Philadelphia. And Ed has written a number of books. Ed, over the years, I've been so thankful for the wisdom and understanding that God has given you and for the work that you've done to help people like me and people like our listeners who face many real-life issues so we may know how to look at them from a biblical standpoint.
You've written a book that I read some time ago called When People Are Big and God Is Small. And that's about dealing with peer pressure, codependency and the fear of man. And then you've written a book more recently called Addictions and the subtitle particularly I found fascinating: A Banquet in the Grave.
Dr. Ed Welch: It's not the kind of title that's going to sell too many books, I would think. It's a fairly dark title. We can think about it a number of different ways.
We can think about it by way of the women who actually struggle with their own addictions or the women who struggle with those whom they love who struggle with addictions. And I suspect that we'll hit both of those groups.
The first group, frankly, (who is in my mind) is the heroic women who walk alongside of children or husbands who are struggling with an addiction. When I say heroic, I guess what I am trying to say is that there are women of great faith who have learned that the Christian life is not as easy as they expected it to be.
Little did they realize the difficulties they were going to be encountering in their marriages. They assumed that there were going to be difficulties in the world and physical difficulties, but little did they realize that in their own marriages there were going to be these kinds of challenges.
Nancy Leigh DeMoss: Help us when we talk about this matter of addictions. That term, that word doesn't actually appear in the Bible anywhere. What are some of the biblical terms that relate to this matter of addictions? We want to take everything back to "getting our grid" for looking at life through the Scripture.
Dr. Ed Welch: If you get your concordance out, there are not too many translations that have the word "addiction" in them. You'll find the word "drunkenness" quite a bit and that actually is one way to sort of move into the Scripture to begin to get some sense of what's going on.
And as you move into the Scripture, you find that Scripture begins to broaden a little bit. And it includes drunkenness and drugs and alcohol essentially as we would say today. It includes sexual sin and it includes food-related sins.
They would all be subsumed under a larger category called the appetites. That's what we would normally call them. They are organized on the basis of how they are areas that affect the physical body and we just plain old like them. We love them.
That seems to be what tends to organize them. So, we're thinking about drugs and alcohol and that's probably going to be our prominent illustration. But we are also thinking about sexual sin from adultery to pornography. And we are also thinking about food-related sins which may step on a few toes.
Nancy Leigh DeMoss: You know, last night I was having dinner with three or four couples who are friends of mine. And I knew we were going to be talking about this today.
So, just for dinner table conversation, I threw out this question. What are some of the most common addictions that you think women struggle with today? And, oh my goodness, I pulled out a piece of paper and a pen which thankfully I had with me and just started taking notes. They came up so quickly.
They said, "Food, soap operas, men, shopping, Internet, TV, romance novels, spending, pornography.
And someone at the table said, "For women?"
And those of us who have been ministering to women said, "Yes...many of these sexual areas of the Internet, pornography, romance novels, the body and altering-body types of surgeries and the quest for a beautiful body. And I heard…
Dr. Ed Welch : This was a long dinner time.
Nancy Leigh DeMoss: It was. But it was so apparent as we thought about people that we knew. And the illustrations were flying.
I heard at that table last night about a seventy-year-old woman who is addicted to Internet gambling in a way that's become highly destructive to her. So, we're talking about a broad range of issues that really do affect women's lives.
Dr. Ed Welch: What you are saying is something very, very important. In a sense we want to be looking two directions as we speak together.
Indeed, there are going to be people that all of us are going to be able to think of who are struggling with addictions. We want to keep one eye on them.
But the Scripture never lets us get away with simply looking at the other person. The Sermon on the Mount is the best illustration of this. The sense is that whenever we are looking at somebody else, and we don't struggle with that…for example, I have never killed anybody. And so I encounter the Sermon on the Mount saying don't murder. So, this is great. This is great.
Nancy Leigh DeMoss: You are off the hook.
Dr. Ed Welch: I can read this and I can think about other people I know. But sure enough the Lord just keeps expanding it and expanding it until we find that we are all in the same category. So what I think you are saying right now is something very important. We need to keep an eye on other people but we also need to keep an eye on ourselves.
Now as we go into the Scripture and continue to investigate Scripture, what do you say about this? What Scripture yields essentially is that addictions are a problem of misplaced worship.
There may be genetic problems that are part of it. There may be family history problems which are part of it. But the deepest explanation for addictions is essentially the question of who will rule your life? Who will you honor? Who will serve? Who will be your master? Who will be your Lord?
Are you trying to make your life work apart from God? Or are you seeking to have life work by faith in your Creator and Redeemer? That's what unites both the person we are thinking about, who struggles with addiction, as well as ourselves.
If we look at our own hearts, we are going to find places where indeed we are tempted to worship our own desires rather than the Living God.
It might just be a few minutes break from worship of the Living God, but all of us can find those kinds of things in our own lives.
Nancy Leigh DeMoss: In fact, you suggest in your book that you could give a one sentence theme to all of the Bible. And that is, whom will I worship?
And really we are either worshipping ourselves and our own desires, which when we do lead us into what the Bible calls slavery or bondage…and I was so helped as I read your book recently, Ed, by the thought that the things we think will bring us pleasure--and, in fact, sin does for a moment bring pleasure--if we indulge in those ways that are beyond biblical bounds, we end up becoming a slave to the very thing we thought was going bring us such pleasure.
Dr. Ed Welch: The Scripture is so sophisticated with this. I think what you are saying Nancy is indeed, the entire Bible is about addictions. The question of who will you worship is from Genesis to Revelation and indeed it is the heart of the addictive problem.
The other thing that you are saying (which is very important) is that the nature of sin is "I like this. I want it."
Perhaps the most succinct definition of sin is "I want…I want." There you see the commonality between us, who don't struggle with overt addictions and the people who (we know) do struggle with actual addictions--the screaming "I wants" of the human heart.
The Scripture indicates that when we let ourselves go to our own desires, there's that continuing desire, (Ephesians 4) there is that ongoing desire for more, for more and more--just one more-- the lie that perhaps one more and then I will be satisfied. That's the biblical dynamic.
Nancy Leigh DeMoss: And rather than being satisfied, we end up as slaves. I think of the passage in (Romans, chapter 7:21-25 paraphrased) where the apostle Paul says, "I'm struggling with these desires that are within me--the things I want to do and the things that I know I should do. And I'm feeling myself in bondage and in slavery to my own desires."
He says, "Oh, wretched man that I am. Who will deliver me from this death?" That's a question that we want to ask and a question we're going to go to the Scripture to help answer over these next days both for ourselves and for those whom we love who have found themselves in these sinful bondages.
Leslie Basham: I hope you can join us all week as Nancy and Ed Welch continue their discussion on addictions. Nancy will be right back to pray.
As we've heard today, we're all tempted to worship things other than God. Even if we are not engaged in highly visible addictive behaviors, we're still prone to sin. Ed Welch has written a helpful booklet called Just One More: When Desires Don't Take No For An Answer.
If it seems like you just can't say no to certain things, this booklet will point you to the underlying spiritual issues; then offer some practical advice to avoid addictive behavior.
You can get more information on our Web site www.ReviveOurHearts.com. And while you are there you can read a transcript of today's program or listen on-line. Again, the address is www.ReviveOurHearts.com.
And earlier in the program, Nancy mentioned how meaningful it is for us to receive letters from our listeners.
The Bible commands us over and over to avoid worshipping idols. How can we apply that to our lives? We don't bow down to images made out of wood or stone. We'll talk about it tomorrow. Now, let's pray with Nancy.
Nancy Leigh DeMoss: Father, how we thank You that through Christ and through Your Truth, there is hope. And we do not have to live as slaves to our own lusts and desires and to our own wants.
But through Christ, we've been set free to be Your slaves. And in slavery to You there is the true, ultimate freedom for which our hearts long.
So, Lord, I pray that You would help us even throughout the course of this week to examine our hearts, to discover where we may be worshipping things or experiences or anything that is less than You.
Bring us to repentance where that is needed, to a true brokenness and then bring us to, I pray, a true worship of our Creator, Savior, God, as we see the power of the Gospel to set us free through Jesus Christ. In His Name we pray. Amen.
*Offers available only during the broadcast of the podcast season.
Support the Revive Our Hearts Podcast
Darkness. Fear. Uncertainty. Women around the world wake up hopeless every day. You can play a part in bringing them freedom, fullness, and fruitfulness instead. Your gift ensures that we can continue to spread gospel hope! Donate now.
Donate Now