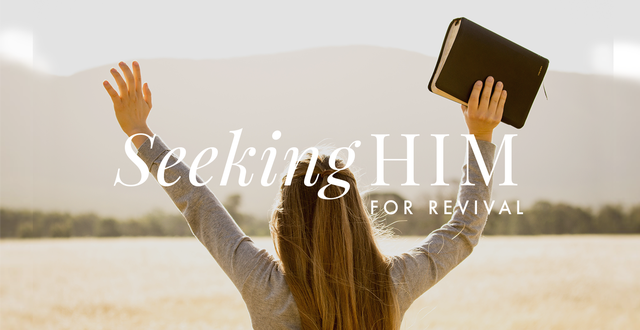 — Audio Player —
Lord, You Know!
Dannah Gresh: The prophet Ezekiel saw a vision—a valley full of dry bones. Some situations in life seem like those bones—hopelessly dead. But a phrase from Ezekiel helps us turn our eyes toward heaven. Here's Nancy DeMoss Wolgemuth.
Nancy DeMoss Wolgemuth: Lord, You know. Can my family be brought back to spiritual life and vitality? Lord, You know. Will our church ever come back to life? Lord, You know. You see, no amount of human effort or wisdom or power could re-assemble those bones and bring them back to life. Only God!
Dannah: This is Revive Our Hearts with Nancy DeMoss Wolgemuth, author of Consider Jesus, for Thursday, December 5, 2019. Welcome to Revive Our Hearts. I'm Dannah Gresh.
Nancy, the name of this ministry, Revive Our Hearts, is a big clue to something that is at the very core of our ministry.
Nancy: Yes, revival! We are about believing God for revival.
Dannah: Can you explain what it means when we talk about the word "revival"? I think there are a lot of misconceptions when people hear the word.
Nancy: I think for some people that word carries a lot of baggage. It may conjure up images of a deeply emotional experience where everyone is crying, or coming forward for an invitation. In some parts of the country we still talk about having revival meetings—which may be several days of meetings in church. It may or may not be revival.
But at the heart of it, true revival is when God brings new life into something that used to be dead or dormant.
Dannah: That can happen in one individual's heart, or it can happen when the Spirit of God moves in an entire group of people, right?
Nancy: That's right. I sometimes refer to that as "Big R" Revival. That's when God in an extraordinary way impacts the lives of many people at the same time.
Dannah: Well, today we're going to hear a message you gave a little over two months ago at Revive '19, a conference for women held in Indianapolis. It was the end of the conference. And for me, Nancy, it was the highlight. And you talked to us about seeking the Lord for revival. Just before you spoke, we all watched a video about a revival that swept through this nation and then around the enitre world in the mid-1800s. We're going to listen to a short account of some of the ways God worked now more than 160 years ago, and then we'll go straight into your message from Revive '19. Let's listen together.
Jonathan Brownson: Well, Jeremiah Lanphier was a businessman. He moved to New York City to start a garment business. He moved to a location that was in the center of Manhattan. He was converted in a church in Manhattan around noon—which has significance to the later part of the story.
After his conversion, he was asked by the consistory (or the leadership) of the North Dutch Church if he would serve as a lay missionary for them.
Nancy: The church decided to hire this lay missionary because they were losing members.
Jonathan: What was happening in the North Dutch Church is similar to what is happening in metropolitan areas today—businesses were moving into Manhattan and church members were moving out of the area.
Lyle Dorsett: We had see a decline in church attendance as early as the 1850s.
Nancy: This is Lyle Dorsett, professor of Christian Formation and Ministry at Wheaton College.
Lyle: The growth of churches—the growth (in numbers) of people going to churches had declined quite a bit. Our statistics aren't completely reliable by any means from these eras, but we do know that.
Jonathan: Jeremiah's main objective or goal—when they hired him in July of 1857—was to go out knocking on doors of the neighboring residences and invite people to Sunday school and to come to church and to fill the pews.
He began doing that in July of 1857 and worked on that for a couple of months. We don't know all of what went on in his mind, but I imagine that he was quite exhausted after a lot of door knocking. He decided that he was going to start knocking on heaven's door instead of on resistant, earthly doors.
Nancy: Believers were meeting together asking God to revive His people. This was essentially the same idea—only at noon.
Kevin Adams: That was the different thing about these prayer meetings—the fact that it was a mid-day prayer meeting.
Nancy: This is pastor and author, Kevin Adams.
Kevin: Of course, there were prayer meetings held at all different times in the past. But a mid-day prayer meeting was quite odd.
Nancy: The prayer meetings, initiated by Lanphier, were to take place at the same time of day that he had been converted.
Kevin: He felt very strongly—he wanted the people (mainly the men who were working the business area of New York) during their lunch time to come out and to pray—to intercede. He really felt a burden for this.
Jonathan: September 23, 1857 was the first prayer meeting that was held under Jeremiah Calvin Lanphier's leadership.
Kevin: He waited for half an hour and nobody turned up at all! You can imagine how he felt.
Jonathan: I would imagine he was pretty discouraged after a half an hour of being there alone.
Kevin: But by the end of the hour, five people turn up and began to pray.
Jonathan: It didn't take long for the meeting to multiply.
Kevin: He said, "Next week let's pray together again." This time twenty people turn up. The week after that a few more people came.
Nancy: In God's Providence, the explosion of this prayer meeting coincided with the country's financial troubles. Here's Lyle Dorsett.
Lyle: There was a financial panic that began in the Philadelphia Banks on September 25 and 26, 1857. The panic spread all over the U.S. and up into Canada. By mid-October there was a run on a number of banks and certainly from October to the end of 1857 was known as the Financial Panic of 1857. A week later the Fulton Street prayer meetings in New York met every day rather than once or twice a week.
Bob Bakke: If you were going to put a seed of revival anywhere, you would want to put it right in the heart of such calamity.
Nancy: This is Bob Bakke.
Bob: It's easy to imagine why the prayer meeting exploded like it did because everyone, especially lower Manhattan, was threatened with financial ruin. It didn't take long for all of New York to be filling up the churches with prayer.
Nancy: Soon every auditorium in New York City was being used at noon every day for prayer.
Kevin: As time goes on, there is an increase in attendance and more and more people come along.
Nancy: In fact, those prayer meetings spilled over the noon hour and ultimately the churches of New York City were crowded with people praying from early in the morning until late at night—through all hours of the day!
Kevin: That is about 2,000 people praying in different parts of New York every single day.
Nancy: According to one account, the famous newspaper editor, Horace Greeley, set out to see for himself how many people were actually praying at noon. He drove from one location to another—one meeting to another. He lost count after 10,000 people.
Kevin: It wasn't just prayer. Lanphier himself, while he conducted these prayer meetings, was actively involved evangelistically.
He was actively giving out tracts, for instance—something that worked in the mid-19th century. He was actively encouraging people from his church and from the churches he worked with to witness to their friends and to bring their friends along to meetings. What was happening, as the revival spread, was that the churches themselves got infused.
Nancy: The intensity of the prayer revival that began on Fulton Street, in the fall of 1857, waned after several months. However, there was a daily noontime prayer meeting that continued in New York City for 103 years.
As we look at this prayer meeting and the revival that surrounded it, what is the take-away? Why should it matter to us today?
Jonathan: It's really a question of whether we will pray out of desperation or devastation. Will it take some disaster, some financial collapse, to bring us to our knees? Or will we realize afresh that apart from the Spirit of God we are the dust of the earth? We are ground. This financial collapse in 1857 led to a deeper awareness of people's dependence on God.
We pray that God will have mercy. But that mercy may be shown in bringing us to a place of dependence. Again, that's where the place of the Fulton Street's initial prayer meeting—just three blocks east of Ground Zero—is so significant to me, because in a way, our prayers have to start at ground zero.
Nancy: I never get tired of hearing that story. I never get tired of seeing what happens when God pulls back the curtain of heaven and displays His glory.
You've just seen one example of what it's like when God comes and visits those who seek Him with all their hearts. So the question is asked, can history repeat itself? Could it happen again?
In these closing moments, I want to answer that question as best I can by having us look together at an amazing passage of Scripture found in—well, they're all amazing—but this is a really amazing one, found in the first half of the book of Ezekiel in the Old Testament. It's just a little past the halfway point of your Bible. The book of Ezekiel chapter 37, Ezekiel chapter 37.
You may have heard this story before, but I think you'll see it with new eyes today. And what a grand and glorious vision it gives us for God coming and reviving the hearts of His people. But it doesn't start with grandness. It doesn't start with glory. It starts with a really bleak picture that was shown to the prophet Ezekiel in a vision.
I want to read through the passage. I want to talk through the passage. But just as I read these first few verses, once again, would you stand with me as we give honor to the Word of God. I'm beginning in verse 1 of Ezekiel chapter 37. This is the Word of the Lord:
The hand of the Lord was upon me, and he brought me out in the Spirit of the Lord and set me down in the middle of the valley; it was full of bones. And he led me around among them, and behold, there were very many on the surface of the valley, and behold, they were very dry (vv. 1–2).
Thank You, oh Lord, for the incredible gift of Your Word, and thank You that this story doesn't end here. Thank You that You are the God who gives life to dead, dry bones. And we're going to see in this passage a glimpse of how You do that.
So quicken our hearts. Quicken our bodies, too. They're weak. They're tired. But give us energy and life to hear what the Spirit says to the Church, to the women of God in this place and gathered around the world.
We pray that You would have Your way and do Your work in our hearts in these moments. I pray in Jesus' name, amen.
Thank you. You may be seated.
So Ezekiel has a vision. God gives him a vision, and in that vision, he is led by the Spirit of God to a valley where he found himself in the middle of a gruesome scene. Everywhere, as far as he could see, human bones covered the ground. And there weren't just a few of them. The Scripture says there were very many, and they were very dry.
These bones had been there a long time. They had been bleached by the sun. They were disconnected. They were just strewn everywhere. There was no life anywhere in that valley. There was death everywhere. These bones had no capacity for life. This was just a vast, desperate, hopeless graveyard.
And it wasn't enough for Ezekiel just to hear about those bones. God could have just told him about it. It wasn't enough for him to see them from a distance. "Look over there at that valley of dry bones." No, God led him down into the middle of that valley and then led him to walk around among those dry bones.
If you want to get a certain flavor of this, I've googled just images of Ezekiel's valley of dry bones, and there are lots of different images that you just think it would freak you out to be there.
But God took Ezekiel into the midst of that valley to walk around among those bones, and Ezekiel had to feel that grizzly, chilly, horrific situation.
It reminds me of the passage in the gospel of Matthew chapter 4 where it says that Jesus was led by the Spirit into the wilderness to be tempted by the devil. Led by the Spirit into a wilderness, into a valley, to experience something that seemed awful and ugly and difficult. But it was the Spirit of God who led Him there.
If you are a child of God, the Lord's hand is on you as it was on Ezekiel. And as you leave this weekend, you will be led out by His Spirit. How sweet is that? Not going in your own energy or strength, but led and empowered by the Holy Spirit of God. But when you get home, or maybe you are already at home, you may find that the Spirit of God has set you down in a valley.
It may be your workplace. It may be your school. It may be your community. It may be your home. It may be your marriage. It may even be your church. And you look around and you say, "This is gruesome. There are few if any signs of life here."
And you've been surrounded by life here, and then you go home after this, and it feels like, "What a downer."
You feel like those disciples of Jesus that went up on the Mount of Transfiguration. They see the glory of the resurrected Christ, pre-resurrection, and Peter says, "Lord, this is amazing. Can we just build some tents and just stay here?"
There was a demon-possessed son, and his helpless dad down in that valley. The disciples had to go down in the valley and take the glory they had experienced on the mountaintop into the valley where the demons were.
Ezekiel had to go down into that valley. And you have to go down into that valley. And the valley where God's Spirit places you may be discouraging. It may feel hopeless. But in this vision, God is going to show Ezekiel what only God can do. Now, humanly, this valley of very many, very dry bones was an impossible situation—but not for God. He is more than equal to the task of any valley you find yourself in.
No one wants to have dry bones for neighbors or friends or family members, but it's there in that valley, when God leads you there, that He can give you a vision for what He can do, a vision of His power and His glory. So let God take you to that valley of dry bones. Let Him show you the desperate need everywhere around you. Let Him give you a burden for the people that those bones represent. And let Him show you what only He can do in that place where it seems that there is no life, no spiritual vitality, just death and desolation.
The Spirit of God said to Ezekiel, "Son of man, can these bones live?" (v. 3).
Now, humanly speaking, the obvious answer would be, "Of course not. No way." But Ezekiel responded simply, "O, Lord God, you know."
The CSB I've been reading recently says, "Only you know."
He's saying, "God, You are sovereign. You know what You plan to do. Lord, You know." Can my family be brought back to spiritual life and vitality? Lord, You know. Will our church ever come back to life? Lord, You know.
You see, no amount of human effort or wisdom or power could reassemble those bones and bring them back to life. Only God could breathe life, His life, His Spirit into those very many, very dry bones.
But do you notice that God did not unilaterally, supernaturally move on those bones without Ezekiel. God used a human instrument to be the means through which He did His reviving work.
God works in partnership, in concert with human vessels like you and me to accomplish His miraculous purposes in our world.
So God gives an assignment to Ezekiel. Verse 4: 
Then he said to me, "Prophesy over these bones, and say to them, O dry bones, hear the word of the Lord."
What? If it weren't God giving this direction, it would sound utterly ludicrous. Right? Preach to the bones? Tell them to hear the word of the Lord? What good could that possibly do? Dead bones, dry bones can't hear. They can't respond. To preach to them would be useless. So what's the point of trying?
The point is that's what God told Ezekiel to do. And God knew that nothing Ezekiel could say would make a wit of difference in that valley of death, but God knew His Word could breathe life into dead bones, that the power of His Spirit could change everything in a moment.
God had to supernaturally move on those bones to give them life, to give them the ability to hear. But our part is not to give life. Our part is simply to proclaim the Word of the Lord.
Ezekiel was given an astonishing message to preach to those dead, dry bones. Verse 5: 
Thus says the Lord God to these bones: Behold, I will cause breath to enter you, and you shall live. And I will lay sinews upon you, and I will cause flesh to come upon you, and cover you with skin, and put breath in you, and you shall live, and you shall know that I am the Lord (vv. 5–6).
That's the message Ezekiel was given to preach in that valley of dry bones. It took faith, don't you think, to give that message in that valley, because if God didn't come through, Ezekiel was going to look really, really foolish preaching to dry bones.
God is calling you and me to exercise faith over the valley of dry bones where we live, where we serve, where we work, maybe even within your own home, to believe that by God's power these dry bones can live again, and to be willing to be an instrument of God in that process.
Dannah: If you're ever tempted to feel hopeless about the state of the world, Your church, or your own life, Nancy DeMoss Wolgemuth has offered all of us hope. She gave that message at Revive '19, the conference Revive Our Hearts hosted a few months ago. Nancy, that message reflects your heartbeat and the heartbeat for this whole ministry.
Nancy: Yes, we're seeking the Lord for true revival. Asking Him to breathe new life, the breath of His Spirit into our lives, our churches, and then watching that life spread to the whole world.
Dannah: Maybe you have the same heartbeat, would you join us on this mission? We are spreading this message of revival through the newly re-released Bible study and DVD series Seeking Him. It was the purpose of the Revive '19 conference, and we do it each day here on Revive Our Hearts.
Nancy: And none of these outreaches would be possible without the prayers and the support of our listeners. In a typical year, over 40% of the donations that fuel this ministry arrive in the month of December.
Dannah: In other words, this month has a huge effect on the whole year.
Nancy: Making your gift right now is very important. That will help us keep current outreaches going in the year ahead. And your gift will help us look for new opportunities to spread this message of revival in other places around the world and to new audiences here in the United States. 
Dannah: We have friends of this ministry who also share this heartbeat, and they want to encourage you to get involved. They've provided a matching challenge so that each gift given in the month of December will be matched as we seek our end-of-the-year goal.
Nancy: In order to be ready for a new year of ministry, we're asking the Lord to work through listeners to meet this matching challenge—the largest one we've ever had.
Dannah: This week when you help us meet this challenge with a gift of any size, we're going to send you a special thank you. It's Nancy's new, 31-day Advent devotional. It's called Consider Jesus. A lot of people say they want to keep Christ in Christmas. This devotional will help you do that, with chapters on His purpose, His deity, His humanity, and His supremacy. You'll look to Scripture and get to know your Savior all over again.
Let us know you'd like your copy of Consider Jesus when you donate any amount at ReviveOurHearts.com, or call us at 1–800–569–5959.
Tomorrow hear what happened to those dry bones, and what that has to do with you and me. Please be back for Revive Our Hearts.
Revive Our Hearts with Nancy DeMoss Wolgemuth wants you to experience true life in Christ. It's an outreach of Life Action Ministries.
All Scripture is taken from the ESV.
*Offers available only during the broadcast of the podcast season.
Support the Revive Our Hearts Podcast
Darkness. Fear. Uncertainty. Women around the world wake up hopeless every day. You can play a part in bringing them freedom, fullness, and fruitfulness instead. Your gift ensures that we can continue to spread gospel hope! Donate now.
Donate Now