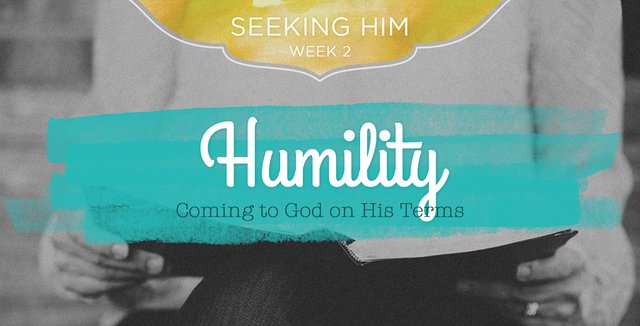 — Audio Player —
Humble Prayer
Leslie Basham: When is the last time you prayed for revival?
Dick Eastman: Father, we are indifferent. We are apathetic. We talk about revival. We desire revival. We preach about revival. We study revival. Yet, Lord, we don't experience it within our heart because that sense of spiritual coma, that debt that is there because of sin and pride and an unbroken heart.
So, Lord, we intercede for the church. I pray for the church where I am. I pray for my life. I pray for my brothers and sisters. Lord, I cry out for that.
Leslie: It's Friday, September 21, and you're listening to Revive Our Hearts with Nancy Leigh DeMoss.
Seeking Him. That's the name of a workbook that has helped listeners all across the country experience personal revival. A lot of listeners are going through this study right now. They're on Week Two of the study on humility.
Seeking Him is also the name of a twelve-week radio series. We're in Week Two of that series also studying on humility as a prerequisite for revival.
During these twelve weeks, you're invited to the National Prayer Meeting for Revival. Christian leaders are connecting by phone to pray that God would visit His people in revival. You can listen in by Internet or radio. Just visit ReviveOurHearts.com to find out more.
This is the second National Prayer Meeting for Revival. The first took place over a twelve-week period a couple of years ago. Today we'll hear some of those prayers. Nancy was part of that prayer call, and you'll hear her pray and then you'll also hear her at the end of today's program.
You'll hear some others praying as well—Dick Eastman, Steven Canfield, and Byron Paulus. To get things started, here's Pastor Bill Elliff.
Bill Elliff: I've often said that the greatest indication of pride in my life is an unwillingness to pray because I think I can live my life without God. I can make it an hour or a day or a week without Him.
We're so grateful for all who have tuned in right now just as an indication to cry out to the Lord and say, "Lord we really, really need You in revival." As we begin now to move into a time of prayer, we invite every listener to join with us. You may want to kneel there. You may want to lay down. Get in whatever posture you feel is appropriate before the Lord.
We have some people who are leading us to pray. I would ask our intercessors here to lead us in a time of praise and adoration, just to acknowledge who God is and what He's like and to cast our gaze upon Him.
Steve Canfield: Father, I'm reminded that You've said that whoever humbles himself will be exalted and he who exalts himself will be humbled. I thank You, Lord Jesus, that You were willing to "humble Yourself and take on the form of a servant and become obedient even to death" (Philippians 2:8).
Through Your willingness to become humble and to yield Your rights and Your reputation, we are able to enjoy the spiritual riches that come from Your willingness to do that. So I just praise You today for Your example of humility.
Dick Eastman: Father, as Bill has reminded us of the thoughts in Philippians 2, we understand how You left the realm of glory and You humbled Yourself to come to earth. It is with an amazing sense of humbleness in our own hearts that we understand what You gave up and the pattern that You gave to us.
So, Father, we worship You this morning. We thank You for Your wonderful grace and the goodness of Your life and the example that You gave to us and the pattern that we can model our life after. The Lord of glory who owned and had everything wanted to come and serve us and love us and humble Himself. We praise You for that.
Prayer Leader: Lord, when we see You on Your throne a little bit even, we want to fall off our throne. Thank You. We think of Isaiah when he saw You, he said, "I am undone." We pray this morning that You will undo the "I" in all of us and it will be no longer "I" but Christ. Thank You, Lord Jesus, that You are faithful and true and every promise of God in You is yes. It's amen.
Lord, we praise You for allowing us to even see You and know You and get on our faces together in this moment of agreement. Worthy is the Lamb.
Byron Paulus: Lord, I want to exalt You too this morning because as Isaiah said, "You are the high and lifted up One who inhabits eternity and Your name is holy." And so, God, we exalt You for where You even reside this morning in heaven. You want it to be on earth like it is up there in heaven where You are.
God, because You are holy and perfect and pure in every way, I'm amazed that You choose not only to dwell in that high and lofty place, but You tell us through Isaiah that You also choose to dwell with those who have the broken and contrite or lowly spirit, to revive the spirit of the humble and to revive the hearts of the contrite ones.
So, Lord, as we exalt You this morning, we know that that's part of Your ways of humbling us and helping us to see who are not in light of who You are and that, Lord, it's in that place that You come and dwell. We long for You to come and reside here in our hearts in a special way and manifest Your glory. Lord, in our homes and in our churches and in this nation, would You move in the hearts of those who are lowly as we exalt You?
Bill: Lord, before anything was, You were. Everything that we have and everything that we see and every good and perfect gift is from You. Lord, how could we ever feel like it's from us? Lord, how could we ever take glory from You and rob You of what You deserve?
As we look at how great You are and how majestic and how perfect and all Your creation and all Your power, Father, we acknowledge the sin of pride in our lives, and, Lord, all of its manifestations. We just think as we look across this earth and look across this land how much our hearts are exalted and lifted up in inappropriate ways and simple ways.
Lord, we come together corporately to confess that before You, to ask for Your forgiveness and for Your cleansing of every vestige of pride, all that exalts its hand or like Satan did in the halls of heaven and said, "I will," instead of, "Lord," deferring to Your perfect will for us.
I wonder if we could move into a time of confession and repentance just for ourselves, for our churches, for things in our family that may be issues of pride and arrogance that is appalling before the Lord and that is aborting the revival of His presence and His power that He so rightly deserves and we just so desperately need.
Let's move to a time of confession and repentance in these next few moments of prayer.
Dick: Lord, we would cry out to You today that You would bring about in our hearts a humility that would cause us to freely and openly acknowledge that we have sinned. Lord, we just confess sometimes we don't even know how to pray in this regard other than that Your great mercy would come and help us to recognize how every day we neglect so much to obey Your Word and that, Lord, we would indeed confess our sins, knowing we have an extraordinary promise that if we confess our sins, You, Lord, are faithful and just to keep on cleansing us (see 1 John 1:9).
So, Lord, we do confess that we've not lived in obedience to the directives of Your Word and that even these very days we find ourselves living too much like the world. Cleanse us, forgive us, and forgive me, Lord, in this regard in Jesus' name.
Today we confess each one. There have been coming into our thoughts, whether piped in by the world or by the devil or our own carnality they're thoughts that should banish us from Your presence. In Jesus' name we say with Job, "Lord, that which we don't see, teach us. And if we've done iniquity, Lord, give us the grace to do it no more."
Give us the mind of Christ and may we just sense thoughts that are just religious and not really from Your Spirit.
Nancy Leigh DeMoss: Lord, I'm convicted of my willingness to walk through daily life and ministry, content to go on without Your presence and power and anointing, to go through the business of ministry and everyday responsibilities without seeking You, without the mark of the supernatural.
And Lord, as I think about our churches, I think of how many programs and opportunities we have but how little sense, in so many cases, of the presence of God, that we are content to live without revival, that we're content to just exist and struggle and strive without seeing the outpouring of Your Holy Spirit and fresh ways of Your Spirit in our own hearts and in our churches and in this world.
Lord, I pray for Your forgiveness and ask that You would put in my heart and in our hearts a holy dissatisfaction with "business as usual," with going through the motions, with just doing the mechanics.
Lord, I know in my life the evidence of that is prayerlessness. How many hours and days do I go through doing the work of the ministry without really stopping to cry out to You and to intercede and to ask You to do that which only You can do?
So, Father, I pray for cleansing and transformation in my own heart and a new sense of dependence upon You, a longing for that which only You can do.
Bill: Father, we think of how pride is such a mother sin of all that displeases You. Out of it so many manifestations come. We ask for cleansing from the sins of jealousy and anger and resentment, Lord, of gossip, the contentious, stubborn, argumentative spirit of rudeness and boasting and self-sufficiency.
We pray, Lord, that You would cleanse us from a lack of surrender and unwillingness to let You have control because we feel like we can live life better by ourselves and handle an area better with our own management.
Father, we pray that You would open our eyes to see how foolish it is to try to live our lives without You. And, Lord, we just plead with you that all across America there would be a spirit of humility and brokenness. Lord, we would enthrone You in Your proper place, and we would get off the throne and let You have the glory and the dominion and the control and the honor and the place that You deserve, the authority among us that You so rightfully deserve.
I wonder if we could move to a time of intercession for revival in our land. Let's cry out to the Lord for revival in our homes and churches and for revival on our college campuses for these next few minutes.
Steve: Father, I'm reminded in Psalm 80 that the psalmist asked You to turn us again (verse 14). Perhaps one of the hardest things to revive is revival itself. We have seen You do that in past days in our nation's history, and we cry out to You to do that again, Lord. Not because of any deservedness on our part, not because America is special in that sense, but, Lord, because we desire to see Your glory, and we desire You to do a work that would not only impact a nation but impact a world.
God, whatever would be best for Your kingdom and for Your glory, that's our desire for You to pour Yourself out upon this country and turn the tide of sin and bring Your name once again to pre-eminence in people's lives.
I think of how far we have come in our nation. We want to see You exalted and You lifted up and be glorified and pleased. Would you do that in these days?
Dick: Father, we are indifferent. We are apathetic. We talk about revival. We desire revival. We preach about revival. We study revival. Yet, Lord, we don't experience it within our heart because that sense of spiritual coma, that debt that is there because of sin and pride and an unbroken heart.
So Lord, we intercede for the church. I pray for the church where I am. I pray for my life. I pray for my brothers and sisters. Lord, I cry out for that. I pray for them. I intercede for them. I lift up with these men and women that are praying with us today that You would send Your Spirit as never before. Please do that. In Jesus' name, amen.
Lord, Your Word says that You are looking for men and women in the midst of Your church that would make up a wall, that would stand in the gap, the discrepancy between Your will and what's really happening in the church.
We pray that You will find in these people here today, in all of us a heart that will say, "Yes Lord, teach us how to intercede, how to pray"—not just together here. Lord, You've said You've set watchmen on your walls and that we are not to hold our peace day nor night.
We're to remind You of Your Word and Your promises and Your victories, to give You no rest, to keep stirring up ourselves, to seize hold of You. I pray that we will be faithful watchmen, that You will show us what that means.
Lord, thank You for driving us to our knees. I know that all of us listening together, praying here together have been driven to our knees. Thank You for that, Lord Jesus. Teach us to pray. Raise up intercessors in this group together here. Raise us up. May we be driven on our knees and stay there and have the heart of God and see with the eyes of God and feel with the feelings of God.
Teach us how to pray.
Dick: Father, give us a passion like Isaiah had. In hearing these prayers I think of his revival prayer in Isaiah 64 where he cried out, "Oh, that you would burst from heaven and come down. How the mountains would quake in your presence as fire causes wood to burn and water to boil. Your coming would make the nations tremble" (verses 1-2, NLT).
Lord, I agree with this prayer that You would raise up radical intercessors. Some, Lord, may be confined to a wheelchair. Maybe they're paralyzed and they haven't gone further into their real calling and that calling is to use these days and hours to cry out to You, Lord, for the heavens to open. And, Father, others, the elderly . . .
I just thank You again for those that right now are agreeing with these prayers and at different times maybe even verbally saying, "Yes, Lord, do that," or "I agree, Lord. You will do this."
Open the heavens over America. Lord, let this be as what happened during Finney's day where they talked about holy zones where Your power came in such a way people could hardly stand on their feet. They would fall on their knees and repent on the spot.
Lord, how we long to see that happen in our lifetime, in our generation. We pray for it today in Your name.
Nancy: Lord, we pray that our churches, our services, would become those holy zones. God, how we pray that what Dick just described in Isaiah 64 would be true in our church services, that we would not just be going through the motions, not just be going through a prescribed program, but that there would be that awesome sense of trembling in Your presence, of trembling as Your Word is read, as the songs and choruses are sung, as we listen to the preaching of the Word.
Lord, may there be a sense of being gripped and transformed and melted and molded and changed in Your presence. Lord, we're so glib about You and about Your Word. We're so accustomed to doing church as usual, and it's really playing church in so many ways.
So God, we ask that You would rend the heavens, that You would come down and that You would anoint the pastors, the men in the pulpits, and for a fresh breath of the Spirit in our churches and in our church services.
Byron: In Isaiah the Lord talked about nations trembling at Your presence. God, may Your presence be so real and so powerful and so strong and compelling here in this nation that when other nations think of America they don't think of the strength of their military or economy, but they think of the power of their God and that they would tremble as a result.
Lord, you say when the poor and needy seek water and there is none, we're failing to thirst. You said that You will not forsake. You will open rivers in heavenly places, fountains in the valleys, and You'll do this so that we will know and consider and understand the hand of the Lord has done this. You will pour water on the thirsty ones and the poor and humble ones.
Lord, we say with those of old, "We're hungry for an outpouring of Your presence. Would You pour on us those things necessary for spiritual recovery that will give the church the intelligence from You to truly repent and to have the fear of the Lord become our clothing?"
Bill: Father, we pray that You would raise up all across the nation men and women who have their hearts ready to give You absolute control. Lord, we know in history how so often You've done that among students whose hearts are tender and pliable.
Lord, we pray that You would do that again in campuses across this nation. Lord, this generation is so adrift and so confused. And Lord, all of the lack of relationship that comes from broken homes and broken lives . . .
Father, we pray that all of that would serve to drive students to You across the land. How glorious it would be if there would be this huge cry from that generation for You. We ask that You would interrupt their lives and their campuses with Your holy presence that would sweep across campuses. In Jesus' name.
Steve: Lord, we do pray for a deep, broad, sweeping move of the Holy Spirit on private schools and secular campuses and Christian colleges. Lord, we pray that You'd come down and that You would change the atmosphere on campuses that people could no longer ignore You, that students, professors, the administration—they could no longer look the other way but they would realize that You are present in Your glory and Your power.
Lord, I thank You for Dartmouth College, for example, where there are students praying weekdays every morning, crying out to You for an outpouring of the Holy Spirit. I pray that You would come and answer these prayers and these students that are seeking You with all their hearts.
And I pray that that army of students would increasingly grow until the floodgates of heaven just open. Lord, we are asking You to rend the heavens. We are asking You for a visitation. Lord, we pray that You would do what You've done in the past. We're thankful for what You did 200 years ago, what You did in Asbury in 1970 and Wheaton in 1995.
But Lord, we don't want to simply bask in Your blessings of the past. Lord, we are asking You to come, and we're asking You to move the college students of today, this next generation, that they would be different. And Lord, we cry out with Daniel when he said, "Oh Lord hear. Oh Lord forgive. Oh Lord listen and act. Do not delay for Your own sake, my God, for Your city and Your people are called by Your name" (9:19, NKJV).
Lord, we believe that and we ask You to come in our day.
Bill: Father, we pray and thank You for men and women all across America. How it encourages our hearts about Your work to join together with hundreds of people just to pray. I pray, Father, that this revival prayer meeting would continue and You would keep us in the atmosphere of prayer; that we would breathe in and out and cry for Your presence and Your power, cries of repentance, of holiness, and You would prepare our hearts for what You desire to do and we could be a part of the great sovereign movement of God. In Jesus' name, amen.
Nancy: We've been listening to excerpts from a National Prayer Meeting for Revival that took place a couple of years ago when we first aired this Seeking Him series.
I think your heart has been touched as mine has been to join with these servants of the Lord as they cry out for revival. Once again each Saturday morning during this 12-week series on Seeking Him, we're calling God's people to come together for a National Prayer Meeting for Revival.
This National Prayer Meeting is being co-hosted by Revive Our Hearts, our parent ministry Life Action Ministries, and our partners at the Moody Broadcasting Network.
I don't know what you have planned for tomorrow morning, but I hope that you'll take an hour out to join us in this National Prayer Meeting for Revival. You can listen by means of the Internet, There are also Christian radio stations all across the country that will be carrying live this special one-hour prayer meeting for revival.
And let me mention just one other thing. Sunday is September the 23rd. It was 150 years ago on September 23 that the first prayer meeting was held of what became known as "The Great Prayer Revival."
This is a story I first heard as a young girl, and this has captured my attention and my heart ever since. If you're not familiar with the account of this wonderful revival, you'll want to be sure to listen in next week as we tell some of the stories of how God moved in this extraordinary awakening 150 years ago this week.
Revive Our Hearts with Nancy Leigh DeMoss is an outreach of Life Action Ministries.
*Offers available only during the broadcast of the podcast season.
Support the Revive Our Hearts Podcast
Darkness. Fear. Uncertainty. Women around the world wake up hopeless every day. You can play a part in bringing them freedom, fullness, and fruitfulness instead. Your gift ensures that we can continue to spread gospel hope! Donate now.
Donate Now