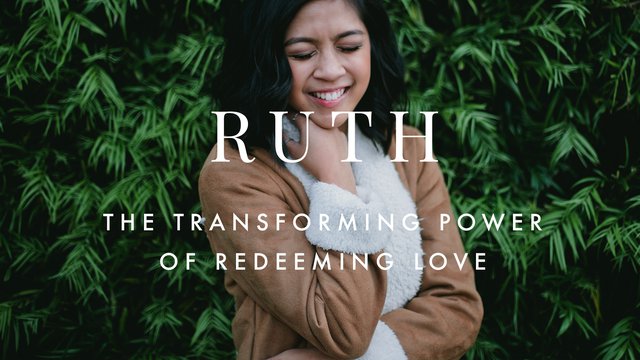 — Audio Player —
Gratitude for God's Grace
Dannah Gresh: Nancy DeMoss Wolgemuth says if you grew up learning about God's blessings, be careful that you don't take them for granted.
Nancy DeMoss Wolgemuth: Sometimes it's easy, subconsciously, to start to feel that I deserve God's favor—that somehow He owes me these blessings. But the humble heart says, "I don't deserve this."
Dannah: This is Revive Our Hearts with Nancy DeMoss Wolgemuth, author of Choosing Gratitude: Your Journey to Joy, for Thursday, January 28, 2020. I'm Dannah Gresh.
Gratitude will have an amazing affect on your relationships. That's one of the things we'll discover about Ruth as Nancy continues in a series called "Ruth: The Transforming Power of Redeeming Love."
Nancy: We're continuing in chapter 2 of the book of Ruth today. I want to go back to a verse we read last week, but pick up on a little phrase that I think shows another aspect of Ruth's life that we so need to hear as women today.
Verse 8 Ruth goes into the field, and let me just back up here. Boaz has come into the field and has asked his foreman, "Who is this woman?" And the foreman has told Boaz, "This is Ruth the Moabitess. She came into the field, and she's been working since morning."
So Boaz said to Ruth, "My daughter, listen to me. Don't go and glean in another field and don't go away from here. Stay here with my servant girls."
Just the first phrase of that verse I think gives us an insight into this woman's character. "Boaz said to Ruth . . ." Who initiated this relationship? Boaz. The man is the initiator. And when Ruth speaks to Boaz, she is responding to his initiative.
Now, my point here is not so much to be literal about who speaks the first word in the conversation as to illustrate a point that I think Ruth's story illustrates. In fact, it comes again in verse 14 if you want skip down in the passage there.
At meal time, Boaz said to her, "Come over here. Have some bread and dip it in the wine vinegar." When she sat down with the harvesters, he offered her some roasted grain.
You see here the man being the initiator. Now, of course, at this moment, the last thing in either of their minds is romance or marriage or courtship. That's not what they're thinking. We know the story. We know they're going to end up married, so we kind of read that into it, but I don't think there was anything of a particular physical attraction here at this point, certainly.
Ruth is being faithful to God's calling in her life, and Boaz is being faithful to God's calling in his life. God is bringing their lives together in a way they could not have planned or orchestrated themselves.
But in the course of that exchange, forgetting courtship and dating and marriage, Ruth is discreet, and she allows the man—he is the employer; he is the landowner; he's the man—she allows him to be the initiator. And he does initiate, and then when he does, she feels the freedom to respond graciously and discreetly to his initiative.
We live in a culture where we've had extreme role reversal for as long as most of us in this room can remember. Now, that of course goes back to longer than any of us can remember, and that's back to Genesis chapter 3 in the Garden of Eden. The serpent came to the woman, though the Scripture tells us the husband was there with her.
He just ignored the man, spoke to the woman, and in this whole exchange back in Genesis, we find the woman in the place of taking on a role of leadership and the man kind of left behind in the shadows.
That is a picture of what has become very true in our culture. I think one of the most common things I hear from women, particularly married women, but not just married women, is whining about men being so passive.
And I understand this is a frustration. It's a frustration because it's true in our whole culture that we've twisted the roles and the responsibilities that God has given to men and to women, and we both bear responsibility.
I believe as women there is a lot we have done by being so aggressive, by being such initiators. (And let me say, I know this will get me in trouble with some people. I can see the letters now!)
I realize this is not politically correct. I've realized this way of thinking makes some people see red, but we've got to get back to God's way of thinking and see that we have really steered off-course as women by being so aggressive physically, verbally, in conversation, in our behavior, in our actions.
We have, in a sense, emasculated men. If we want to be women of God, one of the things we have to do is let men lead. Now, the immediate response from women will be, "They won't lead."
And my answer to that is: partially the reason they won't lead is the result of the fall, but partially the result is that we haven't let them lead. I find myself wondering if we as women would really step back and give men the opportunity to express their hearts, to take leadership, if they might not just step up to the plate and be more manly. I believe it's in the heart of men of God to want to be manly, to want to be men, but we've got to let them do that.
In this exchange with Boaz and as the whole relationship unfolds, we see a womanly discretion. We see a woman who's not throwing herself on men. Today this is so common that we hardly, I think, would recognize discretion if we saw it, because it is so common.
Just speaking to you young girls here, younger women and teenage girls. What you are seeing with your peers, most likely, is not discretion. Some of you mothers who have younger children, daughters, and teenage girls, this is something you need to teach your daughters: It is not appropriate for us in conversation, in behavior, in physical gestures to throw ourselves onto men, to be the ones to initiate.
Does that mean we never talk? No. I have lots of warm relationships with godly men, and I feel a lot of freedom to share in conversation, but it means that maybe I'm not as quick to speak as what I might want to be.
I hear women say, "My husband just doesn't communicate. He just doesn't express his heart." Well, Proverbs tells us that wisdom in the heart of a man is like deep waters, and a person of understanding will draw it out. (See Prov. 20:5.)
The wisdom that God has put in the heart of your husband is like a deep well. It doesn't just always bubble to the surface, and part of your role as a wife and as a woman is to draw him out, to ask questions, and then give him a chance to answer.
Then when he does answer, don't be the one who always has a better idea. You will find that if you're always jumping in, always correcting, always improving on his answer, he's going to be less motivated to give a response or to be involved in the conversation.
So we see here a woman who is discreet. She's womanly, and she allows him to be a man. He's the one who offers her the bread to eat, calls her to mealtime.
And again, I would not encourage us to be legalistic about who calls for mealtime or who passes the food first. That's not the point. The point is that we look for ways to encourage men to be men by our willingness to sit back and to allow them to take initiative in conversations and in relationships.
Let me just add a word of encouragement for those of you who are single and perhaps will in the next years be involved in a dating or courtship relationship. This is also for those of you who are mothers training your sons and daughters.
If in the dating or courtship stage a woman is taking initiative—if she's the one doing the calling and she's the one asking out, if she's the one taking leadership—then she should not be surprised when she gets married and finds out that it's expected that she will continue to take the leadership.
I think of a couple that I've served with in ministry. God has done a great work in their hearts, but there was a real role reversal in that couple. She was the one doing the leading, the spiritual influence. They came to see that was not as it should be. As the story unfolded, they told us that this had been true ever since they first knew each other. She was the one who had actually proposed to him. This had become characteristic of their whole relationship, which now had children, and there was a lot of confusion and havoc that came about as a result.
And one of the things this couple did with the man's leadership was to go back, now with grown children, and he came and proposed to her again and gave her a ring. They did a small ceremony of renewing of their vows, him taking the leadership.
It's not that easy of a change. It's not taken place all of a sudden. They still have to work through some of these issues because there are a lot of habits there. But they have started on a new course, and they really had to go back to those days even before they were married and say, "Let's try this again."
She's had to be willing to wait at times. His personality is much more laid back than hers, and there's nothing sinful in that, but that means it's taken more effort on her part to draw him out, to encourage him as a man and as a leader. But there are some rich depths in the heart of that man that are beginning to come out as she is willing to step back and let that man be the man.
I don't know where you are in relation to all of this. We have different ages represented here, different seasons of life. Some of you are mothering and are hearing things today that maybe are a good reminder of what you need to be teaching your sons about what kinds of women to be careful about and your daughters on how to establish right relationships.
Some of you younger women are hearing this maybe for the first time because this isn't something you'll hear often in our culture. But wherever you are, ask God,
Is there in my life a womanliness, a discretion?
Am I adequately giving to men the freedom to take initiative?
Am I creating an environment that makes it easier for them to take initiative?
Am I acting generally in the course of my life as a responder to male initiative?
There may be some adjustments that need to be made. I've had to make a lot of adjustments in my own style of relating to men that I work with, men that are friends, but it's been good.  
And the benefit to all of us in the long run of having godly male leadership in our ministries, in our homes, in our churches, restoring God's order, will be great blessing and benefit not only to us, but to our children and grandchildren for generations to come.
Dannah: Nancy DeMoss Wolgemuth is pointing us to Scripture as our authority when it comes to the roles of women and men. She'll be right back with the second half of today's teaching. As we get to know Ruth, we see she was a woman of godly character.
In yesterday's episode, Nancy examined some specific qualities the Bible reveals about Ruth. If you missed it, catch that episode and the rest of the series at ReviveOurHearts.com or you can find it on the Revive Our Hearts app. And as Nancy pointed out today, Ruth was faithful to God's calling in her life.
What has God called you to today? How do you respond to His calling? In the Ruth Women of the Bible podcast, Erin Davis, Portia Collins, and Kristen Clark remind us that our attitude about our work matters.
Erin Davis: If I think I'm doing the housework for my family, then I'm frustrated with them. I live with all boys. My house was last clean in 2008, and it's not been clean since then. (laughter) And I can be frustrated by that except for, "Am I working for the Lord?" Not that I think the Lord cares intensely about how clean my bathrooms are, but I think He cares intensely about how clean my heart is, and if I'm willing to do it for His glory. So I think that differentiation does exist in our hearts and can be really dangerous ground.
Kristen Clark: And I wonder if God gave us the mundane to expose our heart motives? Because without it, if it's all work we're being praised for, we're getting accolades, we're getting paid, it might not show where our real motives are and who we're really working for and whose glory we're really after.
Erin: But actually it was Ruth's willingness to do the hard work that got her noticed. And so, as this whole book of Ruth is a picture of bigger things, the Lord does pay attention when we work with humility. The Lord does notice when we're willing to do the hard without the complaining. That's another "all" thing, "Do all things without grumbling or complaining." Like, "You mean all things, all things, Lord?" (laughter) So here's a little heart check: Are we Ruths in the area of our work? Are we willing? However you define work, are we willing to work with humility, cheerfully?
Dannah: No matter how big or small, you can be faithful with what's in front of you today. That was a clip from the Ruth season of the Women of the Bible podcast. Those episodes release weekly, so stay tuned for the full episode coming soon at ReviveOurHearts.com. Now, let's get back to Nancy's teaching on Ruth.  
Nancy: We're in chapter 2:8, "So Boaz said to Ruth, 'My daughter, listen to me. Don't go and glean in another field and don't go away from here. Stay here with my servant girls. Watch the field where the men are harvesting, and follow along after the girls. I have told the men not to touch you. And whenever you are thirsty, go and get a drink from the water jars the men have filled'" (Ruth 2:8–9).
Now when Boaz says to Ruth, "Don't go and glean in another field," keep in mind, he doesn't know the end of the story. She doesn't know the end of this story. This is not high romance here. This is just faithfulness and generosity and kindness—kindness given and kindness received.
He says to her, "I want my field to be a place where your needs can be met." He's going beyond the letter of the law which said that he had to leave enough at the corners of the field for poor gleaners to harvest.
He's saying, "I want the heart of God for strangers, for widows, for the poor and needy, and I'm going to go above the letter of the law to extend grace."
All the way through this passage, Boaz emerges as a major character now. You'll see that Boaz is a beautiful picture of the heart of Christ.
He says to her, "Don't go and glean in another field." If we think of this field as a field of grace, he's saying to her, "Don't go somewhere else to get your needs met. God will provide for you right here."
It's a picture of God's grace. There are temptations sometimes in life to look for alternatives to the way of grace, but he's saying, "There's provision here for you. There's abundance. I will be generous with you, so why should you go to another field?"
And yet, Satan is always telling us to go to another field, to go to another place to try and get our needs met. We come to the field of Christ and His grace and His provision for us, and then the enemy tells us there are things we need to do, rules we need to keep, performance standards we need to meet in order to be accepted by God.
Invariably, when we leave the field of grace where God has provided for our needs, then we find ourselves in a works-oriented sort of religion, having to jump through all kinds of spiritual hoops to perform and trying to live by the law, which cannot save us and ultimately meet our needs.
In this field, Boaz's field, he's saying, "I know you're poor. I know you can't meet your own needs, so stay here, and all your needs will be met." It's in the field of grace, at the foot of Christ's cross in our lives that everything we need is made available to us as a gift.
It's not a gift for those who qualify in some way. It's a gift for poor people who know their spiritual poverty and who know that they never could afford what's offered in that field, that they never could pay what's offered.
Ruth wasn't paying for that barley that she was harvesting there. He said this was a gift; receive it. How often does God extend His grace, His provision to us in our walk with Him, in our daily lives and we say, "No, I feel like I've got to go work for this. I feel like I've got to do something to deserve it or earn it."
He's saying, "Don't go into the field of the law; don't go into the field of human effort. You stay right here in this field where I will meet your needs." Boaz offers Ruth protection, and what a picture this is of what we have in Christ. He says to her, "Watch the field where the men are harvesting and follow along after the girls."
"I've told the men not to touch you, not to bother you." In a work environment that could have been dangerous for a woman who was destitute, who was a widow, who was from another land, he says, "I'm going to make sure that you're protected."
He offers her provision. He ministers to her thirst. He says, "Whenever you're thirsty, go and get a drink from the water jars the men have filled." He knows the time will come when she will be hungry.
Verse 14 says, "Boaz said to her at mealtime, 'Come over here. Have some bread. Dip it in the wine vinegar,' when she sat down with the harvesters, he offered her some roasted grain."
So he's saying, "All your needs are going to be met. Just stay here. Let me take care of your needs."
We're so prone to try to do it on our own, to try to live this Christian life in our own effort, our own steam, our own abilities, and you just have to know you can't.
I think one of the first steps to really walking in freedom in your relationship with Christ is to realize that this is a life I cannot live. I cannot meet my own needs. I cannot protect myself. I cannot provide for my own needs. Ultimately, I'm totally dependent—we all are—on the grace of God to live the Christian life in and through us.
Now, her response to Boaz and his offer and his generosity I think is really challenging to all of us. Verse 10 says,
At this, she bowed down with her face to the ground. She exclaimed, "Why have I found such favor in your eyes that you notice me—a foreigner?"
Later on in the conversation, move down to verse 13, you see the same spirit in this woman. She says,
"May I continue to find favor in your eyes, my lord. . . . You have given me comfort and have spoken kindly to your servant—though I do not have the standing of one of your servant girls."
Here is a woman with a humble heart, and a woman who has a humble heart will have a grateful spirit. She doesn't claim her rights. She knows she doesn't have any rights. She doesn't insist that he owes her a living, that he owes her this privilege to glean in his field.
I think so many of us today, even in our Christian culture, live with a chip on our shoulder. The world owes us something, and we don't have what I see in this woman that is so beautiful—especially in a woman—a humble heart to say, "I don't deserve this."
She had no expectations. She just went to serve, and as a result, God made sure that her needs were met. As a result of relinquishing her expectations, when she did receive a blessing, she was thankful. She considered it a great privilege.
I think so often how we have expectations of one another, especially in our homes. "You ought to do this for me. You ought to serve me. You ought to meet my needs." What if we would begin to have within our homes a grateful spirit. The humble heart says, "I don't deserve this, and it's amazing grace that you should minister to my needs."
That's an expression of a woman who has the heart of God. Ruth never forgot that she was a foreigner, that she was undeserving of the least favor.
I think of my dad in this way. He was a man who never got over the wonder of the fact that God would have saved him. It never ceased to amaze him. He knew his background, and he told us about it growing up. He did not have a heart for God. He was a rebel, a wild young man, very involved in gambling and in a lot of rebellion. On Friday, October the 13th, 1950, God opened his eyes, showed him Christ, brought him to repentance and to faith.
He was a young man in his mid-twenties at the time. He had not started our family at that time, but as we were growing up, he would tell us the story of where God found him and what God had done for him. It would bring tears to his eyes.
I mean, it just amazed him, even years later, that God would do this for him. When you asked my dad, "How are you doing?" He would often be heard to answer, "Better than I deserve." That's the heart attitude he always had. "Better than I deserve." He knew that God didn't owe him anything. Nobody else owed him anything, that if he got what he deserved, he would be always in desperate trouble, but that God had extended grace to him. There was a spirit of humility and gratitude in his life.
I think about my own life. I realize that growing up in that home, I've never known anything but the kindness and the favor and the grace and mercy of God. Sometimes it's easy subconsciously to start to feel I deserve God's favor, that He owes me these blessings. I wouldn't say it that way, but I can sometimes start to act as if I felt that.
I wrote in my journal some years ago as I was studying the book of Ruth. When I came to this passage, here's the prayer I wrote, and perhaps you would want to make it your prayer as well.
"Oh God, please take me back to see where You found me and where I would be today apart from You. Please strip me of my proud, demanding ways, and clothe me in meekness, humility, and gratitude. Empty me of myself and fill me with the sweet, gracious nature of the Lord Jesus."
Dannah: Are you living fully dependent on the Lord? Are you leaning on His grace? That's Nancy DeMoss Wolgemuth reminding us of our desperate need for God. She'll be back to pray in a moment.
If you've been listening to this series so far, you've probably heard us talking about the new Women of the Bible study called Ruth: Experiencing a Life Restored. I want to remind you that you can get a copy of this study when you support the ministry of Revive Our Hearts with a gift of any amount. Just visit us at ReviveOurHearts.com to make your donation, or call us at 1–800–569–5959.
You know, the book of Ruth is for girls of all ages! Do you have a daughter who might like to go deeper in the story of Ruth? True Girl is releasing a study February 1 on the book of Ruth. The study is for girls ages 8–12. It's called "Ruth: Becoming a Girl of Loyalty." 
True Girl Bible Studies feature important women in the Bible so girls can learn from their example. We created them to help moms—and grandmoms—teach their daughters and granddaughters how to study God's Word. Together, they'll explore topics like loyalty, true friendship, finding joy in hard times, dealing with mean people, and seeing God in painful circumstances. You can even sign up to do this study online with ME! Visit MyTrueGirl.com and look for our Bible studies menu to find out more. 
Now, do you ever feel like no one notices all the ways you serve around your house? Nancy will help you know how to respond when you're not feeling appreciated. Be back tomorrow for Revive Our Hearts. Here's Nancy to lead us in prayer.
Nancy: Lord, we do pray that You would take us back to remember where we were when You found us and where we would be today if it weren't for Your grace.
Would You strip us of our proud, demanding, self-centered ways? And would You clothe us instead in meekness, humility, and gratitude? Empty us of ourselves and fill us with the sweet, gracious nature of the Lord Jesus, amen.
Revive Our Hearts with Nancy DeMoss Wolgemuth reminds you that Jesus will meet your needs. The program is an outreach of Life Action Ministries.
All Scripture is taken from the New International Version.
*Offers available only during the broadcast of the podcast season.
Support the Revive Our Hearts Podcast
Darkness. Fear. Uncertainty. Women around the world wake up hopeless every day. You can play a part in bringing them freedom, fullness, and fruitfulness instead. Your gift ensures that we can continue to spread gospel hope! Donate now.
Donate Now