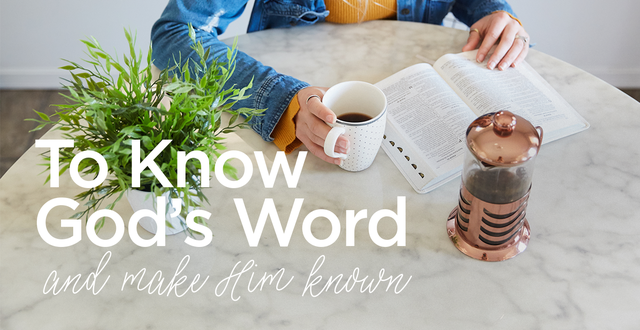 — Audio Player —
God's Word in Your Child's Heart
Leslie Basham: Are you afraid? If you lack courage, it might involve a memory problem. Here's Jason Benham.
Jason Benham: The secret to being courageous is remembering what God had done, and how are you going to remember if you're not putting it into your heart?
Leslie: And putting God's Word into their hearts is exactly what kids in the National Bible Bee do.
Girl:
Preserve me, O God, for in You I put my trust. O my soul, you have said to the Lord, "You are my Lord, my goodness is nothing apart from You (Ps. 16:1–2).
Leslie: This is Revive Our Hearts with Nancy DeMoss Wolgemuth, co-author of Seeking Him, for April 26, 2018.
Girl:
Because He is at my right hand I shall not be moved. Therefore my heart is glad, and my glory rejoices; my flesh also will rest in hope. For You will not leave my soul in Sheol, nor will You allow Your Holy One to see corruption. You will show me the path of life; in Your presence is fullness of joy; at Your right hand are pleasures forevermore (Ps. 16:8–11).
Leslie: Each December, young contestants from all over the country gather for the National Bible Bee competition. They recite Scripture passages from memory. For many adults, it's humbling and even convicting to see how much Scripture these young people can memorize.
Recently, Nancy sat down with some of the kids who had qualified for the National Bible Bee competition.
Child: Just first name? First and last? Or first, middle, and last? (Laughter)
Nancy DeMoss Wolgemuth: Whatever part of your name you want us to know.
Amy Mathew: My name is Amy Mathew. I am eleven years old, and I live in New Hyde Park, New York.
Seth: My name is Seth. I'm also eleven years old, and I live in Misson Viejo, California.
Samuel Moss: My name is Samuel Moss. I'm twelve years old, and I live in Bells, Tennessee.
Thomas Moss: My name is Thomas Moss. I'm his brother. I am ten years old, and I'm from Bells, Tennessee.
Daniel Russell: My name is Daniel Russell. I'm from Los Angeles, California, and I'm nineteen years old.
Kate Russell: My name is Kate Russell. I am from Los Angeles, California, and I'm sixteen years old.
Nancy: You guys must be related.
Kate: Yes. (laughter)
Kerestel Leonard: My name is Kerestel Leonard. I'm nineteen years old, and I live in Bloomington, Minnesota.
Leslie: Nancy is also joined by National Bible Bee competition co-hosts, David and Jason Benham and Hannah Leary.
David: It's actually convicting watching these young kids memorize all of the Scripture and here we are as adults watching it and listening to it. I've felt on a number of occasions a little prick of the Holy Spirit saying, "You need to pick up the pace in memorizing a little bit more."
Child: Acts 4:23–35,
And being let go, they went to their own companions and reported all that the chief priests and elders had said to them. So when they heard that, they raised their voice to God with one accord and said: "Lord, You are God, who made heaven and earth and the sea, and all that is in them (vv. 23–24).
Nancy: Kate, I think you've been, of all the people here, you've competed the most number of years. Tell us how old you were when you first started being involved in the Bible Bee and why you got involved.
Kate: I was eight years old when I began. Basically, my dad just saw an ad in a church newsletter, and he said, "Oh, we have to try this." So we did. And the first year, my older brother made it to Nationals. And, yes, it's just been a really great experience.
Nancy: And so you're going to do it again this year, going to be involved in the summer study.
Kate: Definitely. Yes. It's always really fun and exciting to find out the new book we're studying. And in the summer, it's simpler than Nationals because they give you the study, so you don't have to create your own study, which is what you do at Nationals. Both are feasible things to do. But it's fun in the summer because you know exactly what to study, and they also give you verses to memorize.
You're not actually tested on those, but they just help you to know the study material more in depth, and you can see all the correlation between the context of the verses and the context of the book you're studying. It's really neat to see how so much of the Bible intertwines. It's just one big story of God's plan for us.
Nancy: So, Daniel, is this something your family did together? Or do you do it mostly on your own?
Daniel: No, actually, it became like a family thing right off the bat because there's times when you need encouragement as a younger kid to press on in a big responsibility like this. It's a long-time commitment, so your family is really crucial in helping you get through that. And it's so worth it in the end.
Nancy: Did it come naturally, like, did you always find it easy to memorize Scripture?
Daniel: I wouldn't say it's easy. I'd say to certain people it's a little bit easier than others, but the whole idea of memorizing—anyone can memorize. You just have to find your technique for memorizing. For some people it's kinesthetic. For some people it's writing it. For some people it's repeating it, attaching, like, meaning to objects around the house. But everyone can memorize Scripture to some capacity.
Child:
Who by the mouth of Your servant David have said: 'Why did the nations rage, and the people plot vain things? The kings of the earth took their stand, and the rulers were gathered together against the Lord and against His Christ" (Acts 4:25–26).
Jason: For us to sit and watch these kids, I just feel strongly that God would say, "Look, don't be impressed with the medium or the mode. Be impressed with the message that's coming through them." And if you spend just a little more time bending your brain and struggling through, maybe memorizing one verse, then God will reward for you for that in the right moment. When He needs to give a word to somebody else, He'll deliver that word directly through you because you chose to memorize it.
Nancy: Thomas, I got to see you recite at an event the other day, and you got up there, and I forget what the passage was, but you did it with such confidence. Were you at all nervous?
Thomas: I was. I had thought over it all day, so I was pretty sure I won't forget.
Nancy: Well, you didn't forget. You were ready, and that practice all day—it paid off. And you did it for a room full of several hundred adults who were just staring at you, but you did it. And, Amy, you did it as well. Were you nervous, Amy?
Amy: Yes, I was nervous. That was my first bigger recitation at the conference, so I was nervous.
Nancy: But it went so well, and, you know what, Amy? As I was watching you—and I've watched many of you at the National competition because I love watching it on the livestream, but you looked like you were really thinking about what you were saying, and you were meaning it. You didn't just go ba-ba-ba-ba-ba-ba-ba-ba. You actually recited it like you were understanding it. Had you thought a lot about that passage?
Amy: Well, yes. I tried to kind of think of what it really means and how it should be expressed.
Nancy: So, Seth, talk to us about: Why do you think your parents want you involved in the Bible Bee?
Seth: Well, many other competitions are just memorization. You memorize this Scripture, but you don't necessarily understand it. It's like, the Bible is like a box of tools. You have a lot of tools. They are really useful. If you memorize, you get the tools. But if you don't know how to use them, they're more or less worthless.
So the Bible Bee teaches you the context, their use, their significance, so you not only have the tool box, but you have the manual, and you can use the tools, which, of course, is much better than just having them.
Nancy: Wow, I love that explanation! I think someday you're going to be writing the instruction manual for something.
David: One of the things that I find interesting is Jason and I, we're committed to fitness. We're also building a business. We have young families and these other things. We'll build ourselves and grow ourselves in the area of fitness or in the area of professional expertise, or whatever.
So often we don't spend quite the time . . . I'll look back sometimes at my week, and I will have spent probably five to ten times more time developing myself physically or through health than I do with the Word of God. So that's very convicting to me, as the apostle Paul said, "For physical training is of some value, but godliness has value for all things both in this life and in the life to come" (see 1 Tim 4:8). So it's important we invest.
Nancy: And, David, you just illustrated there how you look at your life, and then you take the Scripture, and you lay it on your life. And you just quoted a verse there without giving the reference, but from the apostle Paul saying, "Look, this has value—physical fitness, exercise—for this life, but training in godliness has value for all of eternity." So you're taking the Word of God, you're laying it on your life, and you're saying, "What adjustments do I need to make in my life to be in conformity with God's values, with His worldview?"
And that's what getting Scripture into us, into our hearts, our minds, the warp and woof, as I like to say, of our lives. That's what it does. It speaks to us. The Holy Spirit uses that to speak to us when we're going about doing our everyday whatever it is we do.
That's how it's powerful and alive and it convicts and it changes. And when we're listening to the news, and we're watching what's going on in our world, and we're responding to national tragedies or personal tragedies, the Scripture is what renews our mind and gives us God's perspective on what's going on in our lives.
So you're right—it's not just for the kids to get involved in this. But as I watch the competition, which is kind of the last competitive stage of this whole Bible Bee, I'm saying, "This is not just for these kids. This is for me."
And, in fact, my mind goes back to the book of Deuteronomy, which I've been camped in over the last week or so, just in a read through the Bible, and this is what God said to His people over and over again. In fact, in Deuteronomy, one of the things I'm noticing this time through is how often God says, "Remember. Remember. Remember." And then He says, "Don't forget. Don't forget. Don't forget. Remember. Don't forget."
What are they supposed to remember? What are they supposed to not forget? It's what God has done. It's what God has told them. It's God's commands. It's God's law. Of course, they couldn't hold their Bible in their hand like I'm holding this in my hand right now. But God's saying, "These are the things I told you. These are the things I told your parents. I'm reminding you. I want you never to forget so when you go into the land, the Promised Land, when you encounter opposition, when you encounter false gods, when you encounter the culture, the pagan culture you're moving into, remember My Word."
And then He says, "Not only are you supposed to remember it, but you're supposed to tell it to your children in such a way that they can't forget it."
So let me just read this from Deuteronomy chapter 6: "This is the commandment—the statutes and the rules—that the Lord your God commanded me to teach you [Moses says], that you may do them in the land to which you are going over, to possess it" (v. 1 ESV).
So it's not just knowing it in our heads. It's actually living it out. It's actually doing it. Then he says: "Hear, O Israel: The LORD our God, the LORD is one. You shall love the LORD your God with all your heart and with all your soul and with all your might" (vv. 4–5 ESV).
Well, how can you love God if you don't know Him? So that's why He says, "These words that I command you today [these words about who God is, His redemptive works, what He has done for you, what He expects out of you—these words that I command you today] shall be on your heart" (v. 6 ESV). Have it in your heart. Have them weigh heavily on you so that you know God, so that you love God.
And then, verse 7: "You shall teach these words diligently to your children, and shall talk of them when you sit in your house, and when you walk by the way, and when you lie down, and when you rise."
That doesn't sound like just sending your kids to youth group. That doesn't sound like just sending your kids to a Christian school. That doesn't sound like, if you're a homeschooling family, just doing Bible time. It's all the time.
"You shall bind them as a sign on your hand, and they shall be as frontlets between your eyes. You shall write them on the doorposts of your house and on your gates" (vv. 8–9 ESV).
This sounds like 24/7.
David: That's right.
Nancy: Immersion in the Word of God. And what comes out of that? If you love God, you model obedience, and your children grow up knowing and loving and following God, and then they teach their children to do the same.
So, can you think of a passage, any one of you, a passage that you've studied and memorized that has come to mean something really special to you or that has been helpful to you in your life? I'm sure there are a lot of them, but can you think of an example?
Kate: Specifically, Philippians 4:12–13, which says,
I know both how to be abased, and I know how to abound. Everywhere and in all things I am instructed both to be full and to be hungry, both to abound and to suffer need. I can do all things through Christ which strengtheneth me.
And to me that passage just, even though it's a very common verse, it means so much because there's a lot of times when we become discontent, and we think that we deserve more. But God is calling us to be full or to be needy. And so God really just showed me that I could do anything through Him, and it's when I feel the weakest that He's strongest in me. So that passage just means a lot.
Nancy: Which doesn't necessarily mean that when you trust in God you will win in everything you do.
Kate: Exactly! No, believe me, I've been in the competition for nine years and actually never made the semi-finals in the real competition. But God has taught me so much more in not doing well that I'm thankful for never really accomplishing what I had hoped to do, but God has shown me that He had so much more for me in other ways that I didn't expect.
Nancy: And, really, you did do well.
Kate: Yes.
Nancy: Because you were faithful to what God had wanted you to do, to hide God's Word in your heart.
Kate: Exactly.
Nancy: And I can tell you, when you're an old lady like me, it's not going to matter so much that you won, but that you were faithful to get God's Word in your heart. And you already know that.
Kate: Exactly. Yes.
Nancy: Samuel, we haven't had a chance to hear from you.
Samuel: One of my favorite passages is from Acts 4. Peter and John are in the counsel with, like, some of the chief priests, and they said that there is salvation in no one else "for there is no other name under heaven given among men by which we must be saved" (v. 12).
And that's just really special to me. It's just that Peter and John were bold, and it gives me a good model to be bold like them.
Jason: And you know what comes out of that is courage. You see all the commands in the Old Testament and then moving into the New Testament, "Be courageous. Be courageous. Be courageous." Well, you have just said God said, "Remember. Remember. Remember. Do not forget. Do not forget. Do not forget." And then we see, "Be courageous." You think about the men of Ephraim, there's that verse, "The men of Ephraim, though armed with bows, turned back on the day of battle" (v. 9 NIV). They forgot what God had done.
They forgot. See, the secret to being courageous is remembering what God had done. And how are you going to remember if you're not putting it into your heart?
God's calling for courageous Christians in our culture today who are going to stand and say, "No, you know what? I'm not going to bend. I'm not going to try to relegate the truth down to a common denominator so that we can all get along. You know what I'm going to do? I'm going to restate, reaffirm, and reapply what God says in His Word."
Now, that's courage! How do we do that? By remembering what God said. How do we remember what God said? We put His Word into our hearts.
Nancy: Amy, what's a passage that's been special to you?
Amy: Well, I really liked Isaiah 43:1–2, and one part of it says,
"Fear not, for I have redeemed you; I have called you by your name; you are Mine. When you pass through the waters, I will be with you . . . and through the flame, they shall not scorch you" (paraphrased).
And it goes on. And when I feel fearful, this verse really speaks that God is with me, and He knows the best for me.
Nancy: I love that, Amy. Thank you so much.
How do you think what you've done over these years, Kerestel, is going to make a difference in your life when you're older and you have a family of our own? Is this just going to be something you did in your childhood and teenage years? Or what kind of value is it going to have to you for the rest of your life?
Kerestel: That's a really good question. I think, for me, doing it all these years, it really reminded me or really helped me to learn how extremely valuable God's Word is. It says in Proverbs how it's so precious. And I think in Psalms it says it's sweeter than honey. I think a lot of times in our Christian walk we think, Oh, it's the Bible. It's cute. It's great. But when you're spending so much time in it year after year, you realize how extremely valuable it is, like, beyond your comprehension.
So, I think, for me, I believe it will really help me in everything—my relationships, my business. I think my kids, I mean, I would love to have them do this. But I think what's really clear to me is just how extremely valuable it is.
Child:
See then that you walk circumspectly, not as fools but as wise, redeeming the time, because the days are evil. Therefore do not be unwise, but understand what the will of the Lord is. And do not be drunk with wine, in which is dissipation; but be filled with the Spirit, speaking to one another in psalms and hymns and spiritual songs, singing and making melody in your heart to the Lord, giving thanks always for all things to God the Father in the name of our Lord Jesus Christ, submitting to one another in the fear of God" (Eph. 5:15–21).
Nancy: There are no shortcuts to remembering—you review it, you review it, you review it.
And it's not just Old Testament. New Testament, the apostle Peter says in 2 Peter that "it's not burdensome to me to remind you of the things I've told you." I want you to remember. When I'm gone, he says, I want you to remember.
When you're gone, David, Jason, when your parents are gone, Hannah, you want the next generation to remember what you said, which means it has to be repeated over and over and over again.
David: That's right. That's good advice. That's really good parenting advice. I think I'm going to take it. I'm going to use it.
Nancy: Thomas, I have a question for you. How many years have you now competed in the Bible Bee?
Thomas: I've competed in four.
Nancy: Can you remember the first time you got up on the platform to recite? Was that scary for you?
Thomas: I forgot which it was, but I was really nervous then.
Nancy: You were really nervous?
Thomas: Yes.
Nancy: So, how did you do?
Thomas: I didn't make it to finals the very first time, but God helped me up there.
David Benham: Okay, Thomas, please recite Psalm 95:3–5.
Thomas: Psalm 95:3–5:
For the Lord is the great God, and the great King above all gods. In His hand are the depths of the earth; the heights of the mountains are His also. The sea is His, for He made it, and His hands formed the dry land.
Nancy: Why would you encourage the moms who are listening to this program—and we have a few dads who listen—but the moms and grandmoms, why would you encourage them to get their family involved in the summer study and the National Bible Bee? Kate, we'll let you start.
Kate: Just all in all, His Word will never return void. It will never be a waste of time. I have spent so much time studying the Word of God, and I do not regret a second of it. And the whole competition aspect of it is not the important part. It's a great motivator, and it motivates people to study the Word of God more in depth, and it's fun. I have met so many friends through it. Some of my best friends are from the Bible Bee.
But that's not the most important part. I know that my relationship with God would not be what it is today if it wasn't for the Bible Bee. It just wouldn't. I'm so thankful for it and for all the people who put it together. It's definitely something you should have your kids get involved in.
And don't be discouraged if it seems like, "Oh, listen to those kids. They can recite all that. That's so impossible." It's not impossible. Everyone—we're all just the same as any mom out there who has kids. We all had a mom that just had us study the Bible a little bit and just do it more and more. And with time, with everything, you get better.
It's really doable for any age and any person. There's no person that's more intelligent and can memorize better. It just has to do with hard work and enjoying it—having fun. And, I promise you, that you will never regret it, and you will reap so many benefits than if you hadn't done it. It's the most worthwhile thing you could do as a child, really.
Nancy: Great word. Thank you, Kate, that's beautiful. Samuel?
Samuel: Well, Psalm 19 says that the law of the Lord is perfect. So if you memorize the law of the Lord, like Kate said, it will not return empty. So it's just the most worthwhile thing you can do as a child.
Nancy: And not just as a child, but as an adult, too.
Samuel: Yes.
Nancy: Amy, how would you encourage parents? Why should they get their families involved?
Amy: Well, I think that's one of the most important things you could do for your children. You can't make them a Christian, but you can help them to know God's Word.
Nancy: Exactly. Amen. And God's Word is what's going to draw them and point them to Christ.
Amy: Yes.
Nancy: You want to add anything, Seth?
Seth: So, going back to the tool box analogy: You give them the tools they need for life. You teach them how to use them. You give them the context so they can even find new ways to use it, and then, also, that affords an experience. If you get into semi-finals or finals, you get experience on the big stage, how to handle that. With prelims, if you don't make it first, then you can still understand how to not come in first gracefully. Of course, it's not actually losing because you get God's Word. You get that tool box still. It's not like they take away what you memorize. 
Nancy: Nothing can take that away.
Seth: Yes.
Nancy: There's no losing. There are no losers who are studying God's Word, reading it, meditating on it, and memorizing on it.
Seth: Psalm 19:14 says . . . well, a different psalm actually, 119, frankly, says, "Thy word have I hid in mine heart, that I might not sin against thee" (v. 11 KJV). And Psalm 1 actually also says that he who is close to God is like a tree planted by a good river. He will be prosperous (see v. 3). So investing in the Word of God is never a bad investment of your time. It's even better than investing in the stock market because you have 100% chance of positive R.O.I.
Nancy: No question about that. Amen. Thank you, Seth. Kerestel, do you want to add anything that you'd say to parents?
Kerestel: They've all summed it up very well, but, yes, I guess kind of what Amy was saying. It's probably the best thing you can do for your kids. As parents, you want the best school or you want to train them in the way they should go and discipline. But this is probably the most valuable thing above all those to really change them.
Kate: And one more thing is that I know a lot of people maybe would think it would take up too much of their time. They say, "Oh, I'd loved to do that. It's amazing. But I just don't have the time." But, I mean, we all have lives. People watch TV for an hour a day or whatever. But we all have an hour a day. And it doesn't have to consume all your time. You can still continue your sports or your schooling or whatever you want to get done. Just set some amount of time away for the Word of God.
Nancy: Yes.
Kate: It just—that's the best thing you can do and still go on with your life. It's not going to hold you back. If anything, it will push you forward, and you'll excel more in the things you are doing.
Nancy: Samuel, were the one who quoted Joshua 1 this morning?
Amy: I did.
Nancy: You did. Can you just recite for us a part of that? Because that passage says exactly what Kate is saying here, that if you meditate on God's Word every day, day and night, you will be successful in whatever you do. I'm not sure which translation you have, but why don't you just recite part of that passage for us, because it just says exactly what we've been saying here.
Amy: "This Book of the Law shall not depart from your mouth, but you shall meditate on it day and night, that you may observe to do according to all that is written in it. For then you will make your way prosperous, and then you will have good success" (v. 8).
Nancy: Amen.
This is the sign-up period for the summer Bible study. What is the theme this year?
Hannah: It's a surprise. Because it's a competition, you have to wait to release it until it starts.
Nancy: So now you sign up, and then you'll find out.
Hannah: At the end of May, they're going to release the theme and June 1 is the start of the summer study. That's when the Discovery Journal gets released and everyone gets to study along. And that's the cool thing, too. Thousands of young people across the country are studying the same thing. But the element of surprise is a lot of fun as well.
Nancy: Be sure to go to ReviveOurHearts.com. We've put a link there that will take you to all the information about how to sign up for the summer study.
And then, out of that summer study program, there will be contestants who apply and qualify for the National Bible Bee competition that takes place the first week in December. And you can watch that online even if your group isn't one of the ones who will go to San Antonio to participate in that.
And my hope is that, as a result of Revive Our Hearts partnering with the National Bible Bee in this way, that we'll see thousands of new groups, new families involved, starting up, getting into God's Word, getting God's Word into them.
Leslie: And, again, one of the easiest ways you can sign up for the National Bible Bee Summer Study is by going to our website, ReviveOurHearts.com and following the link to the National Bible Bee.
Nancy will be right back with some final thoughts. First, I'm reminding you that the early registration deadline for the True Woman '18 conference is coming up soon, May 1. True Woman is coming to Indianapolis September 27–29. I hope you'll join Nancy, along with speakers like Dannah Gresh, Jackie Hill Perry, and Mary Kassian. Worship with the Gettys and be captivated by drama from the group Acts of Renewal.
For all the details and to register at the discounted rate, visit ReviveOurHearts.com. The early discount deadline is May 1.

When women are freed from listening to lies, their whole lives change. Tomorrow we'll hear from guests who were telling themselves lies, and we'll hear what happened when the truth set them free.
Now, here's Nancy to close our time today.
Nancy: The passage that keeps running through my head as we're talking is from Psalm 78:
Give ear, O my people, to my teaching; incline your ears to the words of my mouth! I will open my mouth in a parable; I will utter dark sayings from of old (vv. 1–2).
And some of the Scriptures, by the way, are hard to understand at first hearing. They don't make sense to natural ears. But he says, "I'm going to incline my ears to these. I'm going to listen to these teachings, and I'm going to tell you what they are." This is a dad talking to the next generation, "And I'll say things we have heard and known that our fathers have told us." This is the passing of the baton.
We will not hide them from their children, but tell to the coming generation the glorious deeds of the LORD, and his might, and the wonders that he has done. He established a testimony in Jacob and appointed a law in Israel, which he commanded our fathers to teach to their children, that the next generation might know them, the children yet unborn, and arise and tell them to their children, so that they should set their hope in God (vv. 4–6).
And I'm realizing that my ministry day after day of opening God's Word and teaching it to women who listen to Revive Our Hearts, this is the fruit of parents—my dad in heaven now for almost forty years—but my dad and mom together who said, "We're going to make sure that the priority is that you get God's Word into you. If we skip some other things of your upbringing, we're not going to skip this thing."
So, today, I have the joy now, decades later, of reproducing in the next generation. And my hope is that by this kind of program and this kind of ministry of the National Bible Bee, that we can get another whole generation of children, and their children, coming up to love Christ, to put their hope in God, to make Christ known to our world.
Revive Our Hearts with Nancy DeMoss Wolgemuth wants to help you get into God's Word. The program is an outreach of Life Action Ministries.
All Scripture is taken from the NKJV unless otherwise noted.
*Offers available only during the broadcast of the podcast season.
Support the Revive Our Hearts Podcast
Darkness. Fear. Uncertainty. Women around the world wake up hopeless every day. You can play a part in bringing them freedom, fullness, and fruitfulness instead. Your gift ensures that we can continue to spread gospel hope! Donate now.
Donate Now