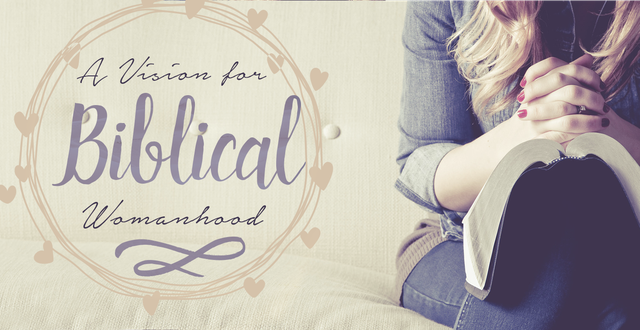 God's Power for Real Marriages
Leslie Basham: Maria Johnson actively makes her home a safe place for her husband.
Maria Johnson: The Lord put on my heart ten years ago to make him sorry he had to leave in the morning and glad to come home. I want to greet him with a smile and a glass of iced tea for him. That's his preference. I want him to be so glad to come home that it's a refuge.
Leslie: This is Revive Our Hearts with Nancy Leigh DeMoss for Wednesday, January 30. Nancy Leigh DeMoss has been teaching a very helpful series called A Vision for Biblical Womanhood.
We've heard about the freedom, joy, and peace that comes from embracing our God-given roles as women. Some friends have been listening along with us and are about to help us see how these principles get lived out in the real world. To start, here's …
Leslie Basham: Maria Johnson actively makes her home a safe place for her husband.
Maria Johnson: The Lord put on my heart ten years ago to make him sorry he had to leave in the morning and glad to come home. I want to greet him with a smile and a glass of iced tea for him. That's his preference. I want him to be so glad to come home that it's a refuge.
Leslie: This is Revive Our Hearts with Nancy Leigh DeMoss for Wednesday, January 30. Nancy Leigh DeMoss has been teaching a very helpful series called A Vision for Biblical Womanhood.
We've heard about the freedom, joy, and peace that comes from embracing our God-given roles as women. Some friends have been listening along with us and are about to help us see how these principles get lived out in the real world. To start, here's Maria Johnson responding to Nancy's teaching.
Maria: You read a quote recently by Peggy Noonan stating that she was a strong woman in the early 70s. She was a feminist. A man had attempted to assist her and she let him know in no uncertain terms she was capable of doing it herself. I have actually done that.
Now, my poor husband lived with that type of woman until about ten years ago, and we're coming up on 38 years. The difference in our relationship and his response in the whole marriage from the first 28 years to the last 10 has been so amazing.
I see in Genesis 2 where God made man first and gave him that instruction to care for the Garden. Then later he created the woman and she was to be a helper, a completer for him. My interpretation of that is to make him the best he can be, to be the person that cheers him on, believes in him more than he believes in himself.
Once the Lord began correcting my thinking about ten years ago about this, my husband began to change. Just to fast forward to an example, just a couple of weeks ago, there was a simple little thing I had done at home, just privately at home, that made him look good in the gates. I didn't even realize it.
He came home from work and said, "The guys at work (he's a mechanic; he works in physical labor with other men) could not believe that you bring me coffee in the morning." He said, "I said something to the guys about when you brought me my coffee this morning, and they said, 'What?' They could not believe that I get coffee in bed in the morning."
It made him like a king before those men. That's a simple, little, tiny thing to do privately in our home. I wasn't doing it with any intention except kindness, and he came home beaming from ear to ear.
Also, before one way that my husband spent his free time was with golf. He loves golf. He's a good golfer, and it's just great exercise. He literally could golf from sunrise to sunset. I noticed last weekend he didn't golf one of the days. He spent the whole day with me shopping and driving around and eating out, and we spent the day together. That was a big deal to me. I just felt so honored.
Then the day that he did golf, he golfed 18 holes and came home. Three-thirty in the afternoon, he came home. I thought, "Wow, Lord." The goal the Lord put on my heart ten years ago was to make him sorry he had to leave in the morning and glad to come home. I want to greet him with a smile and a glass of iced tea for him. That's his preference.
I want him to be so glad to come home that it's a refuge. It just was like a bonus from the Lord two weeks ago when he came home saying how he was just so honored among the men because he got coffee. It's such a simple thing. It's a matter of helping him be the best that he can be, not what am I going to get out of this. God is to meet my needs, not my husband.
Nancy Leigh DeMoss: In the process, you have found that your husband is meeting your needs in ways that haven't been true before.
Maria: He is. That's true. But mainly it's God who is to meet my emotional needs or for just all sorts of things. Yes, we've become closer and closer and greater friends. Anyway, just a testimony that God's way is the best way.
As you were talking, I was thinking of trying to play basketball with a football. That's how I did it the first 20-some years. Yes, I could have gotten the ball in the hoop and made a few scores, but a football doesn't dribble very well. When we function within God's design, it always works the best. It may go against (like Eve) what we want, but God's order does not imply inferiority. His way is always the best. I'm still learning, too.
Nancy: Thank you, Maria.
Kim Wagner: For the first 15 years of my marriage, I would describe myself as a very strong woman, very opinionated, but I felt like my opinions were right so that was fine.
I grew up around a lot of men, young men and men, who were very vocal and verbal, and I learned how to verbalize my opinions, never realizing that what I was doing in many ways was emasculating men that I tended to disagree with or that I showed disrespect without even realizing it.
My husband is a godly pastor who, when I first met him, didn't have any problem with self-confidence—I'll put it that way. I told him he was the cockiest young man I'd ever met. By the time we'd been married 15 years, he was very withdrawn, very emasculated from what I had done to him—unintentionally.
Nancy mentions the term Christian feminist. I exemplified feminism and I did not even realize it. I would have said I was not a feminist. I was submissive to my husband. If he told me to do something, I would do it. But I did not honor and respect my husband in my treatment of him.
Now if you asked me if I respected my husband, I would say yes. But if you were in our home and I disagreed with maybe a principle my husband was stating or a direction he wanted to go, the tone of my voice, the words that I said would be very dishonoring. I didn't realize it.
Our marriage had become very strained. I wouldn't say that we were considering divorce because we were biblical and I loved God. He loved God. I had a zeal and a passion for God, but I did not realize how ugly I was as a woman and as a wife.
I went away to a cabin for a few days alone. I really went there to prepare a study on 1 Peter for my women, not even thinking about chapter 3—the classic chapter on submission. It was just a verse by verse study through 1 Peter.
In the providence of God, in the flyleaf of my Bible, I pulled out the little booklet, The Portrait of Biblical Womanhood, by Nancy Leigh DeMoss. I don't even know when or where I picked that up. I pulled out that little booklet that week and God began to uncover layer after layer of sin in my life, to uncover who I really was.
I realized that, yes, even sometimes the words may be right that I would say, but the tone that I spoke to my husband in would make him feel like an idiot. I loved my husband but I didn't honor him.
I came back from that weekend and I sat my children down and my husband and I said, "I need to ask your forgiveness and your dad's forgiveness because I have not walked in biblical submission. I haven't treated your dad with honor. I haven't respected him. I need to ask your forgiveness and his forgiveness."
It was not an instantaneous change overnight. It's been a process of growth and really a process of humility and surrender because, although feminism is a modern-day phenomena, although the movement may have begun in the 60s and 70s, the first breath of feminism came in Genesis chapter 3 when the woman chose to take control, when the woman chose to usurp God's authority in her life.
Ladies, that's what I was doing as a believer with my husband in the way I spoke to him and in the way I treated him in trying to take charge and fix things. What God began to show me was, as I humbled myself before God, it really was an issue of trust. Are you going to trust Me as God and are you going to obey Me? Are you going to love your husband no matter what?
Now that doesn't mean that there aren't times when our husbands may be unscriptural. Our husbands may be acting foolishly or about to make a foolish decision. But I've learned that I must first of all spend a lot of time in prayer before I ever approach my husband. I pray about whether I'm to approach him or not. I go to the Word and see is this really an issue that needs to be spoken to.
Then if I'm assured that God wants me to speak to him about this, I pray over the timing of it. Then I pray over my attitude of approaching him. Then I approach him, not as a Bible teacher with my finger out and the Bible in one hand and saying, "You're not measuring up here and here it is," and with a raised eyebrow and my hand on my hip, but in a spirit of humility, sometimes even on my knees. I say, "Honey, I love you so much and I have a need to talk to you about something. I need to ask you if you would help me with this issue."
Then leave it with him though with these words, "I trust that you're going to seek God though on this matter, and I depend on you and Him. I know that you will come to the decision that needs to be made." And leave it with him. If he doesn't make the decision that I think needs to be made, that's between him and God because at least I've laid out to him my concerns. That's between him and God.
It is still something that I have to learn and grow through because there are always new opportunities to practice this no matter how far along you are in your marriage. Recently, I had to call Holly within this past year and say, "Holly, I'm really struggling with this issue, with this concern over a decision that my husband is making."
Ladies, when you have an issue with your husband, don't go to a friend that's going to run your husband down or speak negatively. Go to a godly woman that's going to speak truth and that is mature in the Word.
Holly reminded me—and I remind myself of this very often—"Kim, when you stand before God one day, He's not going to ask you, 'Did Leroy do everything right?' or 'Did Leroy do everything the way you wanted it done?' or 'Did he make the right decision in this instance?' But He is going to ask you, 'Did you love your husband? Did you love Me and honor Me by honoring your husband? Did you encourage your husband?'"
What I continually need to keep before me is that perspective. When I stand before God is He going to say, "You honored Me in how you honored your husband"? The issue that I called Holly about that was a great concern for me, God answered that prayer and God on His own changed my husband's heart. It wasn't anything that I could have done, but God stepped in and showed Himself strong by changing my husband's heart.
Now, I could have nagged him. I could have made him feel like an inch tall. That would have dishonored God and that wouldn't have accomplished God's purposes. Instead, God was free to work. I love the fact that when we come to God in dependence and humility, that enables His grace and power to move forth in our lives. When we are in total dependence on Him, He shows up in great ways.
Nancy: I just wonder, as we wrap this day up, if there's anything that God has said to you that you need to just take a moment and acknowledge and say, "Lord, I've heard you." Every marriage is different. Every husband is different. So the particulars may be different. But is there something about your heart that the Lord has pointed out and you need to just say, "Yes, Lord. Change me. Do this work in my heart," and release your husband to the Lord.
Now, I know that's probably a whole lot easier said than done, and it's not done just once. It's day after day, moment by moment. But you know what, God has grace for day after day, and God has grace for moment after moment.
You may be thinking, "If I let go of those reins, what about two months from now when . . ." You're not living in two months from now. God will give you grace to do what you need to do today and to be the wife He wants you to be today and to affirm and encourage your husband.
We heard from two of these women how God has transformed their husbands, really quite apart from their wives' help. Isn't that amazing?! Now, there is a sense in which, Kim, you did help. You helped by getting out of the way. You helped by letting God work in and through you, but you also helped by stepping back so that God could deal directly with your husband, and that's being a helper.
Now, that doesn't mean you never speak into his life. I think you've heard illustrated that there are appropriate ways to do that. But there are inappropriate ways to do that. Again, we're not talking about a list of this is what you say and this is what you don't say. We're talking about a heart inclination—that you trust the Lord to make your husband the man He wants him to be. Part of that is the living out for you of that vision of biblical womanhood.
This is what it looks like in the nitty-gritty of life. It's living it out. For those of you who are single women, it's living it out in the workplace with men who can be at times not maybe exemplifying a biblical vision of manhood. The challenge is for you to live that out and to let God make your life an inspiration and a blessing to such an extent that the men around you will say, "I want to surrender to Christ."
Aren't you glad God has patience with us? Don't you find that sometimes we're much quicker to expect other people to change when God gives us room and time for the process of sanctification? We've heard from some women here who have been married long enough now to be in it for the long haul and to say, "Give God time. Let God move. Let Him have His way. Let Him work and don't feel like it has to happen overnight."
Hopefully your husband's giving you room to grow and God time to change your life, but I hope that you're willing to do the same with him or with those other men in your life. We look at other people's weaknesses through a microscope and our own weaknesses we tend to look at through a telescope. Humility dictates that we be willing to let God put the microscope on our own heart and then that we love others with the kind of love that does give a lot of room and time for God to move.
Kim: I was just thinking about Philippians chapter 2 in the context of what Nancy was just saying. I just want to read it because I believe God's Word speaks for itself so many times.
So if there is any encouragement in Christ, any comfort from love, any participation in the Spirit, any affection and sympathy, complete my joy by being of the same mind, having the same love, being in full accord and of one mind. Do nothing from rivalry or conceit, but in humility count others more significant than yourselves. Let each of you look not only to his own interests, but also to the interests of others.

Have this mind among yourselves, which is yours in Christ Jesus, who, though he was in the form of God, did not count equality with God a thing to be grasped, but made himself nothing, taking the form of a servant, being born in the likeness of men.

And being found in human form, he humbled himself by becoming obedient to the point of death, even death on a cross. Therefore God has highly exalted him and bestowed on him the name that is above every name, so that at the name of Jesus every knee should bow, in heaven and on earth and under the earth, and every tongue confess that Jesus Christ is Lord, to the glory of God the Father (Philippians 2:1-11).
That is why sometimes we make tough choices and why we continue to make those tough choices in tough marriages, sometimes in tough circumstances. Because the bottom line is: Will I go to the Lord in humility and say, "Father, I want you to be glorified more than I want my own life." That's the question God is asking us.
Nancy: That's a good reminder that one of the ways of God is that those who humble themselves, God will exalt. Jesus humbled Himself and God exalted Him. He did not regard equality with God as something to be grasped. Doesn't that speak to what we've been talking about in this whole series?
Where has the emphasis been in most of our generation? Grasping for equality. Now there is an equality there, but those who grasp for it or demand it or insist on it, finally lose it. They end up in conflict, in tension, in broken marriages. Jesus took the low road, the pathway of humility. You can never go wrong on the pathway of humility. God exalted Him.
Jesus didn't have to take the low road. He had no sin of His own, nothing to humble Himself over. He did that for us. But He also did it as a pattern for us.
Maybe there is a relationship that you have, your marriage or another relationship, where God's asking you to take the low road, not to demand your rights or your place or your say or to be heard or to be recognized, but to take the low road, esteeming others better than yourself, trusting God, casting yourself upon Him and knowing that in God's way and in God's time, He is your protector.
He is your defender. He is the lifter of your head. He will exalt in due time those who humble themselves. The purpose is not so you can be exalted. The ultimate purpose is so God can be glorified.
That's what we want. That's why we stoop to the cross. That's why we stoop to serve. That's why we stoop to bless others. That's why we're willing to humble ourselves so Christ can be magnified, so He can be exalted, so God can be glorified in and through our lives.
Leslie: Nancy Leigh DeMoss has been talking with some friends about biblical womanhood in the home. What does it really look like? Even though it's not always easy, embracing God's role for women is deeply satisfying and has an incredible impact on a home as we heard today.
Will you learn more what it means to approach your home in uniquely feminine ways? A great first step is to order a booklet by John Piper called What's the Difference? It will give you a clear overview of what the Bible says about men's roles and women's roles. Dr. John Piper has studied this carefully and wrote this booklet as an easy-to-understand resource for those wanting to learn more.
When you make a donation to Revive Our Hearts, we'll send the booklet along with Nancy's CD, Embracing the Gift of Womanhood. When you donate by phone, ask for What's the Difference? and Embracing the Gift of Womanhood. The number is 1-800-569-5959, or order online at ReviveOurHearts.com.
We've gotten a picture today of what biblical womanhood looks like in the home. What about in the church? Find out more tomorrow when Nancy picks up the series, A Vision for Biblical Womanhood on Revive Our Hearts.
Revive Our Hearts with Nancy Leigh DeMoss is an outreach of Life Action Ministries.
All Scripture is taken from the English Standard Version.
*Offers available only during the broadcast of the podcast season.
Support the Revive Our Hearts Podcast
Darkness. Fear. Uncertainty. Women around the world wake up hopeless every day. You can play a part in bringing them freedom, fullness, and fruitfulness instead. Your gift ensures that we can continue to spread gospel hope! Donate now.
Donate Now