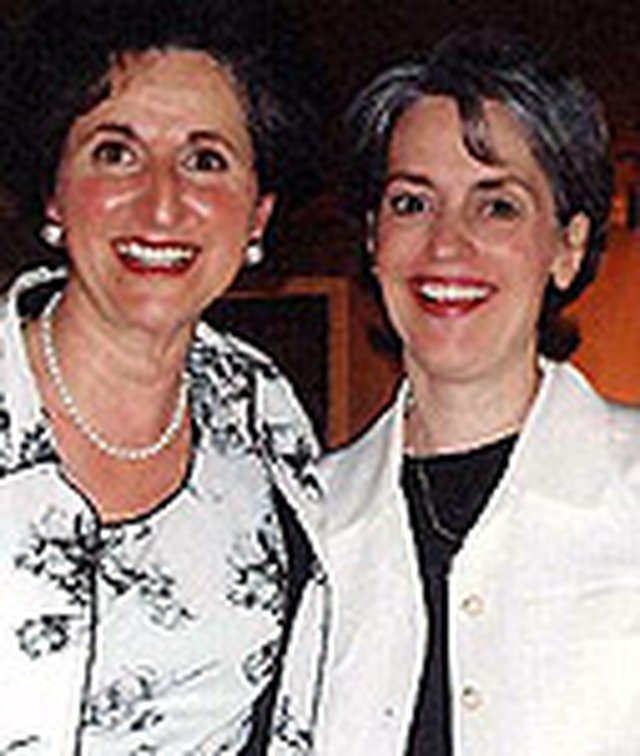 — Audio Player —
First Steps Toward a Peaceful Home
Leslie Basham: Moms today are busy. In the middle of all the pressures, Donna Otto says there are a few things that have to take priority.
Donna Otto: Relationship with the Father, a quiet time with the Father; not five minutes with God, but a time that merits the relationship you have with God. Relational time with your husband and relational time with other family members that matter to you. The rest of the stuff will be there.
Leslie Basham: This is Revive Our Hearts with Nancy Leigh DeMoss for Friday, May 12th.
Donna Otto has been our guest all this week, and she's done two things. First, she's helped us understand that our homes can be used for God's work and His glory. Second, she's shown us that no matter how disorganized our homes are, change is possible. Here's Nancy to continue the conversation.
Nancy Leigh DeMoss: Okay, some of us need some change. I'm thinking of some e-mails we get from some of our listeners saying, "My home environment is disastrous. It's a mess. I couldn't let anyone in my home. My family can't bear to be there. I can't bear to be there. How do I get started?"
Donna Otto: Well, they've already begun by assessment. Get up and look around and see what needs to be done. Assess it. So she did that.
The second thing is to get some clean surface places. We instinctively have a desire to see some immediate results.
I recommend that women buy and use feather dusters because a feather duster quickly gets rid of dust, and women prefer a space that doesn't have dust over a sparkling clean floor or toilet. Aren't we strange? But it's about who we are. So get some surface space.
Nancy: How can you get some quick results?
Donna: By picking up the items that are covering the dining room table. Pick them up. Get them in a box. Get them in a bag. Get them out of sight so that you can deal with them later as you grow in the process of how to keep an orderly world. And there is a very distinct process.
Paper—we've been told by the computer that we're going to be a paperless society. Certainly we know that's not true! There's more paper than ever. We have, in the book Get More Done, a whole chapter on how to organize your paper. There's a whole process.
I think, Nancy, we have to go back to the principle of disciplining ourselves. An unruly mother cannot teach her children anything more. So, Mama, how unruly are you in the keeping of your home?
Getting some surface spaces is an immediate. So first, assessment; then get some surface spaces. Pick it up. Get it out of sight.
"Well, isn't that just hiding the problem?" No, it's not. It's giving you a surge of energy to say, "This feels good. The vacuumed floor felt good." And that's an important part of it.
Nancy: So make a start.
Donna: Start.
Nancy: And remember that the goal is not a sparkling clean house. The goal is glorifying God, creating an environment that is conducive for your husband, your children, your friends, yourself to grow, to be nurtured, to meet God. We don't want to become obsessed with what our house looks like.
Donna: Exactly. If our home is a place of welcome, a place of warmth, if our home is a place where people are glad to be, then it has to be a place where we're glad to be.
When people come into our home, we have a process that David and I practice. We go to the door together to greet people. Not, "Somebody get the door," or "Is that the doorbell?" or "Honey, you get the door." We want people to know we are really glad they're there, where ministry happens.
In the book Finding Your Purpose as a Mom , I talk about how to use your home as a place of ministry. What does ministry mean? It's nothing more than serving people. So having order in your home says, "Right now, today, come on into my house."
A sister who's having a hard day with her children—"Come on over and let the kids play in the playroom, and you and I will have a cup of tea"—that kind of privilege of having an orderly home. Again, not a perfect home but an orderly home.
The last thing that I would say in this brief moment about organization . . . It's about assessment; it's about preparation. But it's mostly about maintenance. Do you hear that? We just say the word. There something ugly about the word maintenance. Isn't there?
I remember going to the grocery store, which is my least favorite thing in the world. I make a little menu plan—I'm very faithful to do this. I have a market list. Every minute you spend in the grocery store over 30, you spend at least $3.50 per minute. So be a good steward of your time and money, okay? So I make my little list. I go to the grocery store.
I remember I got home; this is in the days when I was cooking for a family. My husband's nephews and niece lived with us, so we were seven, and I was cooking for the family.
I got home. I got it all done. I had made the menu plan. I had been to the market. I had washed the vegetables. I got everything in the refrigerator. The menus were ready to start cooking, and I remembered physically thinking, "Okay, now don't eat it."
Nancy: Because you didn't want to have to deal with it.
Donna: Because I did this. You know, it's like washing the clothes and putting them in the drawers and saying, "Now don't wear them."
After we've assessed and prepared and we begin to practice order in our home, we have to maintain it, which means we're always doing the same things, again.
I think it's God's principle about the small things. It's in the little things that He finds our faithfulness. It's in sweeping that kitchen floor one more time. Will they ever stop tracking the dirt in?
I think it's an attitude of my heart that says, "Thank You, Lord, for the privilege of home, for the privilege of people in our home, for the work that I do."
I do work very hard to keep our home in a sense of order so that people are welcome. I have a system that helps me maintain our home in a way that David and I are comfortable with. I think that's an important part of maintenance.
Nancy: And we can resent that, those requirements, those demands that . . . I'm thinking even as you're talking, Donna, of times when I've been in my home with little children making those fingerprints and handprints on the glass, and I'm kind of just gritting my teeth thinking, "Oh, yikes, I've got to go and . . ." I almost want to follow behind them with a bottle of Windex, you know? That might be considered obsessive.
Or I can consider it a privilege for my home to be used, for it to be a blessing, for it to be a place where my friend's children are comfortable; a privilege and a blessing to be a servant, because you're never more like Jesus than when you're serving.
If you've got a family, if you've got a home, then you've got a high and holy calling through that home to be a servant. What a blessing; what a privilege!
Woman: Can you speak to the woman who works outside of the home, which is where I am, and organization—I don't have a family yet, besides my husband—staying orderly and organized and working outside of the home?
Donna: Well, the woman who kind of chooses to work outside of her home . . . and oftentimes when you're first married, that's a way to build up the reserves so that when and if there are children, if you and your mate have chosen for you to be a fulltime stay-at-home mom, you're prepared for that. So I applaud that.
I also applaud the fact that women between the ages of 28-40 are a group of women who are the most educated women who have ever walked the face of the earth. I also believe that all of that transfers into skill sets that you use for parenting children, which I think is still the highest calling for a woman as far as work is concerned.
Now, when you're working outside of the home, it comes to choices again. You cannot do everything that a woman who is at home can do.
It's always difficult to talk about a woman who works outside of the home, because there's the implication that "I don't believe in that" or "I don't approve of that."
I don't feel that way. But I do feel strongly that a woman who works outside of the home has to accept that she cannot do everything that a woman who is at home can do.
I'll give you an illustration. For many years the churches in America have struggled with working women saying, "We want Bible studies for working women," and pastors nod and say, "Yes, of course. You should. Why not? We will." And those Bible studies typically have been an abysmal failure.
Now, what position have we put the pastor in? He is saying, "Okay, we're going to give in to you." He can't with good intention promote failing kinds of ministries. But every time we have a ministry for mothers who are at home, the working mother says, "What about us?" This doesn't work; this does—he has to stop somewhere and say, "I guess we don't do moms' ministries."
I've seen that happen in the churches of America in the last 20 years time and time again. So I think the challenge to the working woman and then the working mom is to be very realistic about the fact that you cannot do everything. That's a choice you make.
Some of you are saying, "Oh, she thinks it's a choice. I have to work." I am pretty convinced—in about 25 years now of research and data with women, having written the book The Stay-at-Home Mom now almost 17 years ago—that it is still a choice, even in the economic pressure.
I know we have economic pressure, but I also know that moms trade off homes. They have to own a house. They trade off cars. They trade off a lot of things to have. Now, that's not true of all of them.
And then what about the single mom? Well, the single mom, as far as I'm concerned, ought to be a responsibility of all of ours. We need to look into those lives.
You need to invite them to your home. You need to help them with the burden of their grocery bill. You need to be a part of their lives in your community. Every one of us—we're going to have invite single moms into our home. We're going to have compassion and love and help them.
Make your choices. Subjugate it to the Lord and say, "Father, am I just jealous because I can't get everything done?" Realize that in this season of working, if it's only a season, you're not going to be able to do everything.
The key thing that I would encourage you to hold tight to is relationships—first, with the Father. I do this thing with myself, which is I say to myself, "For this season, I will not go to bed until I've done this."
I have had many times in my life (and my husband will attest to it) where I've gotten into bed, and the Lord reminds me of what I've said, and I get up out of bed and I go do it.
Relationship with the Father, a quiet time with the Father; not five minutes with God, but a time that merits the relationship you have with God. Relational time with your husband and relational time with other family members that matter to you. The rest of the stuff will be there.
If your home isn't at the level of cleanliness you'd prefer, that's far less important than relational time. Because in the end, it's all hay, wood, and stubble, and all that will lie before us is gifts and offerings to Christ and the relationship that we invest in.
So while you're working, be diligent about that, and make those priorities.
Leslie Basham: That's Donna Otto. She's been offering a lot of wise advice about organizing a home. But ultimately, what matters most is our relationships with God and with other people.
If you're grappling with the issues we've briefly discussed today—issues like working outside of the home, relationships, and activities—you might want to take advantage of an in-depth study that Nancy taught on Proverbs 31.
This comprehensive series called The Counter-Cultural Woman  will give you a deeper understanding of what the Bible says about today's topic. You can find out more about ordering The Counter-Cultural Woman on CD by visiting www. ReviveOurHearts.com.
Do you have a disorganized pile of papers needing your attention? Does mail seem to pile up faster than you can deal with it? Donna Otto will be back on Monday to give practical advice on piles, mail, and paper in general. But first, for all you moms, happy Mother's Day from Revive Our Hearts.
Revive Our Hearts with Nancy Leigh DeMoss is an outreach of Life Action Ministries.
*Offers available only during the broadcast of the podcast season.
Support the Revive Our Hearts Podcast
Darkness. Fear. Uncertainty. Women around the world wake up hopeless every day. You can play a part in bringing them freedom, fullness, and fruitfulness instead. Your gift ensures that we can continue to spread gospel hope! Donate now.
Donate Now