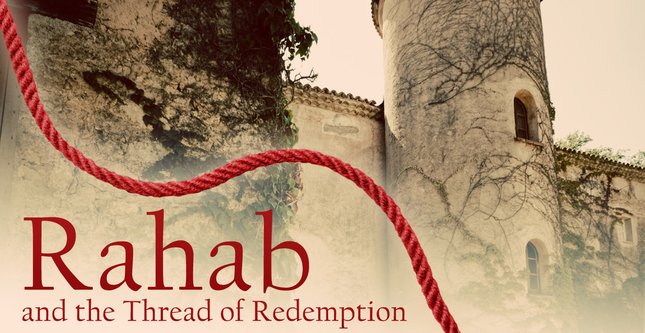 Entirely Forgiven
Leslie Basham: Here's Nancy Leigh DeMoss with news about God that may seem too good to be true.
Nancy Leigh DeMoss: How many sins has He freed us from? All of them. You say, "Even mine?" Yes. Even yours; even mine—the ones everyone knows about; the sins no one knows about; the things you've kept hidden, the things you couldn't keep hidden. In Him we have been freed from our sins by His blood.
And He has "made us a kingdom, priests to His God and Father, to him be glory and dominion forever and ever. Amen" (Revelation 1:6).
Leslie Basham: This is Revive Our Hearts with Nancy Leigh DeMoss for Friday, February 24.
Nancy's book, Lies Women Believe and the Truth That Sets Them Free, addresses this lie: God can't forgive what I've done. It's an important issue that affects a lot of women. Nancy will address it while continuing the series, Rahab and the Thread of Redemption.
Nancy: Dr. W. A. Criswell was the pastor for many, many years of First Baptist Church of Dallas, Texas. He was a great expository preacher; a man who loved God, loved the Word, and was a friend.
I got to know him when I was a teenage girl, and he was a godly older man. He has now been with the Lord for a number of years.
He once began preaching a sermon at 7:30 in the evening, and at midnight he was still going on the same sermon. The sermon was entitled "The Scarlet Thread Through the Bible." It was, of course, in reference to this passage we've been looking at in the life of Rahab [see Joshua 2].
She said to the spies who had come to check out the land of Canaan, "I know that your God is the true God. I know that He's going to give the land into the hands of the Israelites. I know that Jericho is going to be judged." She says, by implication, that it's going to be destroyed.
But she had come to believe in the God of Israel and wanted to become a part of the people of God. So she begged for mercy.
She said, "Please spare me, and please spare my family. When judgment comes, would you allow us to live?"
She knew she didn't deserve to live, but by God's mercy and grace, as He had planted faith in her heart, He said, "I will extend mercy to you."
Through those spies God spoke to her and said, "There are three conditions you have to meet. Number one, take this scarlet cord; tie it in the window. Let it hang down over the wall of your house."
Then He says, "Bring all your family members into the house—your father, your mother, your brothers, and your sisters." She names all those and all who belong to her.
I don't know how big her house was. I don't know how many relatives she had. But she gathered them all together. They said, "They must be in the house when judgment comes, or they will not be spared."
Then the spies said to her, "You cannot tell anyone. You must keep this a secret."
So those are the conditions. And as soon as those men left her house to go back to the Israelite camp, what's the first thing she did? She tied the scarlet cord in the window. The fact that she had genuine, saving faith was evidenced by this act of obedience.
So we read in Joshua 2:18 where the spies said to her, "You shall tie this scarlet cord in the window."
We talked in the last session about how that scarlet cord can represent our sinfulness, our shame, our guilt. It kind of marked Rahab the prostitute's house as an ancient red-light district, if you will.
So many people get stuck in the shame and guilt for their sin and never come to see that the scarlet cord was intended to be a type, a symbol of more than her sin. More than that, it was intended to be a symbol of her only means of salvation, which, we see through the Scripture, is the blood of Jesus Christ shed in the place of sinners.
From the first century on, commentators and church fathers saw this scarlet cord as being a symbol, a type of the blood of Jesus, a symbol of the mercy of God that redeems us from the guilt and shame of sin. It's the blood of Jesus Christ that is our lifeline, our life preserver, our only hope of salvation.
That scarlet thread runs all the way through the Bible, as Dr. Criswell indicated in his message called "The Scarlet Thread Through the Bible."
I want to trace a bit of that scarlet thread with you in this session. I won't take as long as Dr. Criswell did in his message, but let me just touch on some individual points in the Scriptures where we see that scarlet thread being woven through all of God's Word.
Beginning in the first book of the Bible, Genesis chapter 3, we find ourselves in the Garden of Eden, where Adam and Eve have sinned. They've tried to hide from God, and they're ashamed. They're feeling guilty because they are guilty.
They've sowed together fig leaves to make clothes to cover their nakedness. But God said, "That's not good enough. That won't cover."
So God made coats of skin for Adam and Eve. In order to do that, He had to shed the blood of an animal.
We see here this first symbol. The scarlet thread is beginning to be woven throughout the pages of Scripture, and we're reminded, as the spies said to Rahab, "You shall tie this scarlet cord in the window."
Then we come to the next chapter, Genesis 4, where Adam and Eve's two children bring sacrifices to God. Abel brings a lamb from his flock. His brother Cain brings vegetables from his garden. God receives Abel's offering of a lamb, but He rejects Cain's offering.
Why? Because a lamb has blood that can be shed, and God wanted an offering, a sacrifice, of blood. And we're reminded, You shall tie this scarlet cord in the window. God wanted to see the scarlet cord, and then He would pass over judging the sinner.
Now, these are all just symbols in the Old Testament, the old covenant. They're pointing us to something that is yet to come. But they're powerful and important symbols for our faith. 
We come to Genesis 22, and we see the passage where Abraham is told by God to offer his son Isaac as a sacrifice. As they approach the place where the sacrifice is to be made, Isaac says to his father, "Behold, the fire and the wood, but where is the lamb for a burnt offering?" (v. 7).
He knew that blood had to be shed, and typically that would be the blood of a lamb. Abraham said, "God will provide himself the ram for a burnt offering, my son" (v. 8).
You remember the story of how Abraham ties Isaac on the altar. He takes the knife to slaughter his son, at which moment the Lord interrupts him.
An angel of the Lord calls out to him. Abraham looks up; a ram is caught in the thicket by his horns, and God says, "That's what you're to offer."
"Abraham went and took the ram and offered it up as a burnt offering instead of his son" (v. 13). Instead of his son.
The ram becomes a substitute. Its blood is shed instead of Isaac's. And we are reminded, You shall tie this scarlet cord in the window. The substitute will shed its blood.
When God saw that scarlet cord in the window, He said, "The blood has been shed. There's a substitute. I will pass over this house and not require the blood of Rahab and her family."
We come to the Passover in Exodus 12; we referenced this in the last session. Moses called all the elders of Israel and said to them,
Go and select lambs for yourselves according to your clans, and kill the Passover lamb. Take a bunch of hyssop and dip it in the blood that is in the basin, and touch the lintel and the two doorposts with the blood that is in the basin. None of you shall go out of the door of his house until the morning. (vv. 21-22)
Does that remind you of what the spies said to Rahab? "Your family must be in your house, and this scarlet cord must be hanging out. And when we see that we will pass over your house."
Moses says to the elders of Israel,
The Lord will pass through to strike the Egyptians, and when he sees the blood on the lintel and on the two doorposts, the Lord will pass over the door and will not allow the destroyer to enter your houses to strike you (v. 23).
So the Children of Israel celebrated the Passover every year. You shall tie this scarlet cord in the window.
After God gave the law to the Children of Israel, he established a covenant with His people (Ex. 24). Hebrews 9 refers back to this incident. Listen to how it's described in Hebrews:
When every commandment of the law had been declared by Moses to all the people, he took the blood of calves and goats, with water and scarlet wool and hyssop, and sprinkled both the book itself and all the people, saying, "This is the blood of the covenant that God commanded for you." . . . Without the shedding of blood there is no forgiveness of sins (vv. 19-22).
Tie this scarlet cord in the window.
Back to the Old Testament. God established the tabernacle and later the temple for the Children of Israel. Whenever the Israelites sinned against God's law, what did they do? They had to bring an innocent animal and offer it up as a sin offering.
What would the Jewish believer do? He would place his hand on the head of that animal—a goat or a lamb—and in doing so he was identifying himself with that animal. He was signifying that he was laying, or transferring, his sins onto that innocent substitute. Then they would kill the animal.
The priest shall take some of the blood of the sin offering with his finger and put it on the horns of the altar of burnt offering and pour out all the rest of its blood at the base of the altar. . . . And the priest shall make atonement for him for the sin which he has committed, and he shall be forgiven. (Lev. 4:34-35)
Forgiveness. That's what this is about—forgiveness by means of the blood of a substitute being shed again and again and again and again. The people of Israel for hundreds of years shed these sacrifices—innocent lambs, innocent goats.
They laid their sin on those animals. They killed the animals. They put the blood on the altar. Then the priests would say, "You're atoned for. You are forgiven."
What was happening as they were slaying those animals, as they were offering those sacrifices again and again? They were tying the scarlet cord in the window. And then one day a year there would be a special sacrifice, a special offering, the Day of Atonement.
You read about it in Leviticus 16. On that day the priest would go into the holy of holies, the most sacred place—the only day of the year that the priest could enter into that place.
He would go into that place where the ark of the covenant and the mercy seat were. He would take an offering for his own sin and then another offering on behalf of all the people.
He shall take some of the blood of the bull and sprinkle it with his finger on the front of the mercy seat on the east side, and in front of the mercy seat he shall sprinkle some of the blood with his finger seven times.

Then he shall kill the goat of the sin offering that is for the people and bring its blood inside the veil and do with its blood as he did with the blood of the bull, sprinkling it over the mercy seat and in front of the mercy seat. (vv. 14-15)
As you read through the Old Testament, you say, "That's a lot of killing. That's a lot of blood." You know why? Because there are a lot of sinners—a lot of sinners who deserve to die, and a Jehovah God who has a lot of mercy.
You shall tie this scarlet cord in the window.
Now, all of those Old Testament symbols and types were merely shadows that pointed toward the blood redemption of Jesus Christ, the sinless Lamb of God. Hebrews 10:4 tells us, "It is impossible for the blood of bulls and goats to take away sin."
They couldn't really forgive sin. God would forgive those worshipers because they were looking forward to the day when Jesus Christ would shed His blood. He would be God's scarlet cord in the window.
So in the upper room at that last supper where Jesus celebrated the Passover with His disciples, Matthew tells us, "He took a cup, and when he had given thanks he gave it to them, saying, 'Drink of it, all of you, for this is my blood of the covenant, [I am the scarlet cord] which is poured out for many [Why?] for the forgiveness of sins'" (Matt. 26:27-28).
Tie this scarlet cord in the window.
Then Christ went to the cross. He laid down His life, the innocent Lamb of God, in our place, dying our death, shedding His innocent blood in our place.
Hebrews 9:12 tells us,
[Christ] entered once for all into the holy places [our great high priest], not by means of the blood of goats and calves but by means of his own blood, thus securing an eternal redemption.
You shall tie this scarlet cord in the window.
That scarlet cord, that scarlet thread, continues all the way through the New Testament. What's the result of the shed blood of Christ?
Ephesians 1:7, "In him we have redemption through his blood, the forgiveness of our trespasses."
All of them! Rahab the prostitute, put your name and your sin there. In Him, through the shedding of His blood—the scarlet cord—we have redemption. We have the forgiveness of our trespasses according to the riches of his grace.
Revelation 1:5, "To him who loves us and has freed us from our sins [How?] by his blood."
Tie this scarlet cord in the window.
How many sins has He freed us from? All of them. You say, "Even mine?" Yes. Even yours; even mine—the ones everyone knows about, the sins no one knows about.
And He has "made us a kingdom, priests to His God and Father, to him be glory and dominion forever and ever. Amen" (v. 6).
And they sang a new song, saying, "Worthy are you to take the scroll and to open its seals, for you were slain, and by your blood you ransomed people for God from every tribe and language and people and nation." (Rev. 5:9-10)
From Jericho, from the Canaanites, from whatever town you've come from, from whatever your background—out of all these people, God has ransomed a people for Himself by the shed blood of Jesus Christ.
You shall tie this scarlet cord in your window.
Then I saw heaven opened, and behold, a white horse! The one sitting on it is called Faithful and True, and in righteousness he judges and makes war. (Rev. 19:11)
He is a God of war. He is a God who is angry with the wicked. But,
He is clothed in a robe dipped in blood, and the name by which he is called is The Word of God. (v. 13)
What can wash away my sin? 
Nothing but the blood of Jesus.1
First John 1:7, "The blood of Jesus [God's] Son cleanses us from all sin" —all sin, all sin, all sin. The blood of Jesus Christ.
Tie this scarlet cord in your window.
There is a fountain filled with blood 
Drawn from Emmanuel's veins. 
And sinners plunged beneath that flood 
Lose all their guilty stains.2
Have you tied the scarlet cord in your window? You have to be under the blood to be saved. You've got to have the cord in the window visible. You've got to be in the house, in Christ.
When the angel of death came through the land of Egypt, those Jews had to be in their house with the blood on the doorposts and the lintel. Then the angel would pass over, and they would be spared.
In the New Testament, Christ is our Passover Lamb. His blood has been shed once and for all. He is the eternal sacrifice for your eternal redemption.
But you must be in Him. You must be in Christ.
By faith you must have said, "Lord, nothing in my hands I bring. Nothing do I have to offer You—no righteousness of my own. Simply to Your cross I cling. I hang the scarlet cord of the blood of Jesus outside my window, and I believe that that is sufficient to save me."
God's wrath is coming. The walls are going to tumble down. Those who have rejected the truth of God's saving love will be destroyed. They will be judged. Will your house stand when that judgment comes? Will you be spared? If you are,
It won't be because you were good.
It won't be because of any church membership.
It won't be because you didn't commit certain sins.
It won't be because you were active in the social welfare of others.
No. None of that will count.
If you are spared on the day when the walls of this world come tumbling down, it will be for one reason alone, and that's because you have tied the scarlet cord of Jesus Christ and His blood, by faith, in the window of your heart.
If you have, no matter what you've done, where you've been, what they've called you, Rahab the prostitute will join you and others in giving glory to the Lamb forever and ever, because through Christ, our scarlet cord, our lives will have been spared.
Amen? Amen.
Leslie Basham: Nancy Leigh DeMoss has been pointing all of us toward the cross, some of us for the first time. Others have known about the saving work of Christ for a long time but need to be reminded of how significant His death is.
If you're in the first group and you're hanging out the scarlet cord for the first time, we'd like to hear from you and encourage your faith as you learn what it means to follow Christ. We'd like to send you some information on your new-found faith.
If you just prayed with Nancy and have just found new life, we'll send you this material at no charge when you call 800-569-5959, or go online to ReviveOurHearts.com.
Women everywhere need this message of full forgiveness. Today's program represents what Revive Our Hearts is trying to accomplish—helping women find freedom, fullness, and fruitfulness in Christ.
Producer Elizabeth Grattan is here to introduce us to one of the listeners who helps us fulfill that mission.
Elizabeth Grattan: Revive Our Hearts ministry partners often share the joy they feel in becoming a part of a ministry that specifically speaks to women. I talked with Revive Our Hearts ministry partner Jewel about her desire to become a partner, and the joy she receives through joining the ministry.
Jewel: My joy in sharing is just in giving what God has given to me to spread forth the truths of God's Word. I just recognize God's gifts in Nancy and her ability to speak truth.
I also have a conviction that women need to speak to women. There are truths she is speaking that because it comes from a woman, God is using it mightily to other women.
Elizabeth: Jewel shared her thoughts on a changing culture and how being a ministry partner helps the ministry to reach busy women in practical ways.
Jewel: Life is so fast paced. I'm at a stage now that I can't listen on the radio. I read the broadcast because that's the only way I can get the information, and I can do it at a time that suits my schedule.
I think, with the young people coming up, their lives are busy—extremely busy. Having it available in formats like iPod is such a blessing.
Elizabeth: I asked Jewel what it was specifically about Nancy and the ministry of Revive Our Hearts that challenged her to give, and what she might say to others considering becoming a ministry partner.
Jewel: I would say that Nancy is showing truth from God's Word with compassion, with tenderness, but with the boldness of truth that brings healing for life. You know, Paul spoke to the Philippians and said, "I'm not seeking for myself but that others would give to him so their fruit would abound, increasing their credit," and they would have a harvest of blessings [see Philippians 4:17].
So I would encourage people, when there's someone God has anointed and placed in the forefront in our culture and in our generation, supporting her is supporting God's plan.
Leslie Basham: If you've been listening to Revive Our Hearts for awhile and would like to take the next step in partnering with the ministry, would you consider becoming a ministry partner? When you do, you'll get alot in return. We'll send you one of Nancy's books when you sign up, and you can also attend one conference at no charge each year. That includes True Woman '12 this September. For all the details in becoming a ministry partner, visit ReviveOurHearts.com, or call 800-569-5959.
Security. No matter how much you invest in security, you'll never totally have it on this earth. Find out what true security means tomorrow on Revive Our Hearts.
Revive Our Hearts with Nancy Leigh DeMoss is an outreach of Life Action Ministries.
All Scripture is taken from the English Standard Version.
1"Nothing But the Blood." Robert Lowry.
2"There is a Fountain." William Cowper.
*Offers available only during the broadcast of the podcast season.