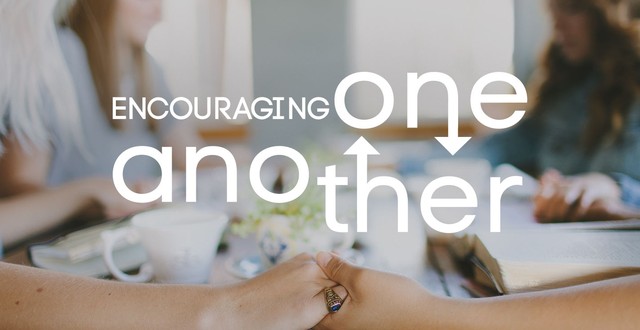 Encouragement in the Body of Christ
Dannah Gresh: Nancy DeMoss Wolgemuth tells you about an important assignment in the Body of Christ.
Nancy DeMoss Wolgemuth: Look around you—at home, at church, in your community, in your workplace—and ask the Lord who needs to be encouraged, and then set out to let God encourage them through you.
Dannah: This is Revive Our Hearts with Nancy DeMoss Wolgemuth, author of Beauty in the Broken, for February 22, 2023. I'm Dannah Gresh. Nancy's in day two of a series called "Encouraging One Another."
Nancy: In July of 2002, there were nine miners who were working two-hundred-forty feet below the ground in the Quecreek Mine found in southwestern Pennsylvania. As they were working they accidentally breached the wall of an adjacent abandoned mine. 
As they did, they unleashed a torrential flood of fifty- to sixty-million gallons of water into their own mine! Those nine miners spent the next seventy-seven-plus …
Dannah Gresh: Nancy DeMoss Wolgemuth tells you about an important assignment in the Body of Christ.
Nancy DeMoss Wolgemuth: Look around you—at home, at church, in your community, in your workplace—and ask the Lord who needs to be encouraged, and then set out to let God encourage them through you.
Dannah: This is Revive Our Hearts with Nancy DeMoss Wolgemuth, author of Beauty in the Broken, for February 22, 2023. I'm Dannah Gresh. Nancy's in day two of a series called "Encouraging One Another."
Nancy: In July of 2002, there were nine miners who were working two-hundred-forty feet below the ground in the Quecreek Mine found in southwestern Pennsylvania. As they were working they accidentally breached the wall of an adjacent abandoned mine. 
As they did, they unleashed a torrential flood of fifty- to sixty-million gallons of water into their own mine! Those nine miners spent the next seventy-seven-plus hours trapped, fighting for their lives as the water kept rising for a long part of that time. Then desperately struggling to break free, they finally huddled together in the dark waiting for rescuers to reach them all the way down at that point in the ground. At one point it seemed that all hope was lost.
Those miners (I saw an interview with the men recently, shortly after they got out of that mine) told how they had found a cardboard box. They tore it up in pieces and each wrote a message to his loved ones, thinking they would never see them again—their final message. They sealed those messages in an old filthy pail and then covered it, sealed it up, for the rescuers to find. They showed that pail afterwards, when they were interviewed, and it still was sealed up. The interviewer said, "Are you going to ever open that pail?" And they said (in a whisper), "No. No!"
Then finally, in desperation, they tied themselves together. If they were going to drown, they wanted to drown together. They wanted the rescuers to be able to find their bodies instead of the swirling waters strewing them all over that mine.   
The local paper carried an article the day after they were finally rescued—and at this point the details weren't yet fully known—but let me just read a few excerpts of how that article described what had just taken place. It said,
A picture emerges of nine guys who, even during their lowest point, stuck together. They did everything they could to prop each other up so they all would survive. One of the miners described the men, 'snuggling each other, laying up against each other, sitting back-to-back to each other—anything to produce body heat.'

At a certain time, maybe one guy got down, and the rest pulled together. Then that guy would get back up, and maybe someone else would feel a little weaker. It was a team effort; that's the only way it could have been.
Let me invite you to turn in your Bible to Hebrews 3, if you can—if you have one with you there. As you do, let me just say, we are in a situation as followers of Christ that requires a team effort, a situation that requires us to pull together in order to survive.
The book of Hebrews was written to a Jewish community, most of whom were believers in Christ. This community was facing the prospect of increased persecution. So Hebrews was written to shore up the faith of these believers, to encourage them in hard times and to protect them from defecting from Christ. These words are a caution to those of us who follow Jesus in every era.
Let me read beginning in verse 12 of Hebrews chapter 3. 
Watch out, brothers and sisters, so that there won't be in any of an evil, unbelieving heart that turns away from the living God. But encourage each other daily" (vv. 12–13 CSB).
Encourage each other daily. Some of your translations will say, "Exhort one another daily, while it is still called today, so that none of you is hardened by sin's deception." This is where we find one of those really important "one another's" of Scripture.
Now, they're all important, and we can't afford to be without any of them. But this one you wouldn't think of being as important as it is. But when we're huddled together in this ice-cold flooding world, inundated with things that would want to destroy us, we need to come together and encourage one another—daily!
This, again, is the word we talked about in the last session. It's a Greek word that starts with "p-a-r-a"—para—"to come alongside of"—to come alongside of one and help. We talked about jump-starting a car . . . how when one battery is weak, another car with a strong battery comes alongside. You connect the two batteries together so that the juice from the one battery will strengthen the weaker battery and the car can run. This is what we're to do, we're to come alongside each another.
That word used here—exhort one another—means "to beg, to entreat, to beseech, to come alongside" and say whatever needs to be said to keep each other in a good place. This author is urging the recipients of the letter to come alongside each other to band together, to snuggle up together, if you will, to encourage, entreat, and beseech each other not to forsake their faith in Christ—not to backslide, not to return to the old Levitical system of laws and sacrifices for sin, not to leave Christ but to hold fast to Him! And in order to hold fast to Christ, we need to hold fast to each other.
This is a complex passage, a complex context, and different commentators have various interpretations on this bigger passage. But some things are clear no matter what you think this is exactly talking about to the Hebrews.
First of all, it's clear from this passage in Hebrews chapter 3 that maintaining faith and purity in the body of Christ is a group effort. It requires effort and engagement on the part of all of us—not just some of us, but all of us. And then it's clear from this passage that we need to encourage and exhort one another . . . how often? Daily! This is supposed to be a way of life, not just something we do when you sit and listen to the pastor preach on Sunday morning; not just something when you listen to a Revive Our Hearts broadcast or you read a good Christian article. This is something we're supposed to be doing for each other all . . . the . . . time! All of us, daily.
I've talked before on Revive Our Hearts about what I call my "aisle ministry" at church. That's before and after the service—and in a break—just seeing who the Lord has put around me: somebody I know, somebody I don't know.
Last week it was with a young woman who is getting married this weekend, to encourage her, to pray with her. Her mom died when she was a young teenager, and I wanted to come alongside her—as other women in our church have—to be spiritual mothers to her, to be encouragers.
If you could see my phone and look on my texting messages, you would see scores, hundreds, thousands of messages to and from other people that are doing this very thing—exhorting one another daily! That's one of the greatest uses of texting. Whatever else you use it for, I hope you use it for encouragement.
I had people texting me last night and this morning who were praying for this recording today. I have that happen constantly, and I do it constantly. On any given day there are probably a dozen or two dozen or three dozen people that I'm texting: young moms, moms with newborns, single women, widows, older women, people who are discouraged, somebody who's in a difficult marriage—just texting.
A college student and I texted yesterday. I've been helping her walk through some difficult situations, and I just texted and said, "How's your week going?" and "How's your heart?" That's a short text. We've had some really long texts where I'm exhorting or I'm encouraging.
But, every phone call you make, every person you talk to—whether it's in the aisle of a supermarket or the aisle of a church or the living room of your home or the driveway outside your house—this is the purpose of relationships, to encourage one another, to exhort one another in following Christ.
Mutual encouragement—us doing this for one another—is a powerful deterrent, according to this Hebrews 3 passage, against sin, against unbelief, against backsliding. If we don't have this mutual encouragement thing in place, we will sin, we will fall into unbelief, we will get discouraged, we will backslide.
I don't care—you can be the leader of this ministry or some other ministry—if I don't have that kind of encouragement in my life, I will backslide. I will be deceived by sin. I will fall into unbelief . . . and the same is true of you.
That's why we need to be giving and receiving this kind of encouragement constantly. If we don't encourage and exhort each other daily, what does this passage say? It says our hearts will become hardened. People get hardened when they're discouraged.
When they're in need of encouragement, our hearts become soft. Encouragement is like watering the soil. I looked at some pots last night at our house, and I said, "Honey, I don't think these watering things in these pots are working. These pots are bone-dry!"
So something—some encouragement—wasn't working. The water wasn't making it to those pots. But encouragement is like water coming into those pots. It softens the soil; it makes a fertile place for those flowers to grow.
If we don't encourage and exhort each other daily, our hearts become hardened. We become deceived according to Hebrews chapter 3. The deception of sin . . . we become vulnerable to sin. Encouragement! Keep pressing on; keep obeying God. Encouragement protects us from sin.
If we don't encourage and exhort each other daily, our hearts can so easily turn away from the living God. We are responsible for each other. We are our brother's and our sister's keeper. We need each other; we need to encourage each other!
This is a theme that continues in the book of Hebrews. Hebrews chapter 10, verse 19 says,
Therefore, brothers, since we have confidence to enter the holy places [the holy place where the presence of God is; we have confidence to enter] by the blood of Jesus. . . let us draw near with a true heart in full assurance of faith, with our hearts sprinkled clean from an evil conscience (vv. 19, 22).
Two steps here. The writer is saying first in these verses to the Hebrews, "Draw near to God. You have confidence through the blood of Christ. You can come right up into the very holy presence of God because of Jesus. Keep drawing near!" Don't just draw near once when you get saved and then go live your own life apart from Christ. Keep drawing near to Christ with a true heart in full assurance of faith.
But then, don't just draw near to God. He goes on to say in verse 23 that we're to draw near to each other, huddled together as those men were in that mine. This is the means of preventing falling away from the faith and promoting faithfulness and perseverance.
Let me read Hebrews 10, beginning in verse 23:
Let us hold fast the confession of our hope without wavering, for he who promised is faithful. And let us consider how to stir up one another ["spur one another on," one translation says] to love and good works, not neglecting to meet together (vv. 23–25).
Don't get spread out! Don't forget to come together and meet with each other "as is the habit of some."  Some have neglected to meet together. They've said, "I can do this Christian-life thing on my own. Who needs the church?!" That's the view of a lot of people who call themselves Jesus-followers today.
We need each other! He says, ". . . not neglecting to meet together, as is the habit of some, but encouraging one another [exhorting one another, comforting one another, coming alongside one another], and all the more as you see the Day [what's the Day (capital D)?—the return of Jesus!] drawing near" (v. 25).
There are evil times, and the times are going to get worse and worse. That's why we need each other. We need to come together for comfort, for encouragement, and to strengthen us so we can go out and be light and salt in this world that so desperately needs Jesus!
Let me just say, there is no substitute for having other believers in your life. There's no substitute for the local church. Here at Revive Our Hearts we get emails from women who are in desperate circumstances and situations. But so many times they don't have a church; they're not in a church body. They want us to try from a distance—somebody we've never met, we don't know—to encourage and help them.
We can send them a little bit of encouragement, and we do what we can. But one of the things we so often say is, "What's your church? Where's your church family; where's your church body?"
I've heard all the stories about, "My church doesn't do this; my church doesn't do that. Nobody cares for me there." And I get that. The church is an imperfect church. It doesn't function—no church does, yours or mine or any church—entirely as it ought to. But you still cannot afford to move away.
Think of those nine men tied together to each other in that mine. They were afraid that if one went off he'd get pulled away in that torrent of millions of gallons of rushing water. You peel off from the body of Christ, and you are going to try and do it by yourself, you are not going to make it.
I read statistics that suggest that only a very tiny percentage of the millennial generation—of those who call themselves Christians—is going to be in church. There's something wrong with the picture. That is dangerous! That is not safe.
And as we get closer to the return of Christ it's all the more important. As there's greater persecution, there will be great temptation to fall away. We need to hold each other up.
Who are the kinds of people we need to encourage to hold fast to Christ? We say we all need to be encouraged, we all need to be encouragers. So who do we need to encourage? Well, it could be a very, very long list, but let me just give you some ideas to prompt your thinking.
Let's start with our own families—they need encouragement—and sadly, we often fall into the habit of encouraging people outside our own homes more than we do those within the four walls of our houses. (I see some heads nodding.)
You know what I'm talking about? I know what I'm talking about. We start to take each other for granted, and if somebody comes to us or calls us or texts us from outside—we're going to take all the time in the world to be patient and interested and listen. But somebody in our own household wants to talk to us and we're bothered or we're distracted or we've got something else to do. We need to encourage those in our own homes: parents, siblings, mates.
Remember the 30-Day Husband Encouragement Challenge that Revive Our Hearts has given for years and years? If you've never done that—or if it's been awhile—go to ReviveOurHearts.com and sign up for the 30-Day Husband Encouragement Challenge. You need that periodically in your marriage until it becomes a way of life, a habit.
Encouraging your children, and others' children as well. It's so easy to discourage one another in our own homes. I'm thankful to the Lord for a dad who was a sweet encourager in our family. Now, that doesn't mean he never corrected; it doesn't mean he didn't deal with things; it doesn't mean he didn't ever lose his patience—he did. But he, by-and-large, was an encourager with his wife and his children.
I'm so thankful to be married to a man who has the gift of encouragement. He is an encourager. He does not complain; he does not murmur; he does not whine. You say, "That's Jesus!" Well, those are characteristics of Jesus.
That's so sweet, and that's part of what is showing me my need to be more of an encourager. I'll tell you more about that in a few moments. But . . . other people who need to be encouraged to hold fast to Christ. 
Church leaders—your pastor, your pastor's wife (often the most overlooked position in the local church), youth workers. They need to hear not just when you think things need to be different, or you'd like the music different this way, or you're concerned about what the youth kids are doing on this or that. 
There may be some of those things that need to be shared from time to time, but you need to be way more frequent with doses of encouragement . . . what you appreciate . . . how God is using them. Be an instrument of grace in their lives! That work can be lonely and so discouraging.
Encourage people who have invested in your life. I got the most precious letter yesterday from a woman that I had written a few weeks ago. She and her husband were sweet encouragers in my life when I was a teenager. He was the music director in my Christian high school.
I loved this couple. They sang, and I would accompany them on the piano at different concerts and accompanied the choir. They just took an interest in my life. Phil and Liz DeVries invested in this teenager who didn't have a lot of strong social skills and was odd in so many respects and struggled with different things, and they were just there. They encouraged me; they prayed with me; they let me come into their home many, many times. Not too long ago, Phil went to be with the Lord after a very quick and unexpected illness, so I wrote a note to his widow recently.
I just told her she was on my heart (I hadn't seen them in a number of years) and just tried to encourage her. I got the sweetest letter back from her yesterday updating me on her family and saying just how God had used that note to breathe, infuse, fresh life and courage into her heart as a fairly recent widow.
Encourage people who have invested in your life, people who are lonely, singles, elderly, widowed, somebody who's new in the area, college students away from home, international students far away from home, people who are struggling with physical weakness or sickness, hospitalized, people who are struggling financially, new believers, people who are in non-Christian or ungodly home situations, people who have been struggling with a sin habit.
I've been talking and texting recently with two college students, two young women who've been struggling with some major sin habits. I'm just trying to encourage them, to press them to Christ.
Encourage people who are grieving—have experienced loss, people who are discouraged or despondent. Paul talks in 1 Thessalonians about encouraging the fainthearted, those who are discouraged.
Look around you at home, at church, in your community, in your workplace, and ask the Lord who needs to be encouraged—and then set out to let God encourage them through you!
My husband Robert is in the back of the room. He's my encourager, my cheerleader—on the back there. He's been encouraging me in these days leading up to this recording session, so we've been talking a lot about encouragement.
A few days ago, honey, you talked about a bike trip that you took when you were in college. I made some notes on what you said, but I thought since you're here, I'd love to have you come up and just tell how about trip. You've used it to me as an illustration a number of times when I've pressing in on a hard task, and you talked about how that bike trip was such an illustration of the importance of encouraging one another.
Robert Wolgemuth: Oh, it really was. Forty-nine years ago—almost exactly—I was a junior in college, between my junior and senior year in college. I went to Taylor University (which isn't far from here). The football coach had this crazy idea that young men could ride coast-to-coast on bicycles! This is really back before the bicycle rage that we all know and love today.
Nancy: Before helmets, too, I might add.
Robert: Before helmets. We didn't even wear shirts.
Nancy: What were these moms thinking?
Robert: I mean it was just, like, crazy! I'm serious! And so, at a weak moment, I volunteered for this group. There were thirty-nine of us. We started in San Francisco, California and finished in New York City. It was 4,000 miles in thirty-nine days and there were nearly forty of us.
It was an incredibly dangerous trip. We didn't care! There were some days I would rather die than continue to ride my bike (a twenty-eight pound Schwinn Supersport)! Well, it was an incredible experience for me in encouragement—because there were days when I would have simply sold my bike for a bus ticket . . . easy!
And so on days like that, my buddies would say, "Come on, Robert, you can do it!" And then, a couple days later it was my turn to encourage them. There were days we were so sore. We were so sore, I can't even begin to describe how awful this was!
And the Lord spoke to me. In fact, He gave me the verse from the book of Psalms 27:1, "The Lord is my light and my salvation; whom shall I fear? the Lord is the [stronghold] of my life; of whom shall I be afraid?" (KJV). I quoted that six-thousand times on that trip!
So it was a great encouragement experience to me—learning how to encourage and learning the joy of being encouraged—so learning how to encourage, learning how to pass that along and encourage others. So we did make it. We were on the Today Show when we got back.
Nancy: Honey, tell about the part, because you've told me this when I'm in some big, long projects, how they would say to each other, "You don't have to think about the end of the race."
Robert: That's right. Yeah, actually we were dating and I gave you that story, remember?
Nancy: You did.
Robert: So we climbed three ten-thousand-foot passes in the West. In fact, I passed a flatbed truck doing sixty-five miles-an-hour on a twenty-eight pound bicycle! My mother did not know about this until after! (laughter)
But climbing those hills, it was relentless, you know. You'd be down in the lowest gear, and it was still hard to climb this hill. I would not look up at the hill. I would tip my head down, and I would look at the front wheel of my bicycle. I would say, "Lord, I just want one more crank. I'm not worried about the hill; I just need one more crank. Give me strength for one more crank!"
And early in our dating relationship, as you were getting ready for a recording just like this, I said, "Sweetheart," (maybe I didn't say "sweetheart," I may have said like "Miss DeMoss" or something) just one more crank! Say, 'Dear Lord Jesus, I need strength for one more crank!' And then after you get that crank turned, then, 'I need one more crank!'"
And so, I encourage you that way. And oh, you've returned the favor a thousand times! So, it was a great experience in encouraging each other, and that's a great metaphor for life!
Nancy: Thank you, honey. Speaking of my husband, let me tell you that the seed for this series was planted in a conversation that Robert and I had late one night several weeks ago. It's one of those conversations you have with your mate sometimes that's really hard but it's really important. Although, if we had to do it again, we might do it at a different time of day—maybe not so late at night. I want to go into all the details, but my sweet encouraging husband . . . to encourage, to exhort goes together, and encouragement isn't just nice, fluffy stuff. It's sometimes helping you to press in, in a battle. He exhorted me—sweetly—about this issue of encouragement. And he shared his heart about some ways that I sometimes discourage him—and I'm sure others—with my responses.
Now, I just want to say, there is no one in my life who is a greater encouragement than Robert Wolgemuth! But there's also no one who better knows my weaknesses, my needs, my sin patterns, and who's going to cheer for me as I continue in this race.
How thankful I am for that seed planted that night—things that were hard to  hear. ("Exhort one another daily while it's still called today"—it wasn't quite lights out yet, it was still "today," and it was daily.) God just put it on his heart that, "This is something that my wife needs to hear!" And I'm listening.
I've been listening, and that's how I got into this whole subject. As I'm seeking to be a greater encouragement to my husband, to others around me, I want to encourage you to become that kind of encourager. I want to encourage all of us to encourage, to exhort one another daily so that none of our hearts will become hardened by the deceitfulness of sin and none of us will fall away from Christ into a place of unbelief.
Thank You, Lord, for the sweet gift of encouragement. Thank You for the sweet gift of my encouraging husband and how he does that for me day after day. Thank You for the joy of doing this for each other. I pray that each of us in our circles, in our spheres of influence, will be givers and receivers of encouragement—day after day, exhorting and encouraging one another so that the Body may be built up in Christ, in whose name we pray, amen.
Dannah: Today, Nancy DeMoss Wolgemuth has been teaching us from a series called "Encouraging One Another," and we've also been hearing from her husband Robert Wolgemuth, who's a big encourager! For a longer version of today's program, listen to the Revive Our Hearts podcast. Visit ReviveOurHearts.com or on the Revive Our Hearts app.
Nancy mentioned the "30-Day Husband Encouragement Challenge." God has used no Revive Our Hearts resource to transform hearts and marriages like He has this one. If you're up for the challenge of speaking positively to and about your husband each day, get ready for God to work deeply in your marriage—but even more so in your own heart.
Recently, Eve emailed us to let us know how the 30-Day Husband Encouragement Challenge has been affecting her marriage. She wrote, "I didn't know how ungrateful I was until I started the challenge. It has opened my eyes to be grateful not only to my husband but to other people as well." And she says she wants to keep doing it, even after the thirty days are up.
We also heard from Justina, who told us, "I am currently under such conviction about the kind of wife I have been. I'm determined to humble myself before God to bear godly fruit in me. I don't know if it will change the course of things in my home, but I am still eager to let God change me because He is worth it. I just signed up for the 30-day Husband Encouragement Challenge. I'm nervous to try it, but I will for God's glory! I will be sure to let you know how it goes!"
Please do let us know, Justina. We also have a brand-new 30-day challenge specifically for single women. There are links to both challenges in the transcript of today's program at ReviveOurHearts.com.
This month, as a thank you for your support of any amount, we'll send you Nancy's booklet titled Beauty in the Broken: How Humility Changes Everything. You can make your donation at ReviveOurHearts.com, or you can call us. Our number is 1-800-569-5959.
Nancy: Tomorrow we are going to take a short break from this series on encouraging one another and talk about something really encouraging, something that is taking place at Asbury University in Wilmore, Kentucky. You may have heard about it. It looks like it could be the seeds of a move of God's Spirit among college students. There are also reports of God at work at a number of other college campuses around the country. My heart is rejoiced to see this. I and others are praying, "Oh God, do a deep, real work in lives of these students, and honor and glorify and magnify Your name through this.
My good friends Bill and Holly Elliff have been in Wilmore at Asbury University, and tomorrow we'll hear a first-hand report from the heart of this pastor and his wife, as well as a student from Asbury. I know this will be encouraging to you. I hope you'll be inspired as you listen to this to pray for a great stirring of God's Spirit in this country and around the world. I'm sure that you'd agree that we desperately need it now!
Be sure to join us for this special program tomorrow on Revive Our Hearts.  
BONUS MATERIAL
Dannah: Hey, and as a podcast listener, we want to share some bonus material not aired on the radio. Let's hear some more of our guests and what they've been learning about encouragement through Nancy's teaching.
Woman 1: I love what you said about who should we encourage, and then you said for those in the four walls of our home first. I love that! As women, as teachers to our children, that is hard. That is hard sometimes. Sometimes I would much rather encourage my new believer friends and tell my daughter, "Just a minute." That really convicted my heart, so thank you for that. That's good.
Nancy: And here's the thing: In our homes (I don't want to sound like I'm talking about our home, because this really isn't the case at this season) . . . But a lot of times in a lot of family structures, there's a lot of dysfunction and a lot of toxicity, a lot of negativity. Sometimes it's really hard to encourag.! Like, your three-year-old isn't giving you a lot of encouragement—probably—a lot of days. And your husband may be getting a lot of discouragement at work, and maybe that's spilling off on you. Maybe you're just in a hard place in your marriage. 
If you're feeling dry and needy, or criticized or not appreciated, then it's easy just to begin to reflect that back to your family, right? And you're thinking, Yeah, I could be an encourager if someone else in this family would just encourage me! I'm the one who needs it!
Listen, you've got to break the cycle. You can be the one who starts a new habit, a new way of encouragement in your home—doing it by faith, doing it when you don't feel like it, realizing that the things that maybe they are saying are flowing out of hearts that need to be watered, need to be encouraged.
Maybe their battery is weak and God is going to bring you alongside them with courage and faith, so be the one to start it. Be the one to start the cycle. Don't just be reacting to what you're hearing from those around you
Even in your workplace . . . I had a woman talk to me recently about how in her workplace there were so many critical, negative, catty things being said. She didn't appreciate it, she didn't like it, she tried not to contribute to it. But what God challenged her with was maybe speaking words that would change the tone in that workplace. That was in a Christian environment, a Christian workplace. At one point she just said, "Y'know, this is gossip." Now she asked God to help her know when and how to say that in a way that wasn't going to be self-righteous or condemning. 
She actually went to some of the people and said, "The way that you're taking about this other staff member is not constructive; this is not helpful." And God gave those other women ears to hear. It was a blind spot; they just weren't seeing it.
So be the one that God can use to be an encourager, to exhort and encourage one another . . . how often? Daily. In those environments, no matter how negative they may be, God may change that environment by you speaking encouragement.
Woman 2: Thank you! Well, I want to thank you for being transparent. I think of you as a superlative encourager of women and people around you. So it was very refreshing to have you be so transparent about, "Well, sometimes I'm not always the encourager I need to be at home."
Because I think I'm very guilty of that. Friends and acquaintances might find me . . . I got a Barnabas award once in my career, that I was an encourager. But sometimes I'm not the encourager I need to be to my husband. And so, once again, family first. It starts in the home. Make sure that's your primary ministry.
Nancy: Yes! Don't forget the people who are within the four walls of your own home. I'm saying that to me and to you.
Woman 3: I also work in a Christian environment, and over the winter some of us (and myself the ringleader, I'm afraid) had become negative, nitpicking, not always sending the message to our customers that we needed to be, that we were Christians there to support and love them.
I have the most wonderful boss, taking what could have been (should have been) a reprimand of me and turning it into a multi-Kleenex encouragement session of, "Jane. We're all in this together, and we need to all work together!" I need to hear these words today again. Thank you.
Nancy: Great. That's a humble heart that receives exhortation and encouragement and says, "I need this, and I'm thankful for it." Yes, giving and receiving, we need to be on both of ends of that, don't we?
Woman 4: I wrote down the quote (I might not have gotten it exactly right), "You can bear with discouraging circumstances if you have encouragers around you." I just love that!
I'm so thankful. I have a group of six other ladies. We've been a prayer group for twenty-seven years and have walked through so many things together. I don't know what I would do . . . Like you said, now with text messaging, you're just a text/a prayer away, and it is a blessing. It doesn't just happen, though. You have to work so hard at relationships and be forgiving and loving, but I'm just so thankful that I have them.
I'm also blessed—my husband's a very good encourager, but you need your lady friends—just to pursue that. I'm thankful for that. But I love that quote. I'm going to send it to all of them.
Nancy: I'm so thankful for those women in my life—and there are many!—among them a group of eight us that get together periodically. It's not quite twenty-seven years, but it's been a bunch of years.
I was struggling last night to get to the "finish line" on getting ready for today. There were some things over the past week that just hijacked my schedule, and I'm just thinking, This is not coming together.
So I sent out an SOS text to those women friends. I don't have to give a lot of explanation. I'm just like, "Help! I need you to pray!" And those women . . . one of them is in Texas helping a daughter with a newborn baby where they're having some challenges and they're going through all kinds of things themselves.
Throughout the day we're updating each other on how we can pray for each other. But those women were quick to come and say, "We've got your back; we're with you. We're praying. God's going to do this through you!" So those are days we can daily encourage, exhort, comfort one another. We need each other!
Revive Our Hearts with Nancy DeMoss Wolgemuth wants to help the Body of Christ encourage one another. It's part of freedom, fullness, and fruitfulness in Christ.
*Offers available only during the broadcast of the podcast season.
For a donation of any amount