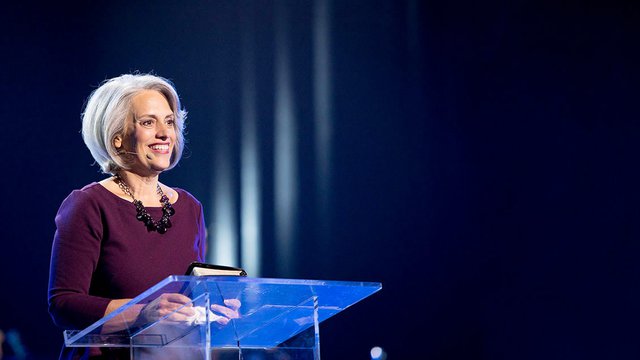 Daily Devotions: Duty or Delight?, Part 10
Leslie Basham: Think back to a time when you were confronted by the Word of God. The Bible has power to change our thinking and actions. It's Friday, January 18; and you're listening to Revive Our Hearts with Nancy Leigh DeMoss.
All this week Nancy has been presenting a series called Daily Devotions: Duty or Delight? Today, we hear how this series has affected some of the women that have been listening. You may identify with their thoughts.
Speaker one: My husband was pastoring in Indiana about twelve years ago. And I remember, I was hurriedly trying to make my way to Indianapolis to a ministry opportunity; and (I was) very busy. As a pastor's wife, I had gotten caught up with the busyness of ministry. And in my car--I'm so thankful that God, sovereignly, and heavily convicted my heart--that you're on your way to ministry, and you didn't have your time with Me this morning.
I was just trying to get whatever I could get on the way. My fast-food, ah, spiritual food for the day was a Christian radio station. And I said, "Oh, but this is my quiet time, Lord, right here."
And He said, "No, you didn't let me speak to you."
I'm so thankful for Christian radio, so thankful for Christian radio; but I fear that many Christians in our fast-paced society today are using that as a substitute for meeting with God.
And I'm so thankful that He drove me to my knees to make a commitment to Him that I would never, never, never go another day again without meeting with Him first and hearing from my Father, not hearing from somebody else that had met with Him or not hearing from someone else teaching from the Word.
But that I would allow Him to speak to me and convict my heart. And (I would allow Him) to talk to me about where I am, where He finds me today. And that's been the most important change in my life, other than my salvation. Since my salvation there has been that commitment to the Word and to prayer and to a daily quiet time. But it is so easy, I mean, even as a pastor's wife, even as people in a ministry, it's so easy to get caught up in busyness and set aside the most important meeting of all.
Speaker two: Well, I'm (as Paul said) the chief of sinners. I'm (she laughs), you know, that devotional time, you want it to be so right; and you struggle with it constantly. But I've tried to stay--(I am)continuing the struggle. But one specific thing, I just wanted to share, (on just being consistent) was...I took care of my dad for nine years. And he had had a stroke. And I had been to the doctor, and the doctor had said that he would probably live about six weeks. Well, he (the doctor) was connecting me, then, with Hospice. And I had taken care of him, (my father) you know, and (with) just this strength the Lord had given me. And I had just done so well. But here was a finality. I had to accept the fact that it was going to be about six weeks. And Hospice meant finality.
So the next day, the nurse was coming to talk to me, to interview me, about registering me for Hospice care for daddy. And I had gone to bed. And I was tossing and praying and crying; and I said, "Lord, I just can't accept the finality of it. I don't want to talk to the nurse tomorrow; I just don't want that interview. I just--it's just--I can't handle it." And I went on to bed and went to sleep. And at 4:30 a.m., the Lord woke me up. And my Bible was just laying on the floor where I had just laid it beside the bed. So I just reached down and picked it up, you know, with just this weakness, to open it to where I was just reading the Bible through. And my marker was there, it was just, you know, I wasn't looking for anything; and when I opened it, it was 1 Corinthians 15, it's the one (verse) that talks about death.
And I started reading that and I closed it. I thought, Oh well, I don't need to be reading this today. And I thought, No, that's where my marker was, God knew I was there at that point. I will read it. So I started reading. Well, it was so difficult to read at first as I began to read about death. And yet, God began to work in me and comfort me. And one verse in there says, "though the outward man is wasting away, the inward man is being renewed" (2 Corinthians 4:16). And I said, "Lord, let me see that the inner man is being (renewed),--daddy was just a fine man--and let me not focus on his wasting away." And I was prepared then to talk to the Hospice nurse when she came. But that was just such a special time. But, you know, it was my devotional time. And yet it was just, I was just there, you know, routinely. I didn't try to find it. So, stay consistent in your devotional time.
Speaker three: I'm thankful for when I became a new Christian. (And that) God penetrated His Word to my heart, not only through the Holy Spirit but through gifted men and women that He put into my life that knew how to articulate the truth, that challenged me, that gave--made me want to get into that Book. There are some people that God blesses with the gift of articulating His Scripture in such a way that (it) makes you want to get in there and dig out truth for yourselves.
Speaker four: I have had a heart condition. It's called hardness of the heart. And I don't know if any of ya'll have encountered that. But there have been points in my life when I've moved away from God because of--either I was mad at Him or I was mad at me. But it caused hardness in my heart; and sometimes out of that condition, I could not enter into the throne room. But I would hear songs of praise that would point me back up. And He would remind me that He is the lifter of my head.
And secondly, just a couple of years ago, that Scripture when Samuel spoke to Saul, and Saul had gotten harder of heart as well. But Samuel said that "to obey is better than sacrifice" (1Samuel 15:22). And God used that to remind me that even when I would not know what to say before Him, that I could sit there silently. And the obedience of getting up early in the morning, whether I wanted to or not, and sitting there, and opening my book, and looking, and just trying to sit there and capture my mind and not let it wonder away--but just sit there and wait--that obedience (after time) became a wellspring for me. And I praise the Lord because I was drying up, but He met me.
Speaker five: Well, I am just so blessed. I have so many wonderful friends in my life. And every Wednesday, we have a grandmother's group. And we start out with scripture. And we start out just praying for our grandchildren but focusing on a hymn and the Word. And it's just so special, I just want to praise the Lord for the wonderful people He keeps putting in my life to help me to be more like Him. And they are just great models. But anyway I want to take up that 30-day challenge. And I want to become more like Jesus.
Leslie Basham: We've been hearing from women about the power prayer and Bible study have in the life of a believer. These women have been listening to our current series called Daily Devotions: Duty or Delight? You heard one of the women refer to the 30-day challenge. Nancy Leigh DeMoss has encouraged us to take some time each day over the next 30 days to read the Bible and pray. Here's Nancy to tell us more.
Nancy Leigh DeMoss: Over the last few years, I've given this 30-day challenge to many women all across the United States. And it has been such a blessing to have many of those women come back and tell me what taking that challenge has meant in her life and in her walk with the Lord. I can't encourage you enough at the beginning of this new year to make a fresh start in this matter of a daily devotional life. This may be something you've tried before, and you found yourself getting derailed. Well, now, at the beginning of the year, what an opportunity to start just by making a 30-day commitment.
"Lord, by your grace, I'm willing to take that challenge and to commit myself to spending some time alone with You each day over the next 30 days." And let me tell you, as you take that challenge, you may find that on some particular day you just forget or you overlook this. Don't get discouraged, the enemy wants to stop you from getting into the Word. And he'll make you feel like a failure, and like you can't go on. Just get up, start again, and say, "Lord it's my heart's desire to spend this time with You." And you'll find your relationship with the Lord is so blessed, so strengthened; and you will begin to walk in that intimate relationship with God for which He created you.
And then, let me ask you a favor. As you take this 30-day challenge, would you just take a moment to stop and drop a line to me or send an e-mail and let me know what this challenge has meant in your life? (Let me know) How the Lord has ministered to you as you have made this 30-day commitment. I'll be so encouraged to hear how the Lord has worked in your life as a result of this challenge.
Leslie Basham: Thanks, Nancy. We do hope that if you're not spending time alone with God every day that you respond to Nancy's 30-day challenge. Now maybe it sounds like a good idea, but you don't even know where to begin. We're making a tool available that will help you get into the habit of personal Bible study. It's a book Nancy has written called A 30-Day Walk With God In The Psalms. Each day this book will direct you to one of the Psalms, help you explore its meaning and contents, and help you apply it to your life. Then, it will help you turn what you've learned into a prayer directed toward God. A 30-Day Walk With God In The Psalms is available for a suggested donation of $15 when you call us at 1-800-569-5959. When you call, ask about the companion CD called Psalms From The Heart available for a suggested donation of $12 for the CD and $10 for the cassette. And here's a short sample (music plays).
Nancy Leigh DeMoss: (music playing) Psalm 90, A Prayer of Moses the man of God. "Lord, you have been our dwelling place in all generations. Before the mountains were brought forth, or ever you had formed the earth and the world, even from everlasting to everlasting, You are God. You return man to dust and say, 'Return, Oh children of men.' For a thousand years in your sight, are but as yesterday when it is past, or as a watch in the night."
Leslie Basham: Psalms From The Heart will fill your home with an atmosphere of praise and worship. On it, Nancy reads some of her favorite Psalms set to a backdrop of music. To get your copy, call 1-800-569-5959 or visit our Web site ReviveOurHearts.com. We'd love to know how your 30-day challenge is going. As you progress, why don't you send us a letter and tell us about it.  And please consider including a financial gift to support the ministry of Revive Our Hearts. Your contributions will help us provide solid biblical teaching for even more women across the country. We hope you have a great weekend and that you can join us again on Monday. We'll hear from a special guest about one of the most liberating principles a woman can grasp. Please join us for Revive Our Hearts.
Leslie Basham:  
Revive Our Hearts with Nancy DeMoss is a ministry partnership of Life Action Ministries.
*Offers available only during the broadcast of the podcast season.
Support the Revive Our Hearts Podcast
Darkness. Fear. Uncertainty. Women around the world wake up hopeless every day. You can play a part in bringing them freedom, fullness, and fruitfulness instead. Your gift ensures that we can continue to spread gospel hope! Donate now.
Donate Now