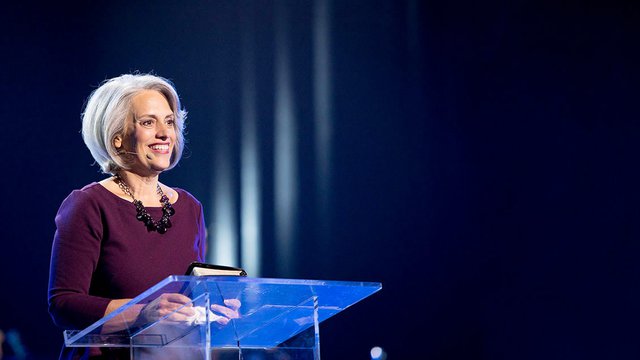 Daily Devotions: Duty or Delight?, Part 5
Leslie Basham: If you knew that the President was on the line, wouldn't you want to take the call? Well someone much more important has your number and wants to speak with you. It's Friday, January 11; and you are listening to Revive Our Hearts with Nancy Leigh DeMoss.
We often become like those we spend time with. That means there is power in spending time with God. Today Nancy will give us four practical effects that we'll see in our lives when we consistently spend time with our Heavenly Father. Let's join Nancy as she continues the study called Daily Devotions: Duty or Delight.
Nancy Leigh DeMoss: Is there some situation in your home or perhaps at your workplace that you say, "I just don't know what to do. I don't know how to handle this." Maybe there are some things on your to-do list that you are wishing you knew how to better organize to get it all done. Or maybe you're dealing with an issue, perhaps a six-year-old who you have just discovered has taken to lying; and you are wondering, How do I deal with this?
We are looking at the purposes of a daily devotional life. In our last session, we looked at several purposes that relate to our inner walk with God, our inner heart of developing a relationship with God--finding purification for our souls, finding restoration for our souls and then being instructed in the ways of God.
But I want us to see in this session that this daily time alone with the Lord has some other very practical purposes that effect not only our inner walk with God, but also our outer walk with others. I want to share with you four practical purposes for the daily devotional life that will affect your outer walk in this world.
First of all, in that devotional time if I get into the presence of God, in His Word and in prayer, my heart is brought into submission to God. I know that none of us were born submissive. It's not natural for us to submit our wills to God. There are times when God's will for our lives goes contrary to our will. Then we need an adjustment. We need our will to be adjusted so that it's in agreement with His will. It's in this quiet time that I come to the cross where I see those areas where His will crosses my will; and I say, "Lord, this is what I want, but more than what I want--I want what you want. I submit myself to you. Would you align my will, line it up so it's in agreement with your will."
This is in a sense what happened with Jesus in the Garden of Gethsemane though He never wanted to rebel against His Heavenly Father. Yet, as a man on the way to the cross, He was desirous that He could, if possible, avoid having to go to the cross. Jesus understands what it is to need to bring His will into subjection to the will of the Father. So there in the garden He prayed, "Lord, if it's possible let this cup pass from me, but if not, nevertheless, not my will but yours be done" (Matthew 26:39).
As I get into the Word of God, into the presence of God--I'm brought to that same place where I say, "Lord, if it's possible, don't make me go through this; but what I want more than that is to do your will. I want my will to be in line with your will." Then in our quiet time, God gives us direction for our lives, for our relationships, for our responsibilities. He shows us which way to go.
I'm a woman with no sense of direction. I've been known to walk out into a hotel hallway and have to ask directions to the elevator to find my way to the lobby. I can't function without directions. I do okay if I have a map. But you let me loose in a car or somewhere without a map not knowing where I'm going, and I'm going to be in trouble. I need directions. More than geographic directions, I need directions for my life. We all do. There are areas of our lives where we just don't know what to do. We don't know how to handle a situation. We need wisdom, and where does wisdom come from?--not from within us. The scripture says man's way is foolish, but wisdom comes from God.
In the Book of James, we read, "If any of you needs wisdom, ask God for it. God is the one who will show you what to do" (James 1:5). So many times, we're going to others for wisdom, we're looking within ourselves for wisdom, we're trying to figure these things out on our own; but God says, "Come to me, come into My presence, get into My Book, get into My Word and let Me show you how to live."
I'm in a major season of change in my own life and ministry, and I need so much wisdom from the Lord. I need direction. I'm facing a lot of days these days where there is more to do in that day than I can handle. So I have to go to the Lord and say, "Lord, here are all the things on my to-do list; would you give me Your to-do list for this day?" In fact this has been a very liberating principle for me to realize: that there is time in every day to do everything that is on God's to-do list for my life for that day. So what do I have to do? I have to get still enough, quiet enough, long enough to ask God, "What are Your priorities for me for this day."
The answer to that for me in this season of my life will not be the same as it is perhaps in another season of life. The answer for me may not be the same as it is for you. If you have a husband, if you have children still in your home, God is going to give you a very different set of priorities for your day than He is giving me at this season of my life. That's why we need to go to Him and say, "Lord, what do you want me to do? How should I handle this situation?" We get so busy running to and fro asking others, "How do I handle this child, how do I handle this situation at work, how do I handle the loneliness, how do I handle the grief of this situation I'm going through?" I think so many times we don't ever get the answers if we don't ever stop to ask God. He's given us a map. He's given us the directions. It's in His Word. The scripture says "In thy light shall we see light" (Psalm 36:9). "The entrance of thy words, Oh Lord, giveth light" (Psalm 119:130).
There's another purpose for my quiet time with the Lord, and that is the privilege of intercession on the behalf of the needs of others. This is where we come before the Lord, and we not only give Him our own needs and longings and questions; but we come before Him on behalf of others who have needs. Ladies, I just want to say that there is no higher privilege (perhaps) that we will ever have in our time down here on this earth than to be intercessors on behalf of the needs of others. In fact, I can't imagine where my life would be today if it weren't for others who are interceding on my behalf. I don't know how many times--and I probably never will know until eternity--how many times I have been protected from temptation or protected from wrong choices.
In fact, I believe that one of the reasons I am a child of God today is because of a praying great-grandmother that I never knew. Years ago in her mother tongue of Turkish, this woman prayed for the salvation of her grandchildren. One of those grandchildren was my dad. My great-grandmother, Yia Yia, was praying for my dad's salvation when he was very far from the Lord. He wasn't looking for God, but God was pursuing him. He came to faith in Christ and then raised our family in the ways of God.
So I thank the Lord for those who intercede. Then I say, "Who am I interceding for." There are those who God puts on my heart--family members, issues with friends and loved ones. I think of some very dear close friends who are going through an awful divorce situation right now, and (they have) two children caught in the crossfire. There is nothing I can do to change that situation, but I can get on my knees and call out their names to the Lord and say, "Lord, would you intervene; would you do what I cannot do?" We are really just taking those that we love and their needs and lifting them up to God's throne of grace.
Let me just close this session by sharing with you what I think is one of the most exciting purposes for the daily devotional life. It affects me inwardly and outwardly. In this time I experience transformation into the likeness of Jesus.
I've heard it said that couples who have been married a long time start to look like each other, in some cases that seems to be true. And some of you look a little worried that that might be true. We do tend to take on the characteristics of the people we spend a lot of time with. We tend to become like those we are close to.
One of the most joyous, exciting aspects of the daily devotional life to me is that that is the place, that is the time where I am being transformed into the likeness of the Lord Jesus. I look into the Word, and I see so many things about Him that I love. I look at my own life, and I see how different I am from Him--how far I am from being like Him. I say, "Oh Lord, I want to be like Jesus. I want to have His kind and compassionate and sensitive heart. I want to have His wisdom and the power of the Holy Spirit on me as it was on Him."
God says, "You want it? You can have it. You can be like Jesus, in fact, that's My purpose for your life--to make you like Jesus. But you have to spend time with Him."
I love that verse in 2 Corinthians 3:18 that says, "We all with open unveiled faces," no covering, no mask, no pretense, nothing between us and God "with open, unveiled faces, we all behold the glory of the Lord as in a mirror." Where do we see the glory of the Lord? It's in the Word of God. As we behold His glory, as we steadfastly gaze upon Him that verse says, "We are all being transformed into the same likeness from glory to glory even as by the spirit of the Lord." So as I go into quiet time I say, "Lord, here I am. I want to be more like you. Would you transform me into your likeness?" It doesn't all happen overnight, but it is happening. And I have the confidence that by the time I see Him face to face, the process will be complete.
Leslie Basham: That's Nancy Leigh DeMoss reminding us that when we spend time with Jesus, we become more like Him. Nancy will return in just a minute. You know this program is part of the series called Daily Devotions: Duty or Delight. During this series, Nancy is offering a challenge. If you currently don't have a consistent devotional life, why don't you spend time in prayer and Bible study every day for 30 days? Maybe you need help getting started. That's why Nancy wrote A 30-day Walk With God in the Psalms. Based on 30 of Nancy's favorite Psalms, this practical tool will inspire you to cultivate greater intimacy with your Heavenly Father. Why don't you call us and ask for a copy of A 30-Day Walk With God in the Psalms. It's available for a suggested donation of $15. We also have a companion CD that will help you keep the Psalms in your mind throughout the day. It's called Psalms from the Heart and is available for a suggested donation of $12 for the CD and $10 for the cassette. Psalms from the Heart is made up of 30 of Nancy's favorite Psalms set to a backdrop of soft, inspirational music; and they are all read by Nancy herself. For more information call 1-800-569-5959 or visit our Web site ReviveOurHearts.com.
Well, we hope you have a great weekend and that you can join us again on Monday. Nancy will continue our series and address the question: "How do we know that we truly heard from God?" Now, once again here's Nancy.
Nancy Leigh DeMoss: Father, as Your children our heart's desire is to walk in submission to You. We want to be used to intercede on behalf of others. Most of all, we want to be transformed into the likeness of Jesus. Thank You that You have provided a means by which all of those things can be true in our lives. May we make that choice day after day to take the time to get alone before You, in Your Word, on our knees to seek Your face and let You change us into Your image. I pray in Jesus' name. Amen.
*Offers available only during the broadcast of the podcast season.
Support the Revive Our Hearts Podcast
Darkness. Fear. Uncertainty. Women around the world wake up hopeless every day. You can play a part in bringing them freedom, fullness, and fruitfulness instead. Your gift ensures that we can continue to spread gospel hope! Donate now.
Donate Now