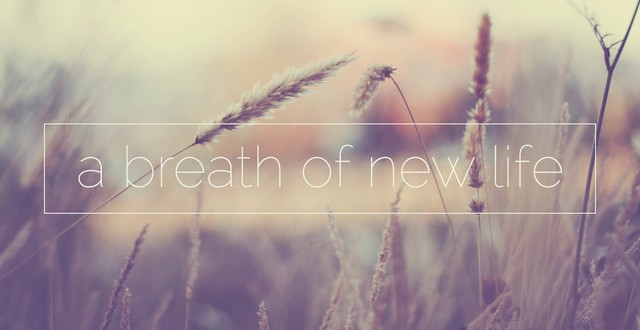 A Breath of New Life, Part 2
Leslie Basham: Erin Davis has to remind herself the purpose of a home is using it to serve others.
Erin Davis: We want to have a beautiful home, but we don't necessarily want to be hospitable. We want to have that magazine cover look, but we don't want anyone to mess it up.
Leslie: This is Revive Our Hearts with Nancy Leigh DeMoss for Tuesday, October 27, 2015.
Yesterday Nancy began a new teaching series on the Shunammite woman found in 2 Kings chapter 4. We saw the importance of this woman's hospitality to Elisha, the prophet of God. That teaching on hospitality got a lot of our listeners thinking. We're going to pause on this topic of hospitality and take some time to make it personal. Some of our listeners are reflecting on what came to mind as Nancy taught on the Shunammite woman opening her home to build …
Leslie Basham: Erin Davis has to remind herself the purpose of a home is using it to serve others.
Erin Davis: We want to have a beautiful home, but we don't necessarily want to be hospitable. We want to have that magazine cover look, but we don't want anyone to mess it up.
Leslie: This is Revive Our Hearts with Nancy Leigh DeMoss for Tuesday, October 27, 2015.
Yesterday Nancy began a new teaching series on the Shunammite woman found in 2 Kings chapter 4. We saw the importance of this woman's hospitality to Elisha, the prophet of God. That teaching on hospitality got a lot of our listeners thinking. We're going to pause on this topic of hospitality and take some time to make it personal. Some of our listeners are reflecting on what came to mind as Nancy taught on the Shunammite woman opening her home to build God's kingdom. It made one listener remember an example she observed growing up.
Trudy Jackson: If anybody came into my mom's house, it didn't matter what time of the day; it didn't matter. She would always bring out food, breads, cookies. So if you ever went away from my house growing up hungry, it was really surprising because there was always food. So I don't know if she just had the spirit of hospitality, but it was always there. My sister and I, we're not as generous as my mom. We don't constantly bake and cook, and so it is a spirit. I don't know if it is a dying art, but I think most of us that are in our fifties remember the older generation always had food ready.
Nancy Leigh DeMoss:I remember that as well, but here's the thing we need to remind ourselves and especially the younger generation. You don't have to be a gourmet cook. You don't have to be into baking. You don't have to be into anything exquisite or extravagant or massive to be hospitable. I mean, I've shown hospitality in my home with pop and pretzels or popcorn or some other things not so healthy that I won't mention.
It's the heart we're talking about. I think so many times we get intimidated by the thought of hospitality because we think the house has to be spotless. I'll just tell you right now that with a family of six living in my house, my house is not spotless. You may trip on toys or who knows what else. So that's not the point. The point is that we open our hearts, and we welcome people into our space.
The point of hospitality is that we open our hearts and we welcome people into our space.
What we're doing then is we welcome them into our lives. And we say, "I care about you. I want to serve you. I want to bless you." One way to do that is through meals. But I have gotten really creative over the years. Sometimes I walk into my house after my company gets there for dinner, at times. I've found ways to get creative about providing food. It may be as they come bring your own dinner. We do whatever ways we can to say, "Here's a space where we can enjoy each other and we can fellowship."
Let me say also as a single woman in ministry how grateful I am for friends I have who do know how to cook and bake and do know how to provide really healthy, wholesome meals. I'm looking at Jennifer here. I was in your home not too long ago. You and your mother-in-law prepared a great meal. It was a homemade meal. That was a real treat for me, a home-cooked meal. So as a servant of the Lord, what a blessing it's been to experience the gift of hospitality from others. Don't underestimate the power and the gift that it is to serve your family, guests, and others in that way in your home.
Woman #1: I have six children. About a year-and-a-half ago we moved to a home that was a little larger and on property that had a guest house so that we could host my in-laws. That has been a stretch sometimes to have them so close. It's been a blessing as well. But also in the home just having the space to have people over. Even with all the children and such, in my mind I know, I believe God has called us here to be hospitable and to share. However, it's my heart attitude that I struggle with sometimes. It's just how to do this with a joyful heart as well, even though I know that God is calling me to do this. So this talk has reminded me that I need to do it with a joyful heart as well.
Nancy:A heart attitude makes all the difference doesn't it? Sometimes others can't tell, but we know.
Erin: I was just sitting here thinking what a relief this program's going to be to women to know that you don't have to be Pinteresting. I'm a technology recluse because I just can't handle it. But I think Pinterest is what magazine covers are and what malls are—just such a source of condemnation. I was so struck by the Shunammite woman. She said, "Well, I'm going to give the room a bed and a table and a lamp. I'm not going to decoupage the room. I'm not going to carve it out of driftwood I found in my back yard. I'm just going to meet his needs, and that's going to be enough."
So I think, as so often happens for us as young women, we're twisted. We want to have a beautiful home, but we don't necessarily want to be hospitable. We want to have that magazine cover look, but we don't want anyone to mess it up.
Typically, my home is full of teenagers, and they're so easy to please in many ways. I mean, pizza rolls and Pepsi and we are rolling. I love that. God's really blessed us recently with a bigger house and a farm and a fainting goat. It's been such a privilege to have more to be able to give more. I don't think it's something that young women are necessarily hearing a lot about or understand. They think it's about having a home that looks like Pinterest. So I just think you've nailed it with the heart of it.
Nancy: Kim is another, as would be true of many of you in this room . . . I've had the privilege of being a guest in her home and being warmly welcomed there. She and her husband have a real heart of ministering to others in their home. Just how has it been a blessing to you to use your home for hospitality?
Kimberly Wagner: Oh, I love having people over; I really do. I don't get to do it as much as I would like or as much as I used to. But I love to have people over. It blesses them, but I'm telling you, when I'm cleaning up after a big mob has been there, it is just a sweet time of reflecting and thinking about how we've shared fellowship in what God is doing in each other's lives.>
I think about a big birthday party I threw for a friend once. She was able to hear from so many people how she had blessed their lives, and it was encouraging to her. I'm thinking of my friend here sitting beside me who is a single woman and lives alone. But she has prepared her home with three nice bedrooms. She opens her home all the time to visiting people that come through our city.
Nancy: She's been trying to get me to come stay there.
Kimberly: She's invited you many times, Nancy. You have a standing invitation. But everyone who stays there says, "I have never slept in such a great bed. I've never had such a great night's sleep." She has games there for children of all ages, for adults. It's a party place. It's not necessarily a Pinterest showplace, but it is comfortable. It's inviting. I just think that that's the heart of God to come here. Come sit beside me and let me love on you. I love doing that in my home, and I love going to people's homes who do that to reflect the heart of Christ.
Angela Temples:Recently, I had a lady come and live with me who had just gotten out of prison. I did not know her before, and it's been very difficult. I'm single and don't have a large home, but I've really sensed the Lord saying, "It's time to have her in your home.">
There have been many times I've wanted to open the door and kick her out. But as you shared, if the Lord has called you to do something it may be hard, but you have to keep pushing through it because you don't know who you're entertaining or the impact or influence that you could have. I know there have been several of my friends who have said, "Angela, I can't believe you're doing that . . . just to watch you do it."
You don't know how the gift of hospitality can impact or influence another's life.
And I go, "It's not me because I don't want to do it." So it's been very, very difficult.
Nancy: But can you say anything about the blessing of it?
Angela: It has been a blessing, too. She came to know the Lord in prison and is continuing to grow. She is working at our family camp cleaning houses out there. She's around to help me. I have been traveling a lot on the road with the ministry, and she's there to take care of things and be there to do things that I cannot do because of travel.
Nancy: And I think that she is a jewel in the making.
Angela: I agree.
Nancy: The way you are bringing her into your home is a picture of Christ welcoming her into His home and His heart, and she's just going to blossom. There've already been so many changes in her life. I think this is a season of her knowing that she's welcome in the family of God. You're demonstrating that in just such a powerful way. It is going to deeply impact her life. It already is.
Vicki Rose: I'm an empty nester. But when my children were teenagers, I had a freezer stocked with slice-and-bake. I don't know what this Pinterest thing is, but a couple of friends used to make fun of me that I wasn't a home baker.
I grew up in New York City, and we had a tiny kitchen. So our version of baking was to pull out slice-and-bake. Do you all know what slice-and-bakes are? You buy cookies that are ready to just take off and stick on the cookie sheet, and you stick them in the oven. They're cookie dough. So that was our version. Several of my daughter's friends still consider me their second mom and come back and visit now that they're all grown and married. So hospitality, it can look different ways.
Then I also wanted to just mention sometimes my husband and I are on a different page. I always want to have everyone over all the time. One of the things I've been praying about is to respect him more and honor him in our home and to really wait on him and to not just invite anyone over but to make sure his heart is in the same place as mine and he wants to do it. That's been really beneficial and exciting to see him grow more into wanting to do it. Then when we do have people over, we're together in it and that's a good thing. I just thought that was important.
Nancy: You see that in the Shunammite woman. Before she builds this room, adds a room on her house, she talks to her husband about it.
Vicki:And that's a good thing to do.
Nancy: To be on the same page. Some of you may be married to men who are more introverted or who aren't parties waiting to happen. So you need to be sensitive to that because your husband, those of you who are married, is your most important guest in your home. Scripture teaches us that being hospitable is a qualification for being an elder or a deacon and provide leadership in the church. Now, that doesn't mean you always have to have parties at your house. But it does mean having a warm and welcoming heart and using the things God has given you to be a blessing to others. So give him room to grow in that.
But also realize sometimes God may be protecting you by your husband's reticence to have a party there every night. He may realize that this is stretching you beyond what is practical or reasonable at this season of your life. That's why God gave you to each other so that you could help each other, so you could balance each other. But make it a matter of discussion, as this woman did with her husband. Pray. Seek the Lord and say, "How can we use what God has entrusted to us in this season to be a blessing to others."  
Marcie Rose: I just feel just so strong in my heart right now. I am just am praying that the Lord would reach down and grip ahold of our hearts and put His desires in our heart to want to do this because it is not out of our own desires that we can do this.
I am just praying that the Lord would put on each one of our hearts somebody, a neighbor or a friend, those people that are lost in our live. I pray that He would just put their face in your mind and your heart and that we would be intentional and that we would respond and say "yes" to that. I know I always pause or I feel like the Lord's nudging me or pushing me and I just stop and I think the selfishness or the things get in the way. And so I just really pray that the Lord will put somebody on each one of our hearts and that we would say, "yes." And that these people would come to know the Lord – maybe a lost soul that you know.
Lori Benson: I'm a homeschool mom. I have four children, and we host a small group in our home every other week. And we have thirty children that come. We believed in "Be fruitful and multiply." So my house kind of gets trashed sometimes. And this was very timely because we've led a small group for about ten years and always had the kids present, not with us while we're discussing, but we always have child care. They do Bible lessons themselves. But we just felt it was important that they saw us as their parents gathering together to pray.
Honestly, I'm getting a little tired and weary. And to be here today and to know, to hear the Lord just speaking to my heart that "This is good that you're having all these kids over all the time is good." He reminded me that after ten years, they started out really little and now we've got some big ones. And our young men in our group are getting ready to start leading a Bible teaching to the new "little's" now that we have. So it's just a blessing. But I'm very blessed to be here today because I've been very tired. So, thank you.
Nancy: And that's where we have to get filled up so that we can give out to others. Now keep in mind, this woman in Shunam didn't have everybody over all the time. So that's where you need wisdom and discernment and seeking the Lord and saying, "For this season of my life who is it that You want us to minister to in this way?" So, God may not have provided you a place where you can have a small group of thirty kids. Or it may not be a season of life where you and your husband thing that's the best way to use your home. So don't compare to someone else's story. Don't get on a guilt trip about what you aren't doing or get proud about what you are doing. Ask the Lord in this season. If you're married, ask your mate, "In this season together, how can we use what God has entrusted to us to be a blessing to others?"
Sarah: One of the things that has really talked to me today, our home has always been open to whoever wants to come. And the way that looks has changed over the years. Before we had children, we tried to minister to other couples. And even before we had our children we were involved in youth ministry. And we had young people in our house before we even had kids and the leaders.>
And then as my kids were born and we had them, my children went to public school and what a huge ministry. What the family looks like today is not necessarily what all families look like. And I have to tell you the kids that came in and had dinner at our dinner table came to our house like these ladies are saying. That's a huge thing of hospitality. So many kids are not exposed to that. They don't have a clue what a family is. Even in Christian homes where everybody's so busy.
But hospitality does evolve over the years, and it truly is a legacy that we as mothers and even single women . . . I just feel like so many people have poured into our kid's lives. And even now as I hear Nancy speak I have a, I have a daughter at Moody, and she's single. She's dealing with the singleness when people around her are saying, "You need to have someone else in your life." She like, "Mom, I just want to be content where I am and with what God's going to do with my life."
So anyhow, I just think that hospitality can take on a lot of different looks, whether it's to an individual or to a family or a group of young people or older people. And my heart right now in my season of life is, I feel like the older generation is being left out. There's lots of wisdom to be had there. I just think that's a group that we could be ministering to a lot more effectively. So again, just seasons of life and what hospitality can look like can be very different.
Nancy: Great! Good, a good word from a woman who's been through some of those seasons. One more. Right back here.
Woman #2: When I think of an example of hospitality I think of my mom. We grew up with four girls in a two bedroom home. My mom and dad got kicked into the basement—an unfinished basement when we were younger. But they always had missionaries in. I remember in particular one time when they had a couple up, all four of us girls stayed in one room. The pastor came to my mom and said, "Diane, we need more room. I've got two more guys coming in, and I have no place to put them." And so we all went out of the bedrooms and the missionaries all had the bedrooms. It doesn't matter how much you have, just be willing to use it.
The blessing through all that is one of the missionaries, two of his sons married two of my sisters. So you just never know what God has. But God has blessed me with just a wonderful example of a mother. I have now enjoyed reaping that benefit of doing it myself. God has blessed me and my husband with the ability and even the space to do it. A full house is always a good house.
Leslie: We've been listening to a group of Revive Our Hearts listeners talking with Nancy Leigh DeMoss about the value of hospitality. Nancy has taught a whole series on this topic. It's called "The Heart of Hospitality" and you can hear it at ReviveOurHearts.com. To close our time today, let's listen to a portion of that series. Here's Nancy.
Nancy: Number one: Hospitality is one of the most practical ways to express the love of Christ. That's how people can know that we love them and that we love each other as believers is through hospitality.
Number two: Hospitality reflects the hospitable heart of God. We have a God who is hospitable. When we practice hospitality, we show the world what He is like.
Number three: Hospitality is a great way to build unity and community with other believers. It's a way to really get to know each other. Getting into each other's lives just does not happen within the four walls of church. That's where we can meet each other. But then we can come into our homes in the context of a home, that's where we break bread; we break down barriers, and we create a climate for true fellowship and love to be experienced.
Number four: The Bible promises rewards for those who practice hospitality. And those rewards, by the way, are not only here on earth, there's some rewards promised in heaven for those who practice hospitality.
Number five: Hospitality is one of the most effective ways to create a hunger for Christ in the hearts of non-believers. Some people who won't go in the door of a church will come into your home. That's where we can begin to share with them the love of Christ.
Number six: Hospitality will help you deal with loneliness and depression. I think of some singles or those who are widowed or divorced and live by themselves and have to deal with loneliness and discouragement. Hospitality is one way of dealing with that.
And number seven: Hospitality will help us deal with selfishness. Now, I know we have no problem with selfishness among anybody here in this room. But I have to tell you my bent is to be selfish. Hospitality is a way of running into the face of that selfishness and breaking down that natural selfish instinct.
Number eight:Hospitality will help you deal with materialism and help you get values that are eternal.
Number nine: If you have children, hospitality is a great way to cultivate in your children a heart for ministry and a heart for serving other people.
And number ten: If there were no other reasons, this would be sufficient reason. And that is that God commands us to be hospitable. If you're a child of God, I have news for you. Hospitality is not an option.
Leslie: That's Nancy Leigh DeMoss with ten reasons that make learning about hospitality matter so much. Did you know you can hear many past broadcasts of Revive Our Hearts on the site? We're able to provide this rich resource of teaching for women thanks to listeners who see this ministry multiplying God's Kingdom. They want to be involved with what they see God doing.
We need listener support to keep coming to you each weekday. Without that support, there would be no Revive Our Hearts. When you make a donation of any size, we'll say "thanks" by sending you the 2016 Revive Our Hearts wall calendar. The theme is "Cry Out." The calendar is all about prayer. Here's Nancy Leigh DeMoss to us all about it.
Nancy: I'd love for you to have a copy of this calendar to hang in your home or to put at your desk—somewhere where you can look at it regularly and be reminded of the need to cry out to the Lord "for such a time as this," to hear our prayers, and to have mercy on our land and on our world.
We're making that calendar available to you this month for a gift of any amount to the ministry of Revive Our Hearts. Just give us a call at 1–800–569–5959 and let us know that you would like to make a gift to the ministry. Be sure to request the 2016 calendar—Cry Out. Again, that number is 1–800–569–5959, or visit us online at ReviveOurHearts.com. You can make your donation there and you can request your copy of the calendar—Cry Out.
Leslie: Tomorrow Nancy will be back with the third part of this series, "A Breath of New Life." She'll ask, "Are you growing in contentment?"
Nancy: If you're not satisfied with what you have, you won't be satisfied with what you think you want.
Leslie: Join us again tomorrow for Revive Our Hearts.
Revive Our Hearts with Nancy Leigh DeMoss is an outreach of Life Action Ministries. 
*Offers available only during the broadcast of the podcast season.
For a donation of any amount