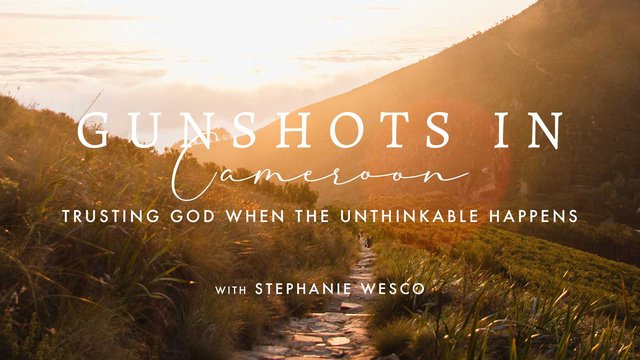 — Audio Player —
Baby Steps Toward Trust
Dannah Gresh: Stephanie, her husband Charles, and their eight children were raising support to go overseas . . . and life was difficult! She now sees that the Lord was preparing her for even harder things to come.
Stephanie Wesco: I am so thankful we don't have a God that expects us to do giant leaps. He gives us baby steps.
Dannah: This is Revive Our Hearts with Nancy DeMoss Wolgemuth, co-author of You Can Trust God to Write Your Story, for June 29, 2020. I'm Dannah Gresh. 
If you've ever realized that the "hard" you thought you had was only getting you ready for the "even harder" that came after it, then you understand a little of what our guest today has experienced. Stephanie Wesco is from Warsaw . . . no, not the capital of Poland. Warsaw, Indiana is not too far from the National Ministry Center of Life Action Ministries and Revive Our Hearts.
Nancy sat down with Stephanie last summer about six months after her husband's sudden death. Here's Nancy with a further introduction.
Nancy DeMoss Wolgemuth: One of the great joys that Robert and I have had as we wrote You Can Trust God to Write Your Story (and not only during that process but since that book was released) has been talking with people who have a story that God is writing in their life.
We've been so touched to meet many precious friends and people we've met in this journey who are seeing their story in the context of a bigger story that God is writing. I'm so grateful to have with us in the studio today one of those new friends. Her name is Stephanie Wesco.
You're going to hear a story over the next couple of days that is deeply moving. It's a story that God is writing; it's not finished, as it's not finished with any of us. But, Stephanie, I want to just thank you for taking time to come join us here in the studio at Revive Our Hearts today.
Stephanie: Thank you. It's good to be here today.
Nancy: I knew your husband, Charles Wesco, for many years. Some of our listeners have heard me tell parts of this story on the broadcast in the past. Charles was a piano tuner for many years, and I was a piano player and had a piano in my home. I don't know how long ago it was—probably twelve or fifteen years ago—Charles started tuning our piano.
So I got to know him and I heard about you, but I didn't get to meet you until much later, and under circumstances that, well, it's not the script you would have written.
Stephanie: Yes.
Nancy: Now you're living a different chapter, a different season, than what was true back in those days. I want our listeners to hear some of that journey, some of that story, because there's a lot of pain and heartache and tears to it. But there is also already a lot of beauty and sense of purpose. So let's go back to the beginning.
I'll start by saying you're a widow today. You have eight children ages four to thirteen, so there's an idea of where this story is heading for those who are not familiar with it. But I'd love to hear how you and Charles first met.
Stephanie: Like you said, he was a piano tuner. He had tuned our family's piano for several years. There were almost eleven years between us.
When I was sixteen, I'd actually had a dear friend tell me, "You and Charles Wesco should get together." 
I laughed at her! I was like, "He's an old guy. I mean, there's no chance of that!" Little did I know, three years later we would be married! 
Nancy: So you'd known him for a number of years. 
Stephanie: Yes, since I was twelve. 
Nancy: He'd been in your house tuning your piano, was the way you thought of him.
Stephanie: Yes. And he viewed me as a kid, because I was! When I was eighteen, when I graduated from high school, I had my life laid out. I had about six years, I figured. I didn't think I'd be getting married for a long time. I had Bible college, mission trips, all of this stuff planned out for my life.
And lo and behold, a few months out of high school, Charles comes and tunes our piano. He normally would play a song at the end of tuning.
Nancy: I've heard him do that on my piano.
Stephanie: Yes. And that day he said, "You know, you have kids that play. Why doesn't somebody play a song for me?" At that point I was the main one in our family that played the piano, and so my dad said, "Stephanie, go ahead, go play a song." So I played something; I don't know what.
He told me later that that's when he was like, "Whoa! This is the girl!"
Nancy: He was smitten! Watch out for those piano tuners!
Stephanie: Yes, they move fast! So over the next six months, he just was coming to Warsaw constantly.
Nancy: He tuned your piano more often than was needed?
Stephanie: Exactly! It was the most in-tune piano in the country! He would come for lunch and all this. We actually started a relationship in June of 2004, were engaged in August, and married in November of 2004, so it moved very quickly.
Those were very exciting days! Very much changed in my life direction, but it was a good change. We were very excited.
Nancy: And you thought you were marrying a piano tuner.
Stephanie: Yes, he tuned the piano, but also I did know he had a heart for the Lord, a heart for ministry. I had felt called to missions from the time I was in my mid-teens, so I very much had a heart for missions. 
We had actually planned on going to Cameroon right after we got married. 
Nancy: And for those who don't know where Cameroon is . . .
Stephanie: Cameroon is in West Africa. It kind of sits in the curve of Africa. We had been working on the shots, working towards that. 
Nancy: To do a short-term trip?
Stephanie: Like a year. We were thinking in terms of a year.
Nancy: And where did that burden come from?
Stephanie: Charles had a burden for Cameroon way back then. He had a burden for Africa as a whole, but he knew and loved the main missionary there in Cameroon. The Lord had obviously placed that burden in his heart.
Nancy: I remember hearing him talk about these things when he would be at my house tuning my piano.
Stephanie: Yes. The only reason that ended up falling through was because one of the shots required that I couldn't get pregnant for a year after the shot. It was a required shot in Cameroon. And Charles wanted to have a family. That was one of the main desires of his heart.
Nancy: You're both from large families. And when I say large . . .
Stephanie: Oldest of ten, both of us, yes. Then he had gotten very involved as an assistant pastor in the church where we were attending. So the Lord just put a hold on that trip, so we served in the church in South Bend for about ten years.
Nancy: And started having children . . . and children . . .
Stephanie: . . . and children, yes! At first, we had five children ages five and under at one point. By the time our last was born, we had eight children ages ten and under. The Lord was good. Charles always wanted ten kids. During that process and in that time frame, though, we also had two babies in heaven.
Nancy: Wow.
Stephanie: So, in 2014 we had spent some time candidating at churches and the Lord just kept closing doors. 
Nancy: Candidating? To be a pastor?
Stephanie: Yes, we had been candidating in churches in multiple places, and I had said to Charles several times, "If God doesn't open a door for a pastorate here in the States, what do you think of going back to Africa?" He said he was very much praying about that. That was very much a burden on my heart, that if the Lord led that way, I was totally surrendered and willing to do that.
Nancy: So after having all these kids, you're still thinking, We could go and serve the Lord in a missional way.
Stephanie: Yes. The fall of 2014 the Lord very clearly started leading us towards Africa. In Charles' heart, it was very much toward Cameroon. So we started planning. The Lord just worked out finances, just provided in some miraculous ways. In April of 2015, we left and went on a survey trip and were gone about six weeks.
Nancy: In Cameroon?
Stephanie: In Africa. We went to Kenya and South Africa and Cameroon.
Nancy: Okay. 
Stephanie: Charles had been to South Africa before. I struggled leaving South Africa, because of the children there. I got to work for a week with all of these kids and . . .
Nancy: Your heart . . .
Stephanie: Yes, my heart was very much . . . When we left Kenya, I left a little bit of my heart there. When we were in South Africa, it's just like you fall in love with the people you are working with, kids especially, they do something to you! 
Nancy: Did you have your children on that trip?
Stephanie: We had our two oldest. I had told Charles I was very much concerned about taking that many kids. I wanted my kids excited about doing it; I didn't want them to feel like Mom and Dad were forcing them into something. My two oldest absolutely loved it! They just loved it, and they mingled with the kids and were great helpers.
The last three-and-a-half weeks we were in Cameroon. It's funny now looking back, because I was terrified of riding in airplanes. I was scared of things that now don't seem like a big deal, but to me then those were things that . . . I was not at all an adventurous person, and yet I knew that's where God wanted us, so it was just a surrender thing.
The Lord was good in taking away some of my fear. I didn't get airsick as we traveled in the small little plane. During that survey trip the Lord just was confirming over and over in Charles' heart that that's where we were to be.
For me, I got a very bad virus while we were there on our survey trip in Cameroon. I spent half of the time sick in bed. When we came back from Cameroon, we prayed. The Lord brought us both to be convinced that was His will for us. So we started pursuing, we started deputation to raise support in fall of 2015.
Nancy: Now, a lot of people listening to this may not have had any of that kind of experience, but I watched as your family did this. This wasn't just you and your husband, this was you and your husband and eight kids!
Stephanie: Yes, it was seven when we started. We traveled in a motor home that the Lord provided. 
Nancy: And it wasn't a big motor home!
Stephanie: No, it wasn't! We were sardines.
Nancy: And you did this for two years?
Stephanie: Two-and-a-half years, yes. 
Nancy: Going from church to church, town to town . . .
Stephanie: Yes, we traveled the whole Midwest over to the East Coast. The furthest we went was New York.
Nancy: So what was this like? You're traveling, and then you land at a church and you. . .
Stephanie: Yes, my husband had a young man (that he had helped do some teaching and training in Bible Institute) teach our sons to do chalk talks. So my husband would preach, and the four oldest boys would draw a picture that went along with my husband's message. 
There would always be like an invisible picture of heaven, or one of the pictures had a stalk of corn and that message was about the corn falling into the ground and dying.
Nancy: That if it doesn't do that . . .
Stephanie: . . . it will abide alone, but if it dies it will bring forth more fruit.
Nancy: You had no idea, of course, at that time, that this would be a picture of your lives.
Stephanie: How prophetic it would be. Then our kids sang a bunch of songs.
Nancy: Your family loves music!
Stephanie: Those were very special times. We were sharing our vision for Cameroon with people. We had a missions video we showed that shared our burden for the country, what our goals were in going to Cameroon—planting churches, reaching out. I had a huge burden for the kids there.
One of my burdens was to start an orphanage at some point. Obviously, that didn't happen, but that was a burden the Lord had given me. So we just shared that with churches for two-and-a-half years.
Nancy: We're talking like gypsies here, moving around. I remember following some of this and thinking, You guys, this is amazing!
Stephanie: It was a fun crazy! There were some days—when our kids were sick for three months straight—that's not fun! But looking back, God taught us so many lessons!
Nancy: When there are men in ministry who do these kinds of things, there has to be a wife who's adaptable, flexible, supportive. You were part of this, so your little nest was that motor home.
Stephanie: It was.
Nancy: You had to be content with a small space and not a lot of the things you might have had if you were at home.
Stephanie: Yes, I called it good Cameroon training ground. There were some times we didn't have electricity or running water in the motor home.
Nancy: It was like camping for two years!
Stephanie: Yes. Daddy had his own little clothes closet, and then the rest of us shared a closet. So you learn to be happy with just a few outfits for six weeks, and learn how to make every little spot worthwhile. 
Nancy: Were your kids bored with this?
Stephanie: They were, and Charles was very good about this. If he even just sensed the kids were run down . . . If we had a day in the middle of the week where we could take a day off and do something fun with the kids—taking them biking, taking them to the zoo. He would just do things to make sure they knew it wasn't all about . . . He didn't want them to have a warped view of Christianity or of serving God, like it's just all hard, hard work. It is hard work, but he tried to make it fun for the kids.
Nancy: Charles really loved his kids, didn't he?
Stephanie: He did! We'd be driving down the road and he'd be talking to whichever one was sitting by him. He'd talk about something he had read in the Bible or doing Bible memory verses with them or something. He was always investing in anybody! He was one of those men who, whatever he was doing, he was always investing in someone.
Nancy: That came out a lot in his memorial service (and we'll come to that later in this story). I had known him for years, but it was beautiful to hear from family and friends who knew him better than I did and had known him for a longer time. 
Just to hear how many interests he had, how much he loved people, how energetic he was, and how missional and purposeful about his life counting for Christ he was. He was a lot more than a piano tuner! That was a means of providing for his family. 
Stephanie: Exactly.
Nancy: He really had this passion for people and for Christ that was greater than all of that.
Stephanie: It was, yes. He had a message he preached at pretty much every church we were in, and the title of it was "Living for Eternity." The first point that he always said was that living for eternity is always worth it! And I've had to remind myself of that many times since then, just to keep that focus.
Even though he's gone, living for eternity is always worth it! So, yes, deputation holds a lot of good memories. We found out the same week we started deputation that we were expecting Emmeline.
Nancy: Your number eight child?
Stephanie: Our number eight child. So that was very interesting, starting off deputation visiting the church bathrooms . . . because you're sick all the time! 
Nancy: Not the script you would have written!
Stephanie: No, but it was an exciting time: new baby, new ministry, and Stephanie, my daughter, had been praying for a little girl for so long! She wanted a sister so badly! 
Nancy: Because all the others are boys, right?
Stephanie: We had six boys and one girl, so the Lord giving her to us was such a blessing. So the first six to eight months of deputation—I called it "the honeymoon of deputation"—school stayed on track. I mean, we had deputation down! And then Emmeline was born. 
She was born virtually dead! We don't know why, except that I was having issues. She was our first natural birth after Caesarean. I was having serious complications at the end of the birth, and so she had to be resuscitated for thirty minutes before she breathed.
That's the first time in my life I've ever had to be that dependent on the Lord, where there was absolutely nothing in the world I could do for my baby. It was literally totally up to God using the doctors to save her life. Praise the Lord she lived! And because there was care there, she had no brain damage because of the oxygen and everything she was on.
So things kind of changed. I got really sick with an infection after she was born. It was almost like God started working on me at that point and had to bring me to a lot of brokenness. When Emmeline was three months old, I fell down our basement steps.
We were home for three days, and when you're only home in little sections, it's like your list is ten miles long of what you have to get done! I slipped and fell down our basement stairs carrying Emmeline.
And, praise the Lord, my dad had been visiting, and he was getting ready to leave when I fell. So he was there. Emmeline was fine, but my ankle went underneath me, and it snapped my ankle. So deputation for the next couple of months was done in the motor home with crutches and a boot!
Nancy: And a baby!
Stephanie: And a new baby. Yes. It was fun. It was kind of like, "Okay, God, I don't know what You're doing, but You're doing something!" I would always try to remind myself that God's plan is always good and He promises to work all these things together for good. "And Lord, I don't see any good out of a broken foot!" 
And during that time frame, my daughter—who was five at the time—got saved! It was like the Lord gave me that direct, "This is My answer to your prayer!" I was spending so much more time down. I was spending a lot of time with the little ones, and she got saved!
Well, two months to the day after I had broken my foot, we were on our way to family pictures. I had just gotten out of my boot, and I slipped on ice in our driveway and completely shattered my left wrist!
Nancy: Oh, my!
Stephanie: It was our last formal pictures before going to the mission field. Charles had said, "It's our last time." 
So I said, "We're going!" I wrapped it up as good as I could in an Ace bandage—not dreaming how bad it was!—and sat there almost vomiting through family pictures.
Nancy: Stephanie!
Stephanie: And the next day we went in, because I couldn't sleep that night because of the pain, and the doctor said, "When did you do this?!" 
I said, "Well, it's been like yesterday morning." 
And she said, "How have you been living for over twenty-four hours not being on a narcotic?" My wrist was like a mountain range. It looked like somebody had taken a hammer to my wrist.
So I ended up with major surgery and now have screws and plates and all that fun stuff in there. So I spent the next four months on deputation in a cast, in therapy, in a splint, in all of those things.
Nancy: It's just interesting, Stephanie, looking back to see that the things you've just described, as it turned out, were not the major events of your story that were later to unfold. We'll get to those over the next day or two.
God was preparing you with some of these things that seemed big at the time, but were really preparation for chapters yet to come. So, as you look back, I'm sure you see that God was even then writing your story, and that you could trust Him with these things that were not according to the way you would have scripted it.
Stephanie: Yes. At the end of deputation, I lost a baby. I had a very severe miscarriage and then that was followed by being hit with mono and adrenals crashing. That was how I spent 2018, up until we left for Cameroon. 
And during that time frame, it's like God brings you to the points of surrender. I'm so thankful we have a God that doesn't expect us to do giant leaps. He gives us baby steps. When I look back, all of those things were God crushing me, breaking me into pieces that He needed. 
He needed me to be a vessel that He could use—a vessel that didn't have life pulled together, and a vessel that didn't have everything perfectly organized or didn't know everything. When you're having to cling to God for strength just to get out of bed to get your kids dressed, because you're so sick, it really changes your perspective.
It makes you realize, "It's all God! There's nothing in me!" If I hadn't come to those points of surrender before we went to Cameroon and to those points of, "Okay, God, this isn't about me going to Cameroon, I'm absolutely worthless. It's about You going to Cameroon and about You doing the work there."
Dannah: I don't know about you, but I'm thinking back to moments where God has brought me to that same kind of realization. As Stephanie Wesco just said, there are key moments of surrender. She and Nancy will continue their conversation tomorrow on Revive Our Hearts.
Stephanie, like all of us, was learning to trust God to write her story, and that's the title of a book by Robert and Nancy Wolgemuth, You Can Trust God to Write Your Story. Recently, they wrote a companion discussion guide to go with the book. It's a helpful new tool you could use with a small group or even a Sunday school class.
This week we'd like to send you a copy of Nancy and Robert's book as a thank you for your gift of any amount to support the ministry of Revive Our Hearts. When you donate, you'll be able to download a digital copy of the study guide that goes with the book. 
Again, the title is You Can Trust God to Write Your Story, and it comes with the new digital study guide. To make a donation visit ReviveOurHearts.com, or call us at 1–800–569–5959. 
I think we can all identify with the emotions of fear, anxiety and worry. Tomorrow, Stephanie Wesco tells us how she dealt with her fears as she and Charles prepared to go to Cameroon. And she had no clue how short her remaining time with Charles actually was. The story continues tomorrow on Revive Our Hearts.
Inspiring you to recognize your own points of surrender, Revive Our Hearts with Nancy DeMoss Wolgemuth is an outreach of Life Action Ministries.
*Offers available only during the broadcast of the podcast season.
Support the Revive Our Hearts Podcast
Darkness. Fear. Uncertainty. Women around the world wake up hopeless every day. You can play a part in bringing them freedom, fullness, and fruitfulness instead. Your gift ensures that we can continue to spread gospel hope! Donate now.
Donate Now